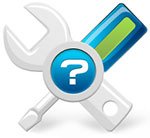 How do I fix a slow computer is a question asked by millions of Windows users. Some people's computers are slow because they are too old and can't cope with today's software. When that's the case, the best thing to do is to get a new PC. There are a lot of affordable laptop brands, so getting a new one will work out cheaper than upgrading the old one. But most people who complain about having a slow computer have relatively new PCs. So how come they are so slow?
To cut a long story short, Windows computers are notorious for slowing down with time. And it doesn't matter whether you use your PC for resource-heavy stuff like video and audio editing or all you do is browse the Web, listen to music and watch videos. Your computer will become slow anyway, sooner or later. That's because Windows PCs don't deal with things like junk files and fragmentation very well. So, over time, your computer accumulates gigabytes of junk, becomes fragmented, and can even start getting errors. As a result it becomes slow and a pain in the neck to use. And that's when most people go online and start asking "How do I fix a slow computer?".
How do I fix a slow computer anyway?
There are a lot of things you can do without asking a professional technician to fix your PC for you. The first thing you need to remember is that your computer needs regular maintenance, just like your car needs to be serviced on a regular basis. Unlike servicing a car, performing PC maintenance is really easy – the main thing you need to do is clean it up and remove computer clutter. This means that you need to remove things like junk files, outdated software, and various temporary files. So, let's see how we can clean your computer and answer the "How do I fix a slow computer" question once and for all.
If you cannot resolve the
problem yourself, you can
ask our certified PC technicians for immediate assistance in the
chat
right on this page.
When you use your computer, open files and folders, browse the Web and so on, Windows creates hundreds of temporary files that are designed to assist with some computer operations. In addition to these temporary files, the operating system creates system restore point, log files, and other files that shouldn't be kept for longer than necessary. Unfortunately, Windows can keep these files for months, which means that there are gigabytes of useless data cluttering your hard drive. All this junk makes your PC slow because Windows needs more time to process everything. So, if you are still asking "How do I fix a slow computer?", you should cleanup your hard drives.
Windows has a built-in disk cleaner that you can find under Start – Programs – Accessories – System Tools. With its help you will be able to perform basic PC cleanup and speed it up a fair bit. Another useful tool for slow computer speedup is Disk Defrag that you can find under System Tools too. Using these two tools will keep your computer maintained properly, so that it will run faster. However, if you are looking to make your computer really fast, you should consider getting a fully-featured computer optimization and speedup program like Auslogics BoostSpeed.
Now you know the answer to the "How do I fix a slow computer?" question. Don't forget to perform regular PC maintenance and your computer will keep running fast for a really long time.