Duplicate photos can be a real headache because they take up valuable space. And the frustrating part is that it can be difficult to find duplicate photos and delete them since they hide among your vast photo collection. 
This guide will show you how to get rid of duplicate photos. We'll also show you the best photo duplicate cleaner to streamline the process and save you time and disk space. 
Let's dive right in! 
Why Do You Need to Find and Remove Duplicate Photos?
At first glance, duplicate photos may not seem like a big deal, but they can actually present some serious drawbacks. Here's why it's crucial to remove duplicate photos Windows 10:
1. Save Storage Space
When you have duplicate photos on your PC, it can consume lots of space on your hard drive. As you accumulate more, you'll have less space to store new experiences and vital documents.
So to get more space on your computer, you need to find duplicate files and delete them.
2. Improve Organizational Efficiency
When you need to find a specific photo in your library, you may have a hard time due to the many duplicates. You can use a free duplicate image finder to remove duplicate photos and find the specific image you want.
3. Enhance System Performance
When too many identical images are stored on your device, it can slow down your computer. It will take more time to import, edit, and share photos if you have many photographs in your library to process.
4. Backup Optimization
When backing up your photo collection, duplicates will be saved twice if you have many. In addition to being a waste of backup capacity, this redundancy also makes restoration more difficult.
You can take control of your storage space, simplify your photo management, and speed up your computer by deleting duplicate photos. In the next section, we'll discuss efficient methods to help you achieve these advantages on your Windows PC. 
How to Get Rid of Duplicate Photos in Windows 10
In this section, we'll show you how to find duplicate photos Windows 10. Go through them and find the method that works best for you: 
Method 1: How to Find Duplicate Photos in File Explorer
Windows 10's built-in file management tool, File Explorer, makes looking for identical images on your hard drive easy. Follow these steps to find duplicate photos:
Press the Windows key + E to launch the File Explorer.
Go to the location where your photos are stored. This can be the Pictures folder or a specific folder where you keep your photos.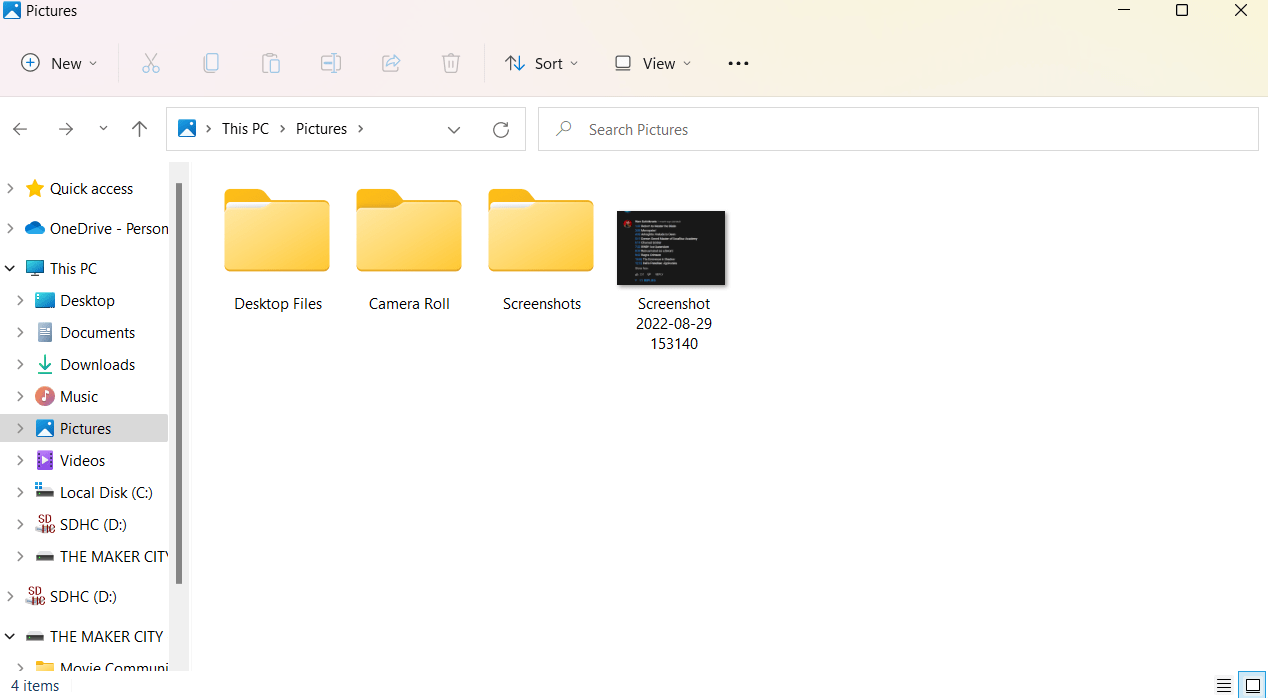 Activate the search bar by clicking on the search bar at the top right corner of the File Explorer. 

Search for image file types by typing "jpg, png, jpeg, tiff, etc." in the search bar. This option will filter the search results only to show specific image file types.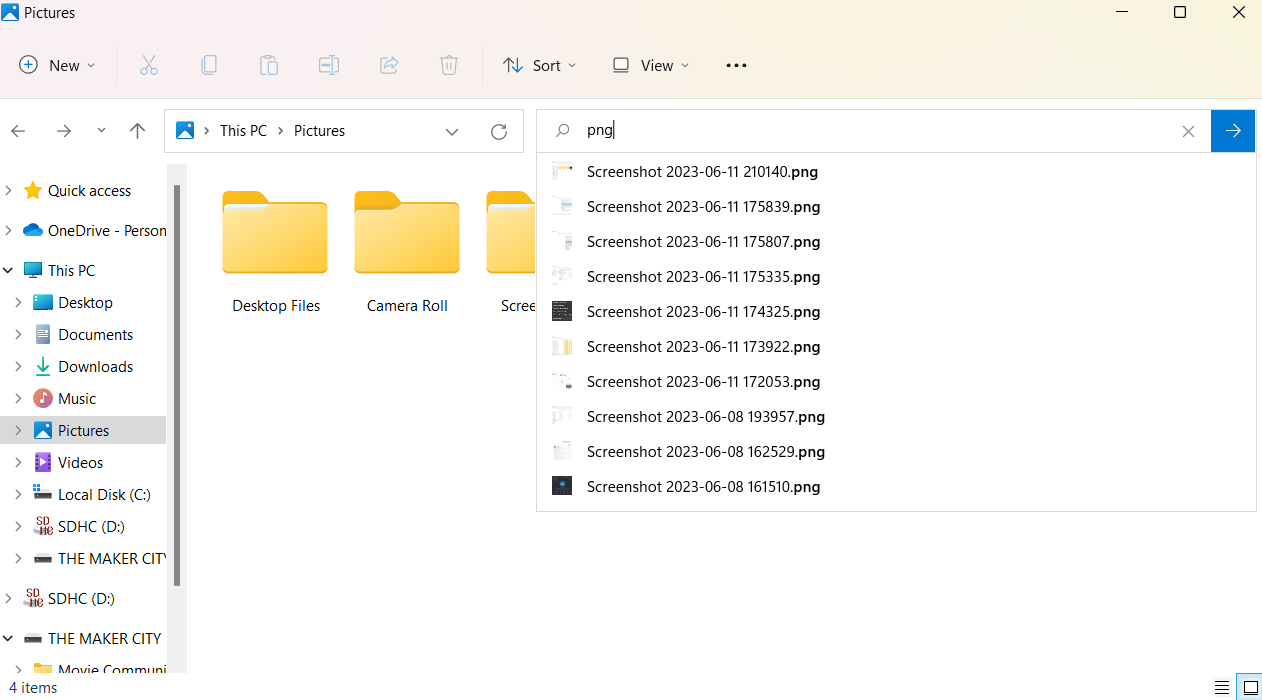 Once the search results have appeared, you can sort them by file size. You can do this by selecting the "

View

" option in the File Explorer toolbar. Then, click on the "

Details

" view. You can also click the "

Size

" column to sort by size. This is useful for finding duplicates because identical images often have the same size in storage.
Select duplicate photos and delete them.
Method 2: How to Get Rid of Duplicate Photos for Free with Windows Photos App
The Windows Photos app is a free duplicate photo finder with a simple yet helpful tool to help you delete identical images. Here's how to find duplicate files Windows 10:
Type "

Photos

" in the search bar to open the Windows Photo app. 

Photos are automatically organized by date. You can sort by "

File name

" or "

Size

" from the "

Sort by

" dropdown menu to spot duplicate photos.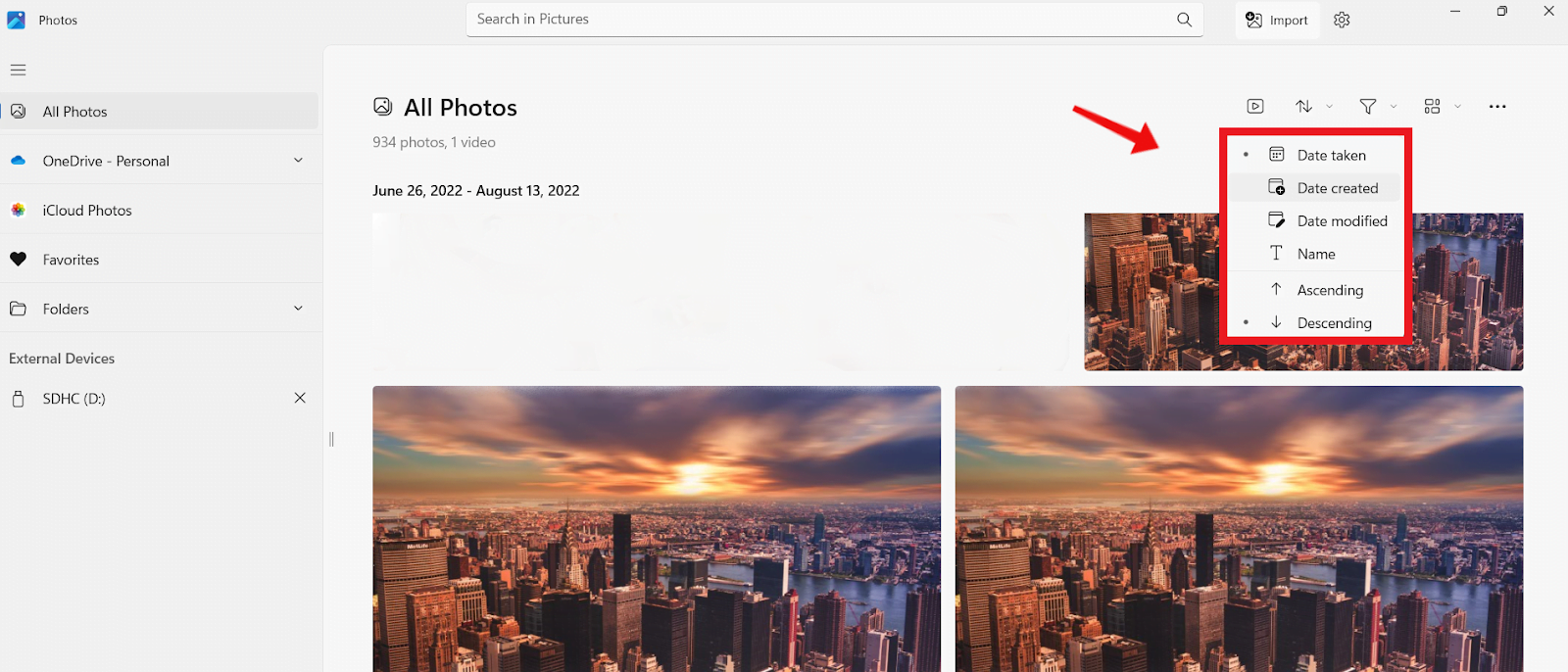 Browse your photo library and check the boxes next to each duplicate image you want to delete. Hold down the Ctrl key and click on multiple images to select them all at once.

Right-click on the selected photos and select "

Delete

" from the context menu. 
Method 3: How to Find and Remove Duplicate Photos Automatically
If you want the one of the best free duplicate photo finder, consider BoostSpeed's Duplicate File Finder. It's a highly effective and time-saving tool for locating and automatically removing duplicate images. 
This function, built into BoostSpeed's optimization program, makes it easy to deal with duplicate images. Here's how to find duplicate pictures Windows 10 using Duplicate File Finder: 
Download and install

Auslogics BoostSpeed

from the official website. This should take a few minutes to complete. 

Launch BoostSpeed, and then go to the "

All Tools

" tab. Find the option labeled "

Duplicate File Finder

" and click on it.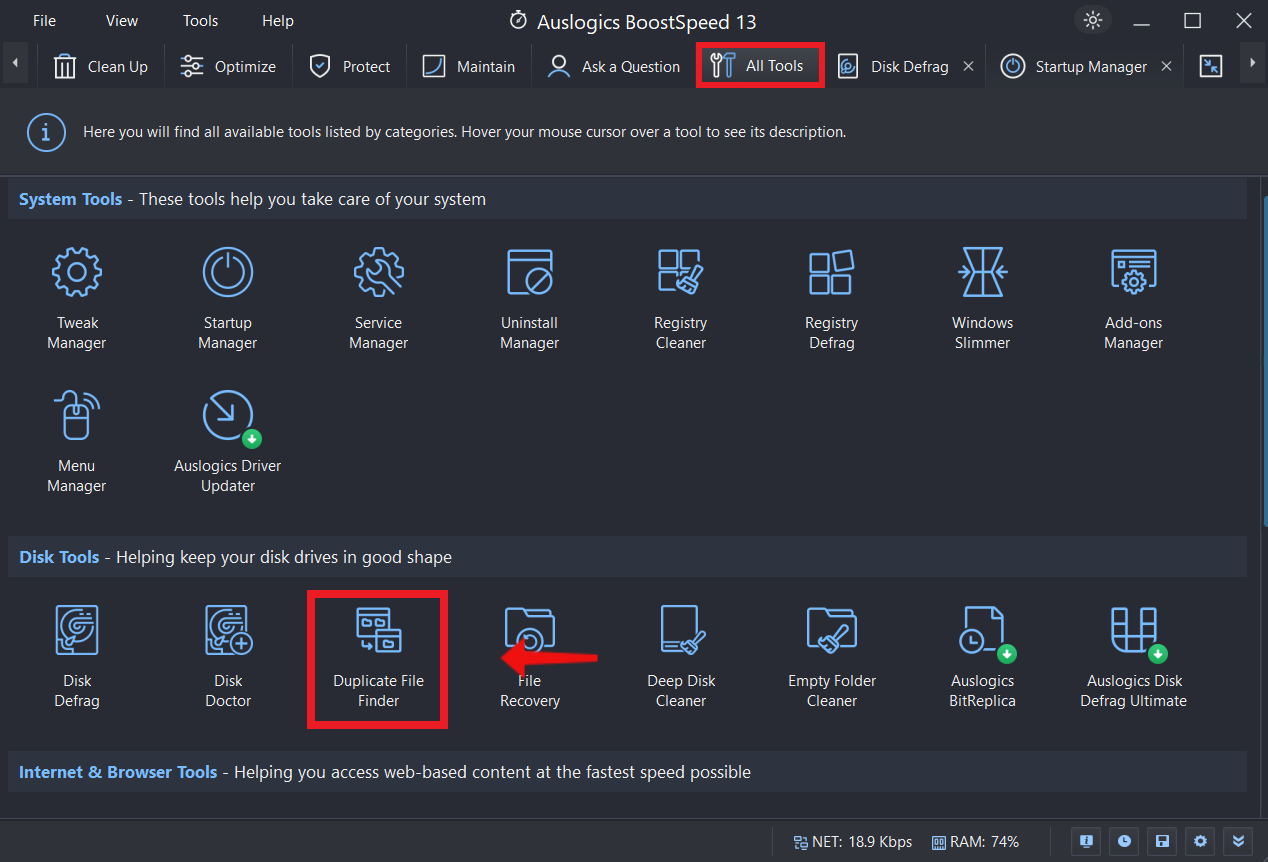 Use the Duplicate File Finder interface to look for duplicate photos on your computer by scanning specific folders or performing a system-wide search. You can also choose not to scan specific folders if you want.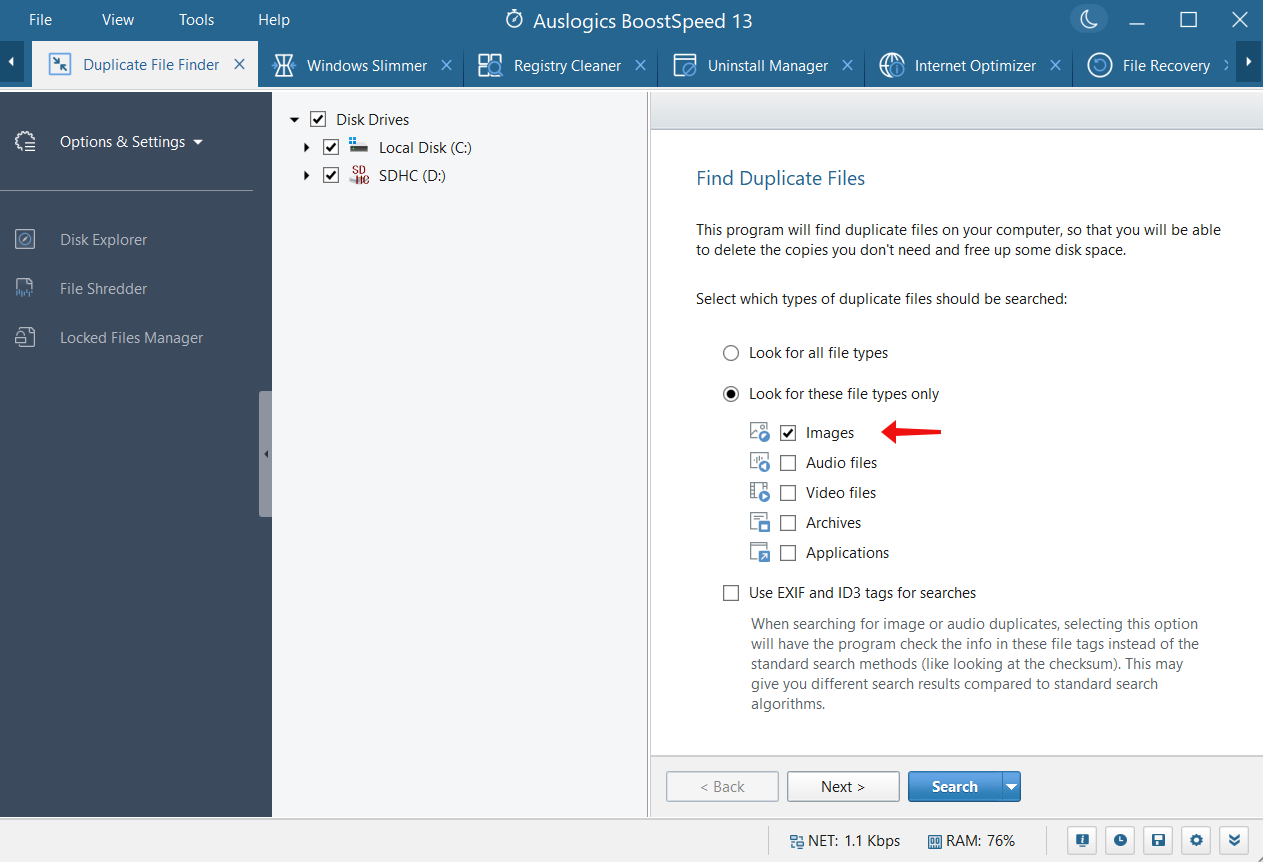 Use the "

Search

" option to begin the search for duplicate images. BoostSpeed will carefully search the folders you specify, looking for duplicate images. 

When the scan is finished, BoostSpeed will provide a detailed report of any duplicate images. You can preview the images by size or date and select the duplicates you want to delete. 

Click the "

Delete Selected Files

" button after selecting the duplicate files. BoostSpeed will remove the duplicates and free up valuable storage space on your computer.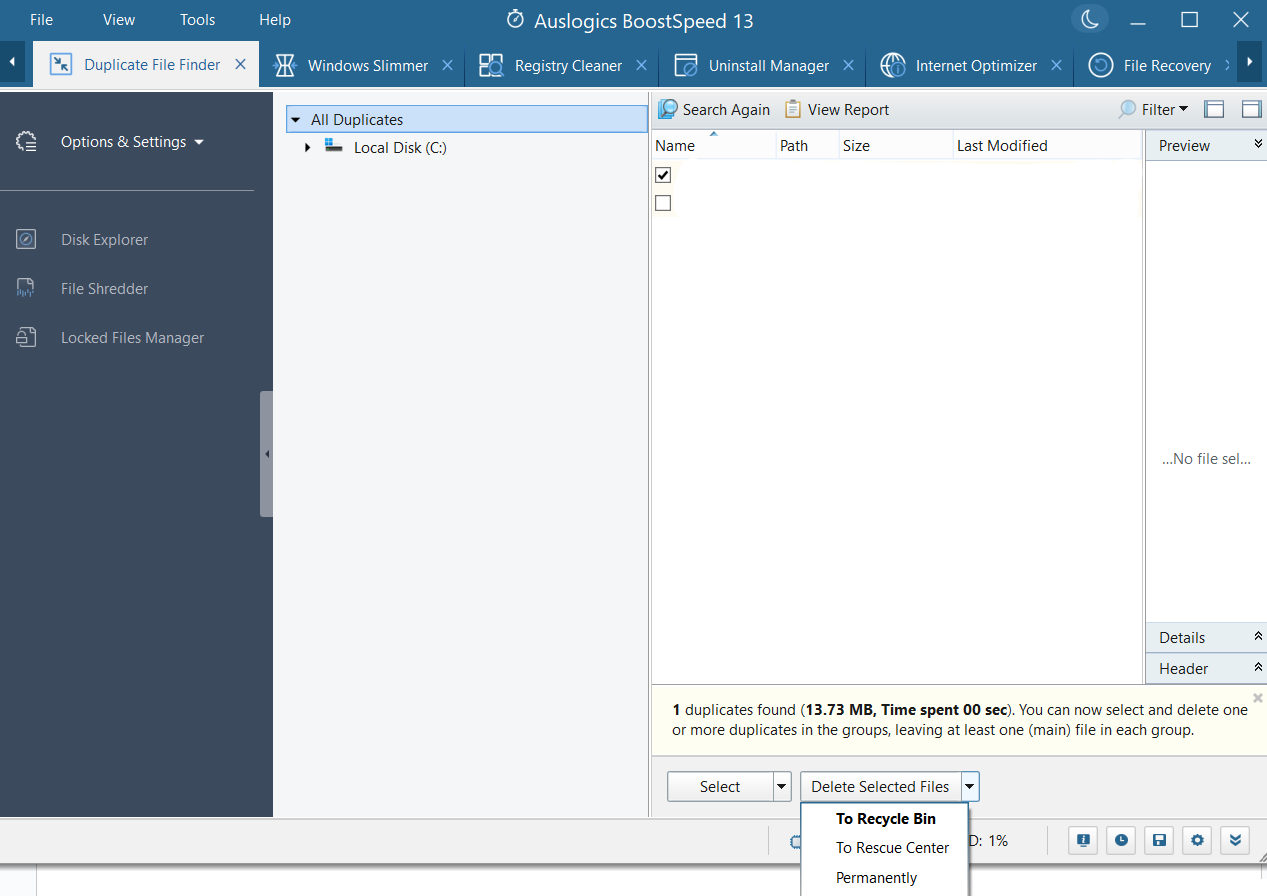 How to Clean Up Your PC and Find Duplicate Files in Windows 10?
Maintaining a clean and organized Windows 10 PC is crucial for maximum speed and space efficiency. Duplicate files are a major cause of disk space issues, and BoostSpeed's Duplicate File Finder is a fantastic tool to help you find and remove duplicate files. 
Let's have a look at the benefits and features of BoostSpeed's Duplicate File Finder for Windows 10 system maintenance:
Advanced Duplicate Detection
The Duplicate File Finder in BoostSpeed uses cutting-edge algorithms to identify duplicate files on your computer precisely. File names, sizes, and even content are all compared to find duplication, guaranteeing accurate results.
Customizable Scan Options
The software offers versatile scanning options, letting you scan only selected folders or the entire system for duplicates. To narrow the scope of the scan to a specific area of your computer, you can exclude specific folders.
The Duplicate File Finder can identify duplicates across many file extensions. This thorough protection against duplicates ensures that no files are missed.
BoostSpeed's Duplicate File Finder makes cleaning up easy with its intuitive design. Within a clean and straightforward interface, you can quickly examine scan findings, preview duplicate files, and eliminate only the desired ones.
Before deciding what to do with duplicate files, you can preview them with the software. This function is useful for checking file contents before eliminating duplicates to avoid accidentally erasing essential data.
The duplicate files can be safely removed using BoostSpeed's Duplicate File Finder. The selected duplicates are deleted and sent to the Recycle Bin, which can be recovered if necessary. You can also eliminate duplicates permanently to save space on your hard drive.
---
Related: File Shredder – How to Delete Files Permanently?
---
BoostSpeed's Duplicate File Finder allows you to recover space on your Windows 10 PC by identifying and eliminating identical files. By optimizing the system, you can get the most out of your computer's processing power and storage space.
Clean your Windows 10 PC quickly and easily using BoostSpeed's Duplicate File Finder. Its sophisticated tools, flexible scanning choices, and user-friendly interface make handling duplicate files a breeze. With BoostSpeed's Duplicate File Finder, you may enjoy a clean, streamlined PC free of unnecessary files.
---
Related: Why Is My Computer So Slow? How to Speed It Up?
---
Conclusion
Finding and deleting duplicate photos in Windows 10 is crucial for saving space and easing the management of your photo library. It's easy to find and get rid of duplicate images with the help of BoostSpeed's Duplicate File Finder, thanks to the program's 
complex algorithms, 

flexible scanning settings, and 

user-friendly interface. 
This software will help you recover lost space on your hard drive, streamline operations, and speed up your computer. Of course, you can use the free duplicate photo finder Windows 10, such as Windows Photo. 
But the Duplicate File Finder provides a more thorough and efficient method of managing duplicate files.
FAQs
Why is it necessary to clean duplicate photos from a PC?
It's critical to remove duplicate images from a computer for several reasons. First, it saves storage space, boosts productivity, accelerates operations, and refines backup processes. Getting rid of duplicates in your photo collection keeps things organized and simple.
Is There a Quick Way to Find Duplicate Photos?
Yes. You can find numerous duplicate photo finder free to search for duplicate photos. However, you can use BoostSpeed's Duplicate File Finder. It uses complex algorithms to detect and delete photos without any issues precisely.
Does Windows 10 Have a Duplicate Photo Finder?
While Windows 10 doesn't include a dedicated Duplicate Photo Finder, the File Explorer, and Windows Photos apps still provide some of the same capabilities. Using criteria like file name or size, you can use these programs to look for duplicate images. However, you need to use the best free duplicate photo finder for a more complete and time-saving solution.
Is There Software That Can Find Duplicate Photos?
You can get software that specifically searches for duplicate images on your computer. Among these programs is BoostSpeed's Duplicate File Finder. It's the best software to eliminate duplicate photos without affecting your files.
How to Find And Remove Duplicate Files in Windows 10?
File Explorer and the Windows Photos app are just two built-in tools to search for and delete duplicates in Windows 10. Using File Explorer, you can look for identical files based on criteria like name and size.