You need the best driver updater to keep your computer running smoothly. Here is why: companies release driver updates to fix hardware-related issues and improve your drivers' overall compatibility with Windows. Your computer's stability and performance could be at risk if you don't update the most recent drivers. And that's because when your drivers are out-of-date, hackers may gain access to your PC and any sensitive information stored on it. If you want to ensure that your PC runs at its full potential, then update your drivers with Auslogics Driver Updater.
Check out the Auslogics Driver Updater reviews and see how Auslogics can keep your hardware and devices working smoothly.
Let's begin.
What is Auslogics Driver Updater?
Auslogics Driver Updater is an advanced solution that can help keep your drivers up to date. It checks for new versions of your device drivers and lets you easily install them with just a few clicks.
It's easy to use, too. Just download and run the program, which will automatically scan for updates. It'll then show you a list of available updates, so you can install them in one go. The process is fast, clean, and efficient.
No more hunting around for CD-ROMs or downloading huge files from sites.
What Does Driver Updater Auslogics Do?
The program is easy to use, and you can update your drivers. With this tool, you won't have to worry about missing or outdated drivers slowing your computer down and causing crashes.
The driver updater Auslogics will always show you a list of all the devices on your system. So that will help you see what they are. After that, it'll automatically update any drivers that are out of date or need updating.
The software also fixes any issues with these devices and installs missing ones if necessary. And that makes it easy for even the most inexperienced user to run their PC smoothly without any problems.
The best part? It includes an automatic scan option to ensure everything runs smoothly before performing any updates. That means no interruptions while working on important projects.
How to Use Auslogics Driver Updater?
Using the software is easy, even if you've never used a driver updater. All you have to do is:
Install Auslogics Driver Updater
Downloading and installing Driver Updater is the same as with any other computer program. So download the program from Auslogics official site and install it on your PC.
Scan Your Hardware or Drivers.
Launch the application from your Start menu or desktop shortcut when the installation is complete. Then, run full diagnostics to allow Driver Updater to perform a full scan.
Tip: if you've already installed Auslogics products, such as Auslogics BoostSpeed 13, you can install driver updater Auslogics from the "Tools" tab. Check the screenshot below: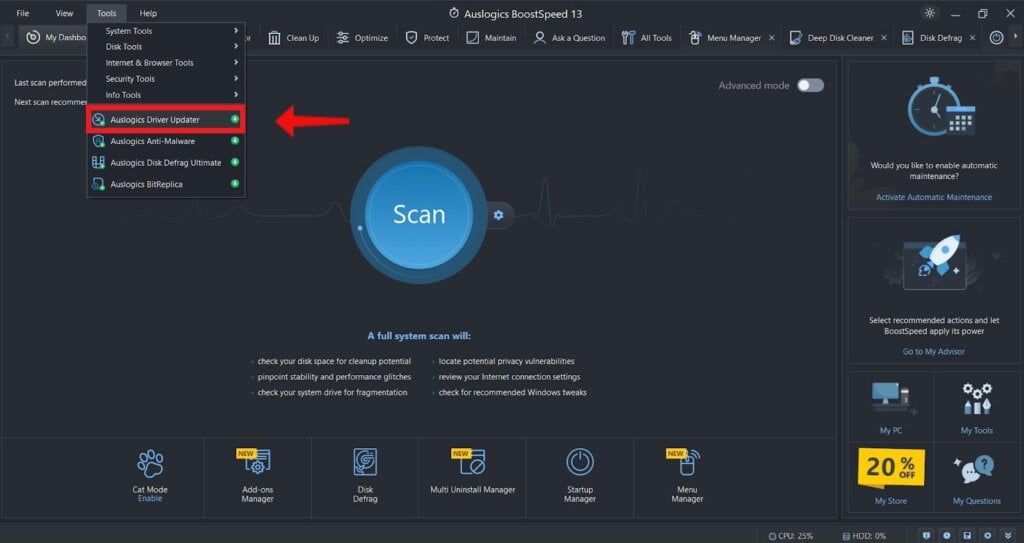 Also, if you want the best, fast, and most stable performance, it's advisable to use Auslogics Driver Updater with Auslogics BoostSpeed 13.
Let's find out how to install the Auslogics driver updater.
How to Install Driver Updates from Auslogics Driver Updater
Installing the updates is simple. All you need to do is the following:
First, visit the Auslogics website and download and install the Auslogics driver updater.
Open the program and click "Scan." The application will search for any outdated drivers on your computer. You'll also see if there are any available updates for these outdated drivers.
Click "Update" if you want to install them immediately, or select "Ignore" so that no update takes place at this time.
Tip: Unless you activate the full version, you can only update one driver at a time. But that can be a problem if you have a busy schedule. Fortunately, the Auslogics driver updater price is worth the features you get.
Is Auslogics Driver Updater Safe?
Yes, Driver Updater is safe to use. It's not a virus and has been tested and approved by many users and security experts.
If you have any doubt about the safety of this tool, here are some reasons why it's okay for you to trust Auslogics Driver Updater:
Auslogics Have You in Mind
The tool was designed with your needs in mind. So it doesn't include any malicious code that could damage your computer or steal your data.
Any Suspicious Activity is Removed Immediately
Auslogics puts its reputation on the line by testing every update before releasing it to the public. So, if the company finds anything suspicious, they will remove those updates immediately without hesitation or question.
This ensures that all drivers are 100% safe when installed onto computers using this software.
How to Activate Your Driver Updater
There's a way to register for Driver Updater if you've already installed the program. Here's how it works:
First, click on "Activate full version now."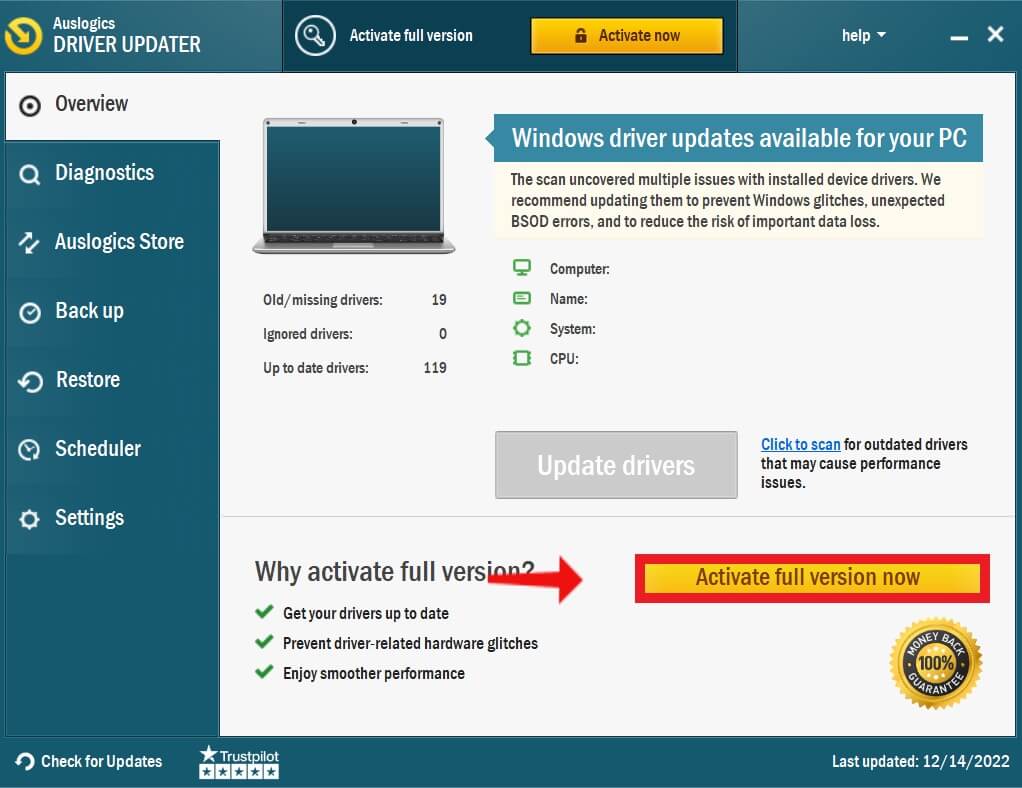 You'll be redirected to Auslogics purchase page, where you can buy the software.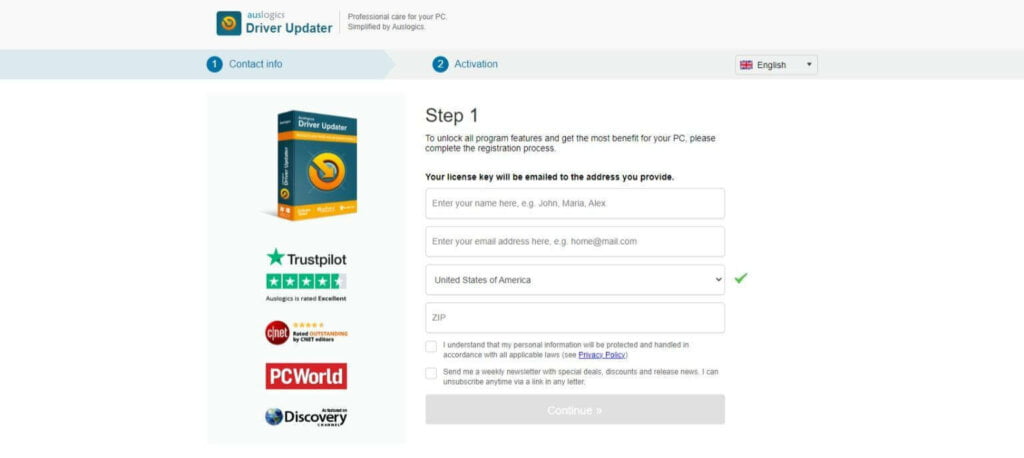 The activation code will be sent to your email inbox. Next, copy the license code and paste it into the registration window.
Click on the "REGISTER" button to complete the registration.
What are the Advantages of Using Auslogics Driver Updater
You can use Driver Updater to scan and update your device drivers in just a few clicks. It's simple to use and fast. This is why the software is one of the most popular driver updaters on the market today.
It also has many advanced features that will help you get more out of your computer than ever before.
The software is:
A powerful scanning engine that thoroughly scans your PC for outdated or missing drivers.
An intuitive interface that lets you find your way around quickly and easily.
Automatic updates ensure that all installed devices are always up-to-date.
Auslogics Driver Updater Features
Auslogics Driver Updater provides several useful functions to keep your drivers up-to-date and keeps your PC performing at its best. Let's go through them:
Complete Automatic Scan
Auslogics Driver Updater can scan your PC drivers automatically to see if any updates are needed. Scanning is simple and fast, and you can configure it to automatically scan for driver updates every time your computer boots up.
Automatic Update
After a scan identifies outdated drivers, you can update them with a click using Auslogics Driver Updater. So even if there are a lot of out-of-date drivers, you shouldn't worry about updating each one individually. And that's because you can update them with a click.
Scheduler
The driver updater Auslogics can routinely check for driver updates at specific times. You can schedule weekly scans and, if necessary, automate driver updates to ensure your Windows 11 continues to perform at a high level.
This check should be performed regularly to keep your computer in good health.
Driver Backup and Restore
There are some instances in which updating a driver won't work or might cause your PC to malfunction. However, even if it does, it won't be the end of your computer.
You can save a copy of your drivers on an external device like a hard drive or USB drive and restore them when necessary.
Compatibility
Auslogics Driver Updater is compatible with Windows 7, 8, 8.1, 10, and 11.
Auslogics Driver Updater Review: Interface and Use
You won't have trouble using the Auslogics' driver updater, as it has a straightforward design. And downloading the program is very easy.
Installing the software also takes a few minutes. Furthermore, there are well-labeled buttons for accessing various features, making the interface easy to navigate.
On the main dashboard, you have clear buttons to "Diagnose," "Restore," "Back Up," and "Schedule."
Auslogics Driver Updater Price
You can use the driver updater without purchasing, but it has fewer features. However, you can try the program before deciding on the Auslogics Driver Updater upgrade. The best part is that you don't need a credit card to download the program.
Auslogics Driver Updater Reviews: Customer Support
You can contact Auslogics' helpful customer service staff through email. You can also check out their Technical Support Center. You may find answers to your solutions before contacting the support team.
Depending on your problem's urgency, you should select the appropriate option.
Final Verdict
Auslogics Driver Updater can do the following:
update your drivers automatically and manually,
download and install new drivers,
delete old drivers,
remove duplicate drivers and find and
fix driver issues.
This tool will scan your system for outdated or missing drivers. Then, it'll let you know which ones need updating or replacing with newer versions for optimal performance.
So if you're looking for the best free PC optimization software for Windows PCs, Consider Auslogics Driver Updater. You get your money's worth using Auslogics Driver Updater.
In general, Auslogics Driver Updater delivers as advertised, serving as a helpful utility for maintaining your computer's device drivers. It also improves the efficiency of your computer.
So you should surely purchase one for optimum performance!