Compared to other operating systems, the 'insides' of the Windows OS are very accessible. The registry, for example, is open to users who might be interested in checking a computer's hardware and software information. However, take note that the Windows registry is like a minefield, and mishaps often result in infuriating and costly repairs.
Despite that, there is usually a valid reason to access your Windows 10 registry. Perhaps, you want to make adjustments to how your browser runs, or check a software package's license. Whichever the case, it is important that you know how to clean the registry on Windows 10.
There are many ways to do so. Some of the methods require you to use tools that are already built into your system while others would need third-party apps. In this article, we have highlighted four methods for cleaning your Windows 10 registry.
Use Auslogics's Software Packages
For Windows 10 users who do not have the time or ability to implement any of the methods listed above, many software packages are dedicated to this purpose. Using these may cost you a bit of money, but they ultimately lead to desirable results.
One of the best apps that can clean your Windows 10 computer without any serious effort on your part is the Auslogics Registry Cleaner. This app, as you can tell from its name, is a dedicated software package developed by Auslogics to remove unnecessary keys and entries in your registry directory.
Auslogics Registry Cleaner is armed with features that were specifically designed to help you clean your Windows registry. These are features on tabs such as Clean Registry, Find Registry Keys, Clean up your drives, Optimize your drives, Recover lost files, Update all drivers, and Improve PC performance. Each of these features evaluates the files on your hard drives, including system files, software application paths, and DLL extensions.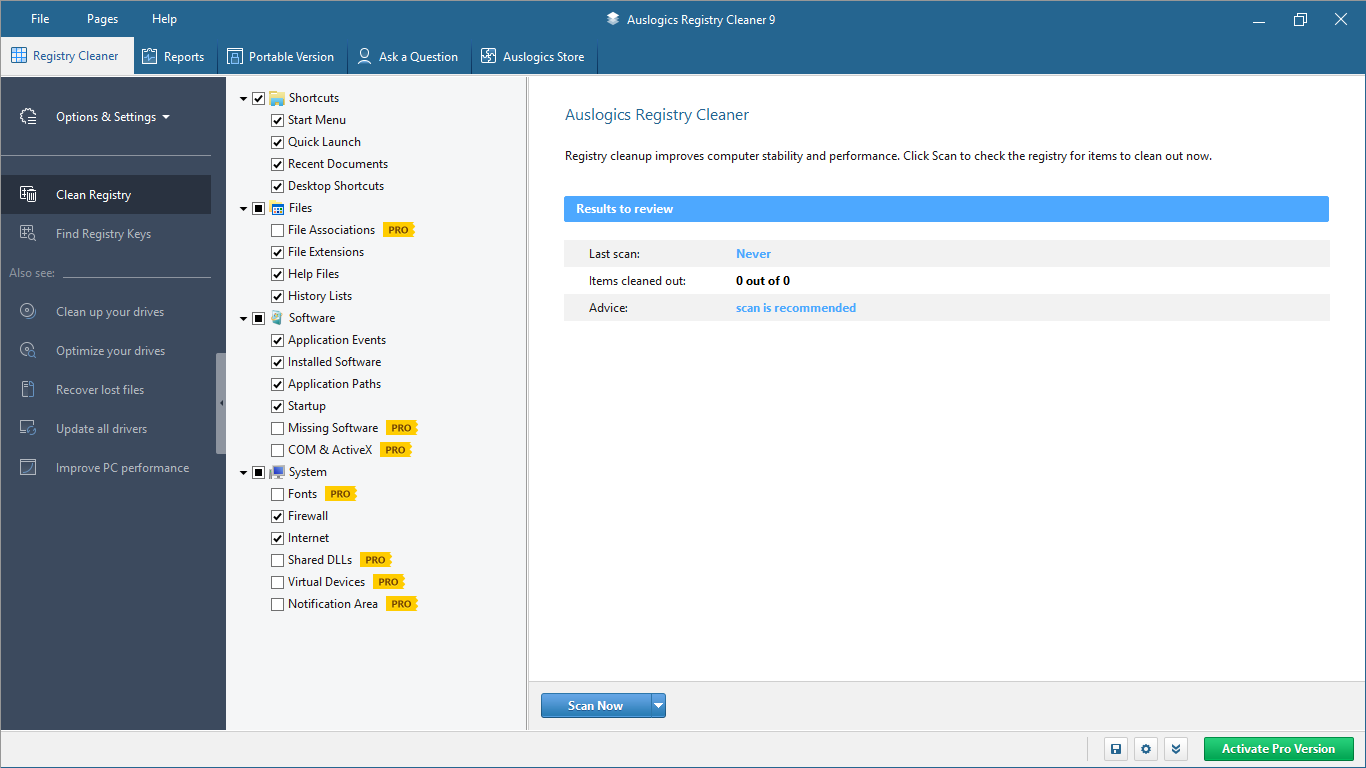 When you click the Scan Now function, the Auslogics Registry Cleaner scrutinizes the registry keys representing your system files and app leftovers. Once the program scans your system, it removes every one of these keys and entries that are no longer useful to the running of your operating system. Once you have done this, you will immediately notice a change in how fast and smoothly your Windows is running.
You don't have to worry about the integrity of your system files when you use Auslogics Registry Cleaner. The app is safe and will not introduce malware to your computer. If the app was compromised and compromising, it wouldn't have survived more than a decade in the competitive software market or recorded over 20 million user downloads.
The pricing of Auslogics Registry Cleaner is fair. You can get the Pro version for $8.48. The subsequent license runs for 3 computers and lasts for 12 months. The benefits include deep registry optimization, notification settings control, extended priority support, and even an opportunity to ask a live expert three questions. Of course, you can also use the free option, although you won't be able to use any of the listed features.
If you use any of these four methods, you won't have to worry too long about how to clean registry in Windows 10. Your computer will run as responsively and smoothly as it should.
Use the Disk Cleanup Option
The Disk Cleanup option is one of the most effective Windows inbuilt functions for managing Disk space. The main objective of this function is to clear out every temporary file, cache, or unnecessary key entry on your hard drive that might constitute a nuisance. Without using this function, Windows computers tend to lag, going slower and slower as they accumulate more computer trash. Thus, by engaging the Disk Cleanup function, you free your computer of needless files.
You can launch the Disk Cleanup function using different methods on your Windows 10 computer. One of these is to first click the Windows key and type 'Disk Cleanup.' The function will pop up and you can click it.
Another method is to use the Run console:
Click Windows key + R key to engage the run console.
Type 'cleanmgr' into the console and ENTER.
Both of these methods launch the Disk Cleanup function. You can select the disk your Windows is installed on and click on 'Clean up system files' option. Click Yes to let the function delete the unnecessary documents it found. And that's all.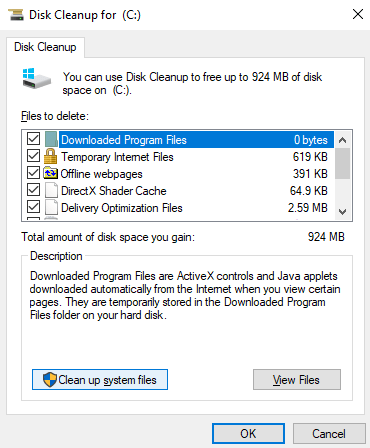 Deploy Image Servicing and Management
Another method to help you clean the registry on your Windows 10 is via the Deployment Image Servicing and Management (DISM) tool that is also inbuilt. This is a command-line instrument that is used to reconfigure, uninstall, or install driver packages and settings. DISM is a core tool that accompanies your Windows 10 OS.
To launch the DISM tool, you have to use the command prompt console. There are many ways to launch this console, but you need to run the package as an administrator. Failure to run the DISM tool on the command prompt console backed by administrator rights would result in 'Error 740: Elevated permissions are required to run DISM. Use an elevated command prompt to complete these tasks.'
So, you can click the Windows key and type in the command prompt shortcut: cmd. Once the command prompt app pops up, right-click on it and select the 'Run as administrator' option. Once the command prompt console pops up, type in the following command line exactly as it is, that is, with the forward-slash symbols and spaces:
dism /online /cleanup-image /restorehealth
Once you have typed (or copy-pasted) the line above, tap on your ENTER key.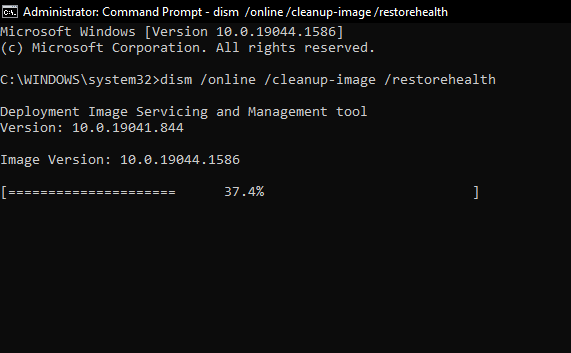 Allow the process to run until completion. Once it is done, restart your computer. You should notice that your computer runs a bit faster, which is an indication that the registry problem has been fixed.
Clean Registry by Modifying or Deleting Registry Keys
If using the DISM tool does not work, you might have to manually clean your registry by changing registry keys. This is a delicate process so you have to be extra careful. As earlier mentioned, ignorantly modifying or even deleting keys might affect the running of your computer in the long term. So, make sure that you know what you are doing and have identified the faulty registry keys.
To manually clean your registry on your Windows 10 computer, you need to start the inbuilt Registry Editor app. The Windows OS never disappoints: there are many ways to launch the Registry Editor app. You can use the default search key by clicking Windows key + S key. This brings up the search command. Next, you can type in 'registry editor' and the app will pop up.
A faster method of gaining access to the Registry Editor is to use the Run console. To use this,
Click Windows key + R key and ENTER.
Type 'regedit' into the Run console and ENTER.
Both methods call up the Registry Editor app.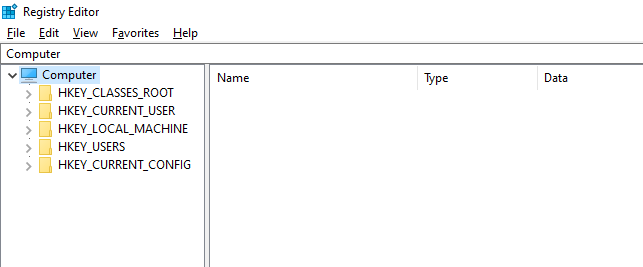 As you can see from above, there are five main categories of registry keys in the editor. Each of these categories is compressed within folders with labels that indicate the general location of the key. Double-clicking on any of these folders will expand the options and let you select whatever key you want to modify or adjust. Once you find the key, right-click on it and you can delete it.
Next, restart your system and see if your computer is working as you want it to.