There are some instances where we need to recover our deleted files. Thankfully, Windows users can do this by going through their Recycle Bin. This is a folder that functions as a repository of files that have been recently removed from File Explorer. However, some users reported that their deleted files are not in Recycle Bin on Windows 10.
What Happens to Deleted Files in Windows 10?
You can usually find deleted files inside the $Recycle.bin system folder. It is worth noting that this is a hidden folder in the root C: directory. So, if you're planning to access it from that directory, you would need to make some adjustments in File Explorer. However, there's a shortcut of the system folder on the Windows 10 desktop, making it convenient for you to access your recently deleted files.
If you notice that the files you've been deleting are not ending up in the Recycle Bin, then you've probably erased them without letting them go in the bin first. Learning how to restore deleted files not in Recycle Bin is not that complicated. What you'd have to do is ensure that all the files you delete will end up in the Recycle Bin. In this article, we will teach you the things you should avoid and the steps you must take to ensure that you can still restore files from the bin.
Tip 1: Avoid pressing the Shift key when you're deleting files
Sometimes, users discover that their recently deleted files are not in recycle bin on Windows 10 because they unknowingly bypassed the folder. If the same thing happened to you, you probably pressed the Shift key while you were deleting a file. When you hold that key, you can erase a file without sending it to the recycling bin first. So, it is important that you avoid pressing the Shift key while you're removing a file.
Tip 2: Be mindful of the files you delete from your flash drive
Keep in mind that USB flash drives do not have $Recycle.bin folders. It is true that files can be deleted and sent to the Recycle Bin from other HDD partitions. However, when you delete files from a USB flash drive, the data won't end up in the bin. So, before you delete anything from your flash drive, make sure you won't need them in the future. Otherwise, you should save a copy in a folder in your hard drive before you remove the file.
To ensure that you would be able to use your flash drive without any hassle, it would be best if you update your drivers. Doing this manually can be complicated and time-consuming. As such, we suggest automating the process, using a one-click solution like Auslogics Driver Updater. What's great about this tool is that it takes care of all outdated, corrupted, and missing drivers. So, once the process is complete, you can expect your PC to perform better and faster.
RECOMMENDED
Resolve PC Issues with Driver Updater
Unstable PC performance is often caused by outdated or corrupt drivers. Auslogics Driver Updater diagnoses driver issues and lets you update old drivers all at once or one at a time to get your PC running smoother
DOWNLOAD NOW
Tip 3: Avoid deleting files through the Command Prompt
You should also know that the Command Prompt does not use the Recycle Bin. So, when you delete files via this program, you are bypassing the bin. To put it another way, when you need the files to go in the Recycle Bin when you remove them, you should avoid erasing them through the Command Prompt.
Tip 4: Make sure that the 'Don't move files to the Recycle Bin' option is not activated
In some cases, the deleted files do not end up in the Recycle Bin because of the settings of this system folder. What you'd have to do is to ensure that the 'Don't move files to the Recycle Bin' option is not selected in the settings. You can do that by following these steps:
Right-click Recycle Bin on your desktop.
Select Properties.
Deselect the 'Don't Move Files to Recycle Bin' option.
Confirm the new setting by clicking Apply.
Close the window by clicking OK.
Tip 5: Increasing the allotted data size for Recycle Bin files
When you open the Properties window of Recycle Bin, you will see a Custom Size option. This allows you to adjust the maximum size of files allowed in the bin. If you happen to delete a file with a size bigger than the Recycle Bin limit, then it wouldn't be sent to the bin. So, if you're handling large files on a regular basis, it would be best to adjust the allowable size in your Recycle Bin settings.
Tip 6: Resetting the Recycle Bin
If deleted files do not end up in the Recycle Bin, it is possible that this system folder is corrupted. It is not difficult to learn how to repair corrupted Recycle Bin in Windows 10. You just have to reset it by following the instructions below:
On your taskbar, click the Search icon.
Type "command prompt" (no quotes).
Right-click Command Prompt from the results, then select Run as Administrator.
Once Command Prompt is up, type "rd /s /q C:$Recycle.bin" (no quotes), then press the Return key.
Exit Command Prompt, then restart your computer.
Tip 7: Use Auslogics File Recovery
If you mistakenly clear a folder or you lose important files because of a virus attack, we recommend using Auslogics File Recovery. Don't worry because the files you thought were lost for good can still be retrieved with the help of this tool. It can be used for hard drives, USB storage drives, and memory cards, allowing the user to recover all file types, even those from lost partitions.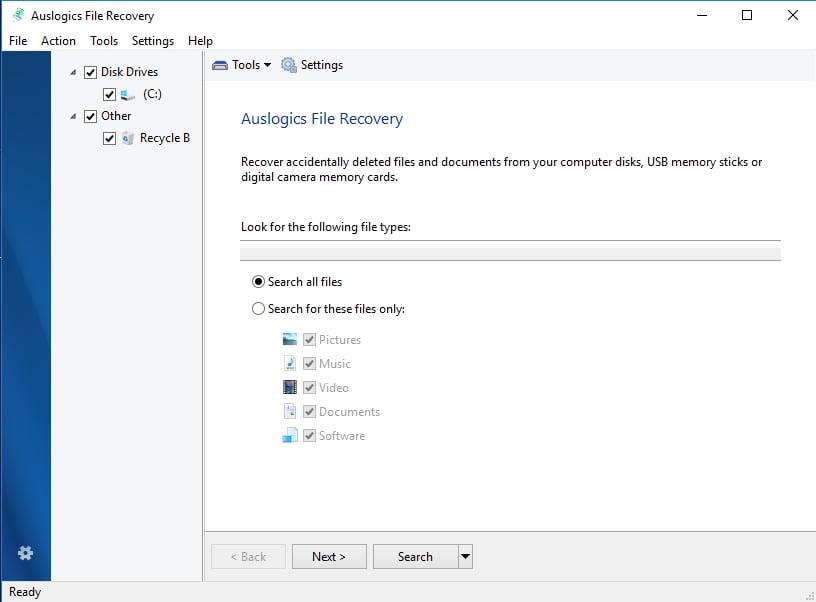 Can you share other ways to retrieve lost data?
Let us know in the comments below!