The Windows Registry is an integral part of your computer that saves numerous system configurations, preferences, and settings. However, the registry can be difficult to use, especially if you're a new user.
Luckily, this is where registry cleaners like Auslogics Registry Cleaner come in handy. These programs help registry optimization by erasing unnecessary data, correcting errors, and boosting system speed.
This guide will explain why you need registry cleaners, why you need to clean the computer registry, and more.
Let's begin.
What Is a Windows Registry?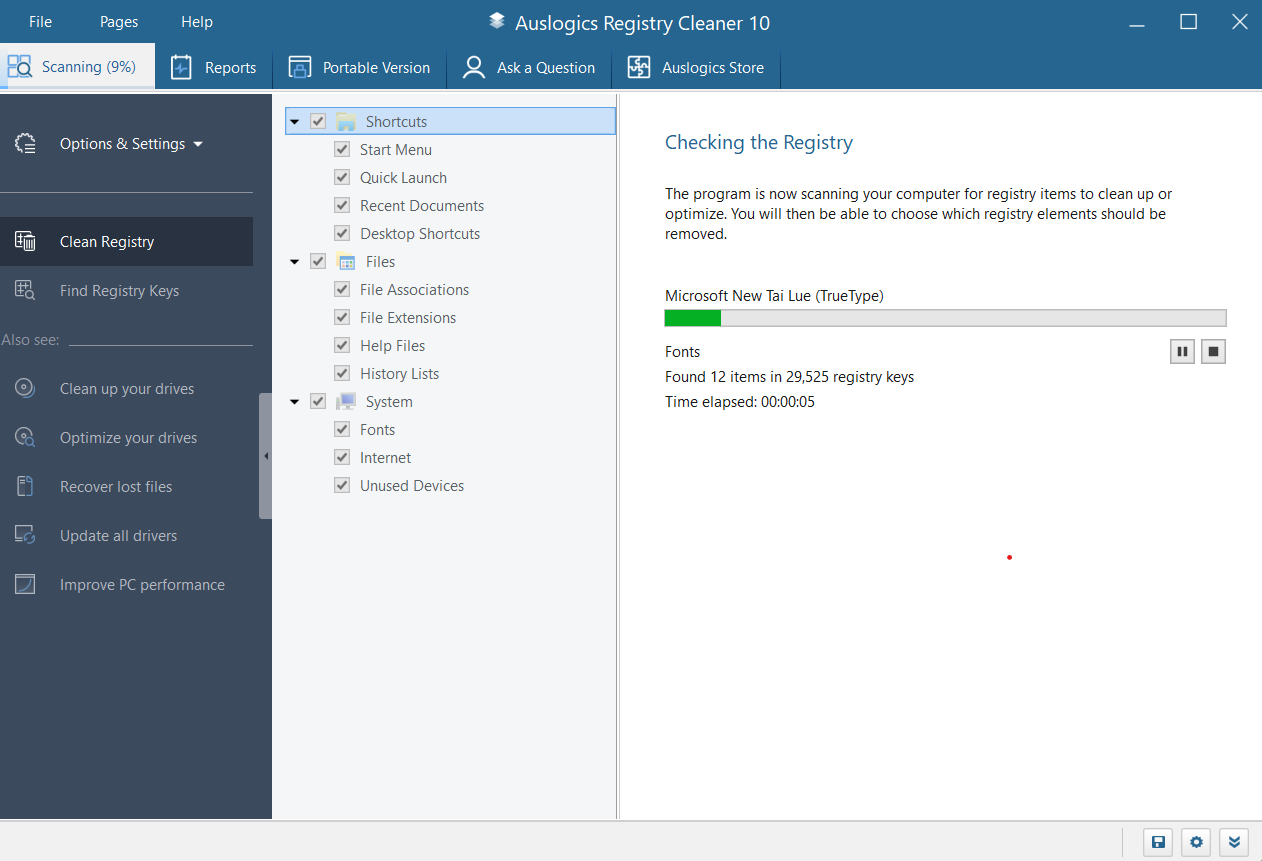 The Windows Registry is a crucial component of your Windows operating system. It's a centralized database for all the system's most vital information, including user preferences, configuration settings, software and hardware details, and more.
You can also view the Windows Registry as the computer's architectural plan. The registry consists of keys, like the blueprint for your house. It tells your computer how it should work and how to do it.
If you imagine the registry as a house, each key represents a different room. And the values assigned to those keys represent that room's furniture, wall color, and flooring.
So you should properly maintain your PC's registry. And that's because if you don't have the right knowledge or tools to change the registry, it can cause your PC to crash. It may even cause system instability.
We recommend tools like Auslogics Registry Cleaner to optimize and maintain your PC's registry.
Why Do I Need to Clean Windows Registry?
It's easy for the Windows Registry to accumulate invalid, obsolete, or corrupt entries over time. As a result, performance issues, warnings, and even crashes may occur.
Registry cleaning can boost system performance by deleting these items and improving the remaining ones. However, a cluttered registry makes it harder for the operating system to locate critical settings, which might slow down your computer.
Related: Why is My Computer So Slow? – How to Improve Computer Performance.
Furthermore, software malfunction or crashes due to registry errors can be frustrating and waste time. So we recommend using a registry cleaner to keep your computer running smoothly and avoid these problems.
However, you should use the best registry cleaner as it safely secures and maintains the most relevant part of your PC.
Related: Safe and Easy Way to Resolve Stability Issues with Auslogics Registry Cleaner
We don't recommend manually clearing the registry because even minor mistakes might have undesirable results.
However, a well-maintained registry can improve computer performance, and using a trusted registry cleaner can help you do it safely and efficiently.
Is It Safe to Clean the Windows Registry Manually?
Changing the Windows Registry manually can cause serious problems unless you know what you're doing. If you make a mistake while making changes to the registry, it could cause major issues, such as the Blue Screen of Death or your Windows won't boot.
That's why any time you make changes to the registry, manual or otherwise, it's a good idea to back it up first. You can also use the free registry cleaner for Windows 10, like Auslogics Registry Cleaner, to do it automatically.
This will guarantee a clean registry without harming your computer in any way. Only make the changes you've been instructed to make and follow the right instructions.
So it's safer to get help from an expert or use a PC optimizer if you're unsure what you're doing. To clean your Windows 10's registry, check out this guide: How to clean Registry in Windows 10?
Why Do You Need a Registry Cleaner?
A Registry cleaner is an essential tool for keeping your computer running smoothly. It can repair, clean, and optimize your computer registry to prevent crashes and errors and ensure a stable PC function.
This will make your computer perform quickly and efficiently, enhancing your overall experience. A Registry cleaner's primary function is to remove traces of previously-installed software that may affect system performance.
That's why Auslogics Registry Cleaner is the best option. It's an excellent program for erasing leftover registry keys after software uninstallation. In addition, you get the complete freedom to modify the registry as you see fit, so you can examine the invalid entries and save the ones you need.
Related: "Why is My Computer glitching?" –  Most Common Reasons for Computer Glitches
Are Registry Cleaners Safe?
Yes, if you choose the right register cleaner. Using a registry cleaner is a risk-free and efficient method to keep your Windows registry in good shape. However, as said earlier, the registry can become fragmented and cluttered, leading to crashes, errors, and slow PC performance.
But, not all registry cleaners are the same; some may be riskier or less efficient than others. That's why using a trustworthy registry cleaner, such as Auslogics Registry Cleaner, is vital.
PC manufacturers choose Auslogics technology because it's trusted, proven safe, and effective.
Furthermore, the cleaning process is safe and efficient thanks to cutting-edge algorithms and standard cleaning technologies.
That said, we always recommend backing up your registry before making any changes.
Use Auslogics BoostSpeed for High PC Performance
Auslogics BoostSpeed is one of the best PC optimization software with useful tools to speed up your computer. The best part is that BoostSpeed includes an Auslogics Registry Cleaner. This not only cleans your registry but also performs overall PC maintenance.
Your computer will remain at peak performance without any more effort on your part. One of the best features of BoostSpeed is the ability to remove unnecessary files from your computer's hard drive.
Furthermore, it offers privacy features that erase your digital footprint, making it impossible for even the most sophisticated hackers to access your private data.
In addition to real-time PC protection, you can schedule BoostSpeed's automatic maintenance feature to operate conveniently.
BoostSpeed is a comprehensive tool with numerous features to improve computer performance. Download Auslogics BoostSpeed now and optimize your PC at a click of a button!
Conclusion
A Windows registry cleaner is a must-have if you care about the health of your computer. However, many risks are associated with manual registry edits, and the number of junk files can build over time. That's why we recommend a trustworthy registry cleaner for your computer maintenance.
You can safely clean, repair, and optimize your computer registry with Auslogics Registry Cleaner. And that can prevent errors and crashes and ensure your computer runs smoothly.
You can also use Auslogics BoostSpeed to optimize your computer. It's an all-in-one PC optimization tool that offers numerous features, such as automated maintenance, privacy protection, Duplicate File Finder, Windows Slimmer, and more.
FAQs
What Is a Windows Registry?
The Windows registry is the operating system's primary database that stores configuration settings for hardware, applications, and user preferences.
Do I Need Windows Registry Cleaner?
Windows Registry Cleaner can help speed up your computer by deleting unnecessary entries and correcting registry errors. It's not required, but it might help your computer run faster and more reliably. However, using Auslogics Registry Cleaner is better to avoid mistakes and make cleaning easy.
What Is the Purpose of the Windows Registry?
The Windows registry is responsible for storing and organizing settings for the operating system. Hardware and software configurations, as well as individual and system settings, fall under this category.
Are Registry Cleaners Safe?
Yes. Registry cleaners are safe when you use them correctly. However, it can cause instability or errors in the system if you are not careful or use an unreliable program. If you want to be sure you're not risking anything, use Auslogics Registry Cleaner.
How to Clean the Registry Windows 10?
Auslogics Registry Cleaner is a reliable registry cleaner that works well with Windows 10. After downloading and installing the software, you must run a scan to have any registry problems identified and fixed automatically.
However, always make a backup of the registry before making any changes to avoid potential issues