You don't need a supercomputer to run regular day-to-day tasks comfortably. Your Windows 10 PC likely has all the resources to keep you efficient.
Even if you're frustrated by lags and a performance decline, you can still get things running well again without replacing your system.
In this article, we'll show you more than 15 ways to speed up a computer that runs Windows 10.
Let's begin.
Tip 1: Keep Windows Up to Date
Even though Windows 11 is all the rage right now, Microsoft will still support Windows 10 until 2025. So, your PC will continue to receive regular performance and security updates from the software maker. While some quality and feature updates are optional, installing them will help get the best out of your system.
Also, hotfixes are released through the Windows Update client to deal with bugs that might slow down your computer. These releases show that one of the best ways to speed up Windows 10 PCs is by making sure they're up to date.
To update Windows 10:
Head to the Start menu and search for Windows Update;
Tap or click the Check for Updates button. The Windows Update client should start searching for updates and displaying available ones;
Allow it to download and install the updates;
If it prompts you to restart your system, click on the Restart Now button.
You'll see an option to download quality or feature updates if any is available. Click on the Download and Install button to kickstart the process.
Tip 2: Update Apps and Drivers
Drivers and third-party applications also receive regular updates that you should install.
Since drivers determine how well your hardware devices communicate with your operating system, it's a good idea to keep them optimized. When software drivers, like graphics cards, remain out of date for too long, you'll begin to notice performance drops.
The Windows Update utility can be used to update drivers or you can go through the hardware manufacturer's website.
However, with tools like Auslogics Driver Updater, you won't have to worry about driver updates. The program will perform regular scans and help you install updated drivers automatically
Read more: How to update drivers on Windows 10 PC?
Tip 3: Uninstall Unnecessary Apps
Some programs do nothing but take up space on your computer. These could be applications you installed yourself or those that shipped with your PC. So, after updating your operating system, your next step should be carrying out a bit of sanitation.
Head to the Settings app (Windows + I) and click on Apps. Now, go to the Apps & Features page, then scroll through your list of apps to find programs you don't use. These applications will likely have background processes that drag your CPU down and even use up other resources such as bandwidth.
When you find such apps, click on them and select the Uninstall button and follow the subsequent prompts to remove the app.
Read more: How to uninstall programs in Windows 10/11?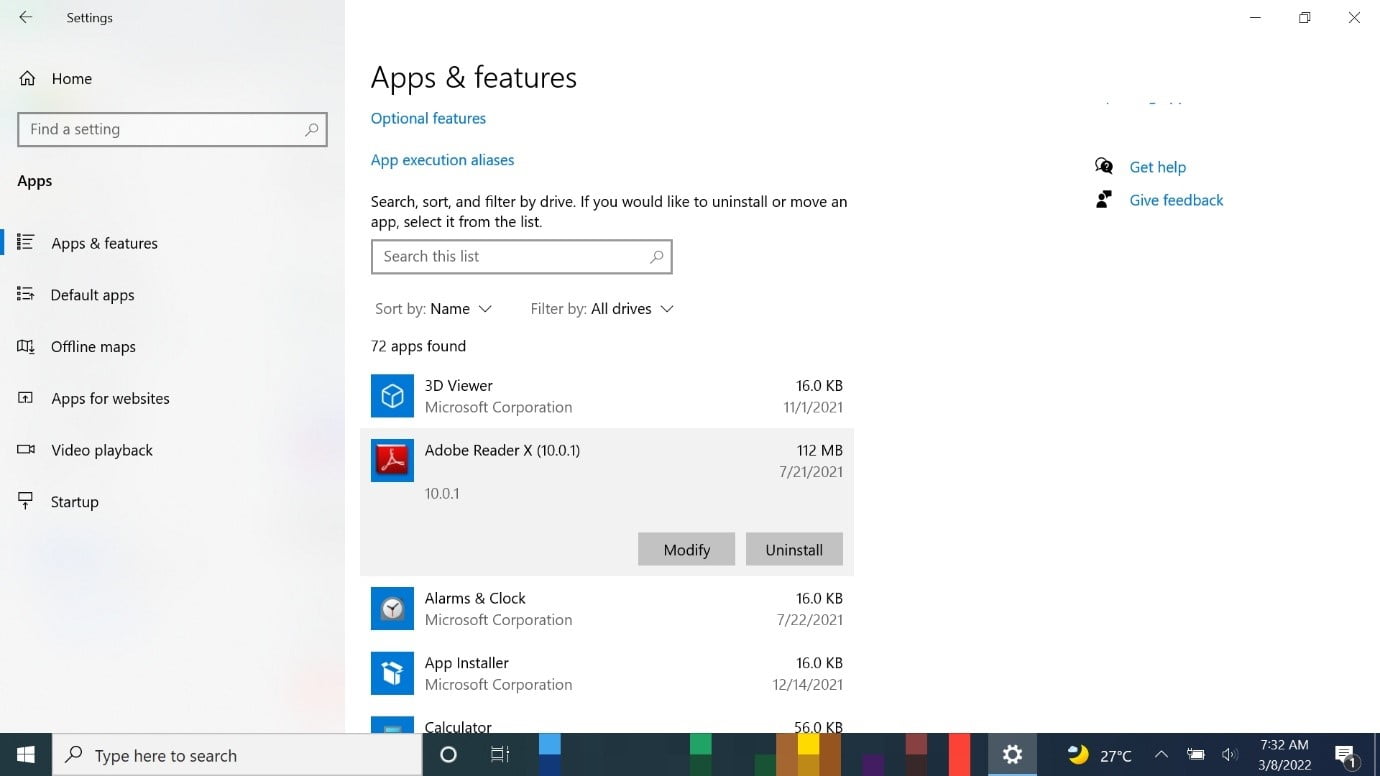 Tip 4: Close Background Applications and Use Fewer Tabs
Some apps run in the background and weigh your processor down. With a simple Settings tweak, you can disable these apps and choose which programs will run in the background.
So, launch Settings, click on Privacy and select Background Apps. Next, go to the Background Apps page and turn on the "Let apps run in the background" option. After that, go to "Choose which apps can run in the background" and turn individual apps on or off.
You can quickly turn most applications off by toggling off the "Let apps run in the background" option.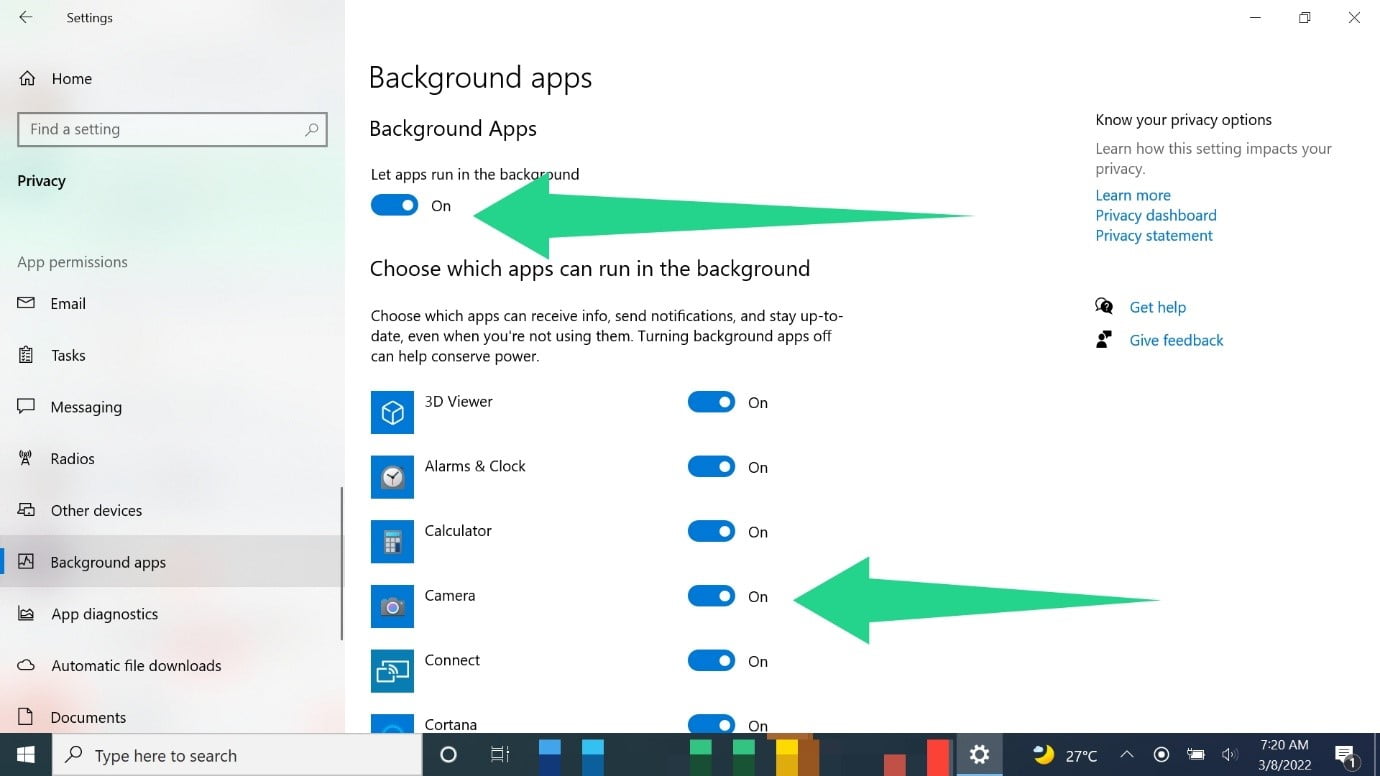 You should also make sure you open fewer tabs when using a browser like Chrome, Firefox, and Microsoft Edge, especially if you're not using a high-end computer. Your PC loads these programs and every new web page to your RAM. So, once your system's memory begins to fill up due to many open tabs, you'll start experiencing lags.
Keeping a few tabs open should reduce the strain on the RAM and speed up your Windows 10.
Tip 5: Disable Startup Apps
Some applications are designed to start running immediately after Windows boots to the Desktop. When too many applications launch simultaneously during startup, it will likely take a toll on your computer. Also, since most of these programs continue to run in the background, they'll keep consuming your limited system resources.
Apart from system services and applications, some third-party startup programs aren't essential and don't necessarily have to run. So, turning them off should give your processor some breathing space and eventually will help to speed up your Windows 10. Look out for those apps you don't need and disable them.
Follow these steps if you don't know how to disable startup apps:
Launch the Settings app (use Windows + I or right-click the Start button and select Settings).
Click on Apps when the home page of Settings appears.
Next, go to the left side of the Apps page and click on Startup.
Your computer's startup programs will now appear on the right.
Use the switch to toggle off programs you want to disable.
Read more: How to Speed Up Windows 10 Startup?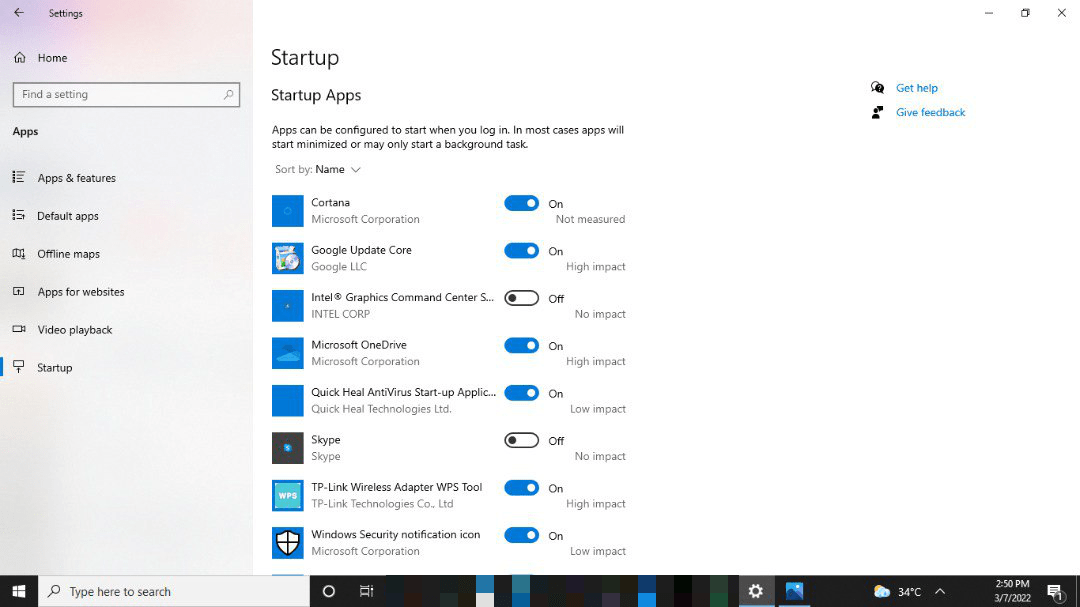 You can also use the Task Manager to disable startup applications:
Press CTRL + Shift + Esc to launch the Task Manager;
Switch to the Startup tab;
Click on the program you want to disable and tap the Disable button in the bottom-right corner.
However, it doesn't end with startup applications. Some third-party startup services only run in the background and do nothing but consume system resources. So:
Head to the System Configuration dialog box and check for services that should be disabled from launching at startup;
Type "msconfig" (no quotes) in the search window and click on System Configuration;
After the application opens, switch to the Services tab;
Make sure you check the box beside "Hide all Microsoft services." By hiding services related to Microsoft, we're avoiding a malfunctioning operating system since these services are critical to Windows;
Restart your PC after disabling the apps and services.
Tip 6: Adjust Your Power Settings
Windows manages your system's performance to conserve battery power. While this is typical in laptops, desktop computers also have power plans intended to prevent overheating.
The Power Saver plan reduces performance to prolong battery life. You'll experience periodic lags and slowdowns if you're on this plan. Changing the plan to Balanced or High Performance should speed up Windows 10. However, you should note that you'll likely be sacrificing a great deal of battery life.
Here's how to adjust Windows 10's power plans:
Open Control Panel. Tap Windows + R to summon Run, then type "control panel" (no quotes) into the text box and hit your keyboard's Enter key;
After the Control Panel window appears, go to Hardware and Sound and select Power Options.
Once the Power Options page shows up, you'll see the Balanced and Power Saver plans under "Choose or customize a power plan."
If you want to go for the High Performance plan, expand the "Show additional plans" section.
Now, select the plan you want and exit the Control Panel.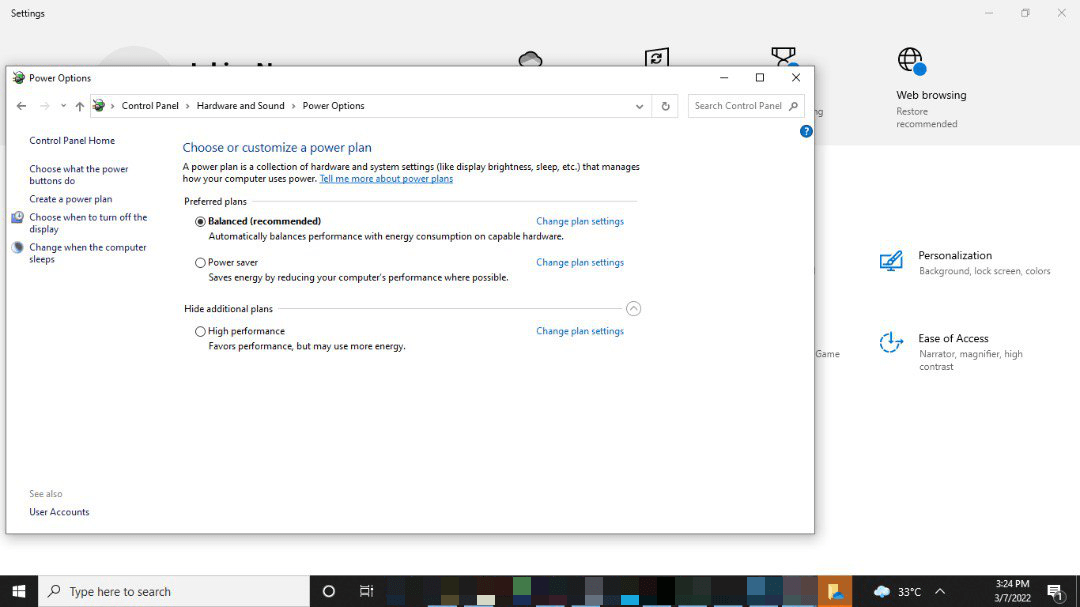 If you use a desktop computer, you should go for the High Performance option since you're always plugged in. However, consider going for the Balanced Option whenever you're running on your battery if you use a laptop. However, High Performance should be your main plan whenever your computer is plugged in.
Tip 7: Get Rid of Junk Files
System and third-party programs create temporary files every time you use your computer. For example, Microsoft Word creates temporary files to back up your work whenever you start a new document.
These files help your computer run efficiently but become useless after completing their functions. Applications are programmed to delete their temporary files after a while, but these files stay put for some reason.
You'll start experiencing performance problems once your computer accumulates thousands of junk files. The issues start happening because your CPU may spend time processing these files, or your hard drive might get clogged up at some point. Also, since Windows indexes new files for search, new temporary files strain your CPU even more.
Deleting the junk files will free up space, speed up your Windows 10 and improve your computer performance.
You can clear junk files using the Disk Cleanup tool or through the Settings app.
Let's start with the Disk Cleanup Tool:
Search for "disk cleanup" in the Start menu;
Launch the tool once it shows up on the search results;
Select the volume you want to clean up;
Once the tool appears, you'll see a list of temporary files. Check the box beside the ones you want to clear and click on the OK button. You can also click on the "Clean up system files" to get rid of junk files created by the operating system.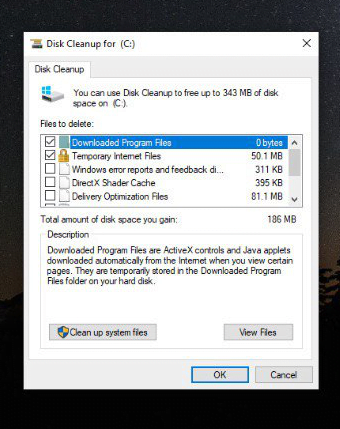 Follow these steps to go through the Settings app:
Tap Windows + I or right-click the Start button and select Settings;
Click on System on the first page of the Settings app;
Select Storage in the left pane of the System interface;
Go to the Storage page and click on Temporary files;
Next, select the temporary files you want to remove and click on the Remove Files button.
After that, you can go ahead to configure Storage Sense to automatically free up space on your hard drive and get rid of junk files:
Click on "Configure storage sense or run it now" under Storage;
Next, check the box beside "Delete temporary files that my apps are using" under Temporary Files and use the drop-down boxes that follow to select a duration;
After that, click on the Clean Now button.
Also read: How to get more storage on PC – clean up your PC to run faster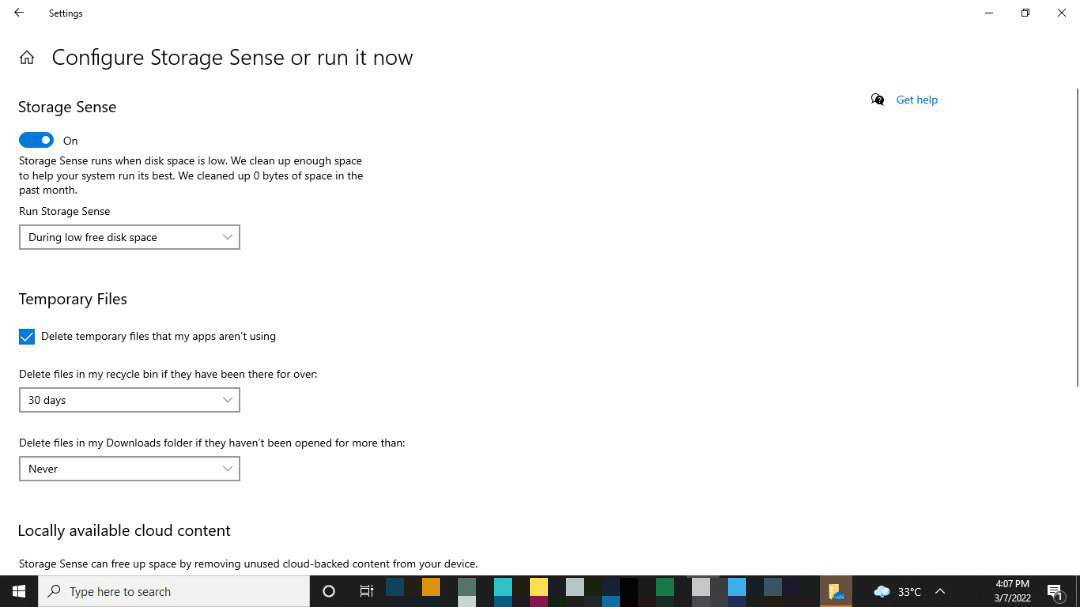 Tip 8: Use Auslogics BoostSpeed to Keep out Junk Files
Running the Disk Cleanup tool or going through the Settings app whenever you want to free up disk space can be a stressful affair. Thankfully, you don't have to repeatedly go through all that when you use Auslogics BoostSpeed. The tool tracks and removes temporary files that your apps no longer use.
It also helps optimize PC performance by cleaning up your system registry to remove potentially problematic leftover registry keys. Read our article to find out how Auslogics BoostSpeed can help you to speed up your Windows 10.
Tip 9: Get Rid of Bloatware and Malware
Most times, manufacturers ship computers with apps that virtually serve no purpose. They usually run in the background, collect diagnostic data, and consume a chunk of system resources.
Also, malware that you accidentally download from the Internet could be dragging down your PC's performance.
Read more: Common Malware Entry Points and How to Eliminate Them
You can get rid of these apps and malicious programs by running your antivirus program what will help you to speed up your Windows 10 PC.  A good option is Auslogics Anti-Malware. The tool is configured to find and remove every manner of bloatware, such as adware, spyware, and viruses. In addition, its virus definitions are regularly updated, which means you can trust it to catch harmful programs anytime.
You also have the option of using Windows 10's native security tool – Microsoft Defender Antivirus. You can use the program to run a full scan and set up other safeguards. First, go to the right side of your taskbar and click on the white shield icon. Click on Virus & Threat Protection after Windows Security opens. After that, click on Scan options, select Full Scan, and click on Scan Now.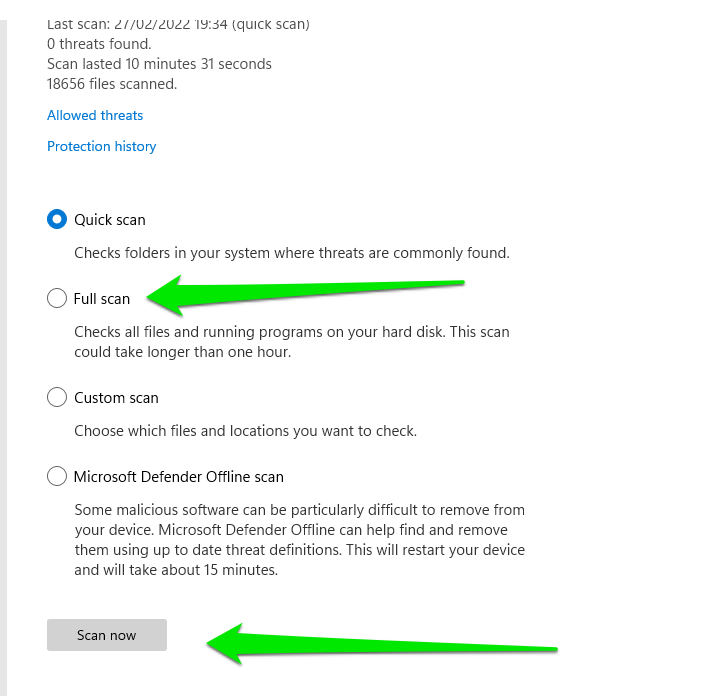 Tip 10: Defragment Your Hard Drive
Hard drive fragmentation is one of the reasons most PCs slow down. Fragmentation occurs as files are written and deleted on a hard drive. When you install a new program or save files to a hard drive for the first time, they're written to contiguous areas (one after another). However, new space begins to open up all over the place when you delete files and write new ones.
Want to know more about Hard Drive Defragging? Read our Guide.
Over time, your computer will have to fetch pieces of a single file from different parts of the hard drive. This process is resource-demanding and always slows down computers that run on hard disk drives.
When you defragment your hard drive, your system rearranges the scattered pieces of files and brings them closer to each other.
These steps will show you how to defragment your drive:
Open the Windows search explorer and type "defrag" (no quotes).
Click on Defragment and Optimize Drives.
The Optimize Drives window will now show up. You'll see the state of your hard disk drive under the Current Status column.
If your drive requires defragging, click on the Optimize button and allow Windows to do the rest.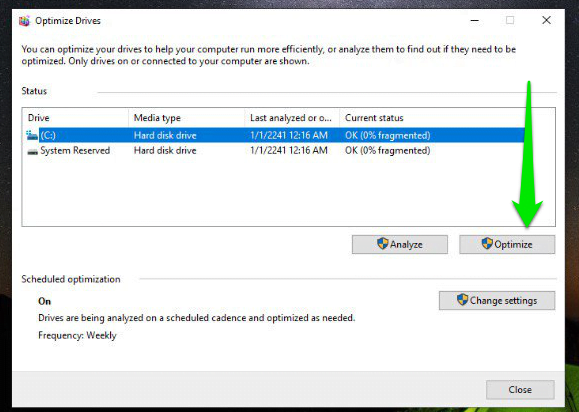 Note that Windows runs the defragmentation process when you click on Optimize if you use a hard disk drive. It will run a TRIM command if you use an SSD. The TRIM command notifies the SSD that specific blocks are no longer in use, optimizing the drive for better performance.
Read more: Defrag Your Hard Drive Like a Pro – Step-by-Step Guide
Tip 11: Disable Search Indexing
The next tip on how to speed up Windows 10 involves turning off search indexing.
Windows creates an index of your entire files to make the search process easier and faster. So, instead of digging through your hard drive whenever you enter a search, it fetches the info from its indexed database.
While this makes things run smoothly, the process takes a toll on your computer. Search Indexing is done in the background, and it's almost a continuous process that consumes system resources.
The first indexing process exacts more strain on your computer. That's because the OS has to go through all your files and their properties. It also has to index the text within text files to pick up keywords from the document's content. After that, it only indexes newly added files. That said, if you regularly work with lots of files, indexing can take its toll on your PC.
So, turn off search Indexing and check if your system's performance improves. Follow these steps:
Open the search explorer and type "services" (no quotes).
Click on the Services app in the results.
Once you see the Services window, scroll down to the Windows Search service and double-click it. Next, click on the Stop button in the Properties dialog window and select Disabled in the Startup Type drop-down menu.
Now, click on the OK button, restart your PC, and check if performance has improved.
Note that the search function in the Start menu, Settings app, and File Explorer may stop working.
You can also limit what Windows can index using the Indexing Options dialog. First, search for "indexing options" in the Start menu and click on the first result. Once the dialog appears, it will display locations currently being indexed. Next, click on Modify to add and remove things to be indexed.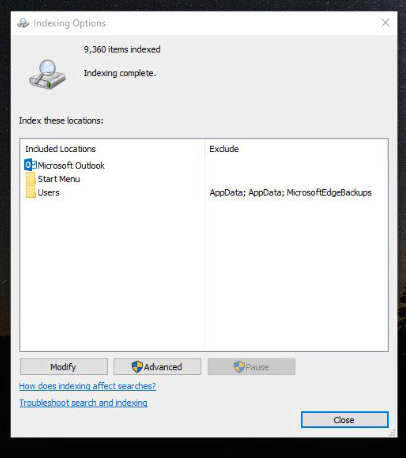 Tip 12: Prevent OneDrive from Syncing Automatically
Microsoft added its cloud-sharing service to Windows 10, allowing users to sync files between devices. This way, you can easily continue whatever you were doing across PCs, tablets, and even smartphones. However, to access every file on your system elsewhere, OneDrive has to sync them, and this consumes processing power. Even for the fastest PCs, OneDrive can take its toll, depending on the number and size of files being synced.
You can temporarily disable automatic syncing to confirm whether the cloud storage program is responsible for your computer's poor performance. Here's what you should do:
Go to the notification area on your taskbar and click on OneDrive;
Click on More, then select Pause Syncing. Now, decide how long you want to pause the syncing.
Reboot your computer and check for performance improvements.
Tip 13: OneDrive's Files On-Demand Feature
Let's face it, OneDrive is pretty useful despite its resource-guzzling nature. The good thing is that you can reduce the toll it takes on your PC without giving it up entirely. For example, the Files On-Demand Feature allows you to save specific files locally and store others on OneDrive.
This way, you can reduce the syncing process to the barest minimum and upload important files you want to back up and share across devices. Now, you can enjoy OneDrive without completely sacrificing performance.
Here's how to activate the feature:
Go to the notification area on your taskbar and right-click on OneDrive;
Click on Settings in the menu;
After that, navigate to the Settings tab in the dialog box that pops up;
Tick the checkbox beside "Files On-Demand";
Next, go to the taskbar, click on OneDrive, then select Open Folder;
After OneDrive opens in a File Explorer window, go to the folder with files you don't want to save on your PC but store on the cloud. Then, click on Free Up Space. The folder will be removed from your computer and stored on OneDrive.
If you want to save a folder on your computer but not on OneDrive, right-click it and select the "Always keep on this device" option.
You can always reverse the Files On-Demand feature by unchecking its checkbox in the Settings tab. Files will be saved on your computer and synced with OneDrive.
Tip 14: Optimize Your Page File
Your PC uses the RAM to store data, including files and programs that the CPU needs to work on. It follows this process because it's easier to read from the RAM than the hard drive. So, for example, when you launch your browser, its installation files will be transferred to your RAM from your hard drive. This way, the processor will use the files in the RAM instead of dealing with the hard drive.
Windows creates supplementary memory in your hard drive, known as a page file, when your computer's main memory is filled up. The operating system, by default, manages the page file on its own, automatically adjusting it to meet your system's needs. That said, you can choose to manage the virtual memory yourself.
However, how you choose to manage the page file affects your system's performance. So, if you're using custom settings, allow Windows to automatically control the file and check if that will solve the performance issue. It will help you to improve your computer performance and speed up Windows 10.
Here's how to allow Windows to manage the page file:
Type "advanced" (no quotes) in the search explorer and click "View advanced system settings" in the results.
Click on Settings under Performance once you see the System Properties dialog window.
After the Performance Options window pops up, switch to the Advanced tab.
Go to the Virtual Memory section and select the Change button.
Now, make sure the box beside "Automatically manage paging file size for all drives" is checked.
Click on the OK button.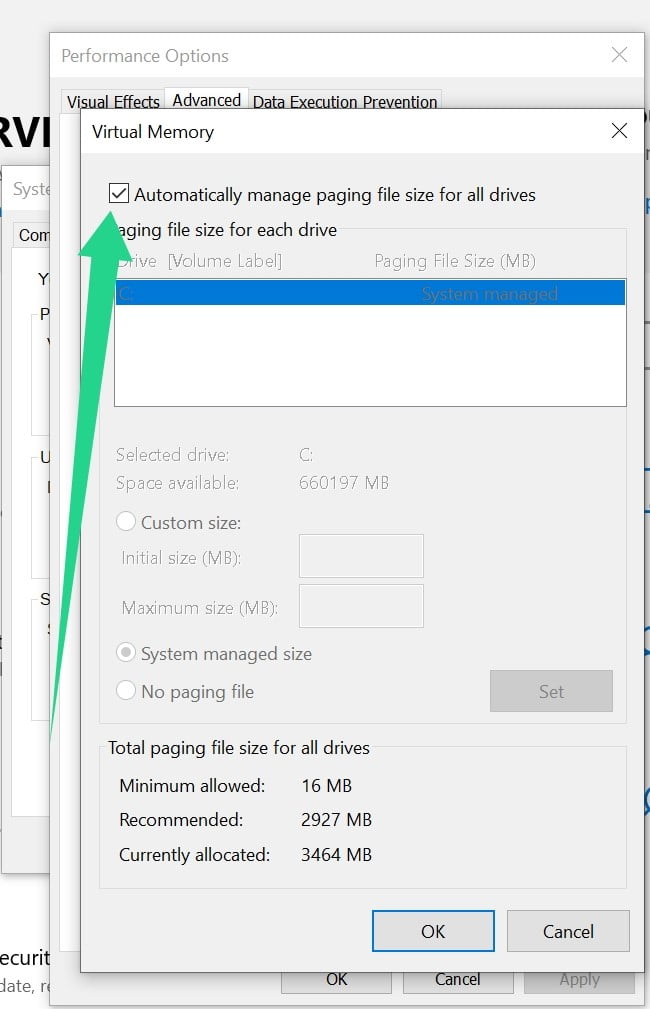 Tip 15: Use ReadyBoost
The page file feature can make things sluggish since reading files from hard disks can be slower than SSDs and flash drives. More so if your system memory is on the low side. Thankfully, Microsoft came up with a brilliant feature that allows you to use a USB flash drive or SD card as virtual memory.
In this case, the drive will act as the page file. Since flash drives are faster than hard disks, the ReadyBoost feature should optimize your system's performance.
Start by inserting your SD card or USB flash drive into the appropriate port. After that, open File Explorer by tapping Windows + E or clicking the folder icon on the taskbar.
Once the File Explorer opens, right-click on the USB flash drive or SD card and choose Properties from the menu. Go to the ReadyBoost tab immediately the Properties dialog window opens. Choose the "Use this device" option. Windows will let you know if the device can use ReadyBoost or not. Click on OK once Windows determines the right amount of space to be reserved.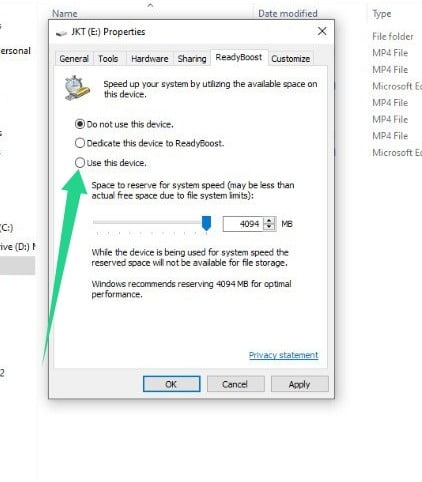 After that, you'll find a file named ReadyBoost.sfcache on the SD card or flash drive, which shows how much space the OS reserved for the virtual memory.
Tip 16: Adjust Windows 10's Appearance
Windows 10 has visual effects, like 3D animations and shadow effects, that make it pop. While these bells and whistles enhance the operating system's aesthetic appeal, they can take a toll on your PC's performance.
You might want to consider the trade-off between better performance and aesthetics if your computer doesn't have enough firepower to stay efficient while handling 3D effects.
Thankfully, Microsoft offers a way to cut down on the operating system's visual appearance to reduce the burden on your CPU.
Follow this process:
Go to the start menu and search for "Advanced."
Select the "View advanced system settings" search result.
 Click on Settings under Performance once you see the System Properties dialog window.
After the Performance Options window pops up, select the "Adjust for best performance" option and click the OK button.
You can also choose the visual effects you want to disable and those you'd love to keep.
Restart your computer after making these changes and check if the problem has been resolved.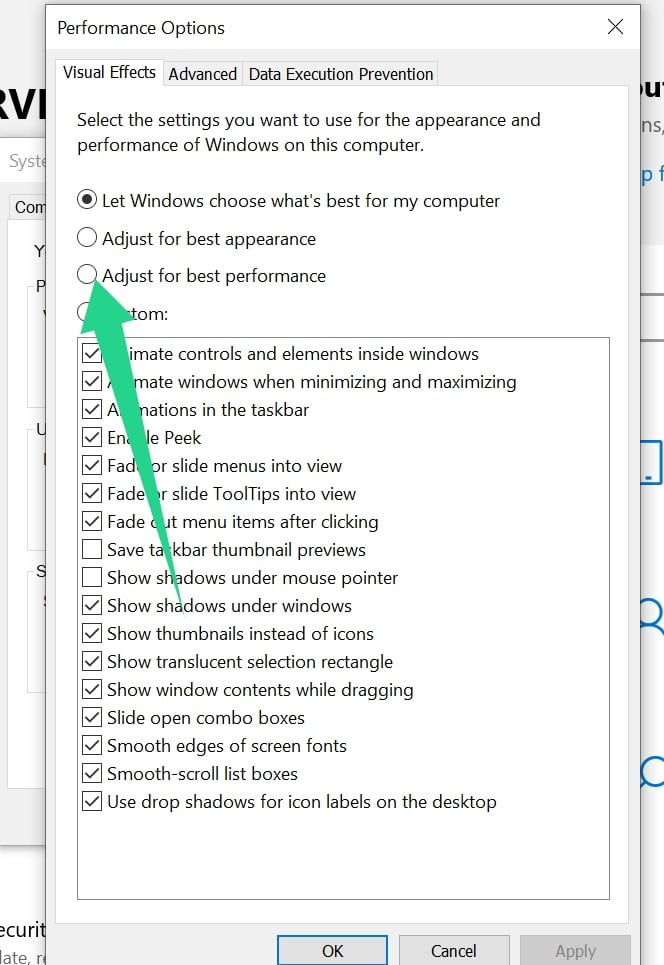 Windows 10 also uses another effect for the Action Center, Taskbar, and Start menus, known as transparency. Unfortunately, this effect causes lags, especially on lower-end devices, because it takes time to create and add the finishing touches.
To disable Windows 10's transparency effects, go to the Settings app, click on Personalization, and then select Colors on the left pane. Next, scroll down, look for the Transparency Effects, and then toggle it off.
Tip 17: Disable Windows Tips and Tricks
Windows has a nifty feature known as tips and tricks that tracks how you use the computer. The OS then provides tips based on the information it's gathered. In reality, you'll barely notice that the feature is there. When it shows up, it hardly provides useful info or shows you something you don't already know. So, in the end, you're likely better without it.
Apart from the feature's usefulness (or lack of it), it has a resource-demanding nature. Windows has to track how you use your system to select the "right" tips and tricks for you. This process can cause your system to run slowly.
Since the tips and tricks feature takes its share of your processor power, you can turn it off to take that burden off your CPU and speed up your Windows 10 system.
To turn off Windows Tips and Tricks, launch the Settings app (right-click Start and select Settings) and click on System. Next, head to the left pane of the System page and click on Notifications and Actions. Now, uncheck the box beside "Get tips, tricks, and suggestions as you use Windows." Finally, restart your PC and check its performance.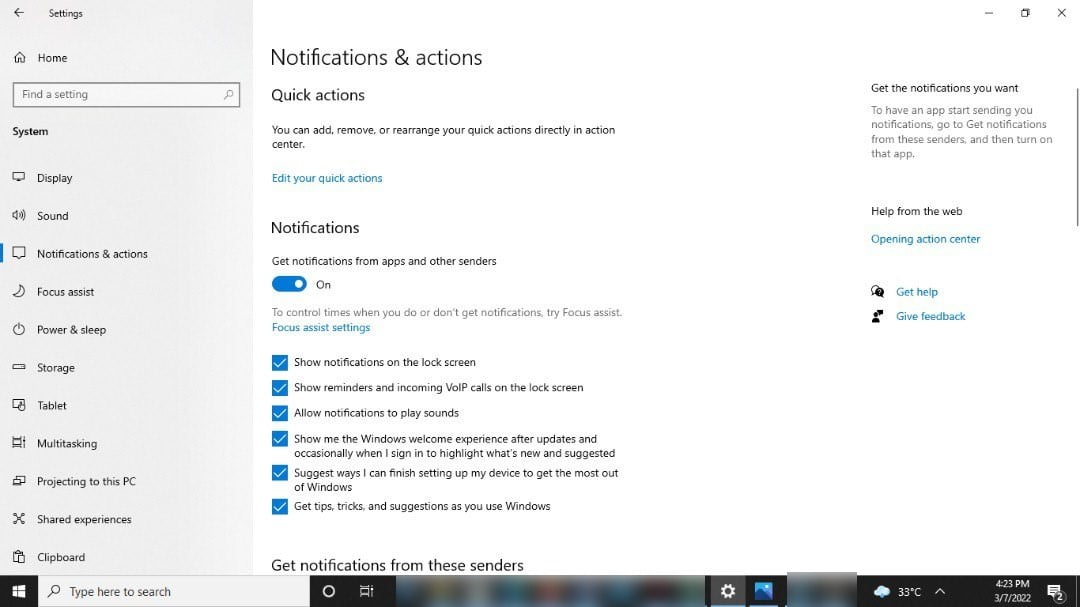 Tip 18: Enable Automated Windows Maintenance
Windows 10 can carry out routine maintenance on your computer every day in the background. From system diagnostics to security scanning and ensuring everything is running correctly, the operating system normally looks for problems and fixes them when there is a solution. This process can keep your PC running optimally for as long as possible.
Typically, the automatic maintenance starts running at 2 a.m. each day. All you have to do is make sure the device is asleep and plugged into a power outlet.
Some users turn off this feature without knowing it. Also, if you haven't plugged in your computer during the automatic maintenance window, there's a chance that the process hasn't been run in a while.
Here's how to turn on the feature:
Search for "control panel" in the Start menu and launch Control Panel.
After the program opens, click on the System and Security link. Make sure the "View by" option is set to Category.
Next, click on Security and Maintenance.
After the Security and Maintenance window appears, expand the Maintenance section under "Review recent messages and resolve problems."
Click on "Change maintenance settings."
Now, under Automatic Maintenance, choose when you'd like Windows to run the daily checks.
Mark the checkbox next to "Allow scheduled maintenance to wake up my computer at the scheduled time."
Click on the OK button.
Read more: How to Manage Windows Automatic Maintenance and Improve PC Performance

Tip 19: Disable Game Mode
Microsoft introduced the Windows game mode in 2017 and promised users that it's the best thing to happen to PC gaming. This particular feature was developed to allocate system resources to games. Essentially, your computer automatically detects that you are running a game and shunts every other application in the background, giving the game more priority.
As great as this feature sounds for gamers, it doesn't always work. Some users reported that it caused FPS issues and game stutters instead of improving things. Also, it could cause performance problems for other applications when you're not gaming.
Since Game Modes is turned on by default, you should consider turning it off if you're still experiencing unexplainable lags and slowdowns. Here's how to do that:
Launch the Settings program using the Windows + I shortcut.
Click on Gaming once you see the first page of Settings.
Select Game Mode in the left pane of the Gaming interface.
Go to the Game Mode page and toggle off the switch under Game Mode.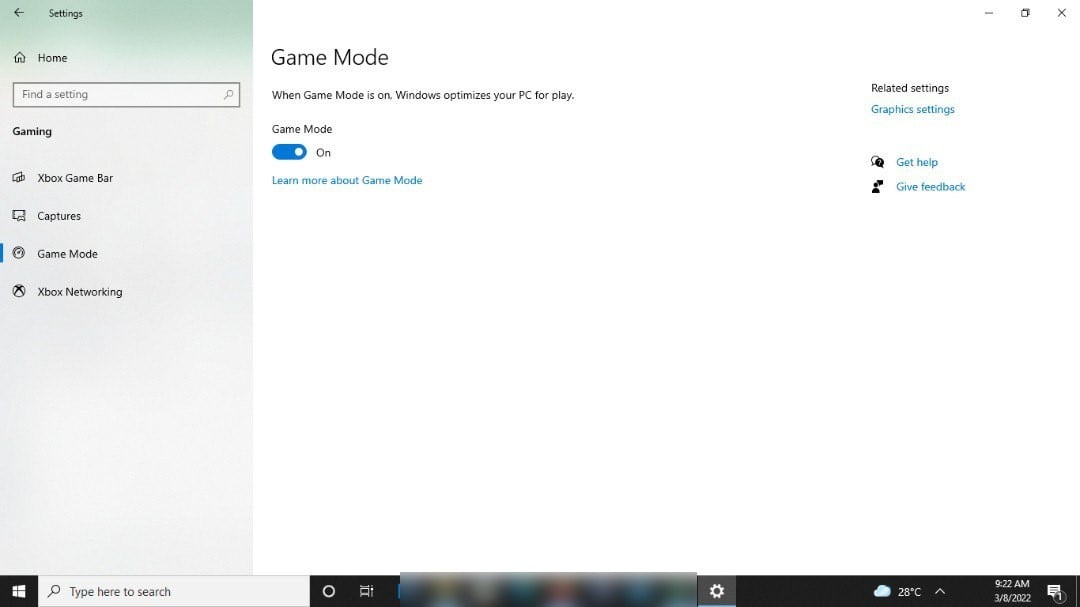 Tip 20: Repair System Files
Windows 10 relies on specific system files to run optimally. While these files are highly protected, they can still be affected by malware and third-party applications. In addition, you could tamper with them by mistake, causing your operating system to malfunction.
There are instances where system slowdowns and frustrating lags result from missing or corrupt system files.
The good thing is that you can replace these affected files using the System File Checker in Windows 10. Called SFC for short, the utility is a command-line program designed to identify and replace bad or missing system files.
The SFC tool works hand in hand with the Deployment Image Servicing and Management tool, or DISM for short. Apart from managing image files, the DISM tool fetches the replacement files used by the SFC tool to fix integrity violations.
The guide that follows will show you to repair Windows system files using these tools.
Start by running Command Prompt as an administrator. Go to the search explorer and type "CMD" (no quotes), then right-click Command Prompt in the results and select Run as Administrator. Click on Yes in the pop-up.
Once Command Prompt shows up in administrator mode, type this DISM command:
DISM.exe /Online /Cleanup-image /Restorehealth
Note that this command instructs the Windows Update client to download the replacement files. You need an internet connection and a functioning WU client to make this work. If the client fails to download the files for any reason, you can use a bootable USB or Windows 10 installation DVD as a replacement source. In that case, you'll be entering the following command instead:
DISM.exe /Online /Cleanup-Image /RestoreHealth /Source:X:\RepairSource\Windows /LimitAccess
Now, make sure you have connected the bootable media or DVD before entering the command. Then, change the X:\RepairSource\Windows part of the command to the DVD's or USB flash drive's path.
After the DISM tool completes its process – which might take a while, go to the next CMD line, type "sfc /scannow" (no quotes), and tap the Enter keyboard button.
The System File Checker will now go through your computer, searching for corrupted and missing system files. It will scan your PC's protected folders and replace affected files. It uses a cached copy of each file in a compressed folder located at C:\Windows\System32\dllcache.
If the tool finds and replaces bad files, you'll see the following message in Command Prompt:
"Windows Resource Protection found corrupt files and successfully repaired them. Details are included in the CBS.Log C:\Windows\Logs\CBS\CBS.log."
Tip 21: Perform a System Restore
If you recently modified your computer by uninstalling or installing an app, driver, or operating system update, it could be the cause of the performance problem. You can rectify the issue in this case by taking Windows back to a previously working state using the System Restore wizard.
Windows usually creates a restore point when such significant changes are made. So, if you're sure your computer ran optimally at a specific period, you can take it back to that point.
Here's how:
Head over to the Start menu and search for "restore point";
Click on Create a Restore Point in the search results;
Click on System Restore once you see the System Properties box's System Protection tab.
After the System Restore wizard shows up, look at the recommended restore point – if there's one – and confirm whether it falls in the window when your computer had no issues. If it does, continue with it. However, if it doesn't, click on Next and select a restore point on the following page.
Click on the Finish button to start the process.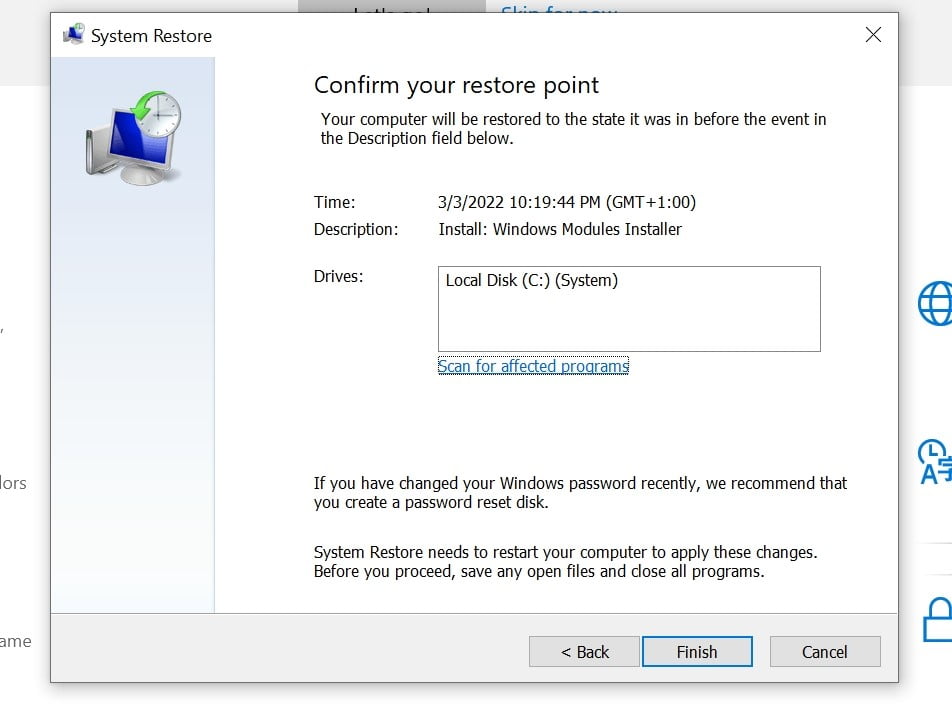 Wrapping Up
That's how to speed up computers running Windows 10. These tips are sure to give your system the performance boost to handle your day-to-day tasks comfortably. You can further enhance your computer's performance by carrying out some upgrades. For example, you could increase your system's memory by installing more RAM, and you could replace your hard disk with an SSD. If you want to learn how to improve the performance of your slow Windows PC, read our article.
FAQ
How to Clean Up a Windows PC?
Taking care of your Windows PC requires regular cleaning to keep it running smoothly. This involves several essential tasks, such as uninstalling unnecessary programs, deleting duplicate files, disabling startup apps, decluttering your registry, and defragging your hard drive. To make this process more efficient, we recommend using a third-party PC cleanup tool. Check out our article on how to clean up a PC or simply download Auslogics BoostSpeed.
What Is the Best Windows PC Optimization Software?
With so many computer optimization tools on the market, it can be hard to know which ones to trust. While many claim to improve your computer's performance, it's important to choose software that is reputable, effective, and safe. We recommend using a tool like Auslogics BoostSpeed, which checks all these boxes. So why not give it a try? Check out our article on Auslogics BoostSpeed 13 to learn more about how it can help you get your PC in shape!
Why Is My Computer So Slow All of a Sudden?
If your computer suddenly starts running slowly, there could be several reasons why. To troubleshoot the issue, try performing a malware scan, closing unnecessary programs, updating your apps and drivers, and freeing up hard drive space. If the problem persists, it may be time to consider running dedicated computer optimization software. Check out our article 'Why Is My Computer So Slow? – How to Improve Computer Performance' to learn more.