Did you know that the Windows Registry is your PC's most accessed and error-prone part? As you install and uninstall software, the registry becomes cluttered with obsolete and corrupted entries. This can lead to system faults, crashes, and slow computers. That's why you need Auslogics Registry Cleaner to keep the Registry in an excellent performance. The software clears the clutter and repairs the errors accumulated over time.
The software also detects and fixes various registry errors, ensuring that your PC performs at its best.
But there are a lot more reasons why you should use this program. This Auslogics Registry Cleaner review will show you
what the Windows Registry is,
how it can slow and cause errors on your PC,
how Auslogics Registry Cleaner is designed to solve these specific problems, and more.
Let's begin.
What is Auslogics Registry Cleaner?
Auslogics Windows Cleaner is a lightweight, free software that ensures your computer's registry is clean and free from errors. This can help optimize your PC for optimal performance and get the most out of it.
If your computer is running slow, it may be because your operating system is having trouble accessing the registry. And this happens because of improperly uninstalled apps, system issues, or browser activity.
Auslogics Registry Cleaner can quickly solve these issues and maintain your system registry.
Auslogics Registry Cleaner is Designed for You
Auslogics Registry Cleaner's simple design and operation make it suitable for many users. In other words, you don't need to be an expert in navigating the program.
Also, if you make a mistake, you can use the program's rollback feature to restore the registry to its previous state.
Why Do You Need Auslogics Registry Cleaner?
The system registry is a central database that stores and manages information to configure your PC. In other words, the registry acts like a storage locker for data for all your computer's internal settings.
It keeps track of your user profiles, the applications you've installed, and the software that runs the hardware devices on your computer.
Windows continually checks the registry while using your computer to ensure everything is set up correctly.
So your PC's system registry records every action you take, whether it's
installing software,
saving a bookmark in Microsoft Edge,
uninstalling an application, or
making changes in your control panel
This is Where the Problem Begins…
If you've noticed the pattern, you'll realize over time, your computer's registry will naturally accumulate registry keys. Some registry keys are critical to your computer's proper functioning. But other registry keys may be corrupt or invalid.
These irrelevant registry keys can cause your computer to run more slowly. And whether the registry key is relevant or not, it places massive demand on your PC.
It can take a long time to turn on your computer if you have many corrupt, irrelevant, or duplicate registry keys. Furthermore, the PC becomes so slow that regular tasks can take hours.
That's why we recommend Auslogics Registry Cleaner.
It'll scan through the database, looking for any errors or problems, and fix them. This can help improve performance by ensuring all the information stored in your registry is correct and up-to-date.
Auslogics Registry Cleaner Features
The following Auslogics Registry Cleaner features can help you run checks on your PC's system registry within minutes without an expert's help:
1. Clean Registry
The Registry Cleaner can get rid of unused keys and values to avoid any problems with your computer's speed.
You can start scanning for registry issues when you launch the program. Just click "Scan Now," and the Auslogics Registry Cleaner will take care of the rest.
The scan time will vary according to the number of entries in your registry. However, it shouldn't take more than a few minutes. After the scan, the program will display a detailed report of any issues.
2. Find Registry Keys
You can use this feature to look for a string of keywords or a specific keyword in all registry keys and parameters. Simply type in your search term and hit the "Search" button to get started.
However, proceed with caution. Only delete entries from the registry if you are sure of doing so. If you accidentally delete a vital registry entry, your computer may stop working properly or refuse to boot up.
3. Detailed Reports
This Auslogics Registry Cleaner feature helps you view all reports on all operations. For a selected tool, you can also view reports from a specific time period. You can get all the relevant reports with just a click.
4. Auslogics Registry Cleaner Portable Version
If you don't have enough space on your computer or just don't want to install the Auslogics Registry Cleaner, use the Portable Version. The Registry Cleaner Portable performs the same in-depth registry cleanup without installing the program on your PC.
Creating the portable version only takes two clicks. Just click on "Create Portable Version," choose your preferred folder, and click "Save."
However, you may have to purchase a different license if you're using it for commercial purposes.
Auslogics Registry Cleaner Download
The Auslogics Registry Cleaner download involves a few simple steps:
First, download Auslogics Registry Cleaner from the official website.
Then, install and run the program. (It takes less than a minute to install the program.)
Next, perform your first scan and resolve any issues after scanning. However, you'll need to upgrade to the Pro version for advanced scan and cleanup algorithms. The upgrade also ensures better stability improvement.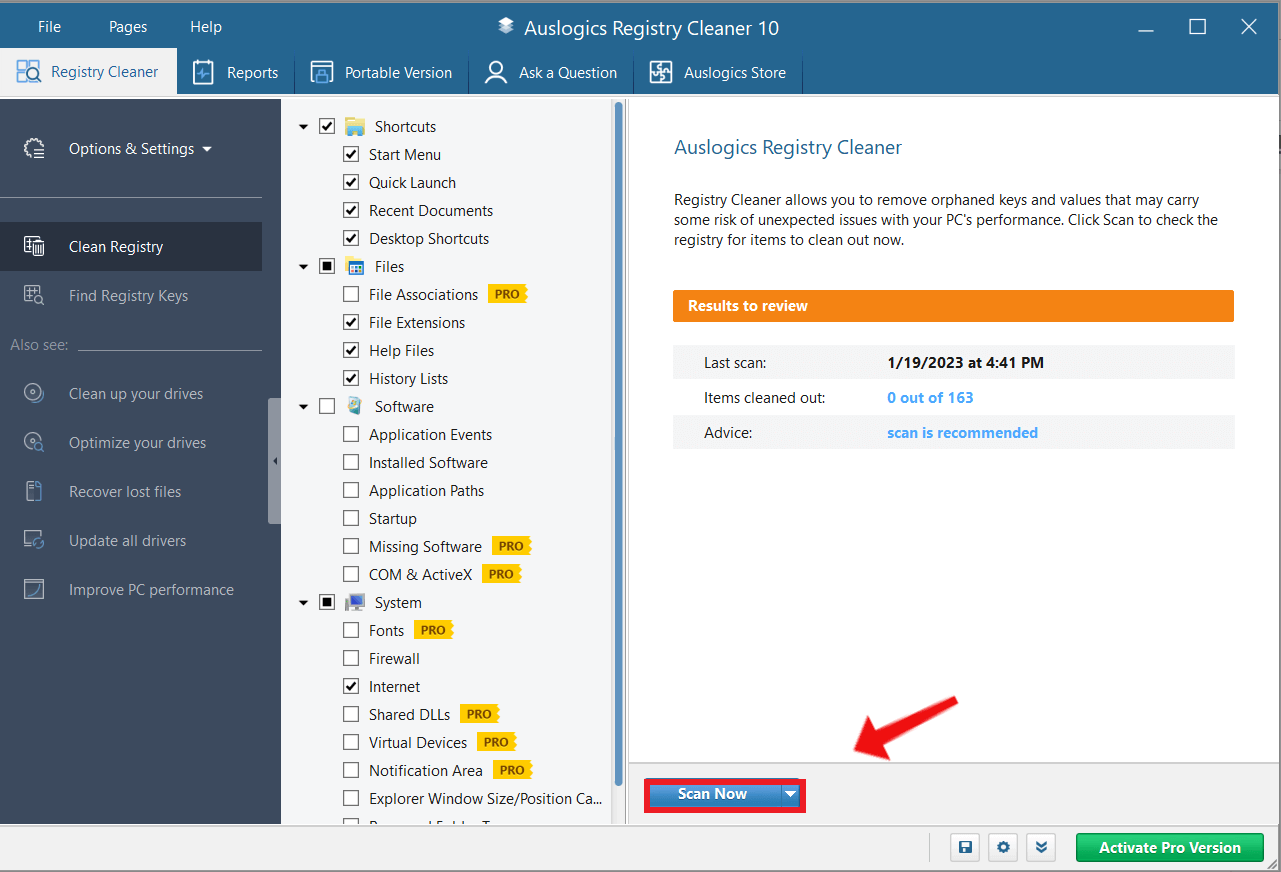 If you're using the free version, you won't also have access to file associations, missing software, shared DLLs, etc. So we recommend upgrading the software.
Auslogics Registry Cleaner Upgrade
Upgrading the Auslogics Registry Cleaner is easy. Follow the below steps:
If you've already installed the software, click on the "Activate Pro Version."
Two things will happen when you click "Activate Pro Version." First, a window will appear on the program where you can enter your license key. Second, you'll be redirected to Auslogic's official website to start the payment.
The payment procedure only takes a few minutes to complete. You'll get the license key in your email after completing your purchase. Just copy and paste it into the field and press "Register."
How to Clean Your Computer's Registry
Click on "Registry Cleaner," "Clean Registry," then "Scan Now."
Wait for the program to complete the scan. Then, choose "Back Up Changes and click "Resolve."
You can view the detailed report of the cleaned and scanned items.
Auslogics Registry Cleaner includes a built-in search and cleanup tool to help you discover a specific registry key.
If you want to restore your backups, click on the "File" menu and select "Rescue Center." After that, choose a backup from the list and click "Restore."
Although the program can't generate system restore points, this section allows you to revert Windows to a previous save point.
Every time you perform a registry cleanup, a detailed report is generated and preserved for your reference in the "Reports" tab. You can also check the load charts displaying the present state of your computer's disks, processor, network, and memory.
Is Auslogics Registry Cleaner Safe?
Auslogics Registry Cleaner is safe. The program doesn't contain any adware or malicious code, which means it won't cause any harm to your computer.
Furthermore, many independent tests have shown that Auslogics software is safe and effective. As a result, many PC manufacturers use the software, and many experts like Lifewire, CNET, and Softonic recommend it.
Important Considerations to Note When Using Auslogics Registry Cleaner
Since the Windows registry is crucial to your computer, there are a few considerations you need to know before proceeding. Let's go through them:
1. Always Double-Check Your Deletions.
In its default state, the Auslogics Registry Cleaner deletes a lot of data which isn't necessary for your PC to function. However, to be safe, always double-check any deletions you make.
The program can do a lot more than just remove unwanted registry entries. They can also clean your browser's cache, cookies, and browsing history. If you delete these files, you'll have more storage space and a better overall experience.
2. Download Auslogics Registry Cleaner from the Official Site
We advise against downloading the program from any third-party websites, no matter how appealing it may be. This will prevent you from downloading unnecessary computer programs, which could harbor viruses.
You may make things worse for your computer rather than better by trying to fix the troubles you've been having.
3. Enable Backup and Restore Points
Before you erase anything from the registry, click on the "Rescue Center" to create backups and restore points. This may come in handy if anything should happen.
4. Always Contact Customer Support for Help
Don't hesitate to seek help from Auslogics customer support if you encounter difficulties. The helpful and pleasant staff at Auslogics is always available to answer your questions and address your issues.
Visit the Auslogics Support Center, select the product you need assistance with, and then follow the on-screen prompts.
Final Thoughts
Regarding fixing problems with your Windows registry, Auslogics Registry Cleaner is one of the quickest and most user-friendly options available. Also, it helps to boost your PC's overall system performance.
The program has a backup feature to help recover files you accidentally delete. Furthermore, the installation process is so simple that manuals are unnecessary.
If you're having any problems, you can contact the Auslogics support team directly from within the program. You'll get a quick response to any issues you might have.