Is your PC running slow because of low storage space? If so, you're not the only one. We've all been there; our computer becomes clogged with apps and files we no longer use or need. But don't worry; this guide will show you how to get more storage on PC and make it run faster again.
We'll look at simple ways to free up storage space and restore your PC to optimal performance. This guide will also show how to view the available space on your PC and give you tips on removing unused software or files.
If you've been searching for answers to questions like "How to get more storage on PC," you've come to the right place.
Keep on reading to find out more.
How to Check the Storage Space on Your PC
Before you learn how to clean up PC, you need to know the storage space you have left. And as a recommended practice, you should regularly clear your files. That will keep your PC running smoothly and improve your computer performance.
Here's how to check the storage space on your computer:
Type "Storage Settings" in your search bar and click on it to open.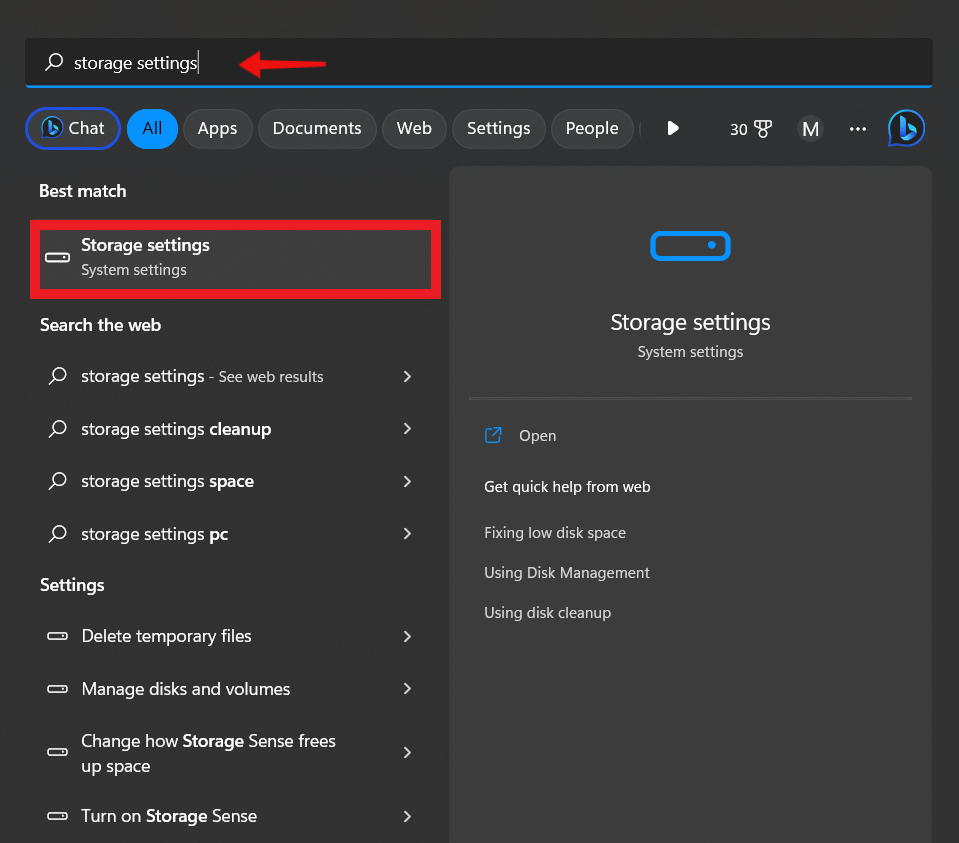 You'll see all your storage data information on the right. You can review the information and delete any files you don't want. It's the easiest PC cleanup that won't take much of your time.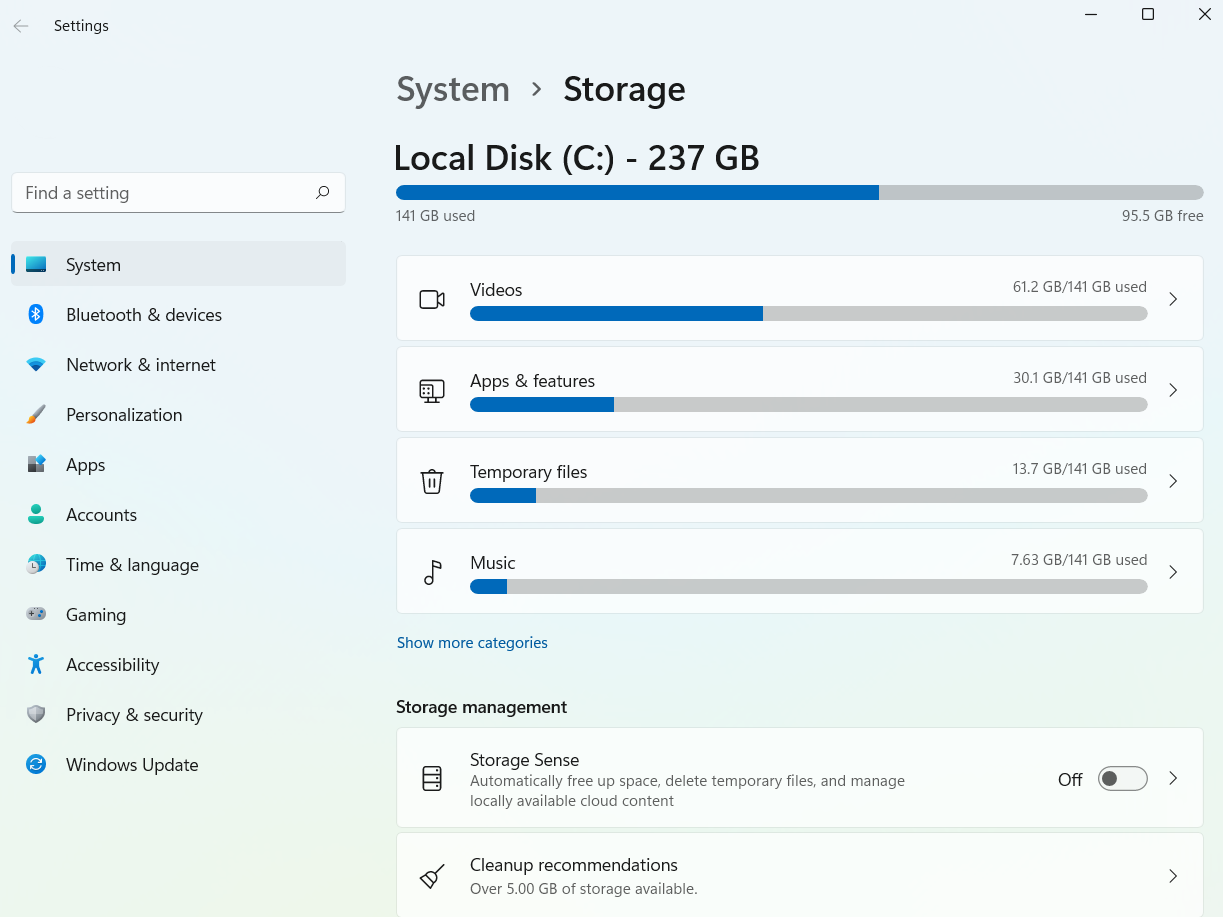 To remove unwanted files, click on the file you want to delete and manage from there. You can also switch on the "Storage Sense" in the storage management to automatically free up space, delete temporary files, etc.
Why Should You Clean Your PC?
Keeping your computer clean is crucial to running smoothly and for as long as possible. Debris, such as dust, can build up in your computer's fans and air vents over time, causing your PC to run more slowly or even crash. 
This is not only dangerous, but it can also cause harm to your computer's expensive internal components like the central processing unit and motherboard.
Furthermore, backup files can slow your PC's performance by taking up significant storage space over time. That's why how to get more storage on PC is essential.
Too Much Cookies, Cache, and Browsing History
If you use your computer for internet browsing, you probably have a lot of data stored in your browser's cache and history and cookies.
Yes. These files are meant to make your browsing experience faster. But they can add up and cause your computer to run more slowly over time. Also, as an added privacy concern, these files may store sensitive information like passwords and web history.
But Windows Cleaner can remove all the browsing history, cache, and cookies. You can even use a free cleaner for PC to solve the issue.
Malware and Virus Attack
It's essential to clean your PC to keep your computer safe from malicious software. Malware and viruses can infiltrate your computer through various channels, including downloadable files and email attachments.
Cleaning your computer thoroughly can help you remove viruses and malware from Windows. In addition, it removes security problems before they can do any real damage.
In addition, if your computer's desktop and file folders are cluttered, your PC can slow down.
Finally, the performance and responsiveness of your computer might be negatively affected by unused programs, temporary files, and other junk.
Why Should I Clean Temporary Files on My PC?
Temporary files are a major contributor to a cluttered computer. These temporary files are generated whenever you install software, open a file or browse the internet. But they're usually removed after use.
However, sometimes the system fails to erase these files, resulting in a cluttered hard drive and slow performance.
---
Related: Factors That May Cause Hard Drive Failure
---
So, to keep your computer running smoothly and error-free, you need to delete old cache files regularly. If you don't do that regularly, they can get in the way of more recent data by eating up disk space, and new data can't override it.
This can lead to numerous issues, such as websites not loading, programs may stop working, and your computer may freeze or crash without warning.
You can avoid these issues using a free PC cleaner to regularly clear your computer's cache. Doing so will clear up space on your hard drive and keep your computer running smoothly and effectively.
Does Cleaning Up My PC Speed It Up?
Cleaning your computer won't make it run faster, despite popular belief. Deleting outdated files doesn't necessarily increase processing speed but frees up storage space.
The storage of outdated data on the hard drive has no negative impact on your PC performance because it's not using the system's resources.
However, there is one case that deviates from the norm. If your computer runs out of storage space, you may experience significant slowdowns or even application failure.
This occurs because your computer won't be able to make any more temporary files. And that's because the hard drive is full. So keeping a few GBs of free space is essential to avoid this problem.
But if you want to know why your PC is running slow, check out this guide: Why is your Windows PC so Slow?
How Will I Know It's Time to Clean Up My PC?
If your computer performs slower than usual, it may be time for disk cleanup. The buildup of cache files, temporary files, and other unnecessary data might cause this problem. Over time, this can cause your PC to freeze, slow down, or crash.
Also, if you're out of disk space on your computer, it's time for a cleanup. You should clean up your computer if you are continuously getting warnings about low disk space. The first step is cleaning up your computer by deleting unnecessary files, programs, or duplicates.
Finally, if your computer behaves unusually, such as programs opening and closing without your permission, it may be infected with malware. If that's the case, you can use Auslogics Anti-Malware.
This program provides a multilayered defense against malware so your computer can function properly. In addition, it conducts a comprehensive system cleanup by detecting any potential security threats or other issues causing your PC to run slowly.
How to Clean Up and Get More Storage on Your PC
Over time, you'll find that your PC has accumulated many unused programs, files, and other data that take up space and slow your PC. In this section, we'll show you the manual ways to remove all the unnecessary files on your computer.
However, if you want to know how to get more storage on PC faster and more efficiently, we highly recommend Auslogics BoostSpeed.
You can download BoostSpeed and start clearing all the unnecessary files on your computer.
1. Delete Unused Apps and Programs
Programs and unused apps can occupy lots of space on your hard drive. But it's easy to clean your PC using the Windows control panel. You can also use PC cleanup tools like Uninstall Manager from Auslogics BoostSpeed 13 to instantly remove unwanted apps. Click "Uninstall Manager" and select the programs or apps you want to delete.
You can select multiple programs and click "Multiple Uninstall" to delete them all at once. Then, if you have any questions, click "Ask a Question" and get answers from professional experts.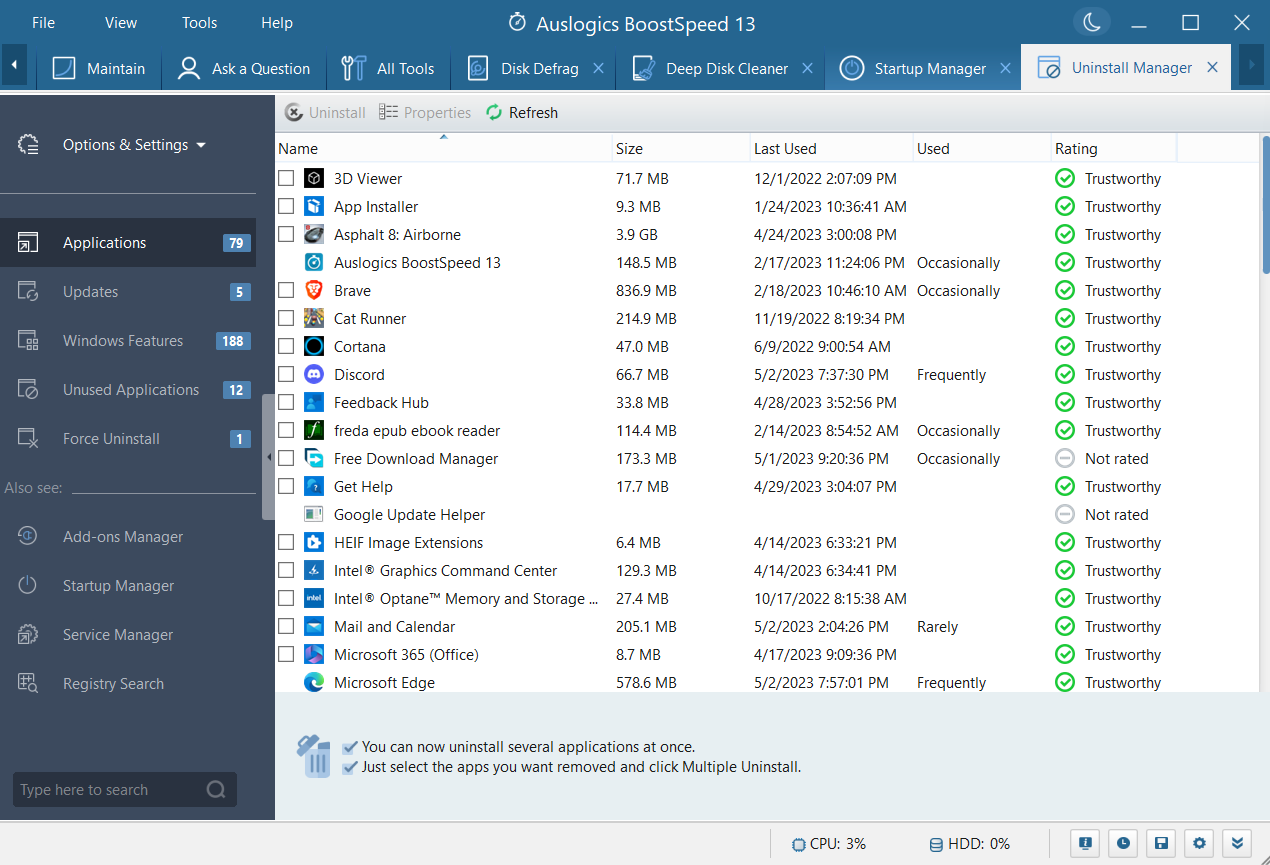 ---
Related: Clean up Windows 10: How to uninstall programs and delete unnecessary files
---
Here's how to remove programs and applications you don't need using Windows Control Panel:
Click on "Windows key + I" and click on Apps.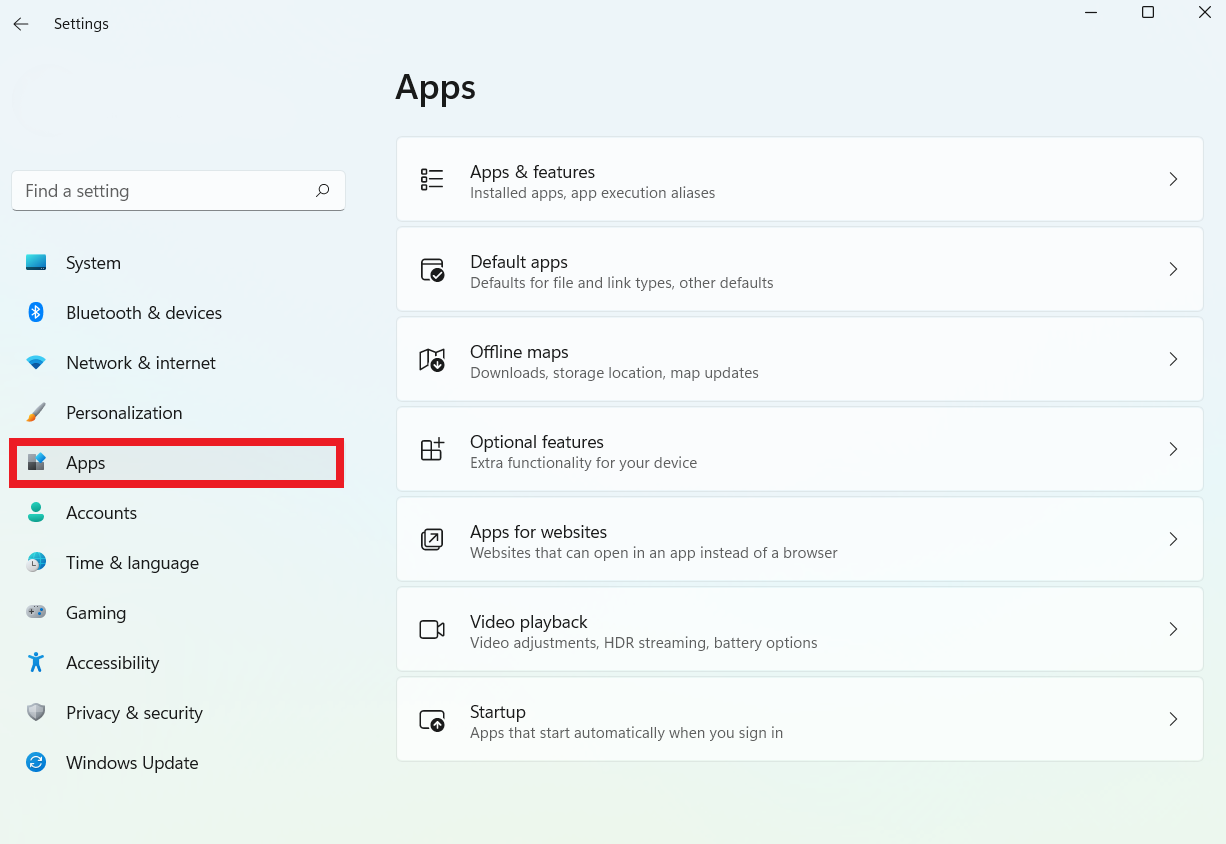 Go through the apps and delete any applications you don't want on your computer. Then, click the three dots and "Uninstall" to remove any unwanted apps.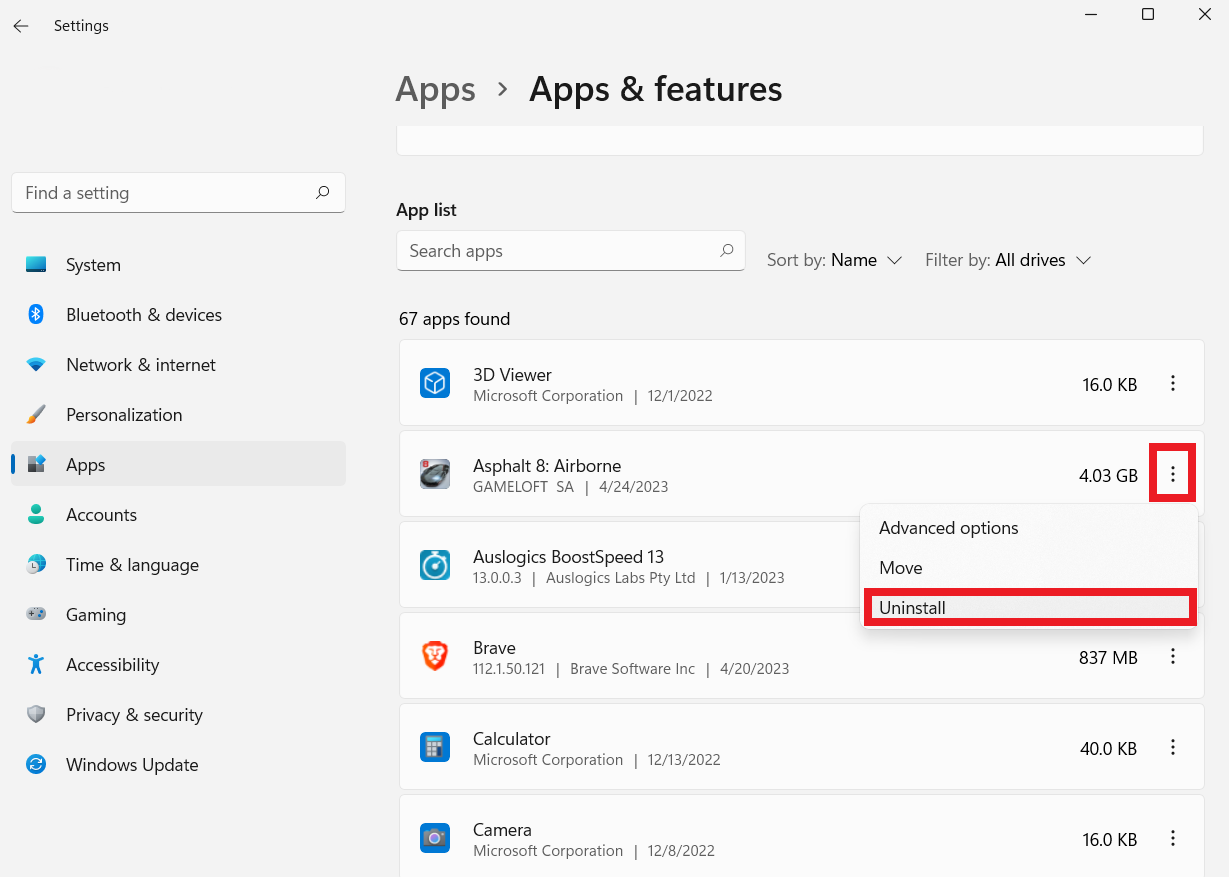 2. Clean Up Temporary and Junk Files
Whenever you use an application, it may create temporary files on your hard drive. However, these files are not permanently deleted after use. These include Windows Update files, installation logs, old CHKDSK files, etc.
That's why you must learn how to delete temporary internet and other temporary files on your Windows to free up more space.
So let's find out how to delete these files:
First, click on the search bar and type "Disk Cleanup."
Then, click on "Run as administrator" to open the program.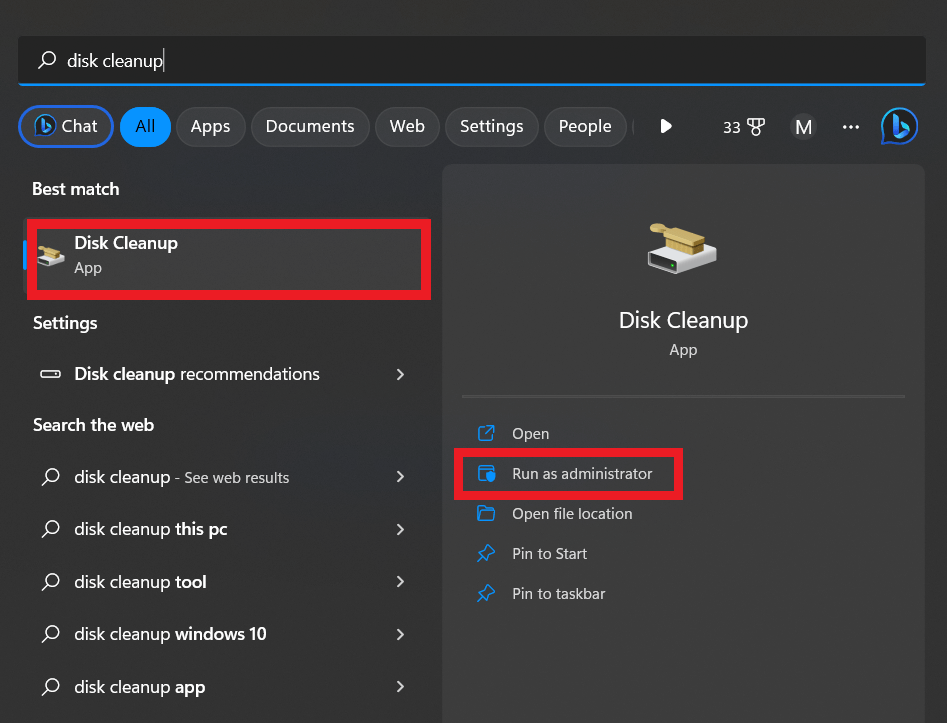 Check the files you want to delete and click "Ok" to delete them permanently.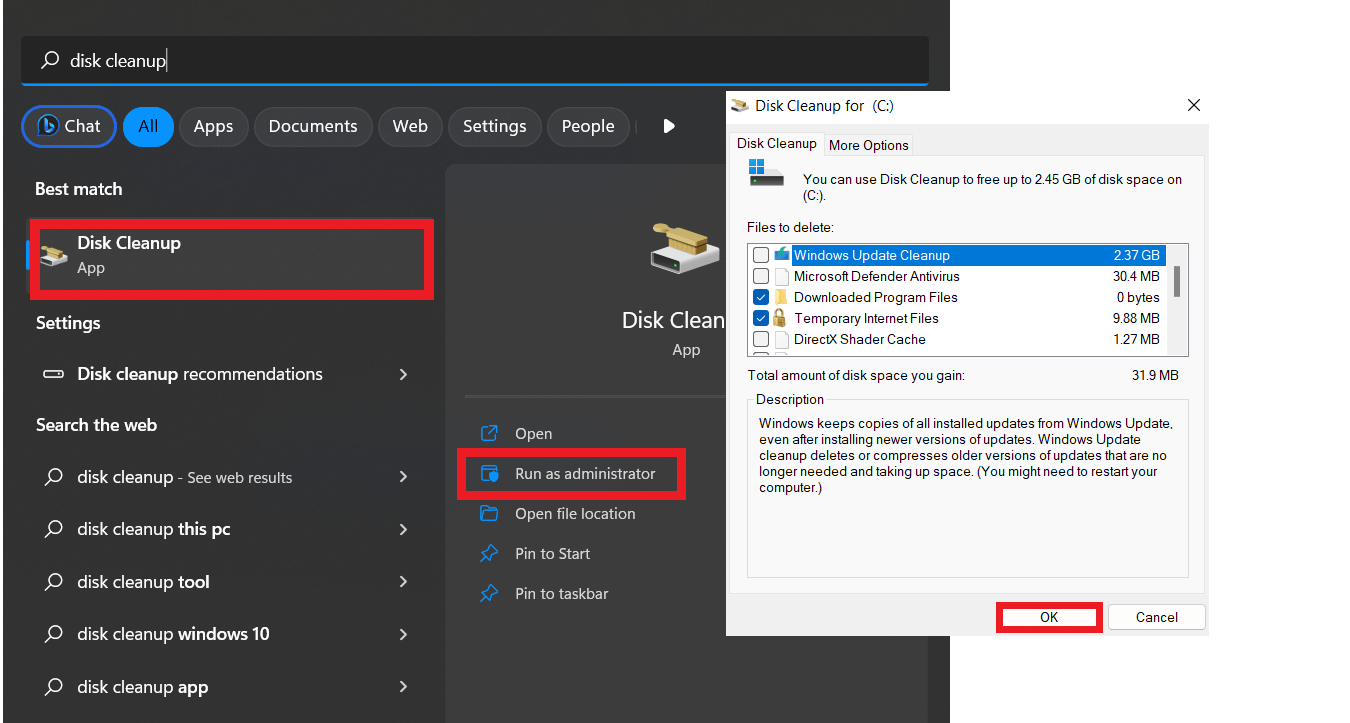 Alternatively, you can use BoostSpeed's Disk Space to clean up temporary files with a click of a button. Just click on "My Scanner" and select "My Disk Space." From there, you can choose the files you want to delete and click on "Scan Disk Space." It's that simple!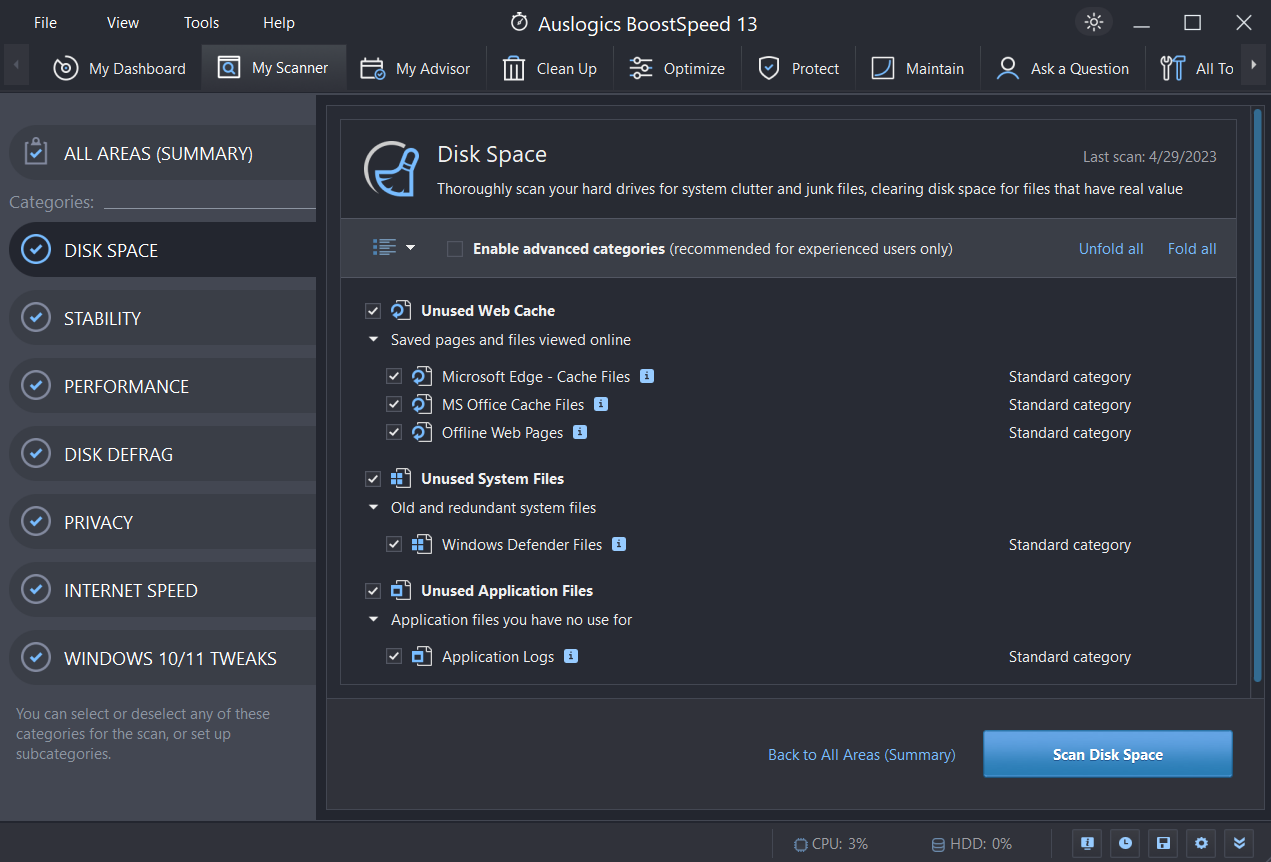 ---
Also Read: Windows Update Cleanup: A Comprehensive Guide to Free Up Disk Space
---
3. Delete Large Unused and Duplicate Files
Duplicate files can be annoying and frustrating. Besides taking lots of disk space, they also slow down your computer, clutter your drive, and make it difficult to find the correct version of a file. And it can be challenging to determine which file is updated or duplicated.
However, we'll show you how to get more storage on PC, delete duplicate files, and organize your files.
Using Windows Search Bar to Search for Duplicate Files
First, let's begin with the manual Windows search bar to search for duplicate files and delete them. However, you need to organize your files by sorting them into groups. Here's how to do it:
First, let's begin with the manual Windows search bar to search for duplicate files and delete them. However, you need to organize your files by sorting them into groups. Here's how to do it:
Click on "Windows Key + E" to open the file explorer.
Then, click on "View" and select "Preview pane." After, choose "Details" from the Layout section.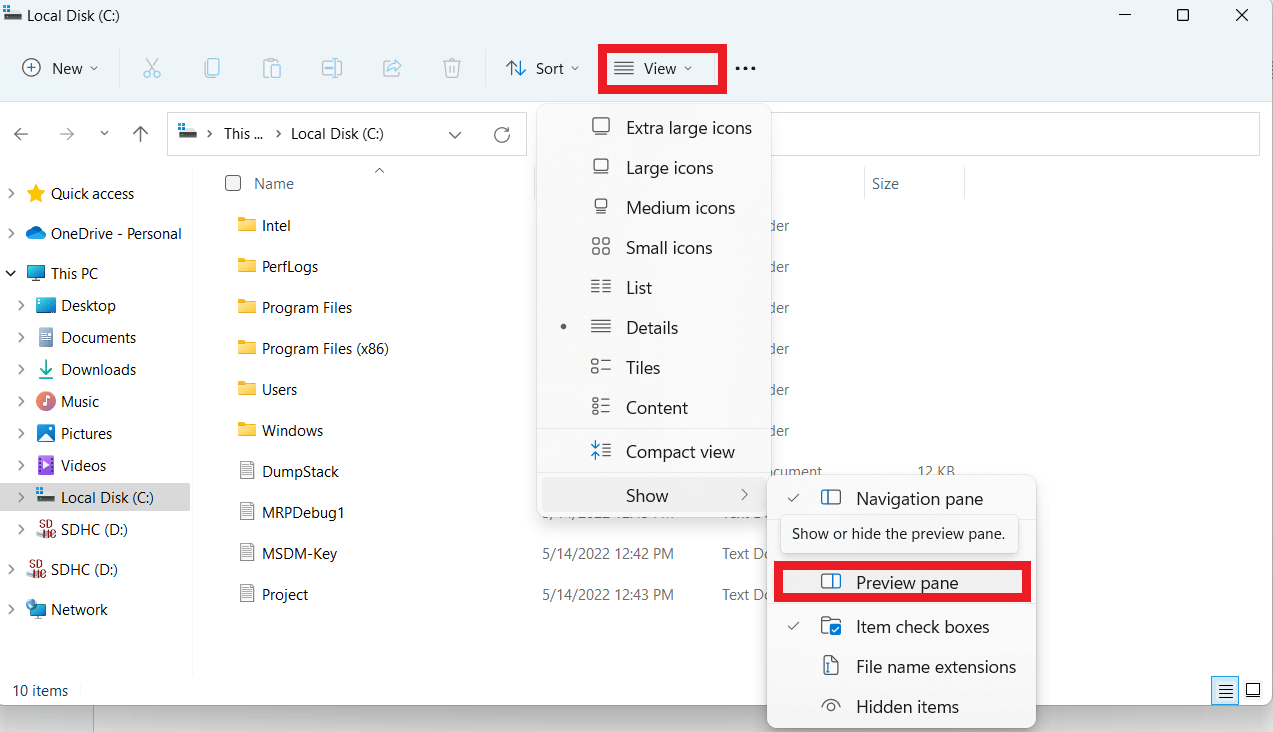 Next, go to "Current View" and select "Group by" to sort your files by type, name, or any other format available.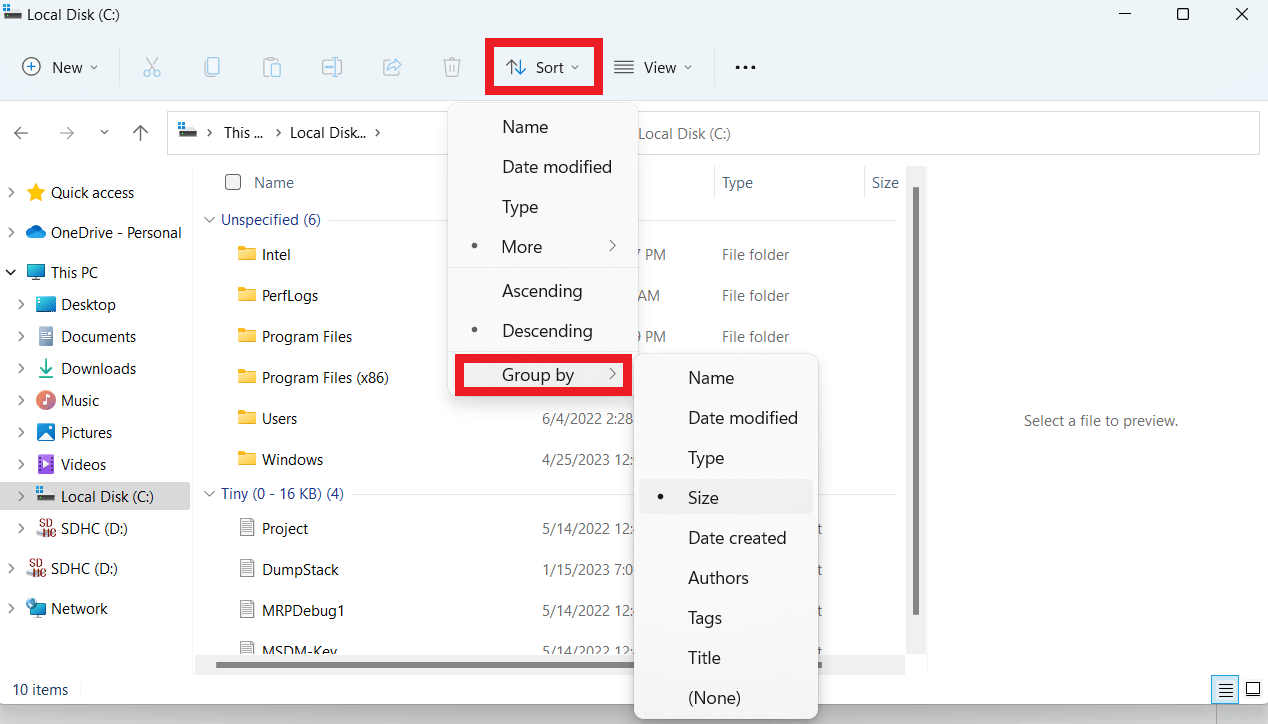 If you know the type or name of the files you want to delete, search for the file's name at the search bar and wait for the results. After, you can select and delete all of the duplicate files. For example, to find duplicate images, type .jpg in the search bar and press Enter.
However, this method works best for small numbers of duplicate files. If you have a lot of duplicates, it may take a while to delete them all. We recommend using a PC cleaner to find and remove duplicate files faster and automatically.
We'll discuss more in the next section.
Use Auslogics BoostSpeed Duplicate File Finder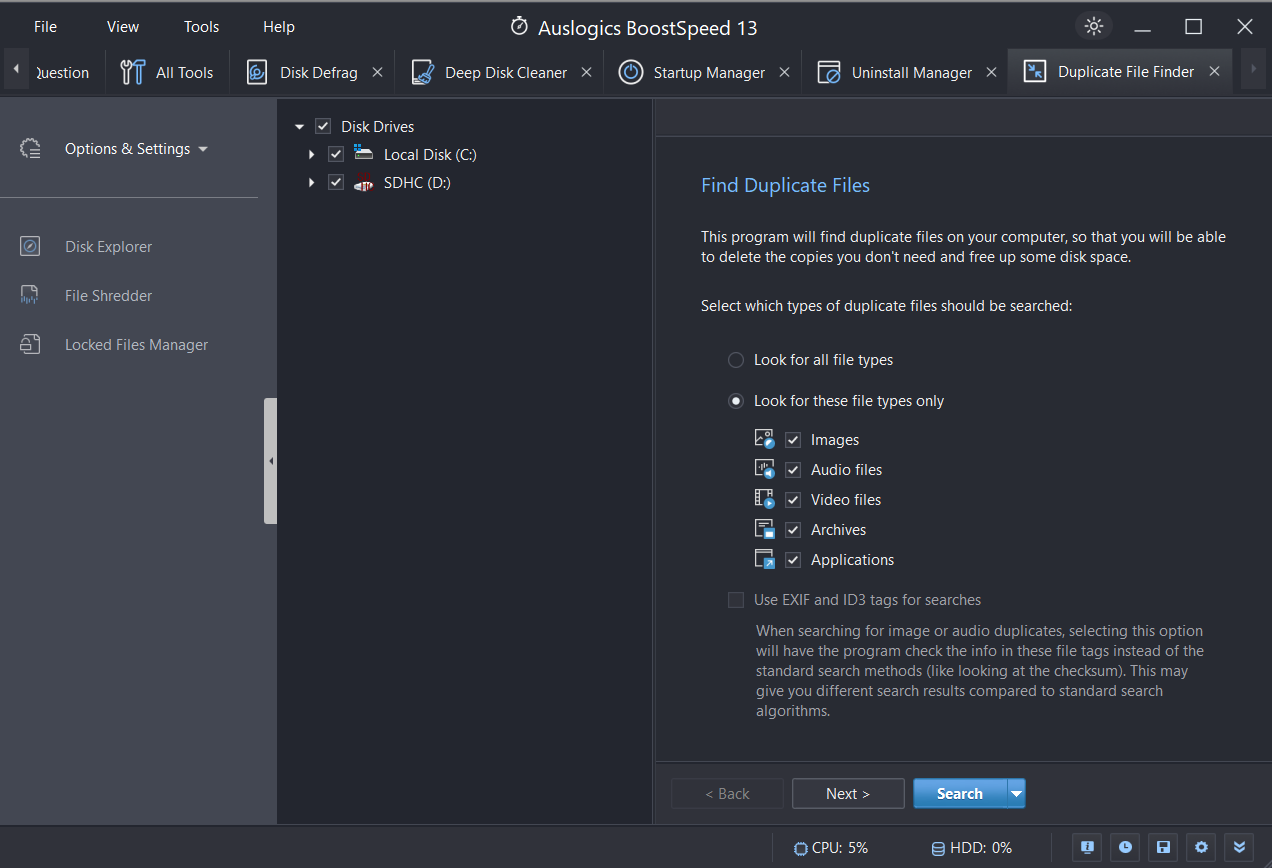 Auslogics BoostSpeed comes with a duplicate file finder that checks for duplicates across a wide range of file types to free up space on your PC, including
images,
movies,
music,
documents, and more.
The program can scan multiple locations, including USB and external hard drives. The software uses advanced algorithms to quickly and accurately identify duplicates by comparing file names, sizes, and contents.
The software is highly flexible, and you can adjust it to meet your needs, such as
by excluding specific files or folders from the scanning process or
by adjusting the parameters.
So if you want to know how to get more storage on PC – just give it a try using Auslogics BoostSpeed and share your experience with us.
4. Uninstall Unneeded Apps and Windows Components
One way to learn how to clean up PC is to remove any applications and Windows components you don't need. And the best and fastest way to do that is to use Auslogics Windows Slimmer.
It's a free program to help you clear up your PC to get more disk space. It does this by deleting unnecessary files and removing unused apps.
Using the Auslogics Windows Slimmer is the best method to improve your computer's performance and speed up a slow-running PC. The streamlined user interface makes it simple to check for unwanted files and delete them with a single click.
The software's primary function is to clean up after program uninstallations by erasing temporary files. It can also delete programs from the PC itself. You can use this program on Windows 7, 8, 10, and 11.
---
P.S. You can use Windows Slimmer on BoostSpeed 13. Downloading Auslogics BoostSpeed 13 gives access to this feature and other useful tools to improve your PC health!
---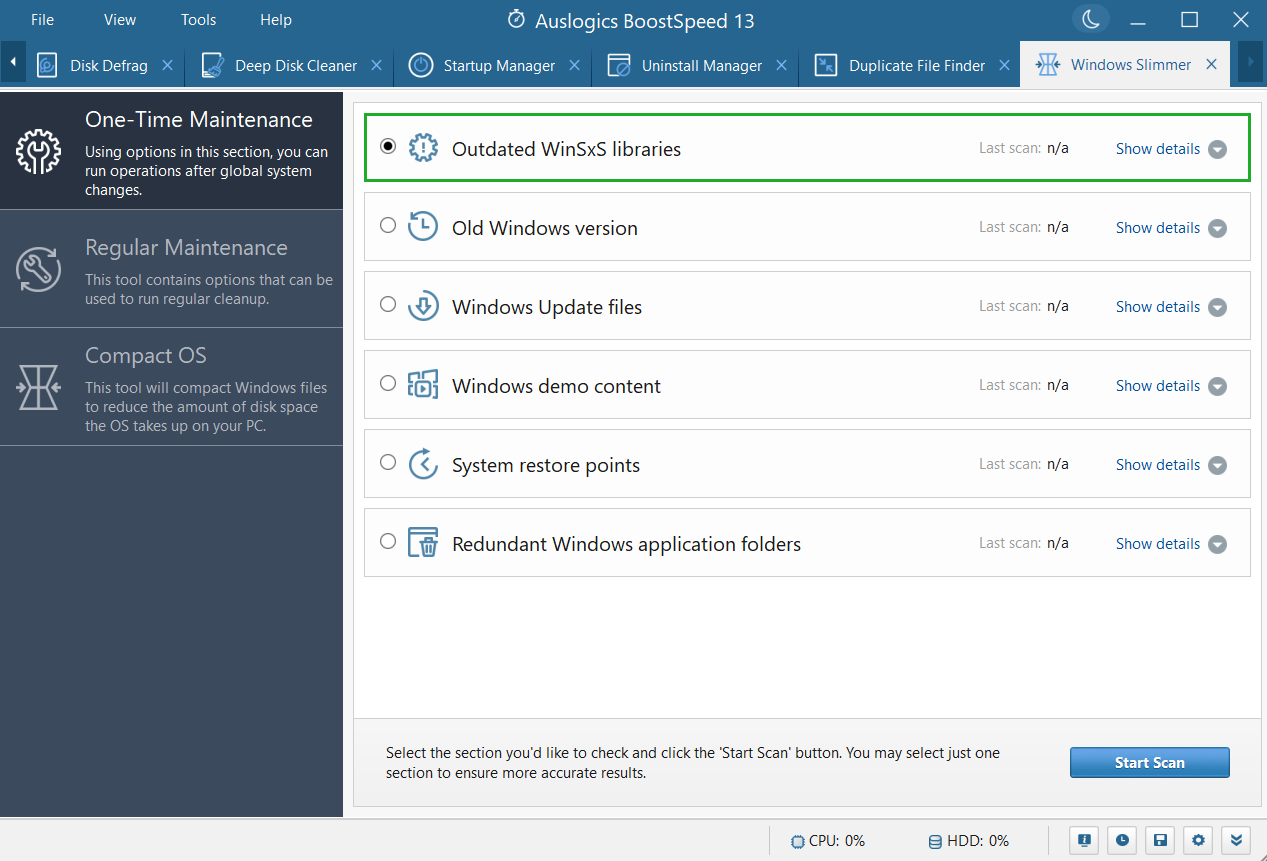 If you want to know how to get more storage on PC, read the review about the Auslogics Windows Slimmer: Auslogics Windows Slimmer: Optimize Windows.
How to Automate the Cleanup Process in Windows
If you want to know how to get more storage on PC, you can use the Windows search bar to remove temporary files. However, it can take longer, and the built-in Windows Cleaner won't delete all the unnecessary files and third-party apps, making your PC slow.
Furthermore, it doesn't come with automatic cleanup, which can be inconvenient. However, you can use the Scheduler in Auslogics BoostSpeed to automate the cleanup process. Here's how it works:
Open BoostSpeed 13 and navigate to "Settings."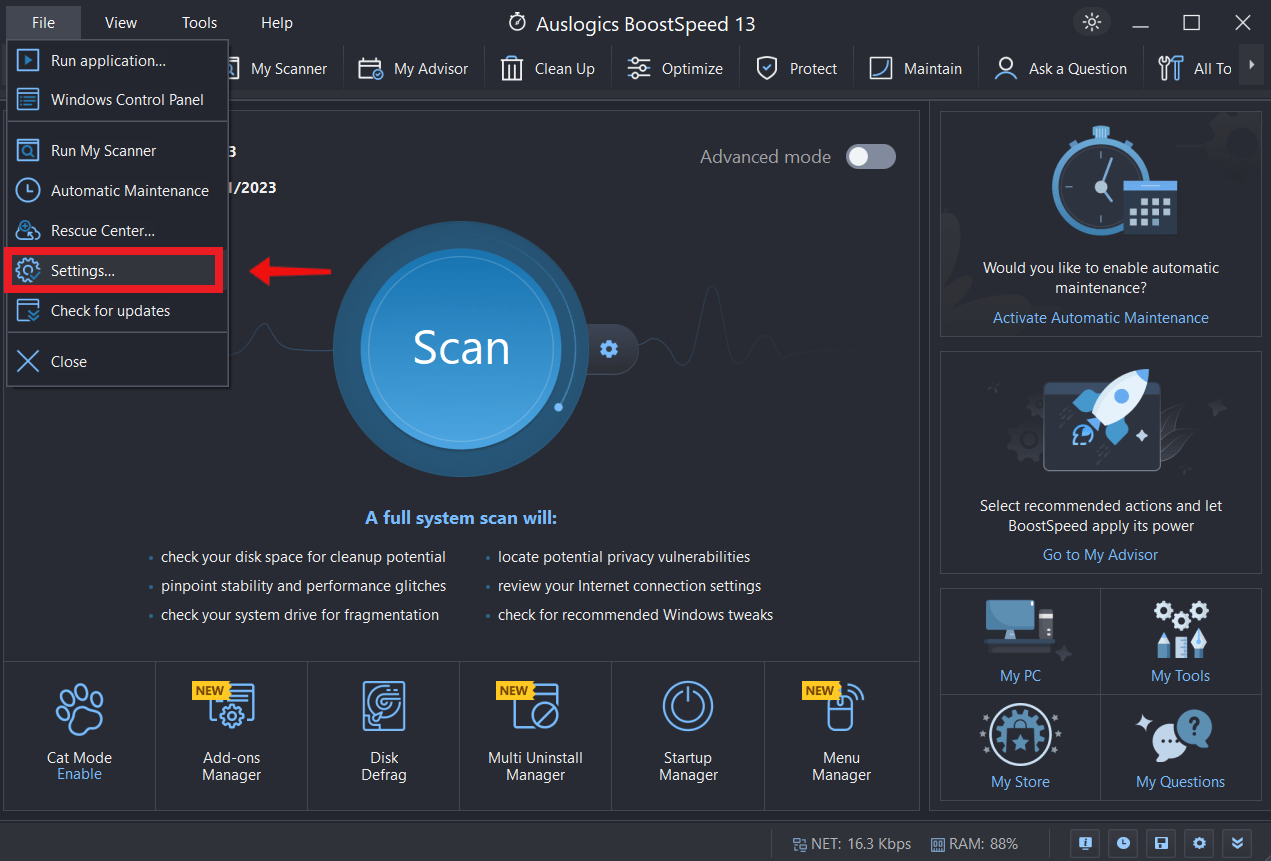 Click on "My Scanner" from the Scheduler tab and select "Disk Space." Next, click the arrow to expand the section and check the areas you want to scan.
Choose how often you want to run the Scheduler to scan your PC, including the time automatically. For example, you can schedule it daily, weekly, and monthly.
Click on the "Ok" button to save your settings.
Conclusion
It's crucial to learn how to get more storage on PC to keep it running smoothly and efficiently. When cache and temporary files build up, it can cause your computer to freeze, slow down, or even crash.
However, you can improve your PC performance by managing installed programs, deleting unwanted files, and keeping enough free space on your hard drive. And keep in mind that all these processes can be automated with Auslogics BoostSpeed 13.
The best part is that you can use all the software mentioned in this guide on Windows 7, 8, 10, and 11.
FAQs
How to Delete Unneeded Junk Files from Your PC?
You can use several methods to remove unnecessary junk files from your computer. One way is to use Windows built-in Disk Cleanup. Alternatively, you can use the Auslogics BoostSpeed 13 to remove unwanted apps, check your PC health, remove unnecessary junk files, and more.
Slow Computer? – Why You Should Download Auslogics BoostSpeed
We recommend using Auslogics BoostSpeed because it's a powerful and easy-to-use tool that can help speed up your PC by cleaning up your disk space, fully automating the cleanup process, and more. It's also the best program for protecting your computer's security by removing malware and privacy traces.
To learn more about BoostSpeed 13, read this review: Auslogics BoostSpeed 13: Get Your PC in Shape!
Can I Make My PC Faster for Free?
Yes, there are several things you can do to improve your PC speed. First, you can delete any programs you don't need or use. Another option is to disable any unnecessary startup programs that run when your computer starts up. However, you can speed up the process by using Auslogics BoostSpeed 13.
You can improve your PC speed with just a single click! Plus, you can automate and schedule regular maintenance! Read this guide for more: How to Speed Up Windows 10 Startup?
There are several possible reasons that can cause your computer to run slow. However, one common reason is that many applications may run in the background. It could also be a malware or virus infection, outdated drivers, or hardware issues.
How to Improve Computer Performance?
You can enhance your PC performance in many ways. First, disable any startup programs you don't need. You should also check for malware and viruses and decrease your computer's resources. Read this guide for more: Why is Your Windows PC so Slow – How to Improve Computer Performance