The speed of every computer will eventually begin to slow down for various reasons. Newer applications are more resource hungry than older ones, and how your PC handles these changes can significantly affect its overall efficiency. Also, upgrading your PC to Windows 11 may cause several issues. In other words, no Windows PC is immune to slowdowns. And these can cause you to lose productivity in whatever you use your PC for. So how do we fix these problems? Auslogics BoostSpeed 13 is the answer!
Auslogics BoostSpeed 13 is a bundle of software utilities that help you:
Clean, optimize, and speed up your PC,
Boost internet performance,
Fix registry errors,
Clean up unnecessary files and entries, and
Defrag the registry and the disks.
In this post, we'll show you how Auslogics BoostSpeed 13 can help you boost your PC performance and overall productivity.
What is Auslogics BoostSpeed 13?
Auslogics BoostSpeed 13 is a software suite that defragments your disk and registry, cleans up unnecessary files, speeds up the user's Internet connection, and more.
The software can also customize Windows settings to suit your PC needs. You can also boost internet speed and decrease your PC's startup and shutdown time.
The optimization and security features make it a worthwhile investment. Furthermore, the tool is simple to use regardless of your experience level. It's also equipped with different features, both advanced and basic, for new and old users.
The Auslogics BoostSpeed 13 stand out because they have easy-to-understand explanations and instructions for complex functions. You can also access its many modules through clearly arranged menus.
You can easily find the maintenance module you're searching for and run it to make your PC fast again.
How Does Auslogics BoostSpeed 13 Work?
If you install the Auslogics BoostSpeed 13, you'll see many tabs on the interface. But all of them essentially do one of four tasks to keep your computer optimized:
1. Checks Your Windows Health
BoostSpeed 13 scans your computer fully to identify the following:
junk files,
the root causes of any application or system crash or errors, and
issues that cause your PC to slow down.
Auslogics have put in the time and effort to develop tried-and-true methods for precisely zeroing in on the source of problems. This helps the application to eradicate the issues without damaging your operating system in the process.
2. Removes Unnecessary or Junk Files
Auslogics designed the BoostSpeed 13's cleaning module to remove all sorts of junk files from your computer, such as:
the old system and user cache,
web browser cache,
files left over from Windows Update,
error logs,
unwanted Microsoft Office cache,
temporary Sun Java files, and much more.
It helps free up a lot of storage space on your PC's hard drive.
3. Keeps Your Personal Information Secure
It's understandable for you to be concerned about your personal information.
Your passwords and credit card information are encrypted and safe on your computer's hard drive. However, it's easily accessible to a hacker. To solve this problem, Auslogics have integrated several privacy tools to help you hide your digital footprint and protect your private data.
For example, the "Protect" tab in Auslogics BoostSpeed 13 shows you where your privacy could be at risk and how to fix it.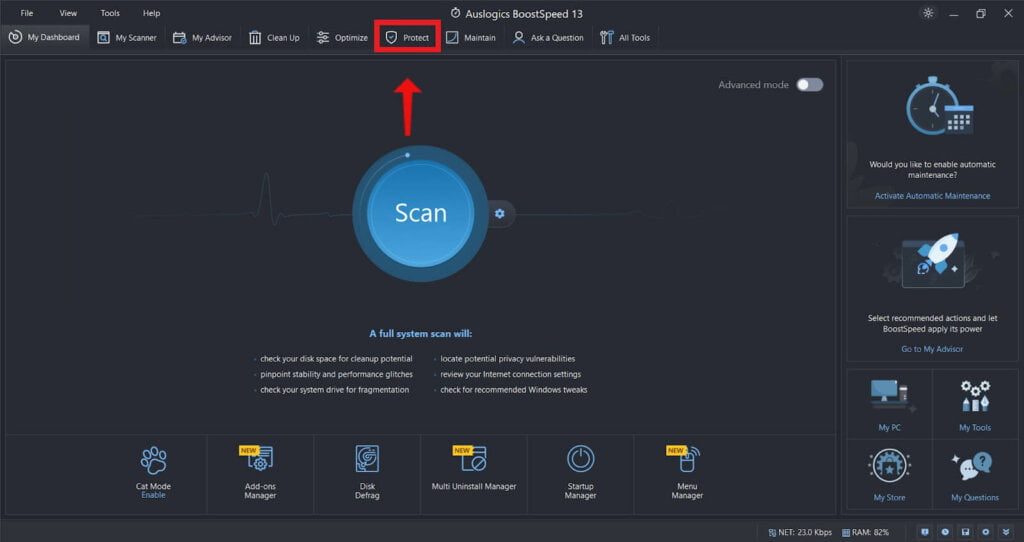 Your personal information may have been left in your browser, programs, and system files; a thorough scan will reveal all these locations. After entering your information, the tool will clean up to ensure it doesn't fall into the wrong hands.
Find out more on how Auslogics BoostSpeed 13 keeps you secured.
4. Takes Care of Routine System Checks Automatically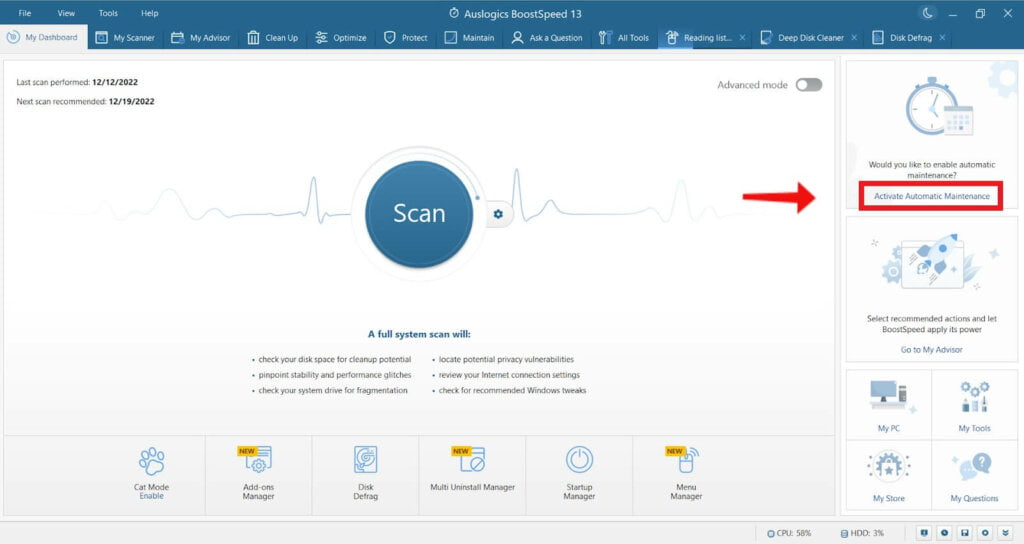 With BoostSpeed, you can keep your PC running at peak performance with the help of regularly scheduled maintenance. These checks identify and fix any problems as they arise. Auslogics have built this feature with your busy schedule in mind.
So you only have to set it up once to have your PC automatically cleaned and accelerated at a time that works for you.
Auslogics BoostSpeed 13 Features
Here are the essential things you need to know about the Auslogics BoostSpeed 13 features. This current version is the first to be fully compatible with Windows 11. And it also comes with numerous improved features.
With BoostSpeed 13's complete support for Windows 11 PCs, you can delete files from the "Recommended" section of the Start menu.
You can also use the new features like a "Multi-Uninstall Manager," "Menu Manager," and "Add-ons Manager" to get rid of unneeded shell and browser extensions.
There are also enhancements to the user interface, such as a new dark theme. This theme is more suitable at night and in dim lighting and can even help save battery life on OLED displays.
The new, adaptable dashboard is more useful because you can tailor it to each user and their preferred set of tools.
New Modes for Real-Time Optimization
New mode tiles allow you to quickly toggle between performance, battery life, and custom modes for real-time optimization. Furthermore, the Pro version has better compatibility with SSDs. You can find it in the Disk Defrag utility.
The primary issue with SSD drivers is the restricted number of write cycles flash memory cells can take. So system optimization helps extend the useful life of your SSD by lowering the number of write requests.
The New Cat Mode Function
If you enable the Cat Mode feature, the keyboard and mouse will lock every time you leave your computer. So you'll need to enter a password to unlock them.
This will protect your PC from data loss or other issues caused by your cat walking on the keyboard or playing games with your mouse (hence, the name "Cat Mode").
Auslogics BoostSpeed 13 Upgrade: How Does It Work?
The Auslogics BoostSpeed 13 upgrade is easy and takes a few minutes to complete. You don't have to uninstall and reinstall the latest BoostSpeed version. All you have to do is check for updates and follow the instructions.
If you're already a pro user, you can make your payments and receive the Auslogics Boostspeed 13 upgrade.
Auslogics BoostSpeed 13 Download: How to Install the New Version
You don't need to uninstall your current BoostSpeed application. Instead, try these methods:
Download Auslogics BoostSpeed 13
Double-click the file you downloaded to begin the installation process.
Follow the instructions. The current version of BoostSpeed will be uninstalled, and the new one will be installed automatically.
Auslogics BoostSpeed 13 Price
The software is available in both a free and a paid "Pro" edition. The free version naturally has many limitations, so the premium version is the better choice. The annual license for 3 PCs costs $19.93.
However, remember that tax will be added based on your location.
Auslogics BoostSpeed 13 Review at a Glance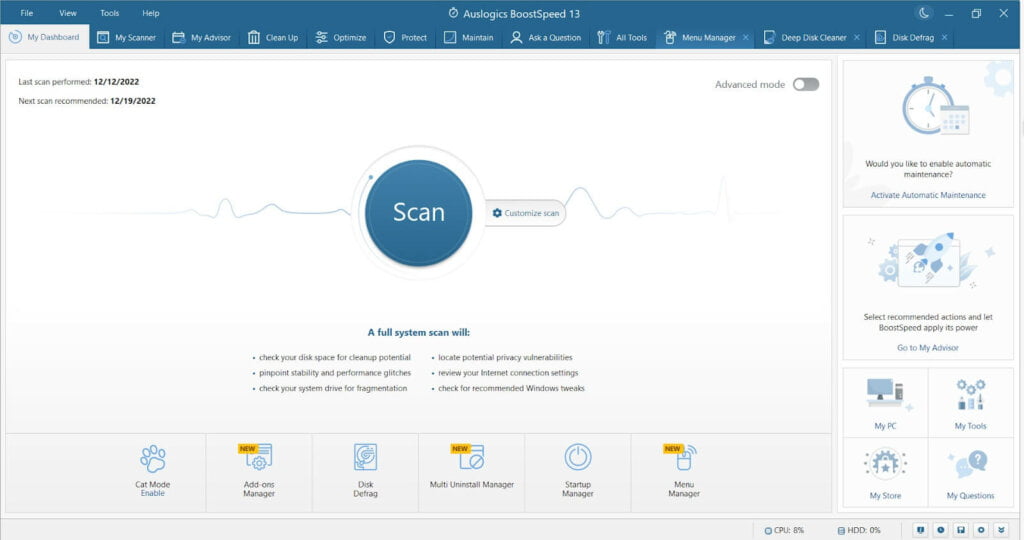 The BoostSpeed 13's user interface is simple and intuitive. Each control is plain to see and understand. The interface doesn't waste any graphics, making it less complicated. Also, it's easy to use.
Every aspect of the application, from the interface to the troubleshooting steps, is designed with you in mind. In addition, the minimal download size makes it simple to download and install the program (about 37MB). The whole setup process takes less than three minutes.
The Auslogics developers have integrated all the features into the primary interface. That way, you can run a system scan, schedule maintenance, safeguard personal information, and fine-tune performance with a single click.
Scan All or Custom Scan: The Choice is Yours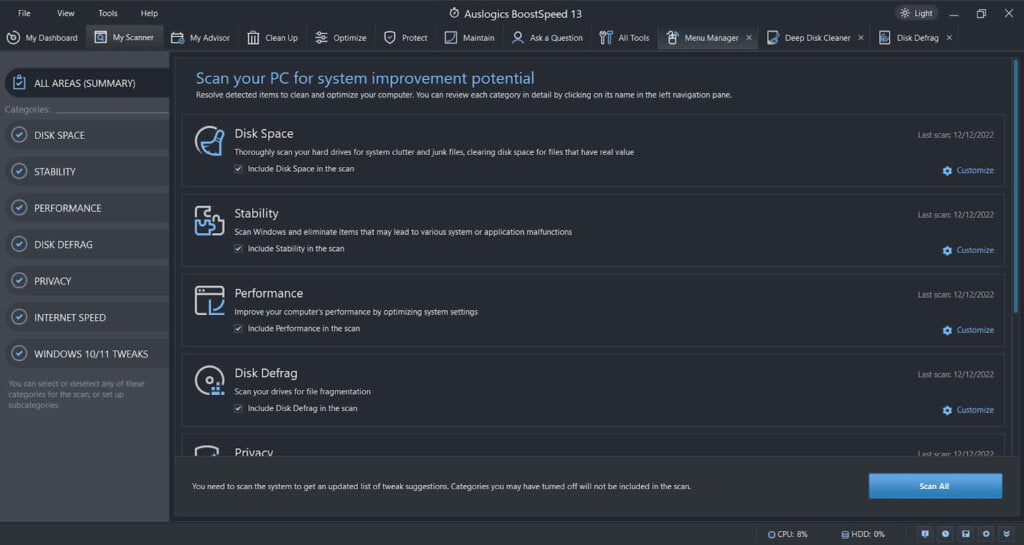 A complete system scan is the quickest and easiest option to start with BoostSpeed. First, launch the software and select "Scan All" from the menu. The program will detect broken paths, fragmented files, registry problems, etc.
That way, any issues with the system can be easily located and corrected. If it's your first time, this option is ideal.
You'll need to familiarize yourself with the interfaces of each tool to get the most out of the software. Then, choose the custom Scan and select the ones you want to scan.
Auslogics BoostSpeed13 Reviews: What are People Saying
The people who have downloaded Auslogics BoostSpeed 13 for their PCs have reported positive results. It not only cleaned their computers extensively by deleting unnecessary files, but it also fixed frequent internet problems like low signal strength.
However, some people didn't like the other features they couldn't access because they were using the trial version. So they couldn't properly evaluate the Auslogics BoostSpeed 13 features.
Here are some examples: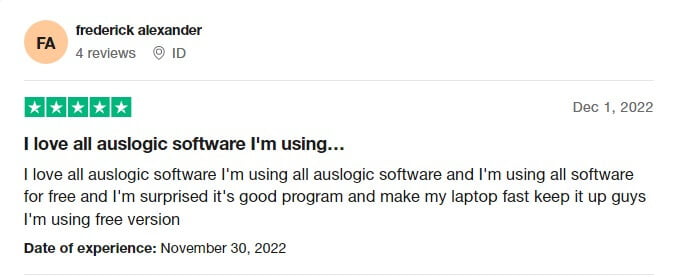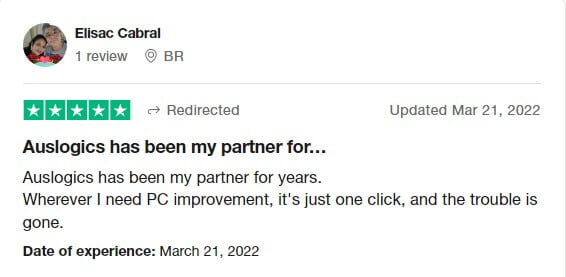 You can find more Auslogics BoostSpeed 13 reviews at Trustpilot.
Is Auslogics BoostSpeed 13 Safe?
Yes. Auslogics BoostSpeed 13 is safe to optimize your PC to run fast. You don't need to worry about your personal information being stolen. Auslogics has the necessary privacy tools to hide your digital footprint and secure your private data.
Final Thoughts
Regardless of the name, Auslogics BoostSpeed 13 isn't only a speed booster. It also has features for improving stability, managing your privacy settings, and more.
Optimization and speed improving tools are frequently viewed as suspicious. However, Auslogics BoostSpeed 13 disrupts the status quo and proves a valuable resource for any computer user.
This service completely changes the game for optimization software and only costs $19.98 a year. The cost is low compared to the functionalities you get from them too.
Some of the exclusive features you get are:
Scheduled disk defragmentation,
Advanced PC cleanup & optimization,
Browser Anti-Tracking,
Automatic Internet optimization,
Full registry cleanup
You can check out the Auslogics BoostSpeed 13 reviews to find what others say.