Have you ever been in the middle of a crucial project on your computer, only to have it move at a snail's pace? This can be frustrating, especially when you're close to the deadline. We've all been there.
But there's PC cleaner software that can improve computer performance and turn your PC into a super-efficient workstation. And that is Auslogics BoostSpeed 13.
So what exactly is Auslogics BoostSpeed 13? Is it safe to use? How does it actually solve a slow computer problem? 
Don't worry; I've been testing Auslogics BoostSpeed 13 for the past two weeks, and I'll show you everything you need to know. 
Here's what I've learned so far!
What is Auslogics BoostSpeed 13?
Auslogics BoostSpeed 13 is a system optimization software that fixes typical PC problems like poor performance, frequent crashes, and error messages.
Developed by Auslogics, a company with over 14 years of experience on the market, the program searches your computer to 
locate unnecessary files, 

system faults, and 

other causes of slow performance. 
After that, it deletes junk files without harming anything important on your PC, empties browser caches, and eliminates error logs. 
It also protects your privacy by scanning your browser, apps, and operating system for and erasing any traces of sensitive data. 
It's undoubtedly one of the best PC optimizers on the market, and here's why I say that. 
Why BoostSpeed 13 Excels at Optimizing PC Performance
We all know that regular optimization is vital to computers' health, performance, and durability. 
Performance issues and typical faults like freezing or blue screen errors might develop because of deteriorating synchronization between the storage, CPU and GPU. 
But when I tested Auslogics BoostSpeed, it optimized the PCs by: 
Maximizing resources like

RAM

and CPU, 

Reducing the risk of file corruption and malware attacks, and 

Fixing registry issues.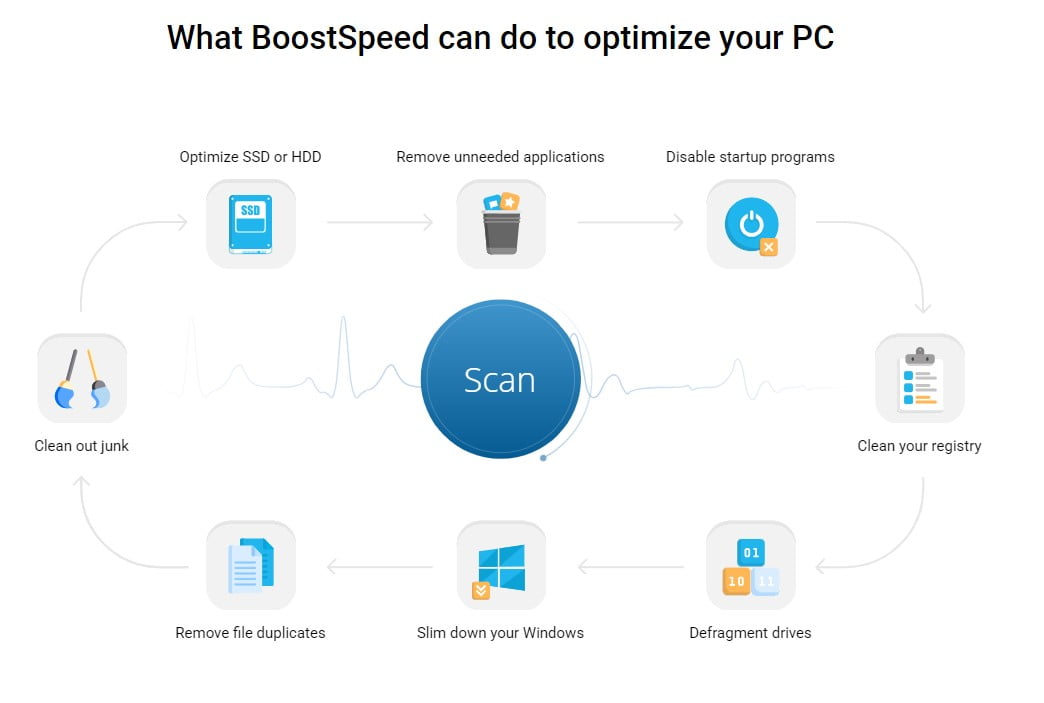 BoostSpeed 13 offers a cost-effective way to upgrade your hardware and complete even the most demanding tasks without issues. In the next section, I'll dive deeper into what each feature does and improve computer performance. 
Key Features of Auslogics BoostSpeed 13
Auslogics BoostSpeed 13 provides numerous useful key features to improve system stability, increase performance, and automate routine system checks. Let's find out how to make computer faster with BoostSpeed's useful features: 
1. Disk Cleaner
Let's start with the Disk Cleaner. You can use this powerful tool as your secret weapon against cluttered storage. It thoroughly checks your Windows 10 computer, locating the junk and temporary files eating up your hard drive space. 
The BoostSpeed 13 boosted my system's performance by cleaning up my Windows 10 so that it operate smoothly. The computer performed better after the disk cleanup.
2. Disk Defrag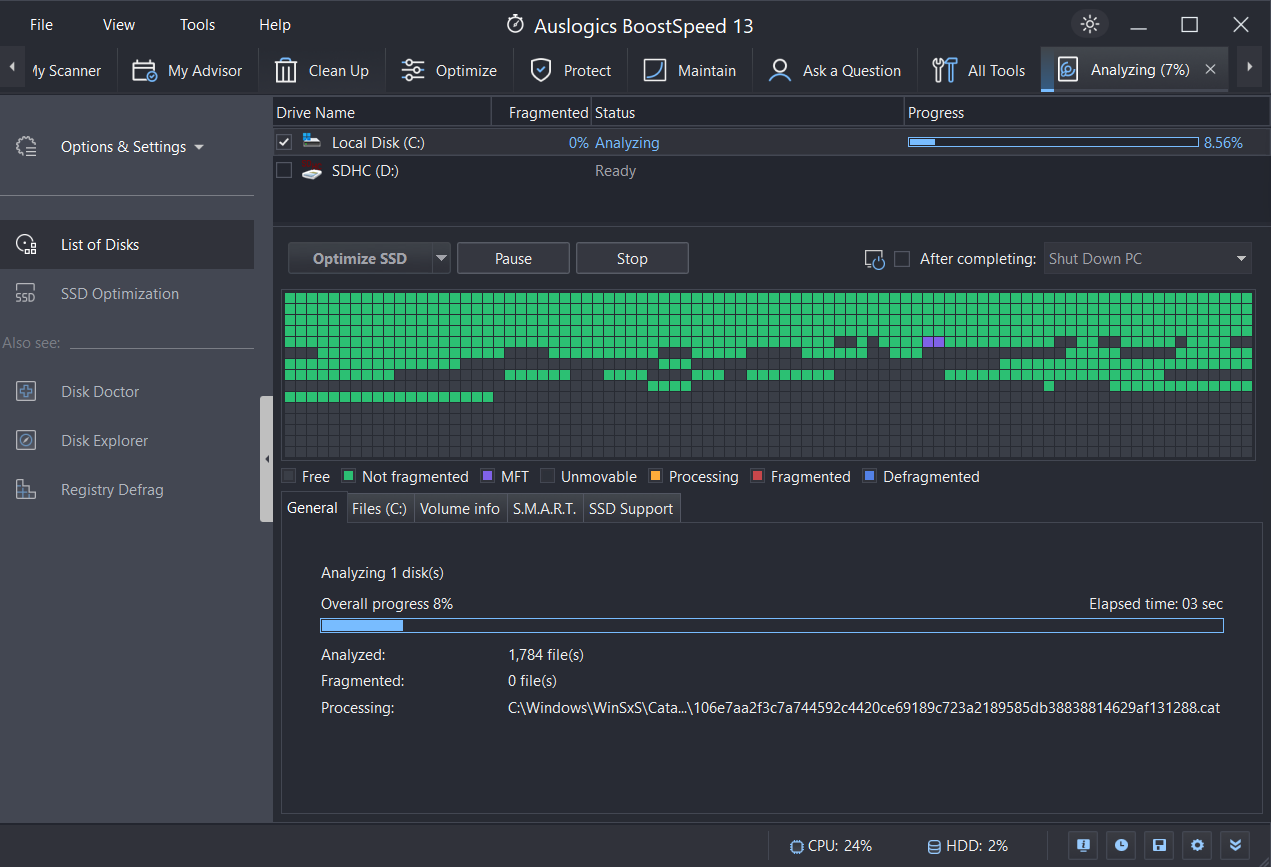 However, BoostSpeed 13 doesn't stop there. When your PC becomes fragmented, it gives extra work to your hard disk, slowing down your computer. 
But as you probably know, using any disk defragmenter can be potentially dangerous. That's because it can corrupt your files or cause data loss. 
However, when I tested the software, it used a unique algorithm to fragment my files, which helped save more disk space. It also improved the computer's capacity to retrieve information quickly, ultimately improving its speed. 
In short, the Disk Defrag in Auslogics BoostSpeed 13 helps your files load quicker, your system responds more quickly, and your computing goes more smoothly. It's like injecting your PC with pure Adrenaline!
---
Related: Defrag Your Hard Drive Like a Pro – Step-by-Step Guide
---
2. Optimize Your SSD or HDD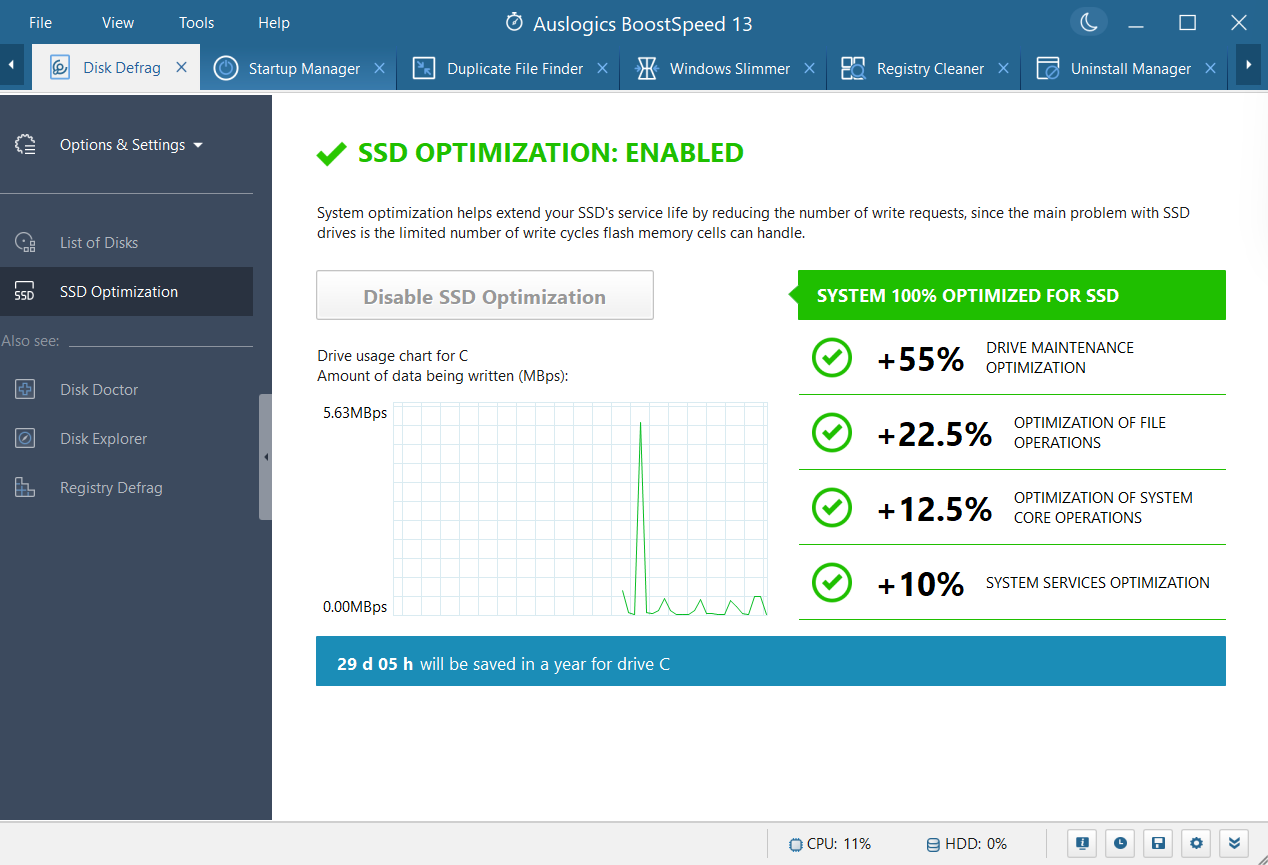 One unique aspect stood out as we were testing the BoostSpeed 13 software. And that was its ability to defrag and improve the performance of both solid-state drives (SSDs) and hard disk drives (HDDs), which is rare. 
First, most Windows optimizers are designed for HDDs.  So using such software on your SSD can cause severe consequences like shortening the drive's lifespan. Secondly, disk defragmentation works on rotating hard drives, so it won't work on SSDs. 
But here's what makes BoostSpeed 13 unique. The software uses a special algorithm to decrease the times your PC processes a write operation. So all I had to do was switch on SSD optimization, and the program took care of the rest!  
BoostSpeed 13 gives your hard drives (HDDs and SSDs) new life by speeding up your hard disks, freeing up space, and removing unwanted data. 
---
Related: SSD vs. HDD: What's the Difference and What to Choose?
---
3. Registry Cleaner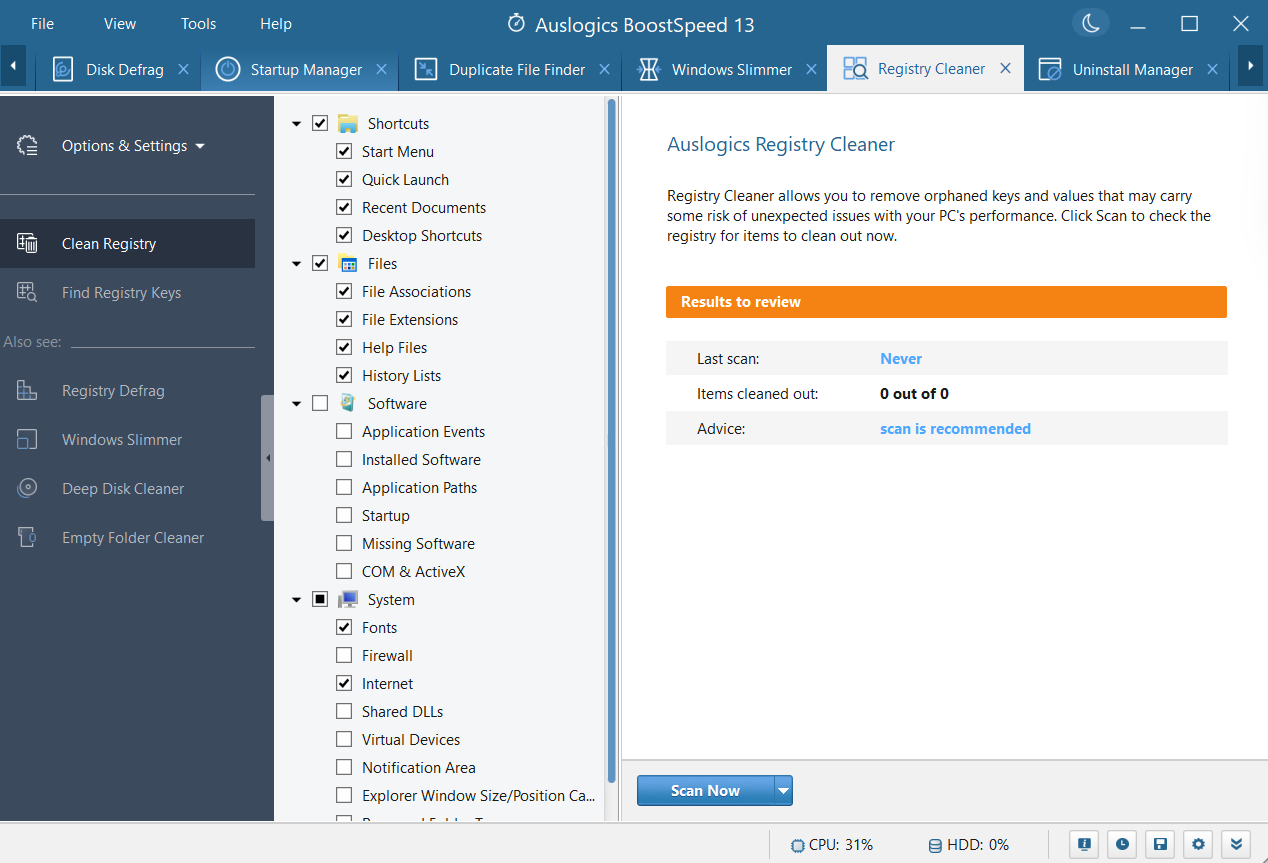 The BoostSpeed 13's Registry Cleaner takes you deeper into the heart of your computer. It thoroughly examines your PC and fixes any problems it finds in the Windows registry. 
This is crucial because cleaning the registry manually can cause system instability or loss of functionality, which I have experienced several times. But the BoostSpeed 13 knows which keys are still vital for your Windows PC to function properly. 
When I tested this feature, the software improved Windows 10 performance by minimizing crashes, decreasing system failures, and optimizing registry settings. 
---
Also Read: What is the Windows Registry And Why Do You Need a Registry Cleaner?
---
4. Internet Optimizer
How does Auslogics BoostSpeed protect your online activities? That's what I was wondering as well! Turns out, this clever feature analyzes your network and makes changes to improve your internet connection speed. 
No matter what you're doing online, whether browsing online, watching videos, or playing games, BoostSpeed 13 keeps everything running smoothly and quickly. 
5. Startup Manager
One of the frustrating things is slow PC startup. So I was eager to test this feature to see if it holds true, and it does! The Startup Manager tool allows you to manage which services and applications launch at system startup. 
The feature also prompts you when services or apps launch at boot startup without your knowledge. This usually occurs when you install new apps or when there's something fishy going on in your PC, like malware. 
Controlling these startup processes can speed up your system's responsiveness, decrease boot time, and save resources. 
---
Related: How to Speed Up Windows 10 Startup and Make Your PC Boot Faster?
---
6. Privacy Cleaner
Auslogics BoostSpeed 13 is designed to protect your digital privacy without sacrificing speed. So this PC cleaner functions is a valuable ally. It deletes everything from cookies and temporary files to browsing history and the cache.
So you can relax, knowing that your personal information and online anonymity are safe.
7. File Recovery
Did you lose a crucial document by mistake? The File Recovery tool in BoostSpeed 13 can help. Files of all kinds, from important documents to personal photos and videos, can be quickly recovered with the help of this program. 
With BoostSpeed 13, you no longer have to worry about accidentally losing data!
8. Windows Slimmer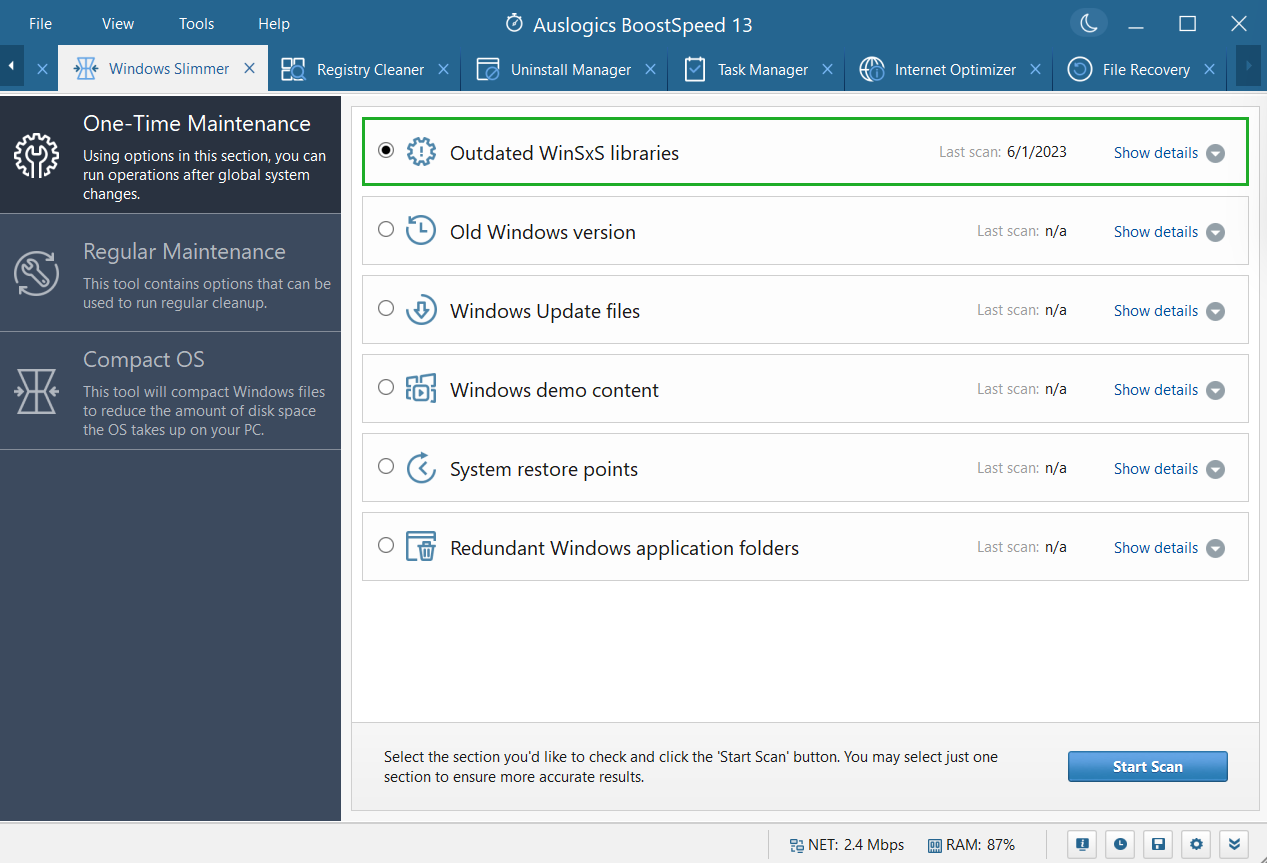 The Windows Slimmer provides an automatic PC cleanup by deleting old libraries, broken components, and out-of-date update files. It saves space on your hard drive and makes sure your Windows installation is set up in the best possible way. 
---
Also Read: Clean Up Windows 10: How to Uninstall Programs and Delete Unnecessary Files
---
9. Duplicate File Finder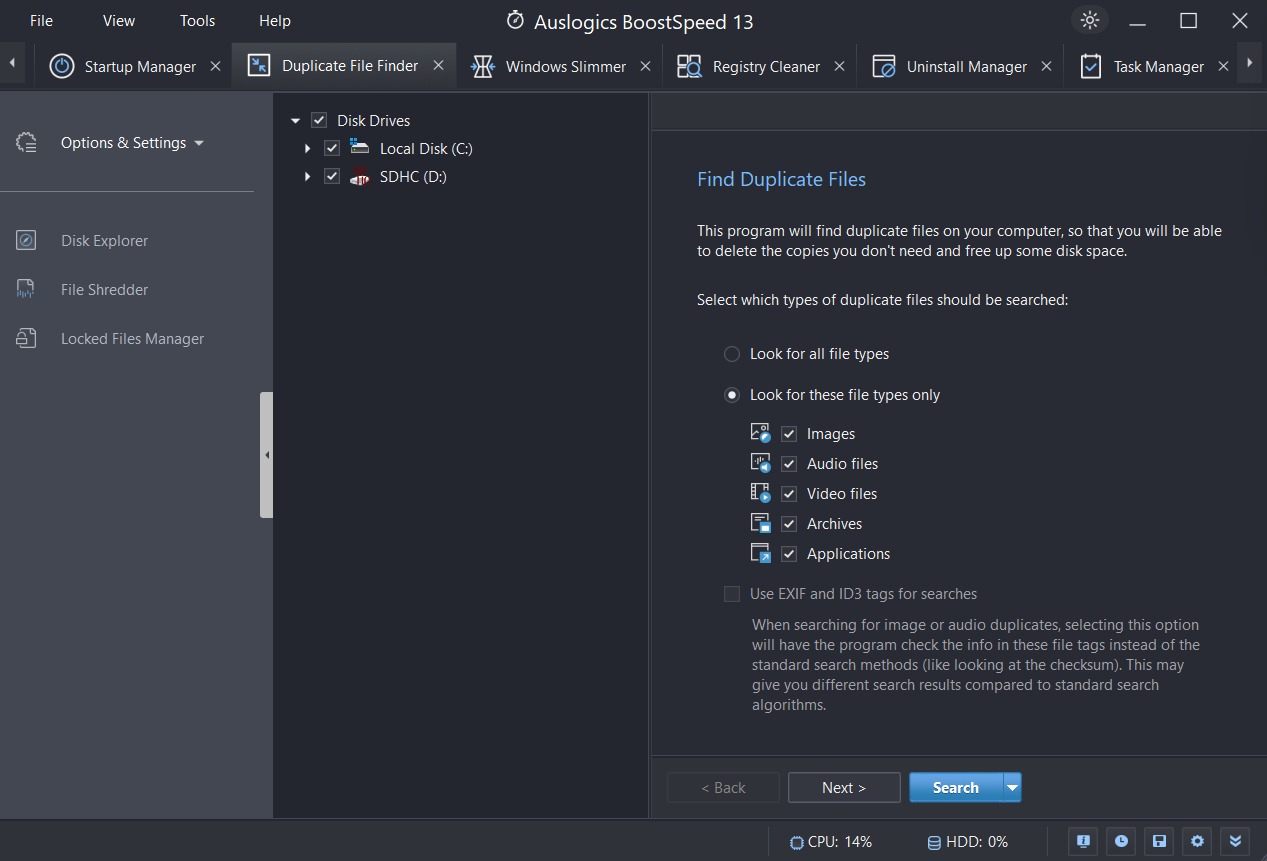 This fantastic feature makes managing your files easy. It searches your hard drive, picking out duplicate files and expertly deleting them. 
When I tested the feature, it was able to secure my data and maximize storage capacity by clearing unused disk space.
---
Also Read: How to Find and Remove Duplicate Files in Windows 10/11
---
10. Tweak Manager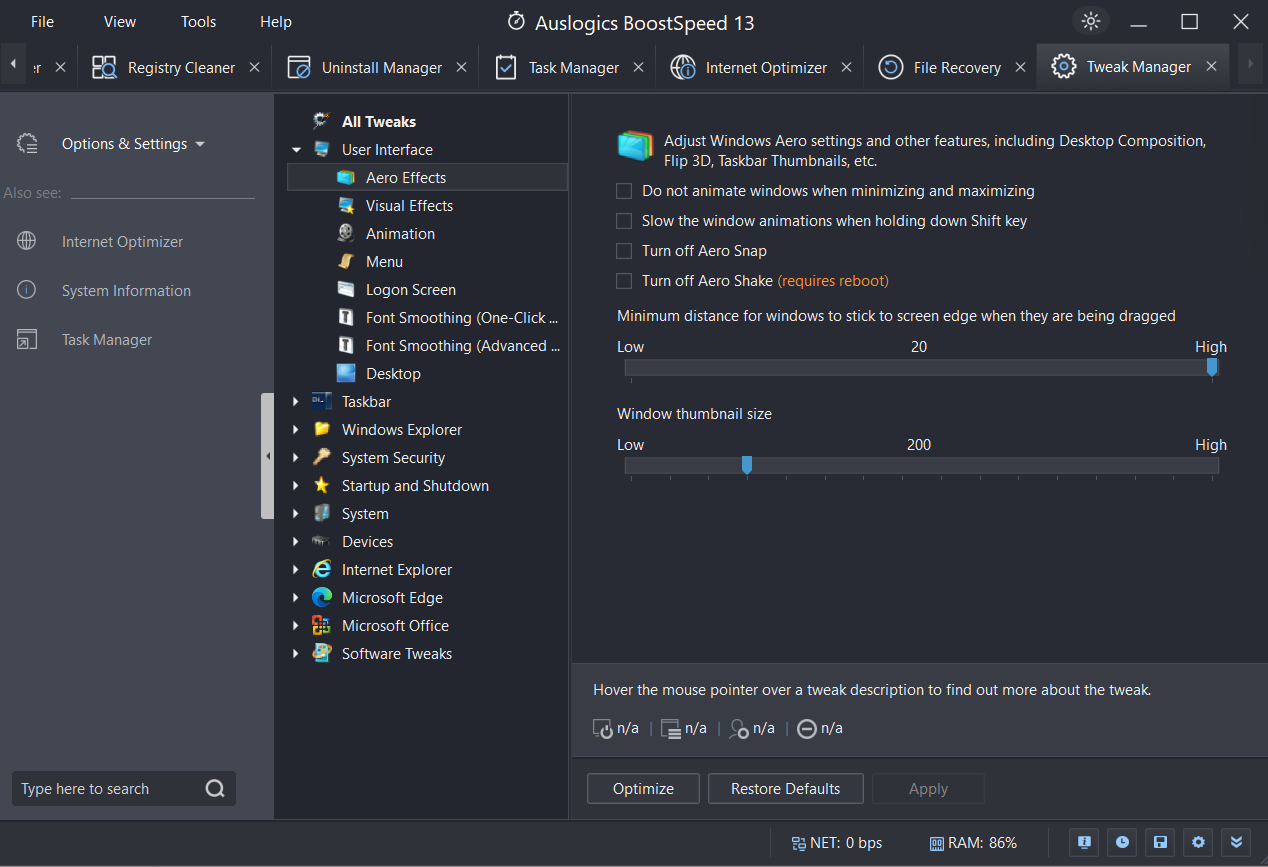 BoostSpeed 13 Free vs. Pro Version
BoostSpeed 13 comes in a free and a pro edition, so you can choose the one that works best for you. However, I recommend using the pro version. I'll explain. 
The free version includes several useful tools to improve your computer's speed, protect your privacy, and a few others.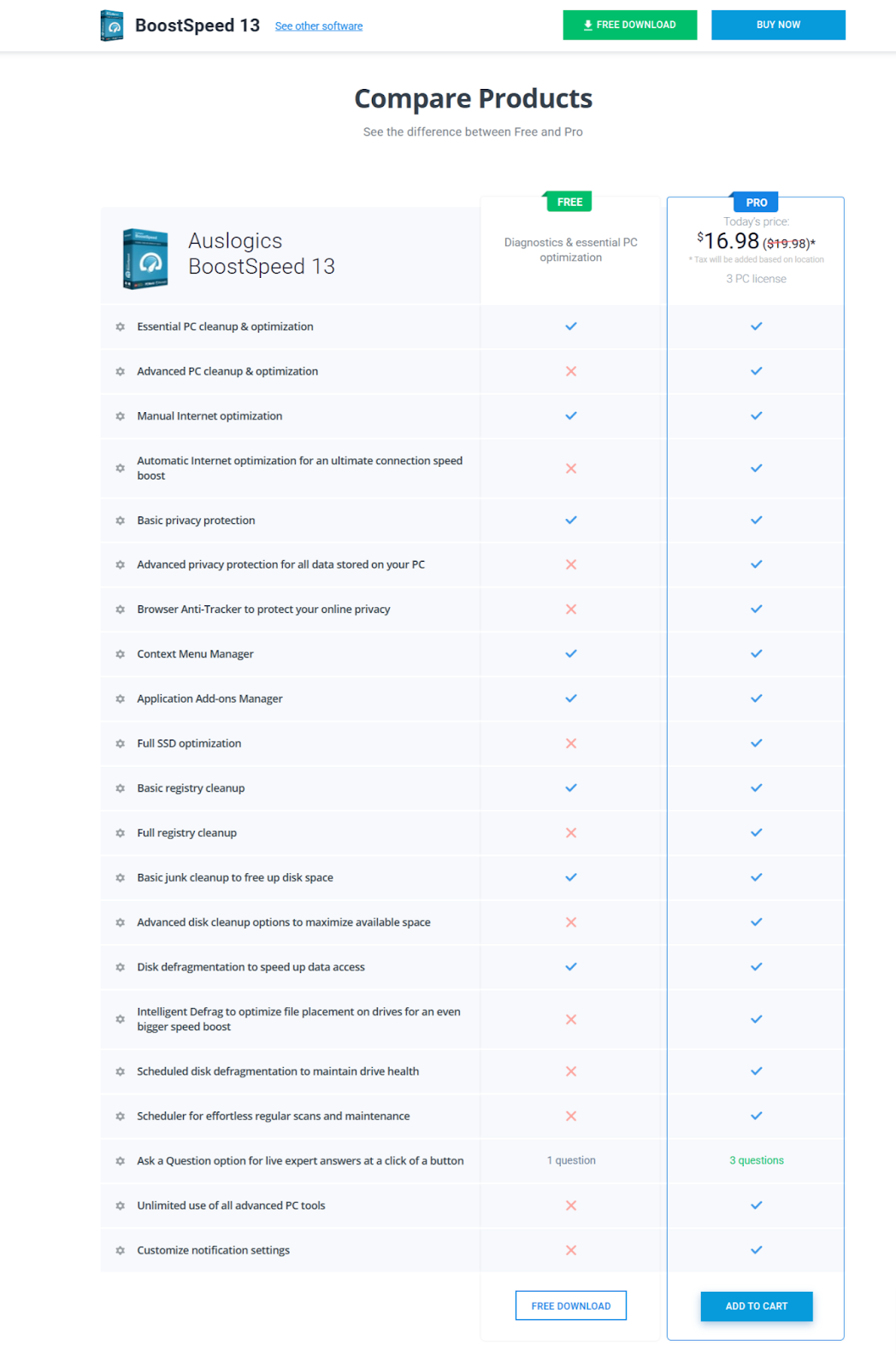 Compatibility and System Requirements
Auslogics BoostSpeed 13 is compatible with all versions of Windows, from Windows 7 to Windows 11. No matter what version of Windows you use on your computer, BoostSpeed 13 will work flawlessly and allow you to take full advantage of its features.
Also, BoostSpeed 13 is a lightweight program with various Windows editions and minimal hardware requirements. This means the software optimizes, speeds up, and makes your computer more stable, no matter how basic or powerful your system configuration is.
Auslogics BoostSpeed13: Reviews
The Auslogics BoostSpeed 13 has earned a solid reputation as one that is both secure and effective. You can feel safe entrusting the software with your personal information. Protecting your online traces and personal information is a top priority for Auslogics. 
Most people who have used Auslogics BoostSpeed 13 have nothing but good things to say about it. Users are fans of how it can scrub their systems clear of clutter and restore optimal functioning. 
BoostSpeed 13 has also received praise for its ability to solve widespread internet problems, including weak signals. Reviews on Trustpilot, written by actual users, provide you with a more in-depth picture of how satisfied those users are with the software.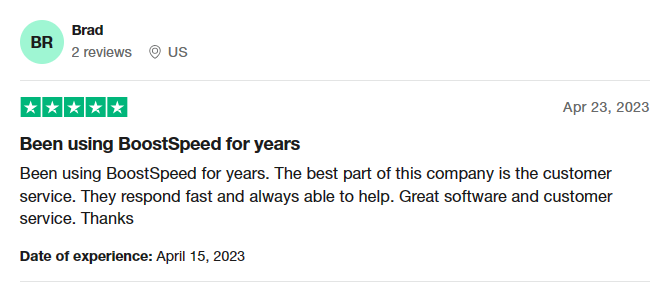 Conclusion
If you've been asking "How to improve computer performance" this review has answered the question. Auslogics BoostSpeed 13 is both effective and simple to use. Its user-friendliness and streamlined layout make it simple for anyone to access and use its many features.
BoostSpeed 13 has various features to improve system stability and responsiveness, from disk cleaning and defragmentation to file recovery.
The software is cross-platform compatible, so you can reap the benefits of its performance-enhancing features regardless of your chosen computer system. In addition, it has low minimum system requirements. Auslogics BoostSpeed 13 has earned the confidence of its users by placing a premium on privacy and security.
So if you wonder know how to speed up computer, use Auslogics BoostSpeed 13.
FAQs
Why Is My Computer Running Slow?
Several reasons can cause your PC to slow down, such as inadequate RAM, a fragmented hard drive, many background activities, malware infections, etc. Regular maintenance, including disk cleanup, disk defragmentation can improve computer performance.
How to Improve Computer Performance?
You can do several things to improve your computer's speed, such as updating software and drivers, boosting available memory, etc. You can automate many activities and access performance-enhancing features with Auslogics BoostSpeed 13.
How Often Should I Use Auslogics BoostSpeed 13 to Maintain Optimal Performance?
When you should run Auslogics BoostSpeed 13 depends on how you use it and how healthy your computer is. At least once a month, you should run BoostSpeed 13 to take care of routine maintenance. However, if you frequently install and uninstall applications, browse the internet, or experience a slowdown in speed, use BoostSpeed 13 frequently.
Is Auslogics BoostSpeed 13 Safe to Use?
It's safe to use Auslogics BoostSpeed 13. It's subjected to extensive testing to ensure that BoostSpeed 13 is safe for your computer and meets industry standards. It puts privacy first and uses safe methods to boost performance without exposing user information.
What Is the Price of Auslogics BoostSpeed 13?
There is a free version and a paid "Pro" version of the BoostSpeed 13. The free edition has various restrictions; hence the paid version is recommended. The price of a yearly license for 3 computers is $19.93.
Keep in mind that your local tax rate will be factored into the final price.