Do you want to know how to make PC run faster? This guide will help you do that! If you've used your computer for a year or longer, you may have seen its optimal performance slowing down. 
This can happen for several reasons, such as the massive accumulation of files that stress the system and other problems in the operating system. 
You can control or prevent some issues, but others are inevitable as computers age. The good news is that you can make several necessary tweaks to your PC to enable faster performance.
This guide will help you learn how to make computer faster. We'll mainly discuss the automated process of improving your computer speed. 
Let's begin. 
How to Make Computer Run Faster
We'll show you how to speed up computer in the subsequent sections. Go through them and use the ones that best work for you:
Method 1: Disable Startup Programs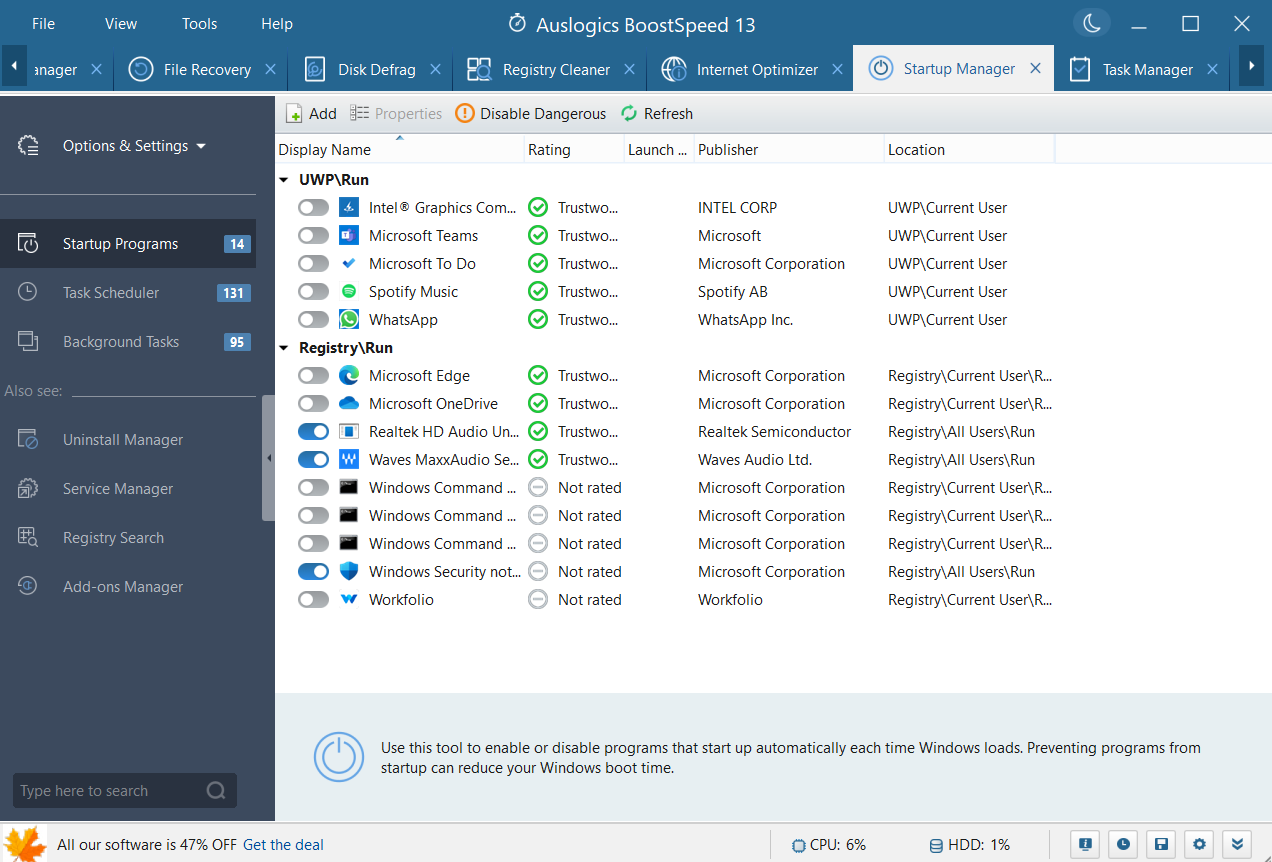 One of the best methods to speed up your Windows PC is to stop unwanted apps from starting when your computer first starts. These auto-launching programs can considerably slow down your system's boot process and overall performance.
Consider using Auslogics BoostSpeed's Startup Manager feature to resolve this problem without manual effort. This tool examines each software that launches when your computer turns on.
Simply check the boxes next to the apps you want to prevent from starting up automatically, and BoostSpeed will take care of the rest. Thanks to this automated process, your computer will start up more quickly, making your life easier! 
---
Related: Get the Most Out of Auslogics BoostSpeed Free Trial 
---
Method 2: Update Your Operating System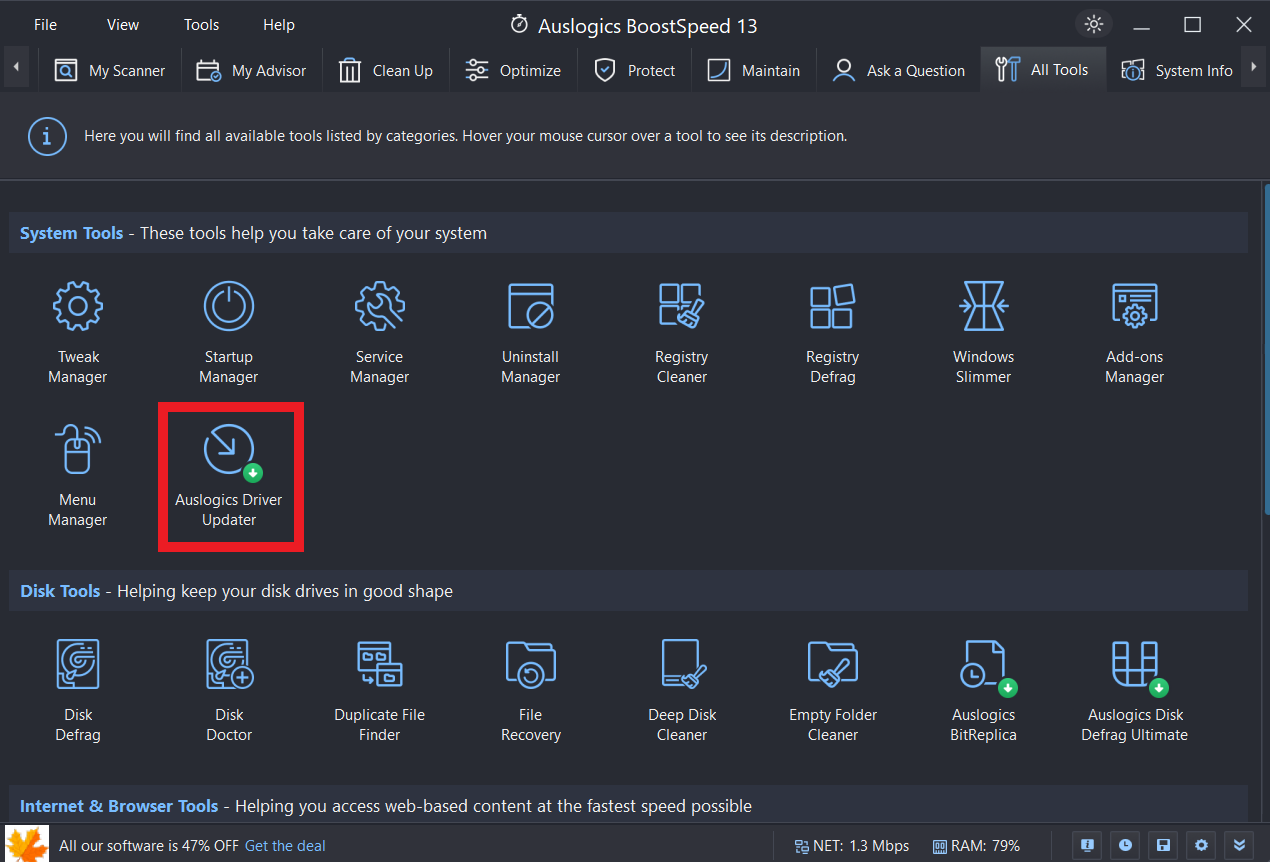 Maintaining Windows 10's most recent updates makes it simple to improve your PC's performance. Microsoft releases updates frequently to fix common bugs and system problems that can cause your PC to run slowly. 
---
Also Read: Ultimate Guide: How to Manually Check and Install Windows Updates
---
These updates can range from quick repairs to significant system improvements that look for the latest device drivers. You can automatically update your drivers using Auslogics Driver Updater.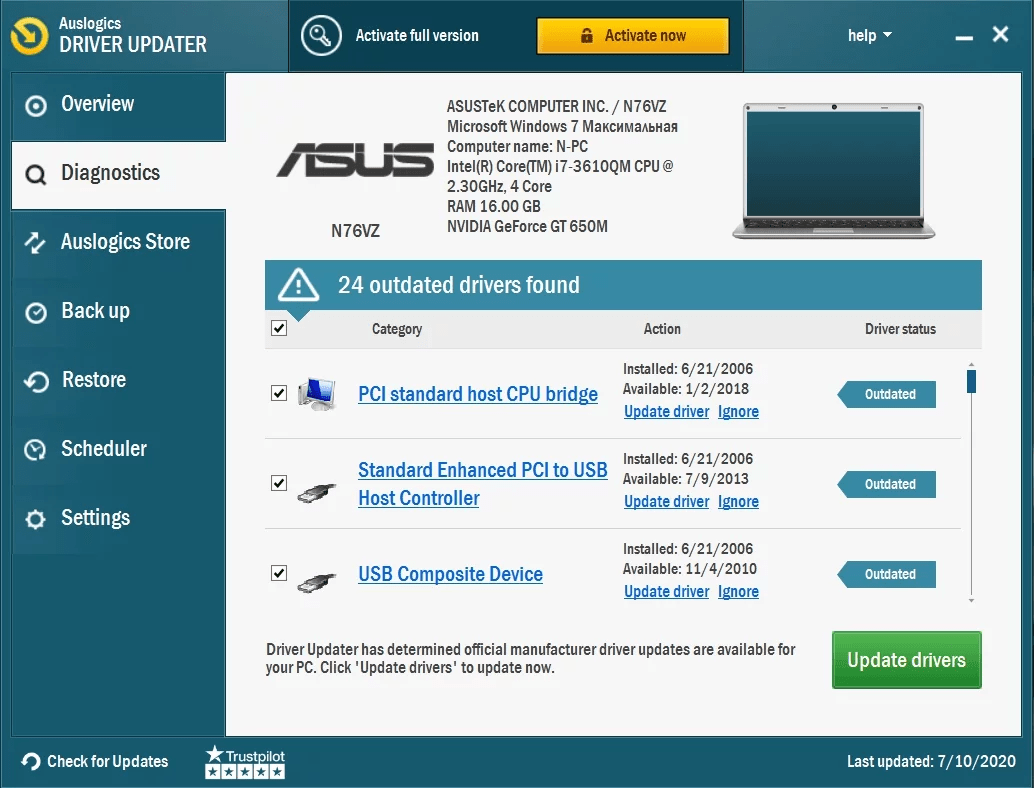 This tool automatically checks your computer for out-of-date drivers and installs the most recent versions in their stead. The benefits? Your computer performs more faultlessly and more efficiently and has better hardware compatibility. 
Furthermore, automating the driver update process saves you time and effort and guarantees that your PC is always up to date.
---
Related: How to Keep Your Software Up to Date
---
Method 3: Delete Unnecessary Files
Auslogics BoostSpeed makes it simple to speed up and clean up your computer. Follow the below steps to delete unwanted files and free up crucial space:
Launch

Auslogics BoostSpeed.

Click on "All Tools" and select "

Deep Disk Cleaner

" from the list of various features.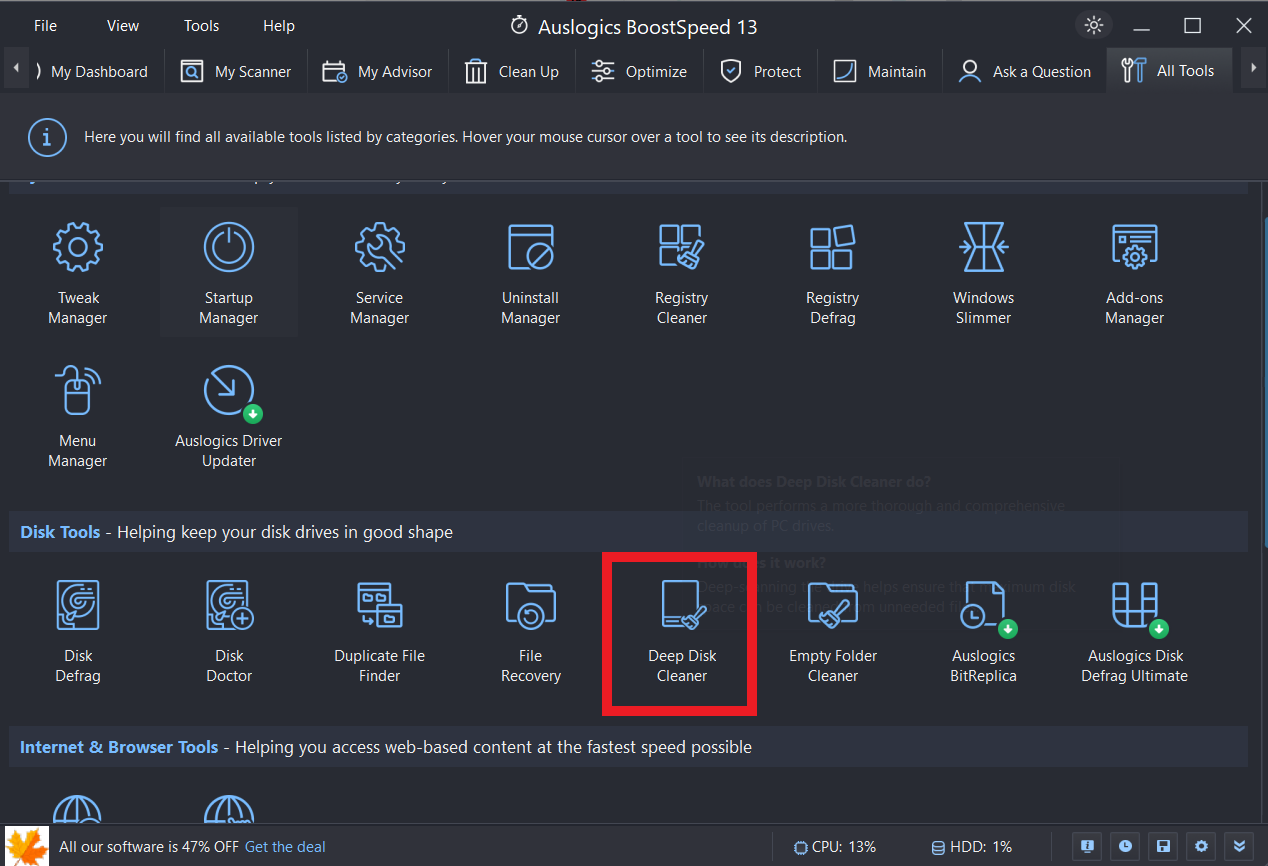 Click on "

Scan now

" to start the cleanup. BoostSpeed will scan your computer for unneeded files, including junk and

temporary files

.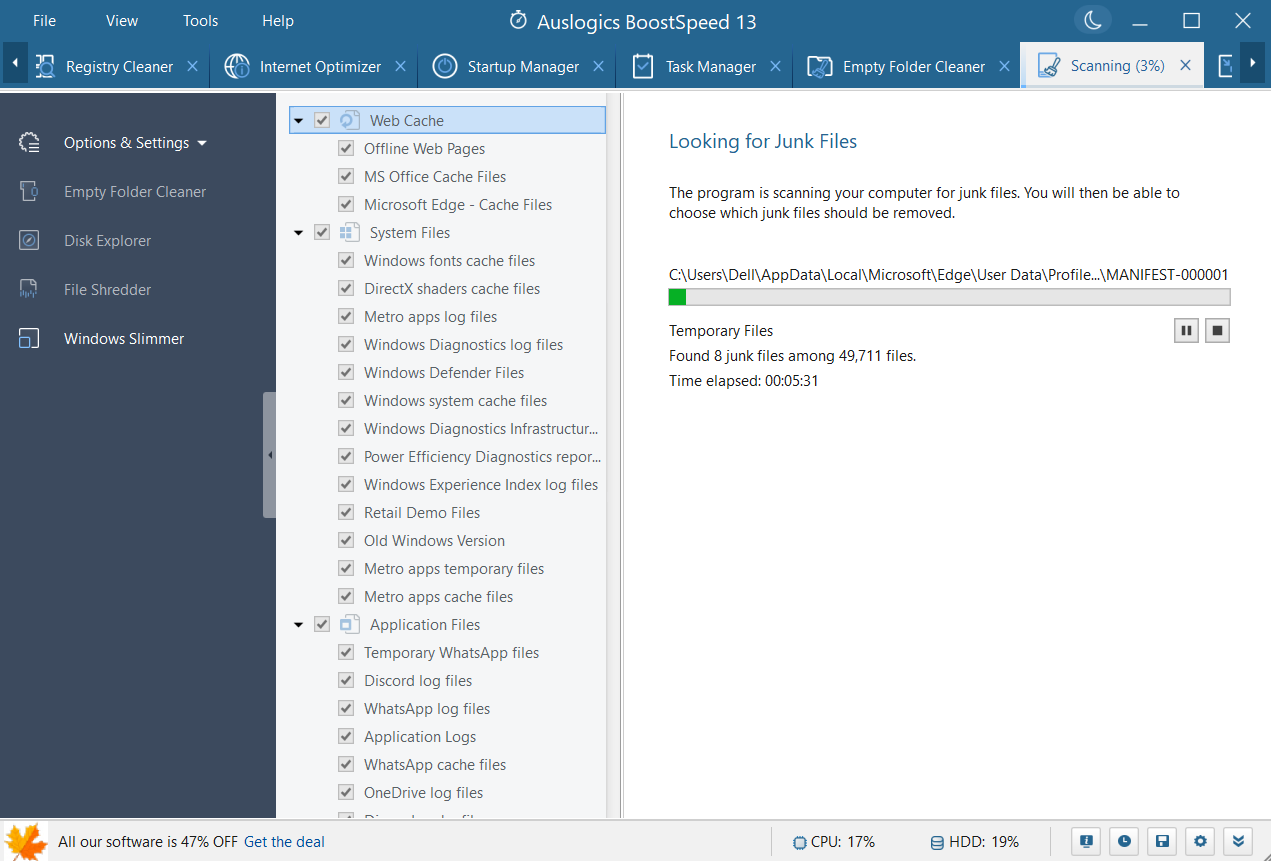 Review and select the files you want to delete after the scan and click "

Clean up

."
You can easily and quickly remove unneeded files from your PC using Auslogics BoostSpeed's Disk Cleaner. It's one of the best ways to learn how to make PC faster. 
---
Also Read: How to Remove Software Leftovers on Windows?
---
Method 4: Use the Cloud
Strategically using the cloud can help your PC run faster. Use cloud storage options first, including Google Drive, Dropbox, or OneDrive. By storing your files in the cloud, you can access your information anywhere and free up valuable hard drive space.
Next, look into cloud-based software as an alternative to locally-based, resource-intensive software. These web resources lighten the strain on your computer and make it responsive.
Also, cloud-based software excels at automatic updates, guaranteeing that you always use the most recent, optimized versions without user intervention.
---
Also Read: How to Stop iCloud on Windows 10 from Asking for Password? 
---
Method 5: Reinstall Your Operating System
If you've been asking yourself, "How do I make my computer faster?" consider Reinstalling your operating system. It's one of the effective ways to speed up your computer.  
This process can help remove collected clutter and issues that may have slowed your computer. You can use the Windows PC Guide to help you reinstall the OS. 
Here's how to do it: 
Make sure all of

your crucial files are backed up

before you begin. You can use external hard drives or online storage to protect your files.

Get

Windows installation media

containing the most recent version of your operating system, such as a bootable USB drive or DVD.

Restart your computer after inserting the installation medium. You must start the computer using the installation media, which usually involves pressing a particular key to get to the boot menu during startup.

Follow the on-screen directions for Windows installation. You can format your hard disk to wipe it clean during this process. This phase eliminates all the previous clutter and issues.

Ensure you reinstall your

hardware drivers

and necessary software programs after installing Windows. By doing this, you can be sure that your PC has all the parts it needs to function properly. That's

how to make computer faster.
---
Related: How to Reinstall Windows 10 Store Easily?
---
Method 6: Install a Solid-State Drive
Upgrading your storage can significantly improve your PC's performance and speed. Even though many PCs use conventional spinning disk hard drives (HDD), upgrading to an SSD can make your computer more powerful and faster.
Although SSDs usually are more expensive than HDDs, the advantages make the expense worthwhile. You'll notice faster startup times, faster program loading, and a more responsive computing environment.
Solid-state drives come in various sizes and form factors to fit different PC systems. You can get 2.5-inch and M.2 form factors for desktops and notebooks. Choose an SSD that meets the specifications of your system to ensure compatibility. 
So, consider using an SSD if you want to know how to make an older computer faster. 
Take a Note: 
Are you thinking about upgrading your computer's storage? Compared to traditional HDDs, SSDs can considerably improve your computer's performance. SSDs may cost more but provide quicker startup times, faster application loading, and better responsiveness. Find out more: SSD vs HDD: What's the Difference? 
---
Related: How to Fix Bad Sectors on a Hard Drive
---
Method 7: Increase your RAM
You can increase your PC's speed and performance by boosting your Random Access Memory (RAM) and upgrading your system's memory. Windows 10 requires a minimum of 4GB of RAM for lag-free performance. 
However, having extra RAM can be helpful if you're doing intensive jobs like gaming or media production. 
To check how much memory your computer needs, press "Ctrl + Shift + Esc" to open the Task Manager. Then, select "Performance."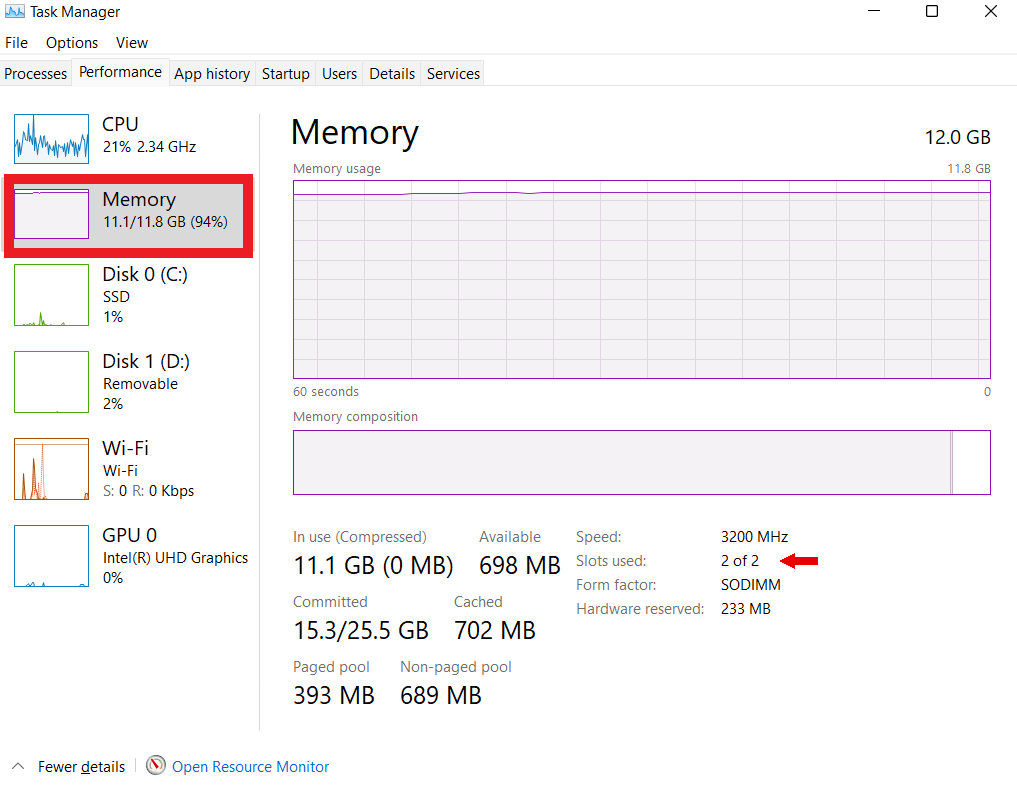 You can increase your RAM to accommodate your PC's requirements for a faster and more effective computing experience. 
---
Related: How to Clear RAM in Windows 10 
---
Method 8: Use an External Hard Drive.
Consider using an external hard drive to speed up your Windows PC if you want to know how to speed up computer for free. 
External hard drives act as additional storage spaces for your computer. The primary hard drive of your PC may start slowing down when it's getting full. So, you can upload big files, such as pictures and videos, to the external hard drive. 
This makes your PC faster by clearing up space on it. Furthermore, it's a secure location to store backups of your crucial files. 
This guarantees that your files are safe and can be recovered if your PC experiences a problem. So, consider getting an external drive if you want to know how to make PC run faster. 
Method 9: Regularly Restart Your Computer
Even though restarting your computer is something you do every day, it can significantly affect how quickly it operates. Many people choose sleep mode rather than shut down their PCs, leaving them running for long periods. 
This habit causes your PC's RAM to fill up with programs and processes, slowing down routine actions like opening programs and accessing data.
You give your computer a chance to clean out its memory and be ready for peak performance the next day by shutting it down each day. 
Consider shutting down or restarting your PC if it's becoming slow at everyday operations like opening programs or accessing files. 
---
Also Read: Laptop Lifespan: Why You Should Definitely Shut Down Your PC Every NIght
---
Method 10: Run Consistent Security Checks
One of the ways to know how to make computer run faster isn't only about speed but also your security. For example, a slow device usually shows the presence of other cybersecurity threats, including computer viruses, spyware, and adware.
These viruses can do more than just slow down your device; they can also compromise your privacy and possibly result in identity theft. 
These scans protect your device and personal information from danger while finding performance hindrances.
---
Find out more: How to Remove Virus and Other Malware from Windows
---
Did You Know: 
There were around 2.8 billion malware attacks in the first half of 2022, and 4.1 million websites were affected by malware! These threats compromise your privacy and personal information and slow down your computer. 
To keep your PC quick and secure, do consistent security checks using reliable anti-malware software like Auslogics Anti-Malware.
---
Related: Signs of Malware: How to Know if Your Computer is Infected 
---
Importance of Regular PC Maintenance
Routine maintenance is the key to ensuring your computer lasts a long time and performs at its best. Regular maintenance improves your computer's efficiency and longevity and protects you from potential dangers.
You can lower the risk of hardware failure and system problems by maintaining your PC by clearing off dust and debris, upgrading software, and doing security checks. 
Also, routine maintenance ensures that your computer runs efficiently, enabling you to be more productive at work and enjoy more fluid gaming experiences. 
Preserving your investment and maximizing your PC's performance is essential, not just to avoid slowdowns. So, it's vital to learn how to speed up computer the right way. 
Check out this insightful article for a more in-depth analysis and practical guidance on prolonging the life of your laptop: What Is the Average Lifespan of a Laptop? 
Conclusion
You don't need to navigate a maze of challenging activities to know how to make computer faster. Automation and simplicity are key. You can speed up your computer by streamlining the process with programs like Auslogics BoostSpeed.
Remember that a well-maintained PC is faster, more durable, and more secure. So, whether you're a heavy or casual user, implementing the methods discussed in this guide will keep your PC working efficiently for years.
FAQ
How to Clean Up My Computer to Make It Faster for Free?
You can do a few easy things to make your computer run faster. First, remove any outdated programs or files. These occupy space and bog down your PC. Next, use Auslogics BoostSpeed to remove temporary files. You can also use Auslogics Anti-malware to prevent malicious malware that can cause severe PC damage.
How to Make Your Computer Download Faster?
Auslogics Internet Optimizer is a fantastic program for improving download speeds on your PC. The tool optimizes your internet connection for faster downloads. Use a cable connection whenever possible, as it's usually faster than Wi-Fi. Turn off any background programs to get faster results.
How to Make Your Computer Faster for Gaming?
Start by lowering your games' visual settings. High-quality graphics can be resource-intensive on your computer. Second, confirm that your graphics drivers are up to date. Furthermore, shut down any background applications you don't require while playing games. For your game, this frees up resources.
How to Speed Up Startup on Windows 10?
Auslogics BoostSpeed makes it simple to speed up Windows 10 startup. You can adjust starting applications there and disable unnecessary ones to speed up boot times. You can also use the "Fast Startup" feature in the Windows settings. Furthermore, you can maintain your optimized PC for faster overall performance by using BoostSpeed.
How to Check RAM Size on Windows 10?
It's simple to check your RAM capacity on Windows 10. Launch Aulosgics BoostSpeed and click on "All Tools." Then, select System Information. You'll see all your computer details, including your RAM. Another way is to right-click "Start" and select "System." You'll see details about your computer, such as how much RAM it has, in the window that appears.