'Nothing is too big to attempt'
William Van Horne
These days sharing large files is supposed to be pretty easy. For instance, with such a handy and intuitive service as Dropbox in your arsenal, you have an opportunity to download or share a Zip file via a link without much effort. Nonetheless, you might have already found out that things do not always go that smooth. So, if you are looking for a way how to upload large files to Dropbox because you have run into the Zip file is too large Dropbox issue, you have definitely come to the right place – we have a whole lot of proven tips on how to fix the problem in question:
1. Do not exceed a one GB limit with your Zip
To begin with, there is one key fact that you should take into consideration: the file or folder you wish to share or download via your Dropbox web account may not exceed a limit of one GB. If the uploaded file exceeds this total size, the Zip file is too large Dropbox issue crops up, which means you cannot download the file, using your web account. Unfortunately, the same goes for shared links you provide other people with: those who have a Dropbox account and those who do not cannot download a Zip file larger than one GB, using your shared link. As such, the first solution would be to meet the stated Dropbox requirement for downloads and avoid sharing files that are larger than allowed.
2. Switch to the Dropbox desktop application
If you are not satisfied with the one GB restriction, you can install the Dropbox desktop application and enjoy a larger download limit. As such, go to the official Dropbox webpage and download the desktop client installer. Launch it to get the client up and running. Now you can open the shared Zip file preview and select the Add to my Dropbox option. The file will be automatically synced so that you can open it from your personal computer. Click on Open to allow your File Explorer open the file.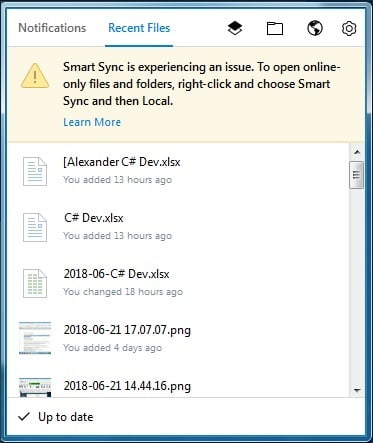 3. Split your Zip up into smaller parts
And here is an option for those who are not keen on using the Dropbox desktop client: in such a case, what you should do is simply break you large Zip file into smaller parts so that the person you are willing to share it with could download them separately.
You might as well automate the splitting process by using a file compression utility. For instance, the free 7-Zip tool will come in very handy for this purpose. Thus, you are free to install it on your PC. Then right-click on the file you wish to split and configure the utility to break the Zip up into smaller files. You can save them to your My Dropbox desktop folder or upload them directly to Dropbox.com. Click OK in the tool to get the job done.
4. Declutter your hard drive
If the size of the shared Zip you wish to download does not exceed the Dropbox download limit, it is time you checked your hard drive – the chances are it does not have enough storage space, which leads to the Zip file is too large Dropbox issue.
In a situation like this, we advise you to clean up your drive in order to free up some valuable disk space – otherwise, you will keep encountering download issues and even experience poor PC performance.
So, here is our guide on how to free up drive space in Windows 10:
One of the easiest options to declutter your drive is to move your data somewhere else. For example, you can migrate your files to another laptop.
Keep in mind that your computer might be stuffed full of unneeded debris. Thus,

If you cannot resolve the

problem yourself, you can

ask our certified PC technicians for immediate assistance in the

chat

right on this page.

removing software leftovers will help you reclaim your disk space and allocate it for something more valuable.
You can also transfer your files to another drive. To do that, open File Explorer, select the files you would like to relocate, and navigate to the Home tab. Then you should select Move to and Choose location. Pick the media you wish to use for storage and click Move.
Another way to clean up your disk implies deleting files with the Storage sense option. If you have it on (Start -> Settings -> System -> Storage -> Turn on the Storage sense feature), here is what you should do: select Change how we free up space in Storage, locate Temporary Files and Free up space now, and check the items you want to delete.
The list above is by no means exhaustive. There are other ways how to free up more hard disk space easily – make sure to check them all.
There are also third-party solutions that can clean up your drive and free up a significant amount of your disk space. Using them will actually save you a lot of time and effort. As such, you are free to choose any option that is dependable and reputable. In this article, we recommend you the following safe and effective tools:
Those who store myriads of photos, docs, videos, etc. on their machines will appreciate Auslogics Duplicate File Finder: it is a 100 % free program that will remove duplicate copies of your files and make your file collections neat and tidy.
Auslogics Windows Slimmer is designed to keep your disk space usage optimal: this utility will remove or disable all that stuff you never use so that it cannot clog your PC anymore. The good news is, this utility is absolutely free, no strings attached.
The most comprehensive solution would be using Auslogics BoostSpeed – it will tune up your PC to its best by optimizing your machine's settings, enhancing your privacy and removing junk from your device. As a result, you will get a much faster computer that is more secure from cybercriminals and which disk space management is both safe and efficient.
[block-bs_place]
We also recommend you to learn how to use drive more efficiently to save disk space in Windows 10.
Hopefully, now you know how to upload large files to Dropbox and what to do if the Zip file is too large Dropbox issue appears.
Have our tips proved useful?
Your comments are greatly appreciated!