Did you download the free trial of Auslogics BoostSpeed to see what the program can do, but found it a little overwhelming? Not everyone sees right away all the things you can do in the free trial. We decided to help those of you who are downloading the program for the first time to test as much as possible of the program's potential, so you can see the benefits it may give your system. Here are a few simple tricks to guide you through the trial.
Trick #1
When you launch the program for the first time, the first thing you see is the SCAN button, right? Go ahead and run the System Scan, which will detect the issues that may affect your PC's performance.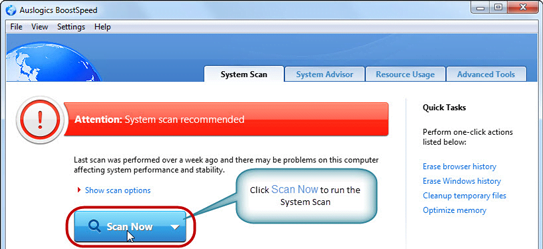 Are you curious what those issues are? Then don't rush to click the Repair Now button, instead take some time to investigate what the scan has turned up. You should see a checkbox next to Show details in the same pane – click to select the checkbox and it will take you to the list of problems.
Click on the arrow in front of each line to expand the view and scroll through the lists under each category.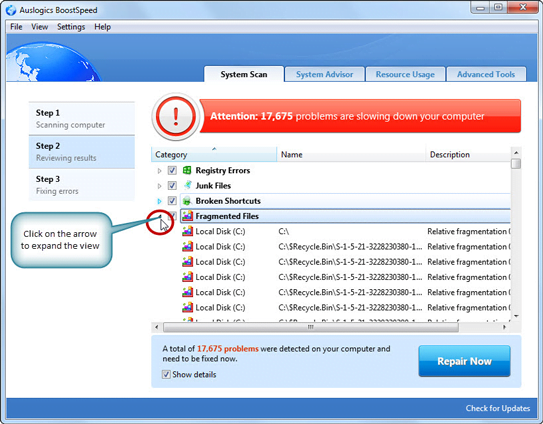 Some things may look familiar, while others may be hard to understand, but you will get the idea of what the program intends to clean up and repair.
Trick #2
Did it appear to you that you had no control over what the program would do in trial mode? The free trial lets you fix a limited number of issues, but you can select the category these problems should be taken from – access the list of found issues as described in trick 1 above, uncheck the boxes next to all categories except the one you want repaired and click Repair Now.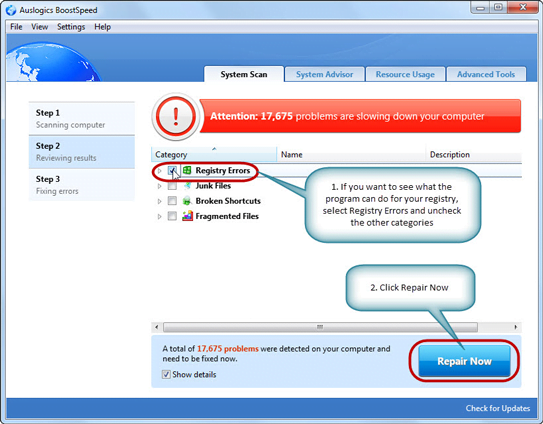 For instance, if you want to see what the program can do for your registry, select Registry Errors and uncheck the other categories.
Trick #3
Did you think that was it, done with the trial? It couldn't be farther from the truth! You can actually do quite a bit of optimizing with the free trial. Click on the Advanced Tools tab and see all the tools that don't have a padlock symbol on them. All of them are fully functional and you can use all of them for a good performance boost. Start with Software Controls to uninstall programs you don't use and remove unneeded startup items.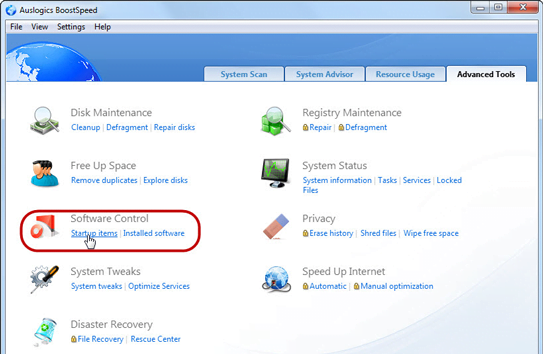 Then run Disk Maintenance tools (Repair to check for errors, Cleanup to remove temporary and other junk files, and Defrag to defragment your hard drives – in this order).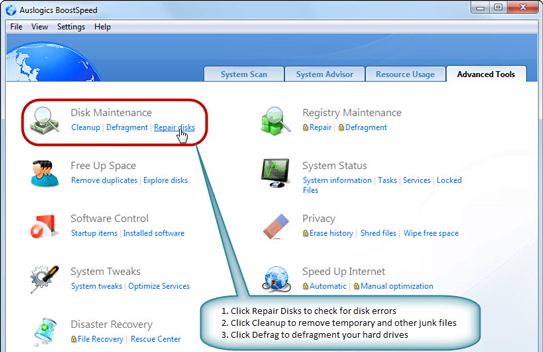 Try out other unlocked tools after that, such as the Duplicate File Finder, System Tweaks or System Status tools, File Shredder or Disk Wiper.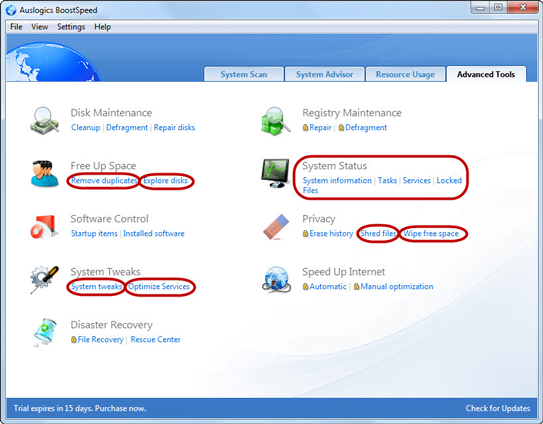 The free trial doesn't put any limits on what you can do with any of these tools, so you can get a pretty good idea of how your system will benefit from using them.
Trick #4
Are you scared the program may do something you'll regret? Don't be! The Rescue Center allows you to back up prior to applying any changes, so you can easily undo anything the program does to your system. Be sure to select the Back Up Changes option when you launch each utility, or open Program Settings from the main window, go to the Rescue Center tab and select checkboxes next to all utilities to ensure that all of them run backups before each operation. As you get used to the program and see how it performs on your system, you will feel safe unchecking most of those, but keep them checked for now.
To restore one of these backups, select the Rescue Center under Advanced Tools/Disaster Recovery and pick the needed backup from the list.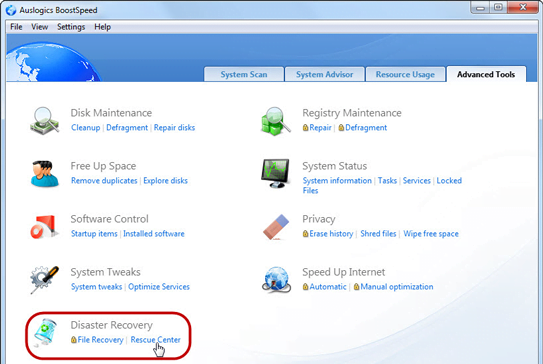 Trick #5
What else should you look at when trying out BoostSpeed? We recommend exploring the program further by viewing reports after each operation, browsing through the menu options to change program settings, or looking at the Resource Usage tab to see what programs are using the most of your CPU, RAM, HDD and network resources.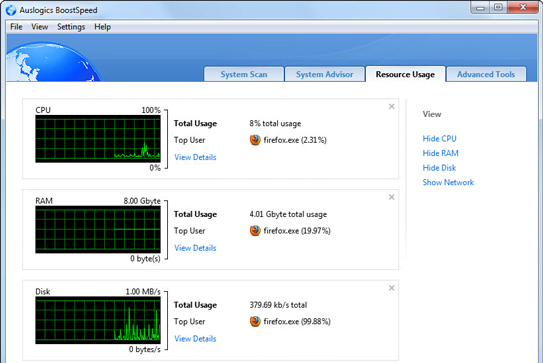 You can also open the Disk Explorer utility in Advanced Tools to see what files or folders take up the most space on your drives, which can help you get rid of the biggest offenders by deleting them or moving to external storage devices.

As you can see, there is quite a bit more to the free trial than just fixing a few errors. Follow these tips and you will get a better idea of what Auslogics BoostSpeed can do for your computer.
Are you a current BoostSpeed user? Are there any other tips you'd like to share with people who are just trying it out? Put them in the comments below, they'll be greatly appreciated!
RECOMMENDED
Resolve PC Issues with Auslogics BoostSpeed
Besides cleaning and optimizing your PC, BoostSpeed protects privacy, diagnoses hardware issues, offers tips for boosting speed and provides 20+ tools to cover most PC maintenance and service needs.
FREE DOWNLOAD
Click HERE To Download the Latest Version of Auslogics BoostSpeed.