Data backup is essential to ensure that important data is kept safe and recoverable. However, to choose the right backup strategy, you need to consider several factors like the backup duration, amount of data that needs to be backed up, etc., before backing up files on Windows 10. Considering these factors, you can choose external drives, cloud storage, or USB drives to protect your data. This is your ultimate guide to Windows 10 backup and restore.
Let's begin. 
What is Backup on a Computer?
A backup is a vital duplicate of essential data stored in a different location. That way, you can recover any information that gets corrupted or deleted accidentally. When it comes to Windows 10 backup and its frequency, you need to consider: 
The amount of data you need to back up, 

how often the data changes, and 

how long the backup process takes.
For example, consider a research center that manages huge amounts of scientific data from ongoing studies. The institution may back up its crucial information every few hours because this material is always updated and improved. 
Big companies can use redundant storage systems like Network-Attached Storage (NAS) to protect data even if the drive fails. Currently, there are numerous ways and platforms available to protect your information. Those include cloud storage, USB thumb drives, external drives, etc., to backup Windows. These options provide several ways to make your data accessible and secure.
How to Backup Computer Windows 10
In this section, we'll show you how to backup Windows 10. But before you do that, you must set up a storage device. 
Get Your Storage Device Ready
Ensure you have an adequate storage drive connected to your PC before you start. You can use the NAS, an external drive, or a simple flash drive for Windows 10 backup and restore. 
You must also establish the connection with your computer before proceeding with the setup if a disk physically connects to it. Furthermore, make sure a wireless network drive is properly mapped and powered to ensure smooth performance. 
---
Related: How to speed up USB 3.0 transfer speed in Windows 10?
---
Remember that File History will automatically start regular backups. So you must make sure that any external drives you use are always connected and accessible.
With that said, here's how to backup a PC.
1. Use Windows File History
The Windows File History is an in-built feature that allows youtube back up your documents, files, photos, and other data to an external storage device. 
Here's how to use the File History for backing up files Windows 10: 
Type "

File History

" into the search bar and click "

Restore your filed with File History.

"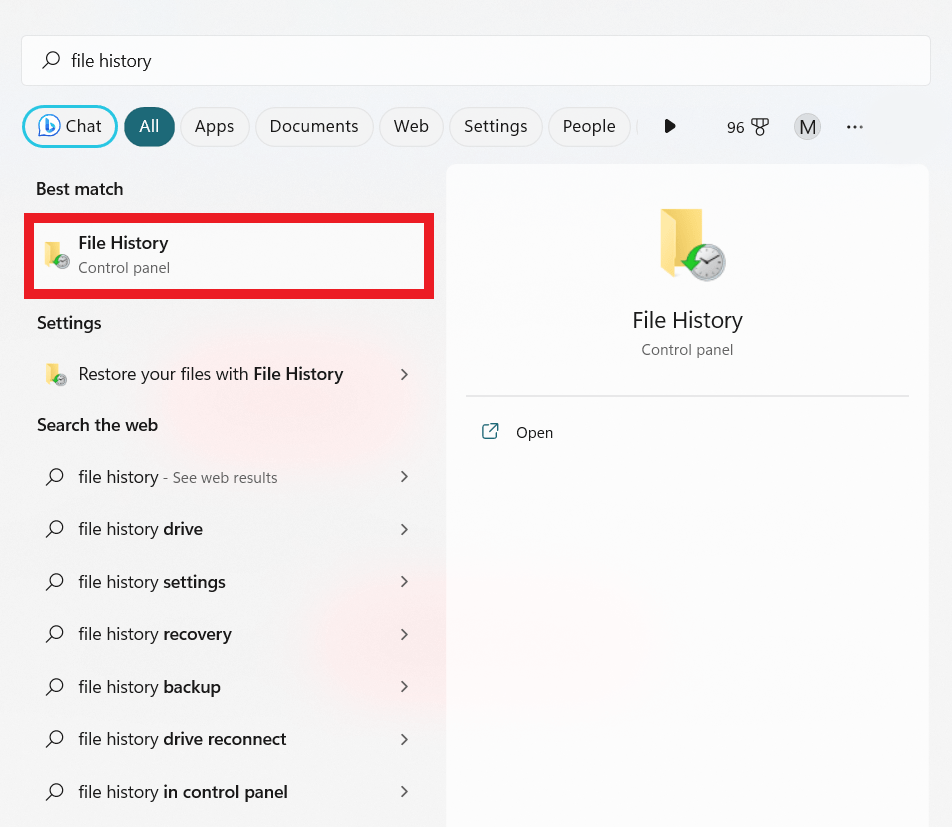 Click on "

Configure File History Settings"

to begin.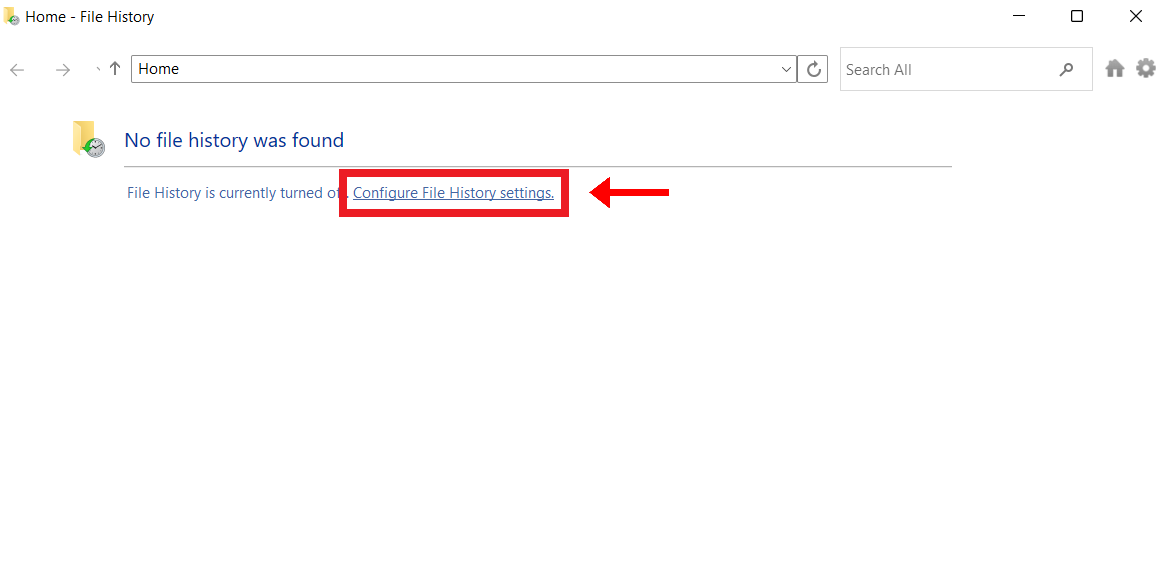 The File History will automatically search and find external storage devices you've plugged into your PC.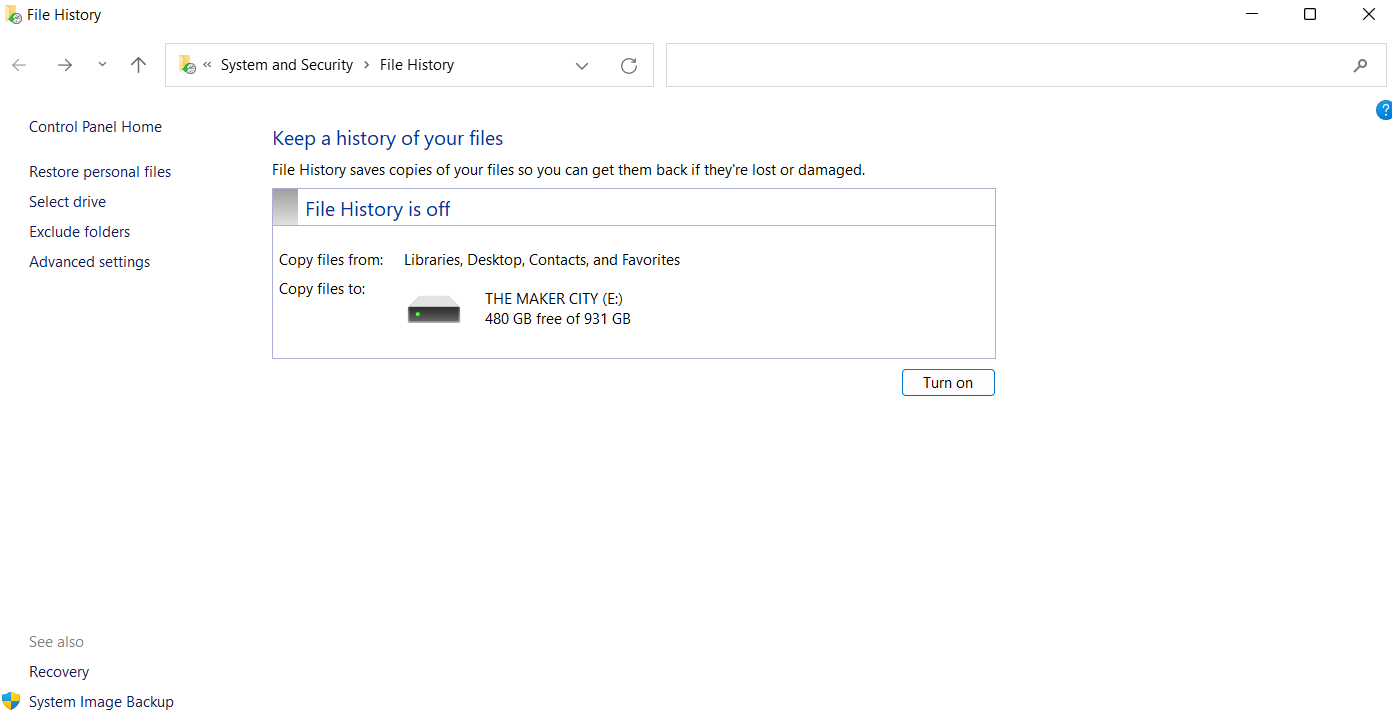 You can automate the backup process by clicking "

Advanced settings"

before turning on the File History. After saving your changes, click "

Turn on

" to start the backup. Remember that by default, File History only copies files from contacts, favorites, desktops, and libraries.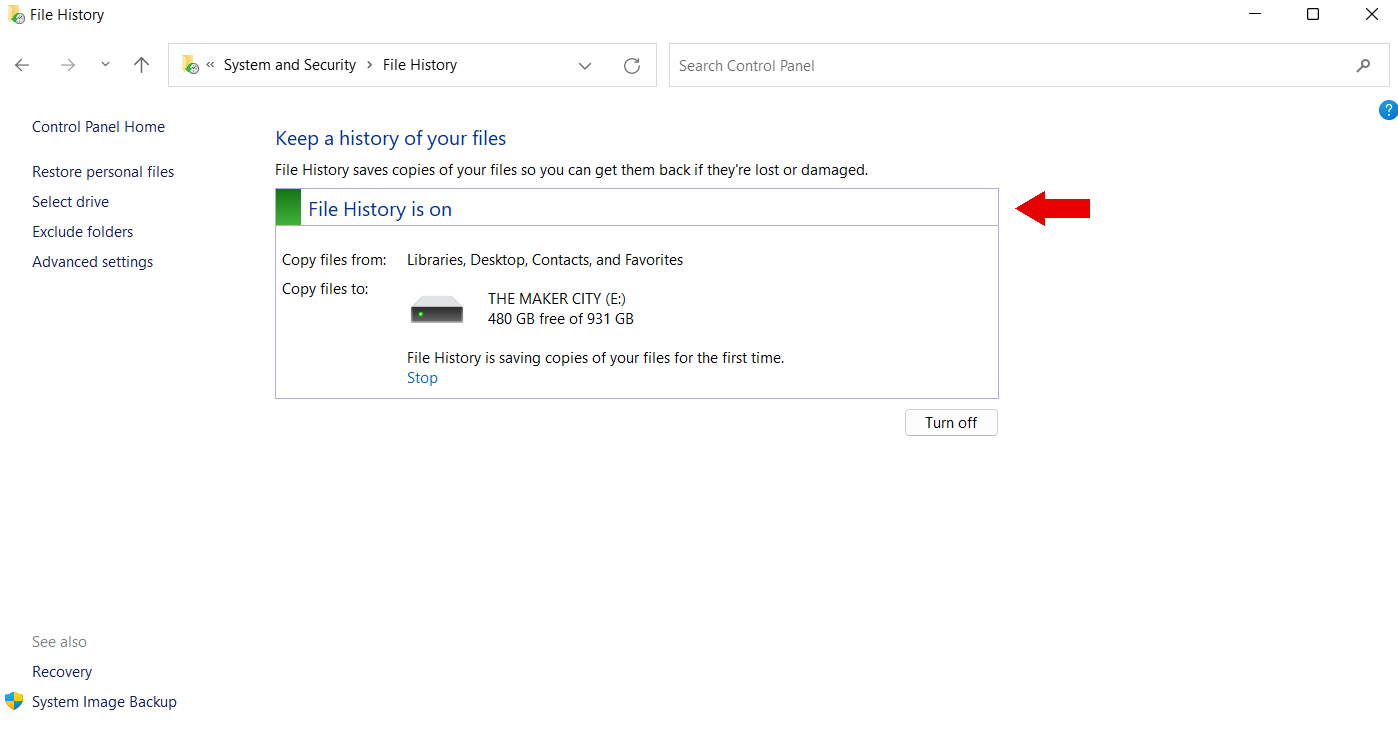 2. System Restore
System Restore is one of the most reliable Windows 10 backup methods. It's an easy way to regularly back up your system image and important files. Here's how to back up PC using System Restore: 
Type "

create a restore point

" in the search bar and click on it.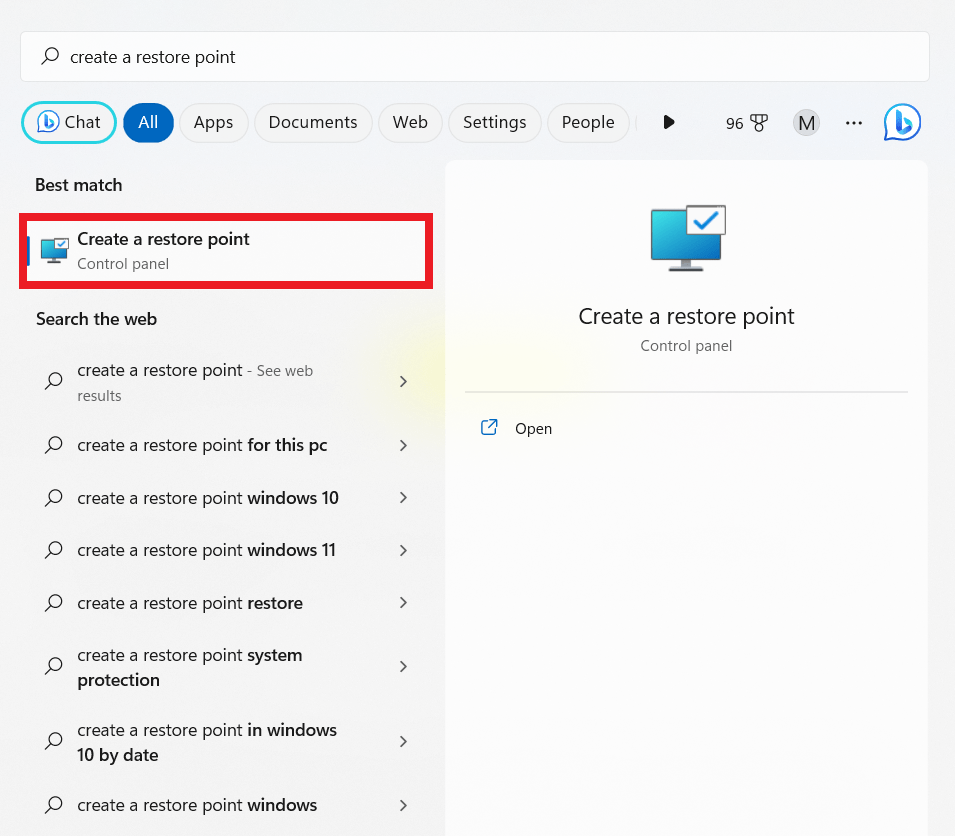 Click on "

Create

" to create a system restore point. A pop-up window will appear, and you will need to give a name to the restore point.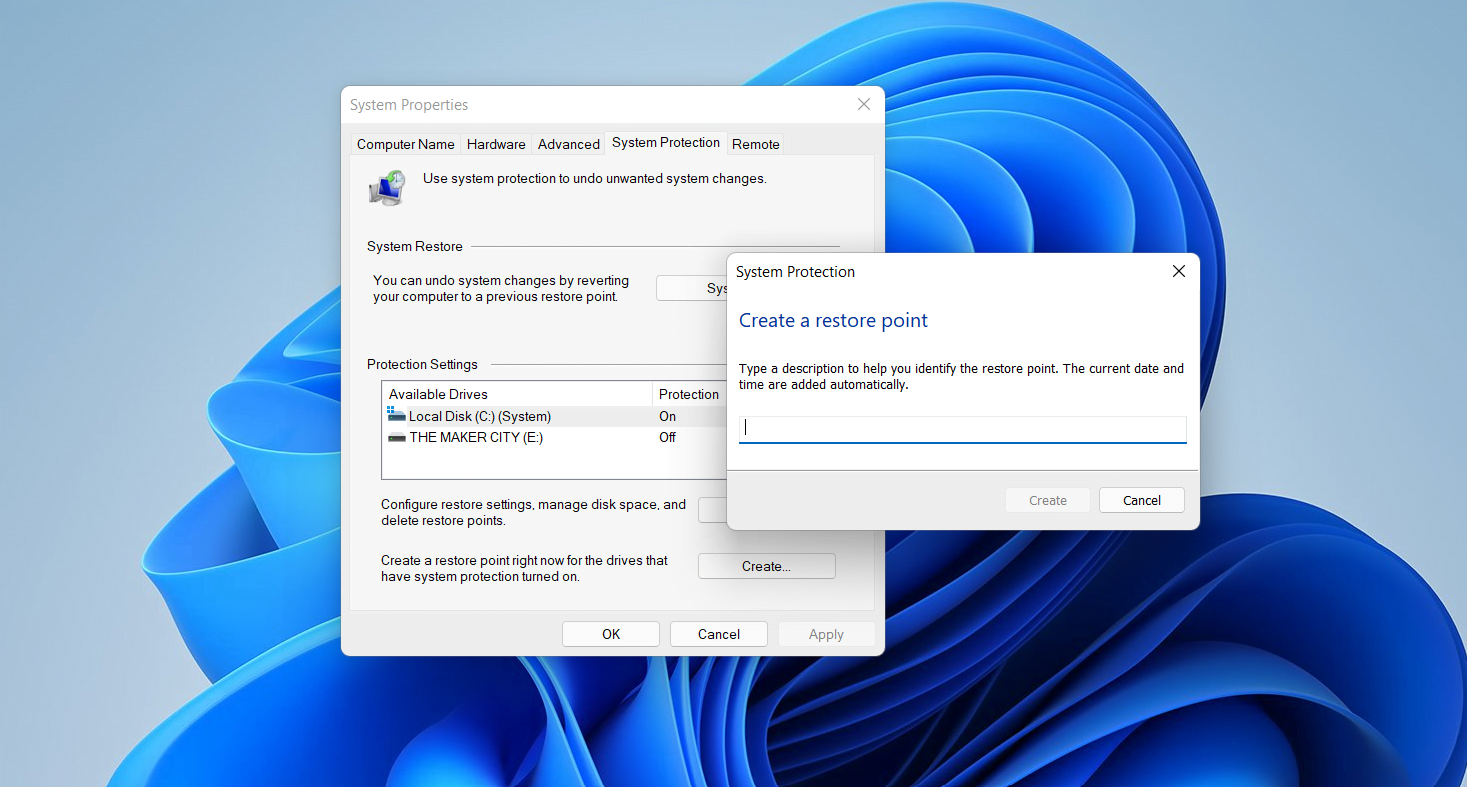 You can create a restore point for your Windows machine when it's running smoothly to keep it secure. Even though System Restore doesn't give you access to specific documents, it's a great way to back up the current state of your computer. 
This gives you peace of mind in case your operating system fails. However, remember that System Restore might not function exactly as expected. So be sure to check that it's working from time to time. 
---
Related: How to fix the System Restore error 0x8007045b in Windows 10
---
3. System Image Backup
The Windows 10 image backup feature is still fully operational even though Microsoft no longer actively supports it. However, it's still one of the most reliable ways to make a complete Windows 10 backup and restore it later.
You can quickly create a system image using the System Backup utility and save it to an external disk or a network-shared folder.
Here's how to back up Windows 10 computer using the System Image Backup:
Press "

Win + I,"

select "

Update & Security

," then "

Backup."

Select "

Go to Backup and Restore (Windows 7)

" under "

Looking for an older backup?

".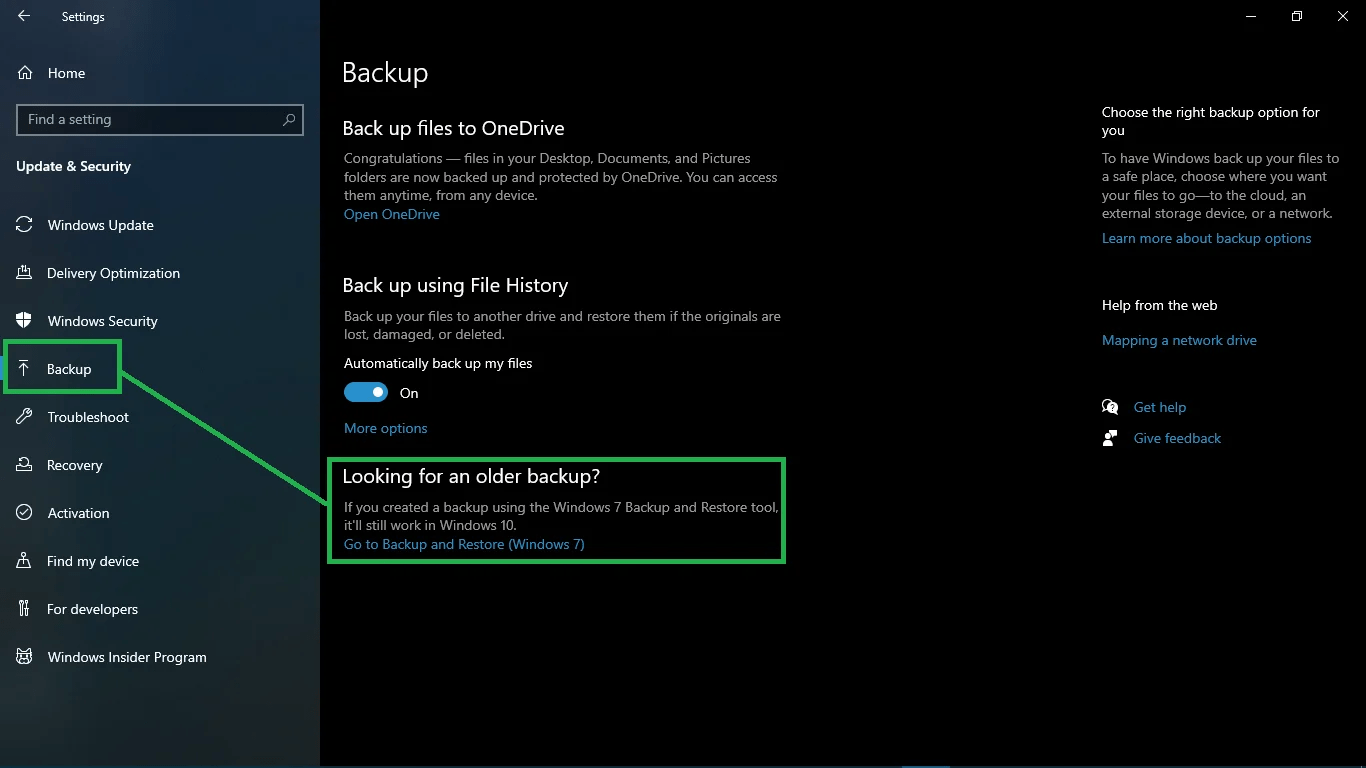 This will open the "

Backup and Restore (Windows 7)"

in the Control Panel. Click the "

Create a system image

" link on the left sidebar. Your computer will scan for backup devices.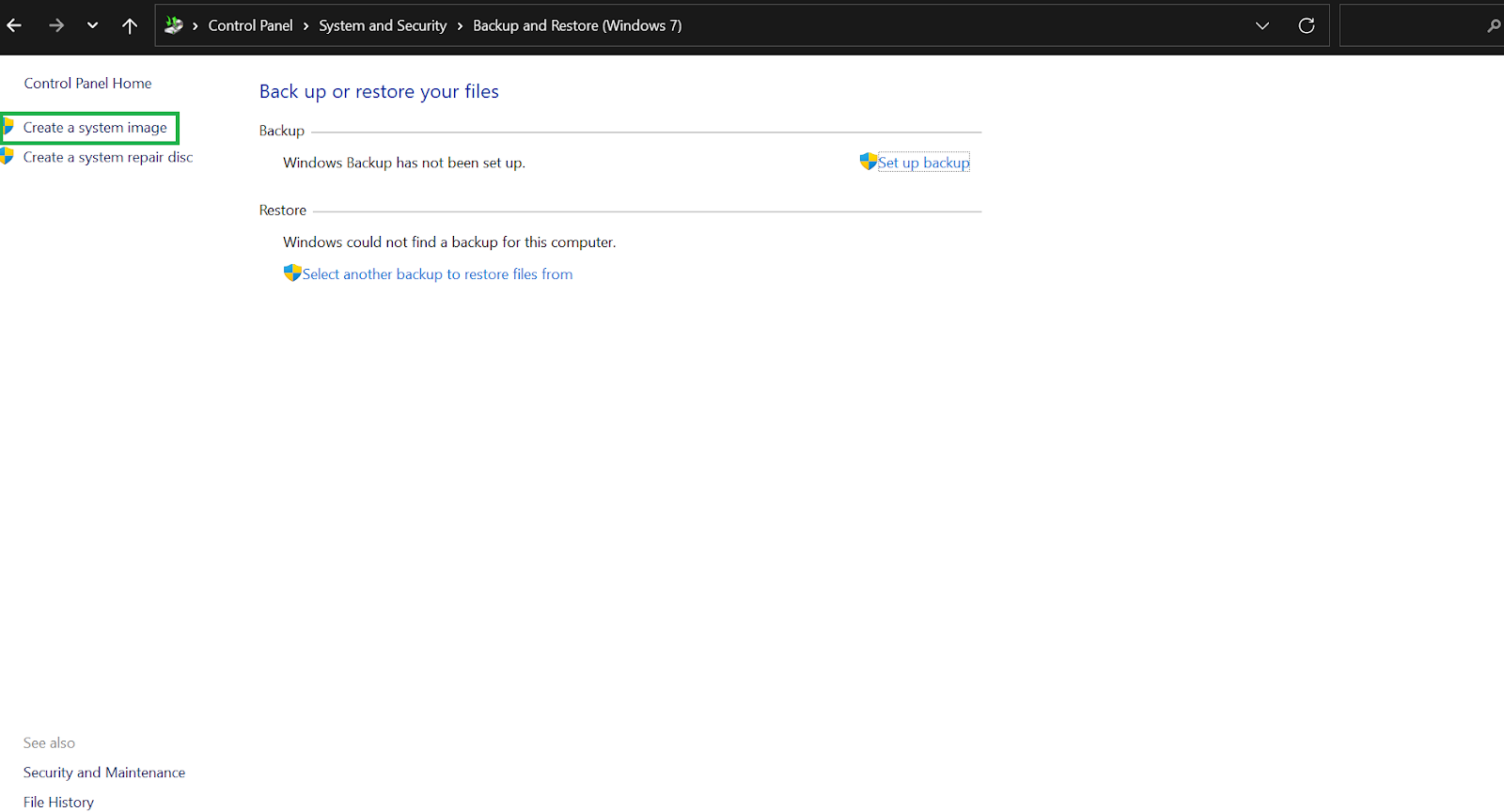 Choose the storage medium on the "

Where do you want to save the backup"

page.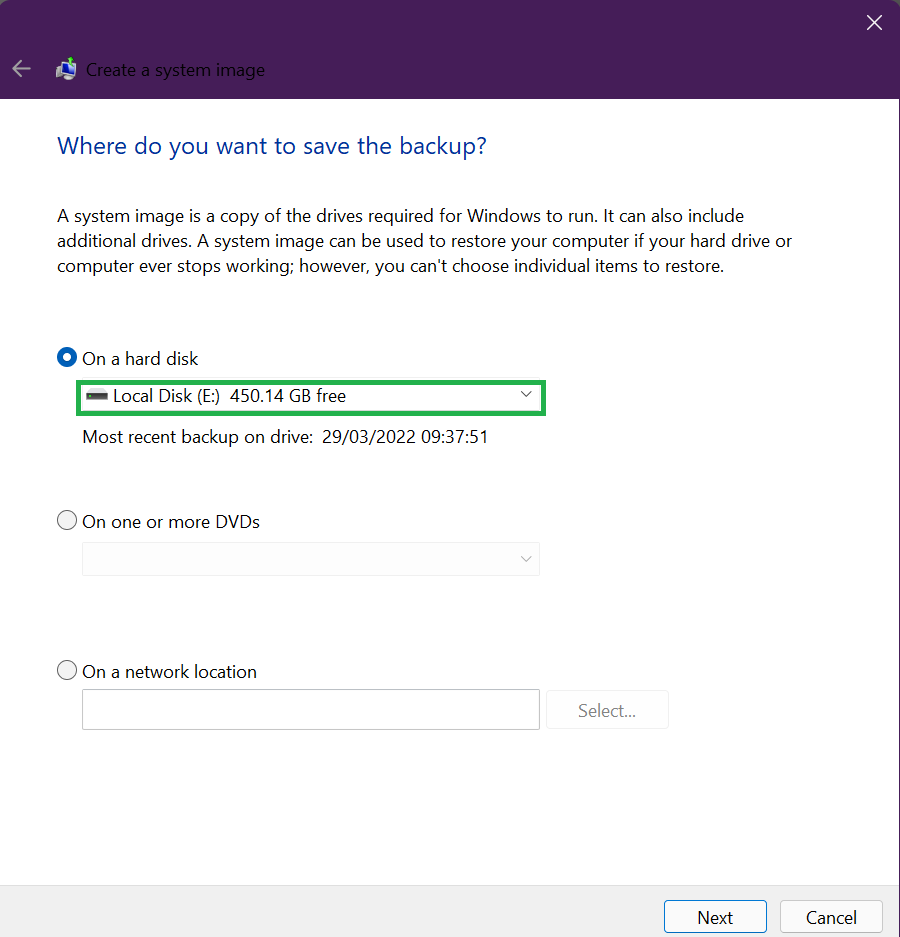 Click "

Next

."

Click on the "

Start backup

" button when you've confirmed your selections. The system will initiate the process and start the backup.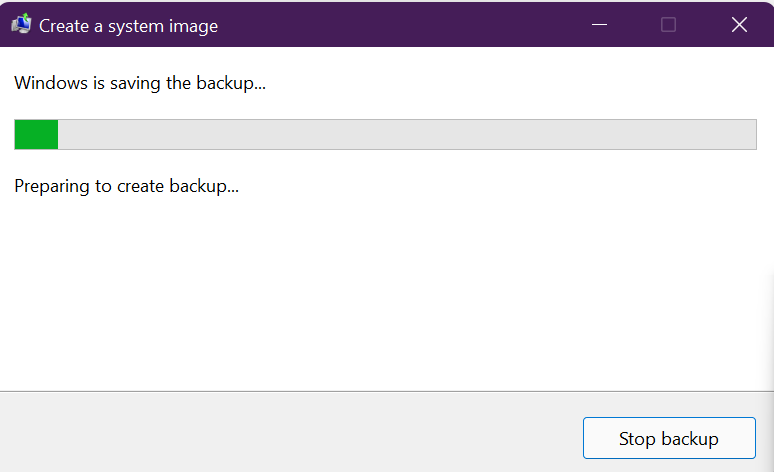 Remember: You may see an option to create a system repair disk. Select "Yes" if your computer has an optical drive. If not, click "No." Most PCs don't use optical drives anyway. So you don't need to worry about this option. 
4. Using Cloud Storage for Backup
You can use cloud-based storage to back up your personal and system files without dealing with the limitations of physical or hard drives. This method has gained popularity because users can access their files anywhere with an internet connection. 
Many trustworthy online backup services exist, but Microsoft's OneDrive stands out as a top choice. Here's how you can run Windows 10 system backup using cloud storage: 
Sign in to your OneDrive. You get 5 GB of free storage, but you can purchase more if necessary. 

Enable OneDrive Backup

Customize your OneDrive settings. You can automatically back up your files by choosing which folders to sync and back up,

control bandwidth usage, and more.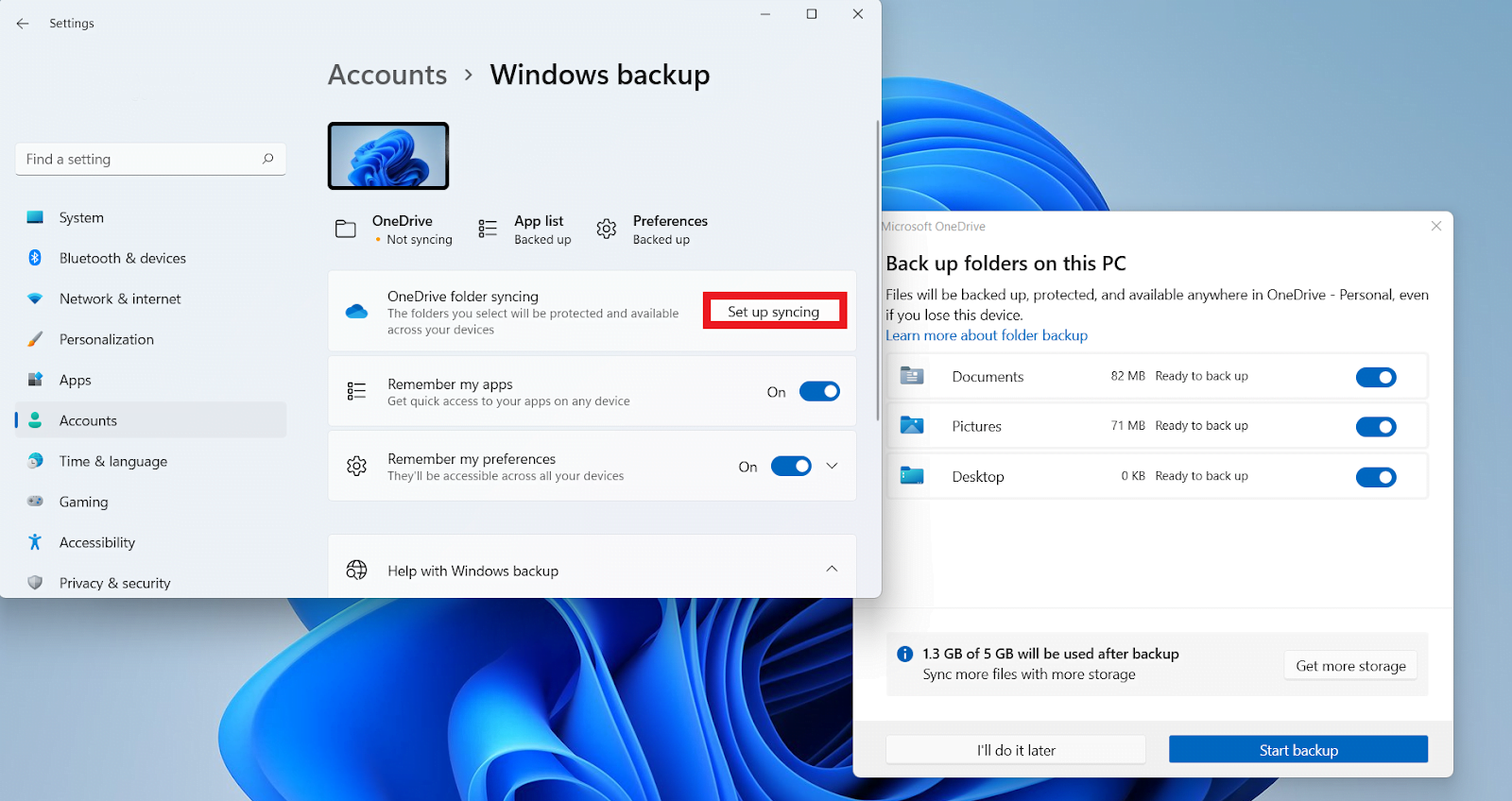 Related: How to Fix OneDrive Not Syncing on a Windows PC?
How to Restore Your Backed Up Files
While we all wish for the best, unexpected events like hardware malfunction or ransomware attacks might cause data loss. But with a backup, you can restore your crucial files. Follow the below steps to restore your backup:
Plug the external drive containing the full backup into your Windows 10 PC.

Boot your machine and repeatedly press the

F8 or F11

key to access the troubleshooting screen. 
Note that each Windows 10 computer brand uses different keys to boot directly to "Advanced Startup Options." You should find the appropriate key that works for your PC. Furthermore, there are various ways to access Advanced Startup Options. 
Your method will depend on whether Windows 10 starts the usual way or not. If you can start Windows 10 normally, hold down the Shift key and click Restart. You can also go to Settings > Update & Security > Recovery > Advanced Startup> Restart now. 
If your PC doesn't start, you can use a recovery drive or Windows installation media (you'll need to have created this bootable drive beforehand). Alternatively, you can use someone else's bootable disk or USB containing installation files. 
---
Also Read: How to Get and Use Windows 10 Media Creation Tool
---
All you need is to access Advanced Startup Options. Remember that using a bootable drive requires changing the boot order settings in BIOS.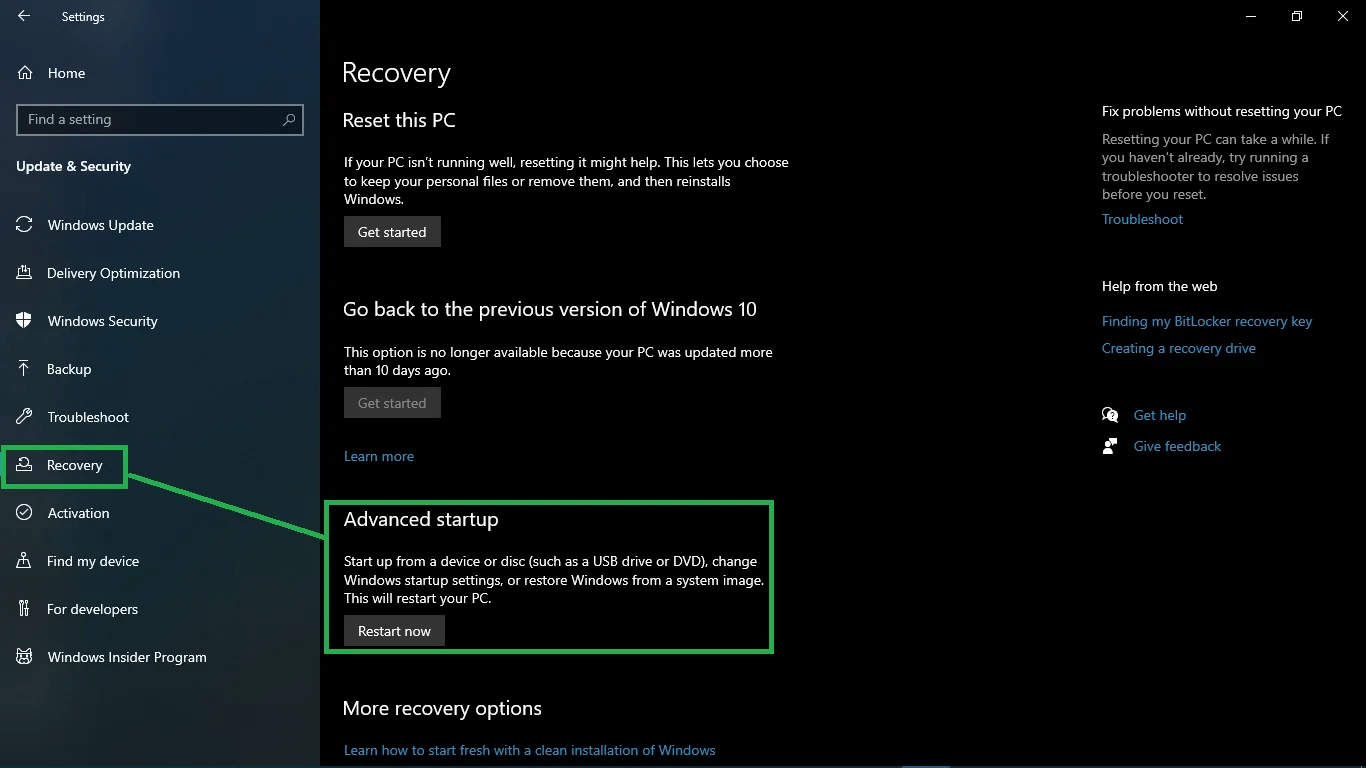 If you use a bootable drive, starting the computer should take you to the "

Windows Setup"

page. Press "

Next

," and choose the "

Repair your computer"

option in the screen's bottom-left corner.

Select "

Troubleshoot

" on the "

Choose an option"

screen that appears next.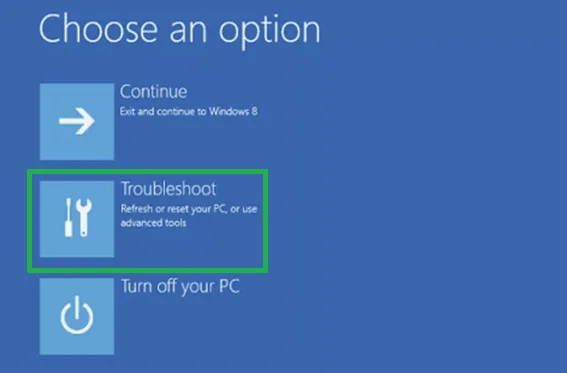 Click on "

Advanced options"

and select "

System Image Recovery."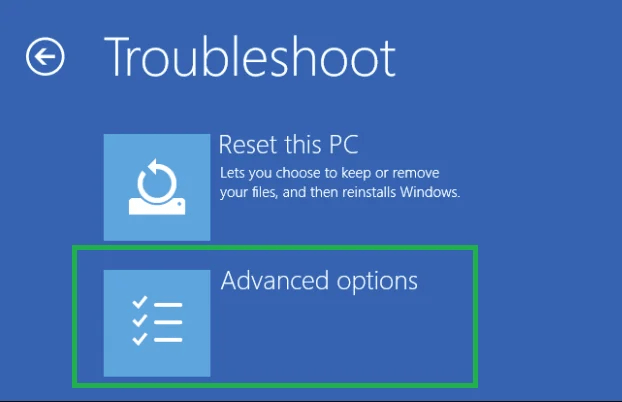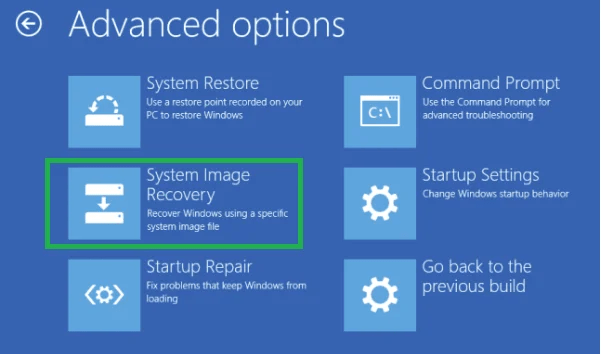 Choose "

Windows 10"

as the target operating system.

On the

"Re-image your computer"

screen, choose "

Use the latest available system image."

If you have multiple backups, use the "

Select a system image"

option to select the system image manually.

Click "

Next

."
Tip: If you're restoring to a new drive, use the "Format and Repartition disks" option before you proceed. Remember to "Exclude disks" to prevent your other disks from being formatted.
Select the "

Only restore system drives"

option if your backup contains multiple drives and you only want to restore the operating system.

Click "Next" and then "

Finish."

Click "

Yes

" to continue.
The recovery process will begin and may take a while, depending on the size of your backup and the amount of data and configuration being restored. The recovery process shouldn't be interrupted. It's, therefore, advisable to connect a laptop to a power source and a desktop to an uninterruptible power supply (UPS) to prevent issues.
Once your Windows 10 backup has been restored successfully, you must update your system to install the missing security updates and any other updates. 
Tips for Efficient Backups in Windows 10
You must ensure effective backups to protect your data in case something happens to your computer. We've already discussed several ways of backing up files on Windows 10. Use the tips below to streamline the backup process for efficiency and peace of mind:
1. Choose the Right Backup Method
It's not only about asking "how to make a backup of my computer on Windows 10," but which method is the right option. Windows 10 offers several backup options, including OneDrive, File History, and System Image Backup.
Consider your preference and choose the best approach. File History is a practical option for regular file backups. And System Image Backup takes a comprehensive image of your system.
2. Automate the Backup Process
There's a high chance you may overlook or forget to back up PC. You can use the built-in backup tools to automate the process by setting up frequent backups on a schedule that meets your needs. This ensures that your data is secured without you having to do anything about it all the time. 
3. Use External Storage
One good way for effective backups is to use external storage options like external hard drives for local backups. These add an extra layer of security by storing your backup away from your computer. Make sure the storage device is connected to your PC when setting up automatic backups.
---
Related: Windows 10 Backup Guide: External Hard Drive
---
4. Prioritize Critical Data
First, focus on backing up important and frequently modified files. Be sure to include in your backup process any data that's vital to your work or irreplaceable.
5. Monitor Backup Health
Check your backups' status frequently to ensure they are operating as intended. Make sure you can access the backup files and that they are error-free. If there are any problems, fix them immediately to keep your backup system reliable.
How to Recover Deleted Files on Your Drives
As powerful as computers are, your files are never entirely safe or secure. Anything can happen, from a sudden system crash to a malware attack to a damaged drive or hacking activity.
Sometimes, you or someone else can accidentally delete important files, documents, videos, or photos from a hard drive. Fortunately, you don't have to worry about losing valuable or sensitive data. Auslogics File Recovery is a robust tool that can undelete almost any file. 
It works on hard disk drives, memory cards, and USB flash drives. Plus, it can recover all file types, including those from lost partitions.
File Recovery is easy to use, thanks to the Easy Recovery Wizard that guides you. You can quickly sort through hundreds of deleted files using advanced filters to find specific files you want to restore.
The tool even lets you preview files to confirm their contents before recovering them. This ensures that you restore only the items you need. 
With Auslogics File Recovery, you no longer have to panic when you accidentally format your USB flash drive, memory card, or even HDD. Simply download it and let it do its magic!
---
Related: How to Recover Deleted Files on Windows 10
---
Conclusion
It's crucial to find the best backup method since there are several options to choose from. To back up a PC, check the various methods discussed in this guide.
Taking proactive measures to secure your files ensures their accessibility and safekeeping. And it doesn't matter if you use Microsoft's OneDrive, File History, System Restore, or System Image Backup.
You can reduce the risk of data loss and guarantee a smooth recovery by automating the backup process and prioritizing vital data. Remember to check your PC backup status regularly and make necessary changes for a reliable backup system.
FAQs
How Long Does It Take to Back Up a Computer?
Several factors can affect the time it takes for Windows 10 backup and restore, such as the amount of data being backed up, the speed of your storage devices, the type of connection, etc. So, a full system backup can take several hours to complete. However, subsequent backups usually take less time because they include changes since the last one.
Which Files Should Be Backed Up on a Windows PC?
When creating a backup, you need to prioritize file data like drivers, applications and licenses, personal files, and system settings and preferences. For example, you can note down the apps you've installed, including their license keys, for easy reinstallation.
Can I Restore My PC to an Earlier Date?
Yes, you can use the Windows System Restore tool to restore your computer to an earlier date. System Restore can change your system's configuration and settings to a previous time period.
Remember that this feature can undo system changes and address some problems. But it won't affect your personal data.