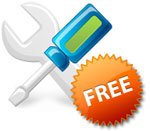 What is the best free fix for slow computer performance?
A slow computer is something that a lot of people have to face on a daily basis. Slow Windows boot, unresponsive programs, slow browser that freezes up every once in a while – sounds familiar, doesn't it? And when you want to fix a slow computer, it usually means that you have to either upgrade your hardware or even hire a technician. That costs money. But there is a way to make your PC faster without having to spend a cent. Here is the best free fix for slow computer performance.
When your computer becomes slow all of a sudden, the first thing to do is check it for viruses, malware and spyware. Malicious programs tamper with computer settings, steal your bandwidth to transmit data and make your computer slow. So, if your computer has become suspiciously slow overnight, the free fix for slow computer is to download free anti-malware and anti-spyware software and remove infections from your PC. When all viruses are gone, you will notice an immediate speed gain.
If the anti-malware scan comes clean but your computer is still slow, this could mean that your PC is badly fragmented. File fragmentation is something that can drastically decrease computer performance because it affects the slowest part of your PC – your hard drive. File fragmentation makes the hard drive's read arm work more than necessary, which takes more time. So if your files are fragmented, opening documents, videos, songs and launching programs will be really slow.
If you cannot resolve the
problem yourself, you can
ask our certified PC technicians for immediate assistance in the
chat
right on this page.
Another Free Fix For Slow Computers
The free fix for slow computer suffering from fragmentation is simple – just run Disk Defragmenter, a built-in Windows utility. You can find this tool if you click on Start and then go to Programs – Accessories – System Tools. Defragmentation is something that should be done on a regular basis because fragmentation accumulates with computer use. That's why it's recommended to defragment your computer at least once a month.
If your computer takes a long time to start up, it could be that you have too many programs launching on Windows boot. The more programs are configured to run on system startup, the longer Windows needs to load them all. To make your PC load faster, you should apply a simple free fix for slow computer startup –configure unnecessary programs to not start on Windows boot. This can be done by clicking on Start and typing msconfig in the Search Bar. Then all you need to do is go to the Startup tab and uncheck the programs you don't want to start automatically. Then reboot your computer and enjoy the speed.
Following the steps described in this article will help you keep your computer in good shape. When performed regularly, PC maintenance can make your PC run a lot faster and keep it stable. Remember, there is a free fix for slow computer performance – you just need to know which tools to use and which maintenance tasks to run.