Technology is dynamic, and it continues to develop at a fast rate. If you want to thrive in the modern world, you must accept that change is inevitable. So, if you are a Windows user, you have to keep your system updated to learn and enjoy all the new features that Microsoft regularly rolls out. However, for some, installing the latest updates can become a problem due to the errors and technical issues that come with it.
One of the problems you might encounter while downloading these updates may be the error 0xc1900204. Here are some scenarios related to this issue:
Windows setup failed with hexadecimal exit code 0xc1900204 – In some cases, this message shows up while the user is installing Windows. You should be able to fix this issue, using one of the methods listed below.
0xc1900204 upgrade – You can also encounter this error while you're trying to upgrade your system. You can resolve this by running the troubleshooter for Windows updates.
Windows 10 Update Assistant 0xc1900204 – Some users who had been using Update Assistant reported that they had encountered this error. It is advisable to reset the components of your Windows update to get rid of this problem.
Method 1: Running the troubleshooter for Windows updates
Thanks to the dedicated troubleshooter in your computer, you wouldn't have to worry whether learning how to fix windows 10 update error code 0xc1900204 is complicated. You can use the troubleshooter dedicated for resolving common Windows update problems. You can run it by following the instructions below:
On your keyboard, press Windows Key+I. This should open the Settings app.
Go to Update & Security, the select Troubleshoot from the menu on the left pane.
Select Windows Update, then click Run the Troubleshooter.
Follow the on-screen instructions to complete the process.
Once the process is done, try installing the updates again and check if the error persists.
Method 2: Resetting the components of Windows Update
In some cases, the error 0xc1900204 shows up when there's something wrong with one of the services required to successfully run Windows Update. You can reset those services to get rid of the error. Essentially, you have to stop and restart the BITS, Cryptographic, MSI Installer, and the Windows Update Services. To do that, follow the steps below:
Right-click the Windows icon on your taskbar.
From the menu, select Command Prompt (Admin) or Powershell (Admin).
Run the following commands and make sure you press Enter after each line:
net stop wuauserv
net stop cryptSvc
net stop bits
net stop msiserver
ren C:\Windows\SoftwareDistribution SoftwareDistribution.old
ren C:\Windows\System32\catroot2 Catroot2.oldnet start wuauserv
net start cryptSvc
net start bits
net start msiserver
Once you've executed the commands, try installing the update and check if the error is gone.
Method 3: Resetting the registry
It is also possible that a problem in your registry has caused the error 0xc1900204. Before you try this solution, you have to fully acknowledge that the registry is a sensitive database. If you make any mistake, you might cause more harm to your computer. So, make sure you carefully follow our instructions. That said, here are the steps:
On your keyboard, press Windows Key+R. This should open the Run dialog box.
Type "regedit" (no quotes), then press Enter.
Navigate to this path:
HKEY_LOCAL_MACHINE\SOFTWARE\Microsoft\Windows\CurrentVersion
Look for the 'ProgramFilesDir' value and right-click it.
You will see that the value data is set to C:\Program Files. Change it to the path where you want to install your programs.
Save the change by clicking OK.
Restart your computer, then try installing the update again. Check if the error persists.
Method 4: Checking your anti-virus
It is possible for Windows Defender to miss certain viruses and malware. This is also the reason why many users opt to have a good third-party anti-virus to protect their computer. However, this program can interfere with the system, preventing the user from downloading the latest Windows updates.
If the error 0xc1900204 is blocking Windows 10 updates, it would be advisable for you to disable certain features in your third-party anti-virus tool. If that doesn't get rid of the error, try disabling or completely removing the program. With that said, you might want to switch to a different security software tool that is more reliable.
All things considered, we highly recommend using Auslogics Anti-Malware. This program is designed to work in harmony with your system and primary anti-virus tool. What's more, it can detect unusual threats and attacks you would never suspect existed. So, if you want to get rid of the error 0xc1900204 yet keep your PC protected, we suggest switching to Auslogics Anti-Malware.

RECOMMENDED
Protect PC from Threats with Anti-Malware
Check your PC for malware your antivirus may miss and get threats safely removed with Auslogics Anti-Malware
DOWNLOAD NOW
Method 5: Setting your default display language to English
Some users reported that one of the reasons why the error 0xc1900204 showed up was because the default display language had not been set to English. You can fix this problem by ensuring that your registry is properly configured. You can check your default settings by following these steps:
Press Windows Key+R on your keyboard.
Inside the Run dialog box, type "regedit" (no quotes), then hit Enter.
Navigate to this path:
HKEY_LOCAL_MACHINE\SYSTEM\CurrentControlSet\Control\Nls\Language
Go to the right pane and make sure that the InstallLanguage string is set to 0409.
Once you've done that, check if your default display language is now English. You can do that by following these steps:
Click the Search icon on your taskbar.
Type "settings" (no quotes), then hit Enter.
Select Time & Language.
Go to the left pane, then select Region & Language. Check if English (United States) is available, then set it as the default display language. Otherwise, you can go to the right pane and click Add a Language to install US English.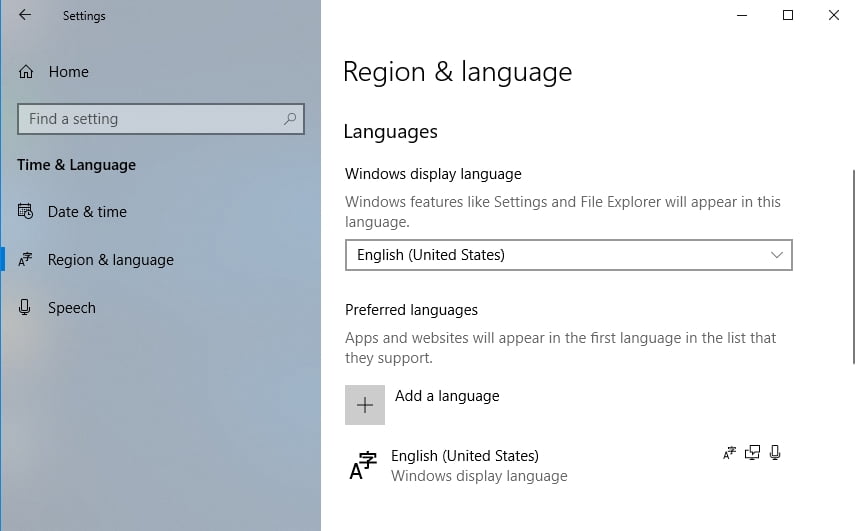 Once you've set US English as your default display language, you should be able to install the updates without problems. This may seem like an unlikely solution, but some users claimed it had worked for them. So, it wouldn't hurt if you try it too.
Method 6: Running an SFC scan
It is possible that the error 1900204 occurred because of corrupted files in your system. To resolve the problem, you can run an SFC scan. Here are the steps you have to follow:
On your keyboard, press Windows Key+S.
Type "command prompt" (no quotes).
Right-click Command Prompt from the results, then select Run as Administrator.
Once Command Prompt is up, type "sfc /scannow" (no quotes), then press Enter.
Wait for a few minutes until the SFC scan is complete. The process may take a while, and you should not interfere with it.
After the process is complete, you can try installing the updates again. Check if the error is gone.
Do you know other solutions to this issue?
Share your ideas in the comments below!