Perhaps you are doing your usual activities on your computer when suddenly the error code 0x80070057 shows up. If you do not know how to deal with it, don't panic! There are many other Windows users who have reported the same problem, so you are definitely not alone. Thankfully, there are many ways to troubleshoot 0x80070057 Error in Windows 10 and Windows 7.
If you are looking for an updated guide on how to fix 0x80070057 Error in Windows 7 in 2018, you've come to the right place. In this article, we will give you step-by-step instructions on how to solve this issue in various ways.
There are many instances wherein the 0x80070057 error code might show up on your screen. Here are just some of them:
Attempting to back up your files
Installing Windows 7 OS on your computer
Having a System Reserve Partition that's been damaged
Creating a new profile on MS Outlook
Installing pending updates on Windows 7, and especially on Windows 10
What's annoying about this error code is, there are many places and instances you can encounter it. There are specific ways to approach such issue, depending on the situation. Here are some of the root causes of the 0x80070057 error code and tips how to solve them right away.
Incorrect Parameter 0x80070057 Error
Windows Update 0x80070057 Error Code
Microsoft Office 0x80070057 Error
1) Incorrect Parameter 0x80070057 Error
First Method: Changing the Settings for the Decimal Symbol
You might experience problems if the decimal symbol is not properly set to "." (dot). This is quite common for systems with languages not set to English (United States).
Control Panel -> Clock, Language, and Region
For Windows 7, click Region and Language. For Windows 10, click Region. Another screen should pop up.
Formats -> Additional Settings
Windows 7: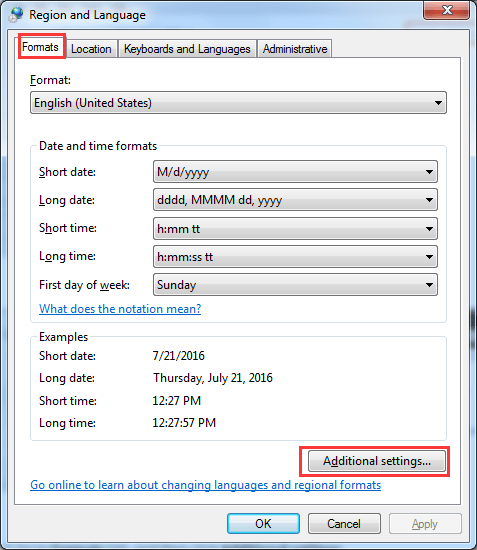 Windows 10: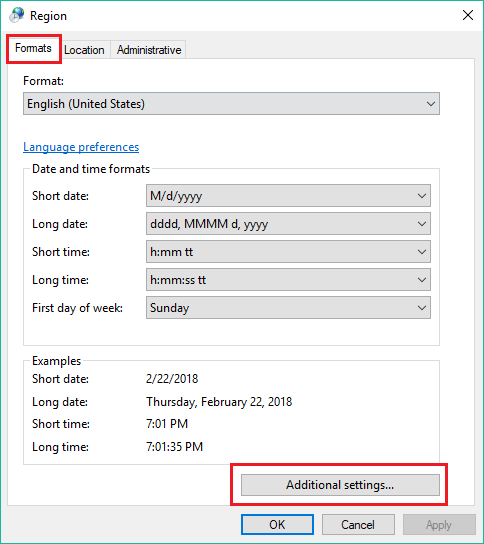 Go to the Decimal symbol field then type dot (.) and click OK twice.
After making the change, restart your computer.
Second Method: Adding a Registry Key Value
Caution: You may experience an unrecoverable error which can damage your computer if you make faulty modifications in the registry value. Remember to create a registry back up first and restore it if you encounter further errors.
For Windows 7, click the Start button, type "regedit" (no quotes) in the search box and press Enter. 
For Windows 10, click the Search button, type "regedit" (no quotes) in the box and press Enter.
HKEY_LOCAL_MACHINE\SOFTWARE\Policies\Microsoft\SystemCertificates
Right-click the blank space on the right side of the pane, and when the New option shows up, select DWORD Value.
Change the filename to "CopyFileBufferedSynchronousIo" (no quotes).
Change the Value data to 1 by double-clicking the file.
Save the changes by pressing OK.
Once the change is complete, exit Registry and restart your computer.
2. Windows Update 0x80070057 Error Code
If you encounter this error in Windows Update, what you would have to do is change the name of the SoftwareDistribution folder:
Open the Run box by pressing Windows Key +R.
In the search box, type "%systemroot%" (no quotes) then press Enter.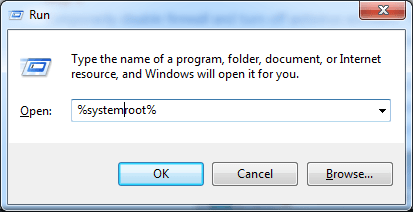 If you cannot resolve the
problem yourself, you can
ask our certified PC technicians for immediate assistance in the
chat
right on this page.
Search for the SoftwareDistribution folder and change its name to SoftwareDistribution.old.

In most cases, you would need administrator permission to complete this step. Simply click Continue to move on.
Go to the search box and type "Services" (no quotes).
Check the status of Windows Update and make sure that it is set to Started.
After completing the change, restart your computer.
3. Microsoft Office 0x80070057 Error
This error typically shows up when the user tries to install Microsoft Office or while they are using the application. To fix this problem, you have to disable the firewall as well as your anti-virus software temporarily.
Below are the instructions on disabling firewall in Windows.
Control Panel -> System and Security -> Windows Firewall -> Turn Windows Firewall on or off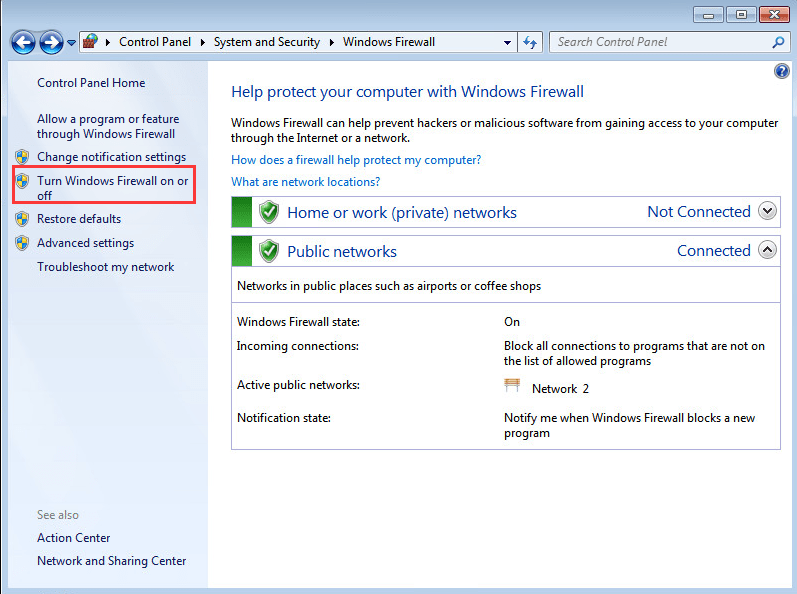 Select Turn off Windows Firewall (not recommended). This setting should only be temporary until you get the error fixed.
Fix the Office Click-to-run application.
Control Panel->Programs->Uninstall a Program
Look for the Microsoft Office software you installed. Click Change.
Restart your computer and try to run the installation again.
RECOMMENDED
Resolve PC Issues with Auslogics BoostSpeed 11
Besides cleaning and optimizing your PC, BoostSpeed protects privacy, diagnoses hardware issues, offers tips for boosting speed and provides 20+ tools to cover most PC maintenance and service needs.
FREE DOWNLOAD
Other Methods to Try for Windows 10
All of the fixes we mentioned above should work well with Windows 7 and Windows 10. However, we have additional troubleshooting options should the instructions we provided do not work on your Windows 10 OS.
1. Perform a System File Check
If certain system files get corrupted or broken due to the 0x80070057 error, you can run the System File Checker utility (SFC). Doing so should let you restore or repair those damaged files. Follow the steps below:
Go to the search box and type in "Command" (no quotes). Press Ctrl + Shift and press Enter.
In the Command Prompt, type "sfc /scannow" (no quotes) and press Enter.
The System File Checker will perform a scan and repair the damaged or corrupted system files.
2. Edit Windows Registry
Changing the Windows Registry is another option you can take when you troubleshoot 0x80070057 error in Windows 10.
Follow the steps below:
Open the Run dialog by pressing theWindows Key + R.
Type "regedit" (no quotes) and hit Enter.
Open Notepad and paste the lines below:
Registry Editor Version 5.00[HKEY_LOCAL_MACHINE\SOFTWARE\Microsoft\WindowsUpdate\UX]
"IsConvergedUpdateStackEnabled"=dword:00000000[HKEY_LOCAL_MACHINE\SOFTWARE\Microsoft\WindowsUpdate\UX\Settings]
"UxOption"=dword:00000000
Click File and then Save As.
Set file type to All Files. Save this file under the name wufix.reg on your desktop.
Go to your desktop and run the wufix.reg file. Give it permission to fix the 0x80070057 error.
Best Practice: Trying the steps mentioned above may be a bit overwhelming and complicated. If you want an easier way to fix the 0x80070057 error, it would be ideal to install reliable software that cleans Windows registry.
A good example would be Auslogics BoostSpeed. When your computer shows signs of stability problems, such as crashes, error messages, or slowing application responses, your computer's performance may be significantly affected. With the Auslogics BoostSpeed, you do not have to fix errors manually. The software will repair and optimize your Windows PC, conveniently eliminating errors and crashes. Your computer will run smoothly in no time.
Do you think we missed another way to fix the 0x80070057 error?
Comment below to share your thoughts!