A lot of users find Windows 10 a reliable operating system. However, it has become infamous for various update issues. From time to time, different update errors tend to show up, leaving users frustrated. In some cases, these problems even appear more than once.
One of the most common Windows Update issues you might encounter is the error 0x80072ee7. There are various scenarios where this might occur. However, it typically shows up when a user is trying to install a major Windows 10 update like the Creators Update or the Anniversary Update.
Learn how to troubleshoot Windows 10 upgrade error 0x80072ee7
If you've recently encountered this problem, you have to immediately address it and learn how to fix error code 0x80072ee7 in Windows 10. Don't worry because we've prepared a list of solutions that can help you resolve this issue. However, before we dive into that, it would be ideal if we take a closer look at the error 0x80072ee7. Let's discuss some of the common scenarios that users have reported. In this way, you can fix the problem and prevent it from happening again.
0x80072ee7 Windows Update – If you're trying to install a Windows update, this error code may show up. You have to ensure that all the necessary services are running properly. You can also try to reset the services by running a Windows Update reset script.
Code 0x80072ee7 Windows 10 Store – This error code can also appear when you are accessing Windows Store. This might have something to do with corrupted files.
Upgrade error 0x80072ee7 on Windows 10 – In some cases, the error also appears when the user is trying to upgrade their Windows system to the latest version. It is possible that a third-party anti-virus tool is causing this. It would be best to disable the program or uninstall it. Make sure you try our methods below. They work best on Windows 10, but they are also applicable to older system versions like Windows 8.1 and Windows 7.
Windows 10 Media Creation Tool error 0x80072ee7 – The problem can also show up when you're using Media Creation Tool. You can fix this by editing hosts file.
Method 1: Changing the DNS server address
Users in the community forums in Microsoft's site mentioned that one of the best solutions to the error 0x80072ee7 is changing the DNS server address. So, let's try that workaround first. Here are the steps you have to follow:
Click the Search icon on the taskbar.
Type "control panel" (no quotes), then hit Enter.
Click Network and Internet, then go to Network and Sharing Center.
Choose Change Adapter Settings from the left pane menu.
Look for the network you are currently using, then right-click it.
Select properties from the choices.
Scroll down until you find Internet Protocol Version 4 (TCP/IPv4).
Click it, then select Properties.
Select the option which says, 'Use the following DNS Server addresses.'
Enter these values:
For DNS Server – 8.8.8.8
For Alternate DNS Server – 8.8.4.4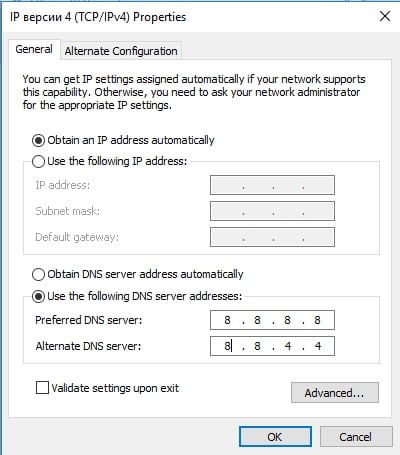 Save the changes you've made, then restart your PC.
Try updating Windows 10 and check if the issue has been resolved.
Method 2: Launching an SFC scan
Windows 10 and older system versions like Windows 8.1 and Windows 7 have a built-in tool that identifies and repairs errors. You can run an SFC scan, and the process will deeply check your PC for possible issues. So, if you want to troubleshoot Windows 10 upgrade error 80072ee7, you should take advantage of this tool. Here are the steps you have to do to perform an SFC scan:
On your keyboard, press Windows Key+X.
Select Command Prompt (Admin) or Powershell (Admin) from the list.
Type "sfc/scannow" (no quotes), then hit enter.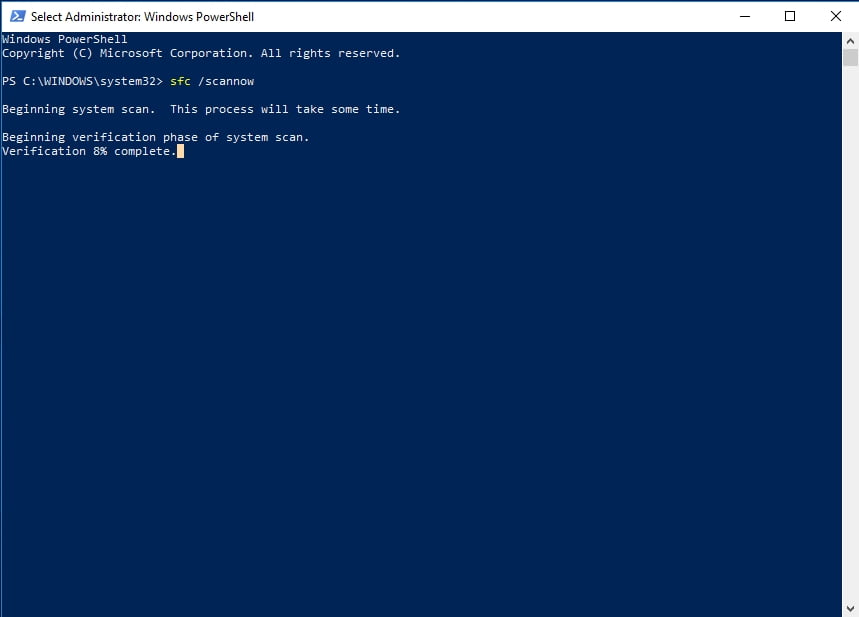 The process should take a couple of minutes. That said, it is important that you avoid disrupting it until it is complete. Once the process is done, close Command Prompt.
If the error persists, you can try running a DISM scan. You can do that by launching Command Prompt (Admin) and pasting the command below:
  DISM /Online /Cleanup-Image /RestoreHealth
Just wait until the scan is complete. After that, try updating Windows 10 again and check if the error is gone.
Method 3: Running the WUReset script
You can resolve Windows 10 update problems by using the WUReset script. What this custom-made script does is automate common workarounds for errors, including deleting the SoftwareDistribution folder and resetting the Windows Update process, among others. You wouldn't have to perform such actions by yourself, allowing you to save time and effort. Simply search for the script online and follow the instructions on how to use it.
Method 4: Using Auslogics BoostSpeed
It is possible that your system has become unstable due to junk files and other speed-reducing issues. Consequently, the error 0x80072ee7 starts to appear whenever you try to update Windows 10. In this case, it would be advisable to download and install a reliable tool like Auslogics BoostSpeed. This program runs a complete checkup of your entire Windows system. Along the process, the tool looks for problems that may cause application or system errors and crashes.
[block-bs_place]
Once BoostSpeed is done scanning and repairing issues, you can expect to restore system stability and improve the speed of your computer. Needless to say, you can use this tool to eliminate the 0x80072ee7 error code without any hassle.
Method 5: Editing the hosts file
It is also possible that the hosts file has been altered, causing the error 0x80072ee7 to appear. There are users who reported that they had found 0.0.0.0 IP addresses in their hosts file. You can fix this by removing the addresses or typing the # symbol at the beginning of the line. It is also worth noting that you should take some caution when modifying the hosts file. The process can be tricky and may cause other problems.
Method 6: Checking the settings of your anti-virus tool
In some cases, a user's anti-virus tool may interfere with the system update, causing the error 0x80072ee7 to appear. You can fix this issue by disabling certain features on your security software. You can check your anti-virus tool's firewall and turn it off. If that doesn't fix the issue, it would be advisable to completely disable the program.
If you eliminated the error by disabling your antivirus software, then it would be best to switch to a different brand. We highly recommend using Auslogics Anti-Malware. What's great about this tool is it provides a comprehensive protection for your computer, detecting threats and attacks that you'd never suspect existed. What's more, it is designed to be compatible with Windows 10. This means that it won't interfere with your main anti-virus. So, you can finally update your system while having the protection you need.
Method 7: Changing registry permissions
It is also possible that your registry has not been properly configured, causing the error 0x80072ee7 to show up. You can fix this problem by changing certain permissions in the registry. Just follow the instructions below.
Launch the Run dialog box by pressing Windows Key+R on your keyboard.
Navigate to this path: HKEY_LOCAL_MACHINE\SYSTEM\CurrentControlSet\Services\Tcpip
Right-click Tcpip, then choose Permissions from the list.
Select Advanced.
Make sure that the 'Replace all child object permission entries' option is selected.
Save the changes by clicking Apply and OK.
Can you think of other workarounds for the error 0x80072ee7?
Share your ideas by commenting below!