Sometimes you need to get specific information about your Windows computer. For example, when you have problems with your PC and are talking to a technical support person. Quite often tech support ask you question like how much RAM you have, what's the size of your hard drive, which graphic card have you got, etc. It's really great if you can answer all these questions straight away. But what if you can't? The answer is easy – all you need to do is open the Windows built-in System Information tool.
The System Information utility is easy to find:
Click on the Start button and go to All Programs;
Then click Accessories and go to System Tools;
Click on System Information;
The System Information tool is pretty easy to use. There are different categories on the left-hand side – System Summary, Hardware Resources, Components, and Software Environment.
If all you need is basic PC system information, like computer name, version of your OS, the amount of memory your PC has, then all you need to see is System Summary. However, if you are really computer-savvy and want to find some specific system information, like IRQs, you can expand Hardware Resources and click on the IRQs category.
If you are looking for something specific but are not sure where to find it, you can always use the search feature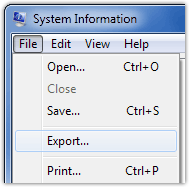 Another handy thing about the System Information utility is that you can export all the info about your system into a text file and then email that file to technical support. To do that, click on File, then on Export and specify where you want to save the report file.
If you want a System Information tool that provides even more (system performance summary, running processes, has a device manager), you should consider third-party programs, like Auslogics System Information, and choose the one that suits you. And Auslogics Boost Speed will speed up your computer's performance without much effort.