While using your printer, you might get an error message saying that your "Printer driver is unavailable". What do you do in this situation?
The printer remains an important tool, especially in the office. With it, you can print, scan and copy documents and share them around. A working printer is very important; this means a faulty one can cause bottlenecks.
If a reliable printer suddenly malfunctions and throws up that error message, it may be linked to an outdated or incompatible driver. It could even be that the printer driver became faulty and stopped responding to system commands.
Of course, not every printer issue is software-related. It could be due to wear and tear on an old printing device. A printer that has fallen into disuse or underuse may also not work so well when put back in action. Dust, dirt, paper bits and caked ink may also cause obstructions and even damage the printer.
Still, most of the time, the "printer driver is unavailable" error boils down to a software issue linked to the printer driver installed on the computer. If the problem goes unresolved you will not be able to carry out print jobs.
If the issue occurs on your Windows 10, don't let it deter you. The error can appear on many printers, though HP printer users have made the most reports. There are easy fixes that will make your printer start working again in no time.
Why Am I Getting the Printer Driver Is Unavailable Error on Windows 10?
Several instances of the unavailable printer driver error are linked to a software upgrade. Users who recently made the jump to Windows 10 from an earlier version may find that the process damaged some device drivers. Your printer or its driver might also be incompatible with your current Windows version.
This happened by design on the part of Microsoft. Unlike earlier versions, Windows 10 doesn't have backward compatibility with certain devices. If your printer happens to be one of them, your options are limited to downgrading your OS or getting a new printer.
This error can also happen when the printer driver isn't installed at all. Some plug and play printers may actually require manual driver installation. The driver could have also been mistakenly deleted by your security software. It could also be installed incorrectly, meaning neither the printer nor the OS is able to interact with it.
In rare cases, you may experience the unavailable printer driver error because of a corrupt file or driver. This becomes more complicated if the driver in question is the latest version you can use. You may need to downgrade or uninstall the software and hope it works.
Printer Driver Explained
Before diving into the fixes for the "Printer driver is unavailable" error, it's worth noting what exactly is a printer driver is. A printer driver is a small software that enables your printer and the operating system to talk to one another.
The printer driver links the OS to your printer so the former can read and understand the hardware specifications and abilities of the latter. It also decodes print instructions into a language that the printer can understand. Without it, no printing, scanning or copying job can happen.
Most printers, especially the newest ones, have dedicated drivers on Windows 10. Each driver is optimized to get the best out of its counterpart printer. Hence, the PC may not detect the printer if you've installed the wrong driver or wrongly configured the correct one.
Even so, some printer models can use the generic printer drivers built into Windows 10. This gives you an extra option if you're unable to use the printer-specific driver for whatever reason. Though a generic driver likely won't function as well as a dedicated one, it's still better than nothing.
Fix "Printer Driver Is Unavailable" on Windows 10
If you keep getting the "Printer driver is unavailable" error when you try to print something, you need to apply some fixes. Here are five possible solutions that can get your printer up and running:
Apply a Windows update
Update the printer driver automatically
Manually update the printer
Completely reinstall your printer
Use the generic printer driver
Let's go into more detail for each of them.
Fix 1. Apply a Windows update
An outdated operating system is a possible reason for the printer driver becoming unavailable. For this reason, you should try to apply the latest updates as soon as they become available. Not only can doing this solve your immediate problem, it can also fix underlying issues you aren't aware of.
Here's how to run Windows Update:
Hit the Windows key on your keyboard to open the Start menu.
Click the Gear icon on the left side pane to open the Settings app.
Once in Settings, navigate to Update & Security > Windows Update.
Click the "Check for updates" button.
After Windows downloads and installs all available updates, reboot the system.
This step is the fastest way to possibly restore your printer's functionality when facing thise error under discussion. You can run a test job to see if the issue is fixed.
Fix 2. Update the printer driver automatically
The same way Windows needs regular updates, your major hardware drivers do, too. If it's been a while since you last updated your printer driver, you might want to do that now, if you're getting the driver unavailable error. It might just be that the current printer driver is too old and no longer suitable.
A driver that ordinarily works well might also become faulty. A recent Windows upgrade might have rendered it incompatible with the current OS. Whatever the case, updating the driver automatically can solve your problem.
Ordinarily, this is a smooth process, but it can get complicated if you have little experience updating drivers. You don't want to install the wrong driver and complicate things. Hence, it is recommended to use a special software for updating drivers like Auslogics Driver Updater to save time and effort. You can use the tool to update all obsolete drivers on your PC, including the printer driver, to their latest versions. You can do this with one click, and the tool will even help you detect and solve other driver-related issues.
Alternatively, you can use Windows to automatically update the driver thus:
Hold down the Windows key and press X.
Select Device Manager.
Locate the printer you wish to install drivers for. You can find it under Printers or "Print queues". If the printer driver isn't functioning properly, you might find it under "Unknown devices" or "Other devices".
Right-click the printer driver and select "Update driver".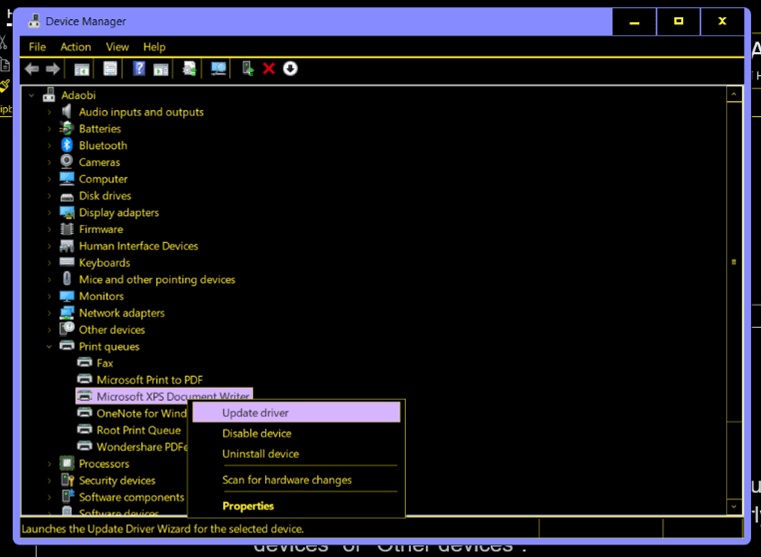 On the next window, select the "Search automatically for drivers" option.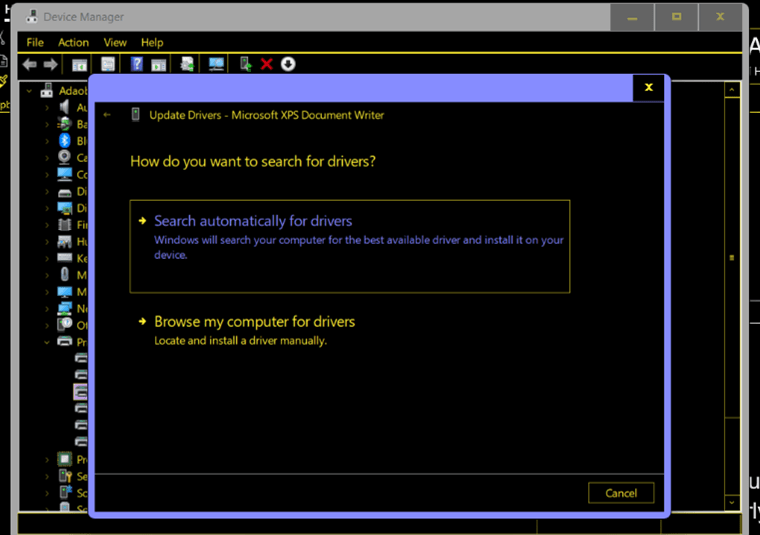 Windows will search online and download the drivers if it finds them. Whether you use special software like Driver Updater or you use Windows, reboot your PC after the installation.
Fix 3. Manually update the printer
You can install the printer driver manually if the above method doesn't work. To do this, you must know the brand and model of your printer. This will enable you to choose the correct driver to download.
First, find your printer's model. Check the hardware's surface for any identifying labels or go to Control Panel > Hardware and Sound > Devices and Printers. Note the brand, version, and manufacturer.
Next, navigate to the manufacturer's support page and locate the precise driver you need. Here are some of them:
HP
Samsung
Sharp
Canon
Epson
Download the right driver for your computer and install it as you would a normal program. To avoid possible issues, you can run the installer as an administrator.
If the driver doesn't install normally, follow these steps:
Press Windows Key + X and select Device Manager.
Locate the printer device, right-click it, and select "Update driver".
On the next window, select "Browse my computer for driver software".
Click the Browse button and locate the driver you previously downloaded. Select and run the file.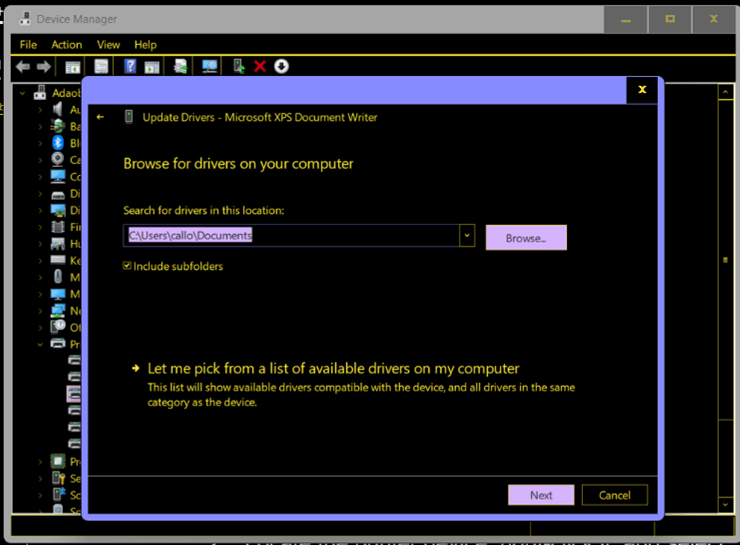 When Windows finishes installing the file for you, reboot your computer and test your printer to see if the issue is fixed.
Fix 4. Completely reinstall your printer
You may need to detach your printer and then connect it back to solve the printer driver unavailable issue in Windows 10. You will remove the printer and its drivers from your PC, detach it physically and then reinstall everything back. This might take a bit of time but the reward will likely be worth the effort.
Open Control Panel on your computer and set the view mode to Category.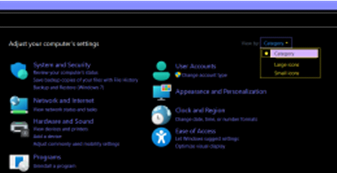 Click the "View devices and printers" link under Hardware and Sound.
You will find your printers and other devices here. Right-click the problematic printer and select "Remove device". Click Yes if a UAC prompt shows up.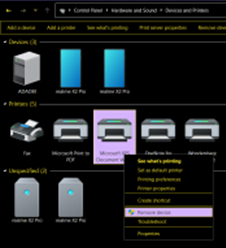 Open Device Manager, locate the printer device, right-click it and select "Uninstall device". If you don't see the device here, don't worry; it means it's been removed already after performing step 3.

Go to Control Panel > "Uninstall a program". Look for any printer applications here and uninstall them all.
You can now disconnect your printer from the computer. Remove the plug if it's a USB connection or disconnect it from the router. Shut everything (PC, printer, router) down and turn off power supply to all of them.
Wait for around 10 minutes then plug everything back and reconnect all the devices. Your PC should detect the printer and install the needed drivers.
Once the printer starts working again, you can set it as your default printer. Return to Devices and Printers in step 3 above, right-click the printer and select "Set as default printer".
Fix 5. Use the generic printer driver
Some manufacturers are slow with releasing the latest compatible printer drivers. This might make your printer unusable after upgrading to Windows 10. If the device doesn't work and there is no fresh update, you can use the generic printer driver from Microsoft in the meantime.
Open Device Manager, locate and right-click the printer, and select "Update driver".
In the next window, select "Browse my computer for drivers".
On the next window, select "Let me pick from a list of available drivers on my computer".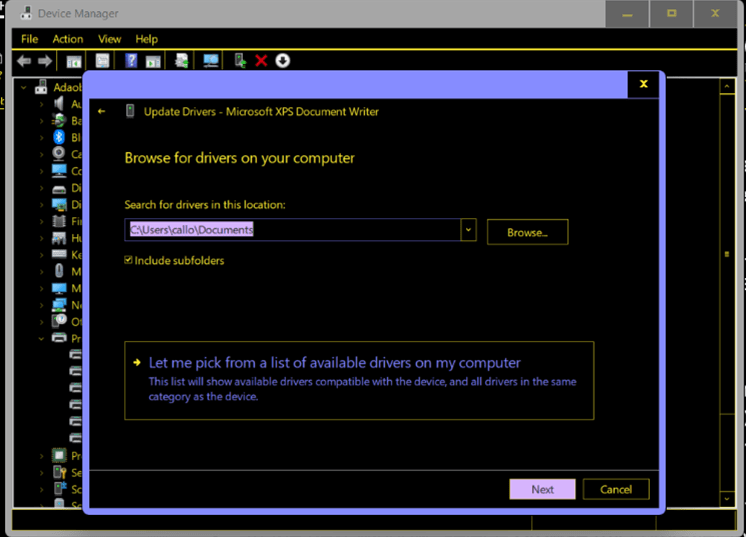 Select "Generic software device" and click Next.
Windows will install the generic printer driver for your printer. You will be able to use your printer again, even if you lose some niche functions.
Conclusion
By meticulously following the article, you have probably isolated the problem with your printer and figured out the best fix for it. Updating, reinstalling or replacing your printer driver is likely to solve the "Printer driver is unavailable" error.