'There is something beautiful about a blank canvas, the nothingness of the beginning that is so simple and breathtakingly pure.'
Piper Payne
Gone are the days when users would have to go through a lengthy process just to install Windows. After all, Microsoft has made the steps easier and simpler. On the other hand, it is still possible for you to encounter driver-related problems that may prevent you from completing the installation process.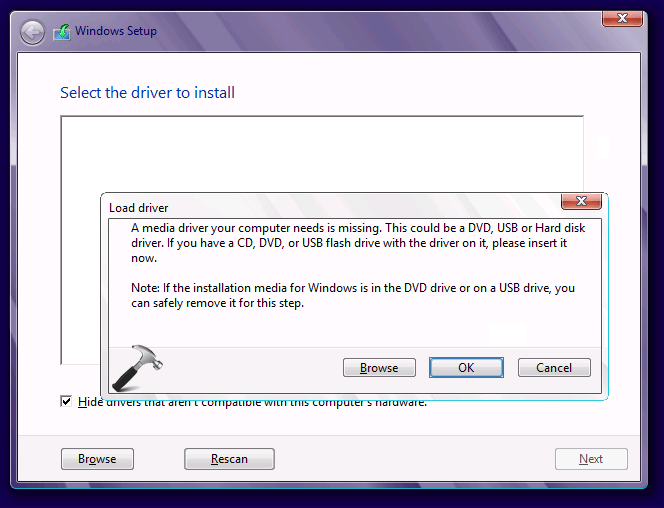 So, what should you do when a media driver is missing on Windows 10? You might notice that the USB installation media is booting properly. However, the installation process is not successful due to a missing USB hub driver. There are various reasons why this error occurs, and here are some of them:
Corrupted ISO media or DVD drive
Malfunctioning USB drive or port
Missing USB or DVD driver
Unit uses Serial Advanced Technology Attachment (SATA) instead of Integrated Drive Electronics (IDE)
You don't have to panic because we will teach you how to fix media driver missing error. Keep reading this article to learn the solutions that will help you get rid of this problem.
Solution 1: Meeting the requirements for Windows 10
Before you can even try fixing the issue, you have to ensure that your computer meets the requirements for Windows 10. Moreover, you should update your BIOS before you initiate a clean installation of the operating system. Listed below are the minimum system requirements for running Windows 10:
RAM: 2GB for 64-bit or 1GB for 32-bit
CPU: 1GHz or a faster processor or SoC
HDD: 20GB for 64-bit OS or 16GB for 32-bit OS
GPU: DirectX 9 or a later version with WDDM 1.0 driver
Display: At least 800×600
If you want to have a seamless workflow, it would be best to have at least 2GB of RAM or 3GB for the 64-bit version. This will also provide you with a better processing power.
If you encounter the 'A media driver your computer needs is missing' error when installing Windows 11, check if your computer meets the requirements to support the Windows 11 OS:
RAM: 4GB or higher
CPU: 1GHz or faster processor with 2 or more cores on a compatible 64-bit processor or system on a chip (SoC)
Storage: At least 64GB of available storage. More space may be required for subsequent updates
Graphics card: DirectX12 or later with WDDM 2.0 driver
Display: High definition (720p) resolution, at least 9 inches of display monitor with 8 bits/color channel
UEFI firmware
Secure Boot support
TPM (Trusted Platform Module) version 2.0
Solution 2: Trying a different USB port midway
Some users have found a way to work around this problem, and the solution is quite easy. When they initiated a clean installation of Windows 10, they used the method for fixing the same error in Windows 7 and Windows 8. Basically, all you have to do is remove the USB installation drive midway through the process, then try using another port. Here are the steps:
Download the Media Creation Tool and create a USB installation drive.
Boot your computer from the drive.
Wait until all the installation files have loaded.
Select your preferences, then click Install Now.
Once you see the error message, click Cancel.
Remove the USB drive and plug it into a different port.
Click Install Now. The installation process should continue from here.
The aforementioned solution should work for you. However, it is worth noting that this method was mostly for users who had previously installed Windows 10 on their unit.

Solution 3: Using a different USB flash drive
For some strange reason, some USB flash drives, albeit compatible, won't load all the installation files. In this case, it would be advisable to install Media Creation Tool on a different USB stick.
It is also worth noting that if you have never installed Windows 10 on the computer in question, it is possible that the certain issues with the USB 3.0 port would prevent the BIOS from loading the installation files. As such, you should only use the USB 2.0 ports when installing Windows 10. You can easily identify a USB 3.0 port by the blue strip inside it.
If you're using a DVD, it could probably be damaged, in which case, you'll need to burn the windows.iso file to a new DVD.
Tip: It's recommended to use Microsoft Edge or Firefox when downloading Microsoft files. Some users have reported encountering problems with Microsoft downloads using Chrome. That could explain why you're struggling with the 'A media driver is missing' error when trying to clean install Windows 11.
Solution 4: Try Installing Without Installation Media
Did you know that you can clean install Windows without creating bootable media? So, if the USB stick or DVD containing the OS is damaged or acting up, you can simply mount the ISO file using the Windows built-in mounting feature.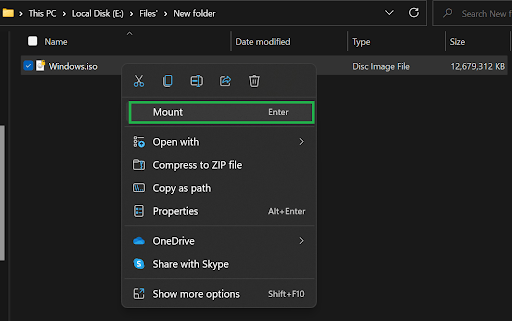 On a Windows 10/11 machine, launch File Explorer, and open the location of the ISO file.
Next, right-click the file and select Mount. You can also click on the Mount option on the menu bar. Alternatively, double-click the Windows ISO file to mount it.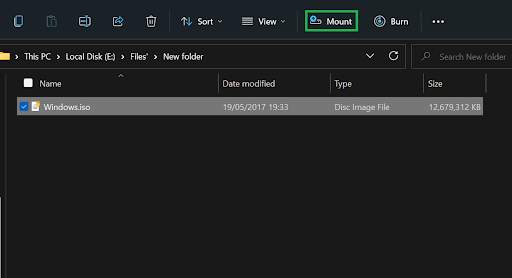 The file will open in a new folder, and you'll see a new drive bearing a new drive letter. Open the drive, launch the setup.exe file, and select Install now.
Follow the installation process as usual.
Solution 5: Changing the SATA to IDE
It is possible that the SATA mode is causing the problem. This error specifically occurs when the machine is using IDE, but the installation media boots with SATA. With that said, changing the SATA to IDE in BIOS or UEFI can resolve the issue.  Simply follow the instructions below:
Boot into BIOS.
Select any of the following: Advanced, Storage Configuration, Drive Configuration, or IDE Configuration.
Go to SATA Mode. You can also go to Set SATA As or SATA Configuration.
Change the option to IDE, Compatible, or ATA.
Save the changes you've just made.
Try installing Windows 10 again and check if the error has been resolved.
RECOMMENDED
Resolve PC Issues with Driver Updater
Unstable PC performance is often caused by outdated or corrupt drivers. Auslogics Driver Updater diagnoses driver issues and lets you update old drivers all at once or one at a time to get your PC running smoother
DOWNLOAD NOW
Solution 6: Disabling/enabling certain options in BIOS
Some users have tried working around the error by disabling certain options in BIOS. If you are trying to install a 64-bit version of Windows 10, you can boot into BIOS and try to disable Legacy USB and Legacy BIOS. Before you plug in the flash installation drive, make sure that you've enabled the AHCI.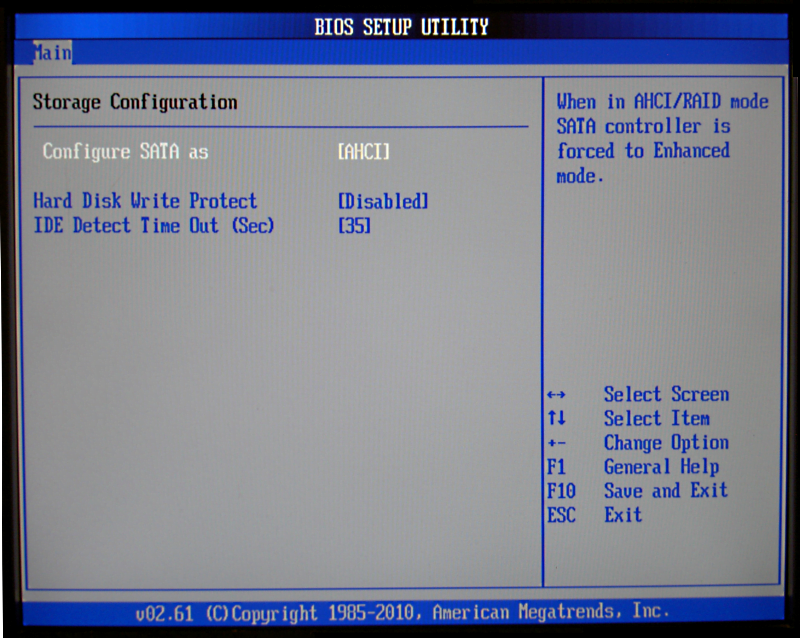 In some configurations, users can set the USB option solely to USB 3.0. On the other hand, we recommend setting it to Auto if such option is available in the BIOS menu.
It's also worth checking the extracted ISO setup. If it's in NTFS format, try extracting it in FAT32 and use the setup to install Windows 10 or 11 again.
Solution 7: Opting for Rufus
If you've tried the methods above and the error persists, you may want to opt for Rufus instead of using the Media Creation Tool. Provided by Microsoft, this program typically works just fine. However, we recommend starting from scratch using the alternative tool if you've exhausted all other solutions. Moreover, if you've been installing Windows 10 from a USB flash drive, we suggest downloading the ISO file and burning it to a DVD instead.
Once you've successfully installed Windows 10/11, we advise you to regularly update your drivers, using Auslogics Driver Updater. As the error message suggests, the problem occurred due to a missing media driver. As such, you should ensure that you have the latest manufacturer-recommended versions of your drivers. This prevents similar issues from happening and even improves your computer's speed and performance.
RECOMMENDED
Resolve PC Issues with Driver Updater
Unstable PC performance is often caused by outdated or corrupt drivers. Auslogics Driver Updater diagnoses driver issues and lets you update old drivers all at once or one at a time to get your PC running smoother
DOWNLOAD NOW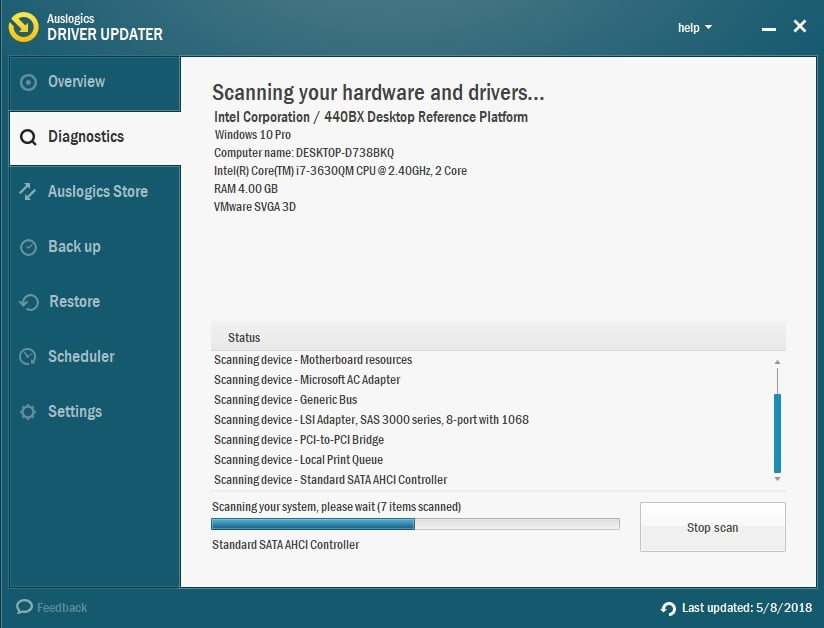 Do you have clarifications or suggestions?
Let us know in the comments below!