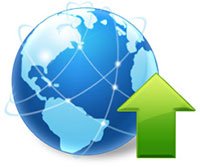 So how to speed up network? Nothing is as annoying as slow network connection. Even if you have good hardware, you will not enjoy the real speed of your computer if your Internet connection is slow. Sometimes the only way to make things faster is to upgrade your broadband plan. However, there are some tips how to speed up network that really make a difference without costing anything. Here they are.
Remove My Network Places shortcuts
If you are wondering how to speed up network and make sharing files faster, you should remove all shortcuts from My Network Places. These shortcuts are created automatically and most of the time they are not needed. Not to mention that they often become invalid. And when they become invalid, Windows still searches for them even when they are never shared anymore. This slows things down. To remove these shortcuts, highlight them and press Delete on your keyboard.
Reset your network
If you are thinking how to speed up network when your Internet becomes very slow all of a sudden, you should reset your network by restarting your router. That's easy enough – simply disconnect from the Internet and power down your PC. Then restart your router by switching it off and on again. Wait for the router to fully boot and start your computer. The speed should be back to normal.
Check your router and home phone for possible conflicts
Another suggestion how to speed up network. Sometimes your Internet connection can become slow because of home phone and router conflicts. This happens when your router and your cordless phone use the same frequency. If that's the case, it can cause your Internet connection to slow down every time your phone is used. So, check your phone's technical specs and see if there are any conflicts. If the phone uses the 900Mhz frequency, then it shouldn't be affecting your router. But if your phone is using 2.4Ghz or 5.8Ghz, then it may be the cause of slow Internet connection. To fix the problem, try moving the phone to a different room or buy a different phone for your house.
Upgrade the firmware for your router
Another answer to the how to speed up network question is upgrading the firmware for your router. Quite often your network can become slow if your router's firmware is out of date. That's why you should check your router manufacturer's site every now and again for firmware updates and apply them as soon as they are issued. Just make sure that you are applying the correct update for your model. You can also do it automatically.
How to speed up network even more? Perform PC maintenance!
Even if you are on a fast broadband plan, browsing the Web won't be fast if your computer is slow. So another way how to speed up network has little to do with the network itself – you simply need to perform some PC maintenance. Believe it or not, deleting temporary files, defragmenting your hard disk and running PC speedup software can speed up your Internet connection a great deal.
These simple how to speed up network tips will make using your network and browsing the Web faster and a lot more enjoyable.