What is the best internet browser? It's a question most people have asked many times, and the answer isn't always straightforward. Even though there are over 200 different internet browsers, they all perform the same basic function.
However, choosing the best web browser can be challenging. And that's because the browser you choose can affect your online experience, from the level of privacy and security to the page loading speed.
On top of that, internet browsers are now providing new and innovative features to improve your browsing experience, thanks to ever-evolving technology like ChatGPT. So what is the best internet browser?
In this article, we'll discuss the best browser for PC on the market and the features that make it stand out. We'll also explore the pros and cons of each to help you make an informed decision when choosing a browser.
Let's begin.
What is the Best Internet Browser: Top 5 Browsers to Check Out
If you don't know which browser to choose, go through these top browsers, checking their features, pros, and cons:
1. Microsoft Edge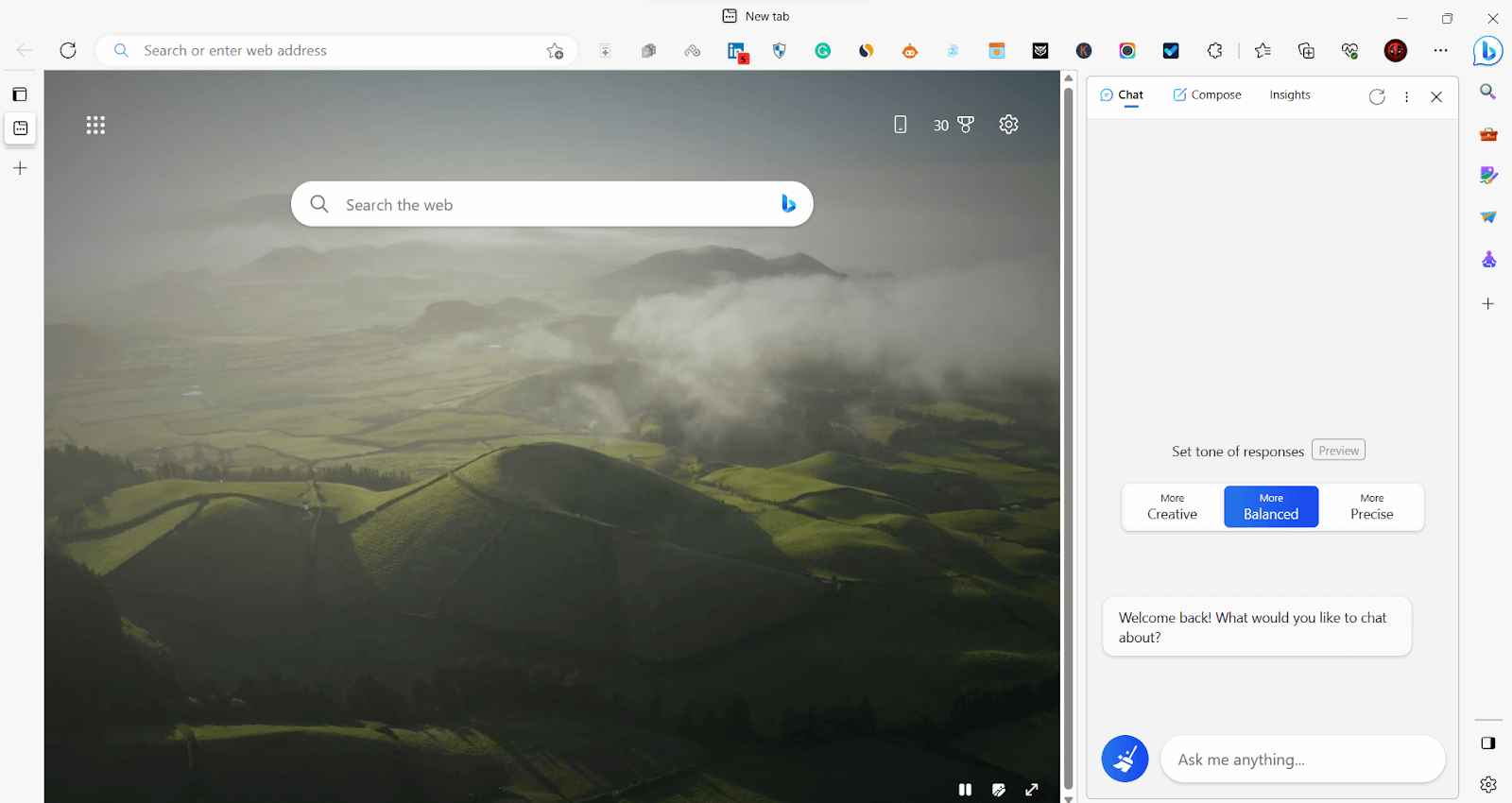 The most recent release of Microsoft Edge is based on the same Chromium code that powers Google Chrome. This ensures that sites display and function correctly and allows developers to integrate exciting new features.
When you choose Edge, you won't have issues loading websites as in previous versions of Edge. This browser works on Windows 11 and earlier versions, including Macs.
You can also use Microsoft Edge on your iOS or Android device to sync favorites, history, and passwords. Edge performs high in tests measuring speed, memory usage, and storage space. In addition, the program's "Startup Boost" feature allows for lightning-fast initialization.
It also contains a memory-saving feature called "Sleeping tabs" that activates whenever you aren't using a tab.
Edge has an energy-saving mode called "Efficiency mode" for laptops, which helps extend the battery's life. Recently, Microsoft has included new features in Edge such as Bing AI chat search, multitasking side toolbar, edit image feature, built-in screenshot tools, etc.
---
---
Pros:
Edge has a built-in PDF reader
It has a built-in reading mode
It's fast and responsive
Built-in password manager
Cons:
Edge doesn't have a version for Linux
Collects your browser history
---
---
2. Google Chrome
Chrome is the most popular internet browser, and it's easy to see why. It comes with many excellent features, such as signing into your Google account and using it on different devices simultaneously.
That means you can easily switch from your PC to your mobile device without losing information. One good example is watching YouTube videos. You can change from your smartphone to your computer and start where you left off.
---
Related: How to download a YouTube Video to Your PC?
---
Chrome's password manager is a great feature that makes the browser more convenient. You won't have to retype your secure passwords as much if you use this method to generate and recall them.
You can even add notes to your passwords to help you remember what those passwords are for. Chrome's search bar is brilliant and provides relevant results. The New Tab tab also makes it simple to visit frequently visited websites.
So if you're asking, "What is the best internet browser?", consider Google Chrome.
---
---
Pros:
Fast and reliable internet browser
User-friendly interface
You can customize themes and extensions
Chrome comes with automatic updates
Cons:
Chrome has extensive memory usage
Collects lots of data
Privacy concerns
---
---
Related: How to Stop Pop-Ups in Google Chrome?
---
3. Mozilla Firefox
If you're looking for a browser that isn't based on the Chromium browser engine, Firefox is your best bet. The Mozilla Firefox browser has made significant progress toward becoming a cutting-edge means of accessing the internet, with features like:
the Firefox Quantum update,
the Firefox Reality virtual reality alternative, and
password-free browsing.
Some of the advantages of using Firefox include the following:
privacy safeguards with SmartBlock anti-tracker technology,
improved readability,
integrated breach warnings,
enhanced password syncing between devices, and
a Protections Dashboard that gives you an overview of how the company secures your privacy
You can also edit PDFs with text, drawings, and signatures. Also, you can easily manage your downloads. Furthermore, HDR is supported on MacOS, and you can watch videos streamed from YouTube, Prime Video, and Netflix in picture-in-picture mode.
Firefox also can extract text from images. Also, Firefox Colorways adds much-needed flexibility to the browser's aesthetic settings.
So if you want to know the answer to the question, "What is the best internet browser?", consider Firefox.
---
---
Pros:
Firefox protects you against spyware
Prevents most pop-ups
Cons:
It's slow in terms of speed when compared with other browsers
High memory usage
---
---
Related: How to Restore the Classic Themes in Chrome and Firefox Browsers?
---
4. Brave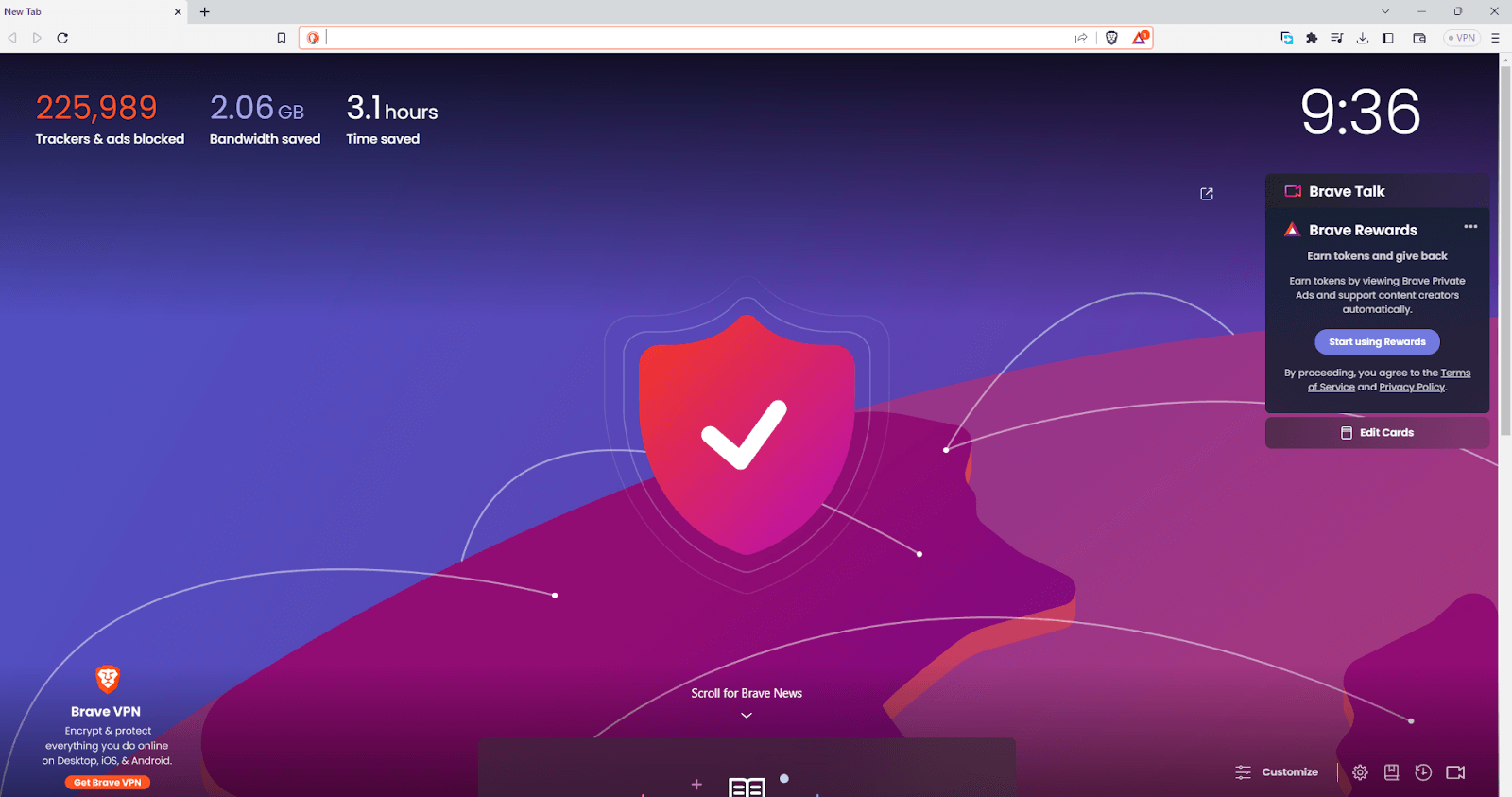 Brave is a browser built on the Chromium platform that automatically disables ad tracking, fingerprinting, and blocking. The company makes revenue when users pay attention to adverts while protecting their personal information.
The company is upfront about this business model, and participation is voluntary. Individuals who choose to view advertisements are compensated with crypto tokens.
You can protect your privacy in many different ways when using Brave, such as by
disabling third-party ad trackers,
switching to HTTPS for all connections, and
blocking cookies and fingerprinting.
Some background sync, account integration, and inline extensions were among the Google features Brave removed from their Chromium to increase user privacy. You can also switch to a "Tor mode" that anonymously routes data through the Onion network.
Brave eliminated some account integration, background sync, and inline extensions from Google's Chromium to protect user privacy. The optional "Tor mode" conceals the user's IP address while using the Onion network.
---
---
Pros:
Comes with a built-in ad-blocker
Has a built-in HTTP extension
Has a built-in tracker blocker
Comes with a built-in script blocker
Cons:
Some websites may not work properly

Some users may find it challenging to navigate the settings menu
---
---
5. Vivaldi Browser
Vivaldi is a unique internet browser tailored to the user's specific needs. You can customize the location of the tabs and the address bar during the initial setup process. In addition, you can display the tabs at the top or down the side of the page, depending on your preference.
Because of this, no two Vivaldi setups will look exactly alike, and you can customize the browser to suit your needs. Vivaldi's adaptability is one of its most vital points. You have a wide variety of themes from which to choose, and they all have a sleek, contemporary design.
Vivaldi's privacy features are excellent and worth considering if you value security. DuckDuckGo, a search engine that doesn't keep track of your browsing history, is integrated and used by default when the privacy settings are activated.
So if you're wondering, "What is the best internet browser?" consider Vivaldi.
---
---
Pros:
Vivaldi has the basic features of Chromium
Offers different customization options
Built-in note-taking feature
Cons:
It's not popular compared to other browsers
---
---
How to ensure your best browsing experience
There are a ton of awesome browsers out there, each with their own unique perks to fit your style. But if you really want to level up your browsing game, you've got to make sure your device is running in tip-top shape. You can choose one of the lightweight browsers to ensure that your RAM and CPU are not overloaded.
Or go for Auslogics Boostspeed – your secret weapon for supercharging your browsing experience.
It gets rid of all that junk like temporary files, cache, and cookies that build up over time and slow you down. This not only puts a little pep in your browsing step but also clears up some much-needed space on your hard drive.
---
Related: How to delete temporary internet files
---
Now, let's talk privacy. Boostspeed's got your back, keeping your personal info on lockdown by wiping away any traces of your online activity. It clears out stuff like browsing history, form data, and saved passwords, so you can rest easy knowing your secrets are safe from prying eyes.
And if that wasn't enough, Boostspeed can even tune up your internet connection settings to make sure your browser is using every bit of your network's power. With just the right tweaks, you'll enjoy buttery-smooth browsing, lightning-fast downloads, and hiccup-free streaming.
So, make Boostspeed a part of your regular computer upkeep, and you'll be rewarded with a browser that's always firing on all cylinders.
---
Also Read: Auslogics BoostSpeed 13: Get Your PC in Shape!
---
Conclusion
There's no one-size-fits-all answer to the question, "What is the best internet browser?". Each browser has pros and cons, and the choice ultimately comes down to your preference and needs.
If you value privacy, consider browsers like Vivaldi and Brave. Chrome offers seamless integration across devices, making accessing your saved data, bookmarks, and preferences easy.
Finally, Microsoft Edge has improved its site compatibility and performance. It also offers battery-saving efficiency and memory-saving features modes.
So go through the guide and choose the ones that work for you.
FAQs
What Type of Voice Commands Can I Use with the Opera Browser Assistant?
You can use voice commands to do many things on your web browser, like opening a new tab, going to a specific website, performing a search, and more.
Learn more from this article: Everything You Should Know About the Opera Browser Assistant.
Why Is My Internet Connection Slow?
Numerous reasons can cause low internet connection, such as outdated software or hardware, network congestion, poor signal strength, malware, etc.
Check out this guide to fix slow internet connections: Boost Internet on Your PC: Tips for a Faster Connection.
How Can I Customize Content Visibility in Microsoft Edge?
Use the Reading View feature to customize content visibility. It allows you to declutter web pages by navigating menus and removing ads and other distractions.
Find out more from this guide: How to Customize Content Visibility in Microsoft Edge browser?
How to Keep My Browser Safe And Clean?
To maintain a clean and secure browser, Auslogics Boostspeed is a reliable solution. It effectively removes cache and temporary files, which can contribute to a sluggish browsing experience. Additionally, Boostspeed safeguards your privacy by erasing traces of your online activities in browsers.
Download Boostspeed and enjoy a safer, cleaner, and more efficient browsing experience.