Minecraft is a popular video game that has been around for about a decade now. This game allows you to explore different worlds, thus providing a unique gaming experience. However, many Minecraft players have recently been complaining about getting the "connection timed out" error. This prevents you from playing the game online with friends, which can be quite disappointing to most multi-player lovers. If you have been going through the same problem, don't worry. We have your back. Today's article will discuss the best ways to resolve this error in Windows. Read on.
Why Can't I Connect to a Lan World in Minecraft?
The "connection timed out" error is most likely to appear if you have an antivirus blocking its internet access, making it hard to run properly. However, this error could also be caused by other network issues.
How to Fix 'Connection Timed Out' Error in Minecraft
Although this error can be pretty confusing, it is still fixable. Below are some of the best methods that helped Windows users remove the "connection timed out" error from their machines.
Check If You Are Connecting to the Right Network
Before attempting to perform any fixes, we recommend that you first check if you and your friends are connected to the same network. If you want to play Minecraft online with other gamers, you must all be on the same network. If the connection is fine, but you are still getting the error in question, you might be dealing with a more serious culprit. So, move to the next tactic below.
Whitelist Minecraft in Your Firewall
The Windows Defender and other antivirus apps regularly scan your computer for malware threats and block anything they deem suspicious. However, sometimes these apps might block legit programs causing them to malfunction. Whitelisting Minecraft in your firewall can help avoid such problems that may trigger the "connection timed out" error on your PC.
Use this quick guide:
Press the Windows logo key + R combination to bring up the Run dialog box.
Type in "control" (without quotes) and then click on the OK button. This will open the Control Panel.
Go to the "View by" dropdown menu in the top-right corner of the window and choose "Large icons".
Select Windows Defender Firewall.
Click on the "Allow an app or feature through Windows Defender Firewall" link on the left side of the window.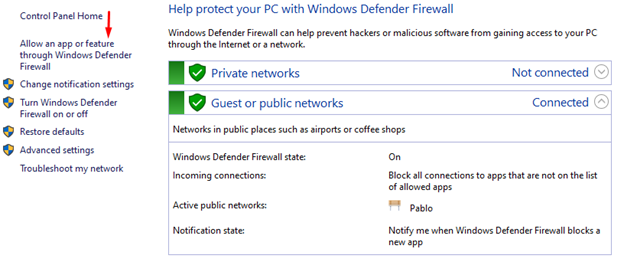 Click on the "Change settings" button under "Allow apps to communicate through Windows Defender Firewall".
Locate Minecraft on the list and select the Private and Public checkboxes.
Click OK.
Now check if the error has been removed from your computer.
Reset the Network Configurations
You might also run into the "connection timed out" error if Minecraft servers have blocked your IP address. Luckily, you can obtain a new one by resetting your machine's network configurations, thus resolving the problem.
Here is how this works:
Press the Windows + S keyboard shortcut to open the Windows search bar.
Type in "command" (no quotes) and then right-click on the Command Prompt search result.
Choose "Run as administrator" and then click "Yes" when the User Account Control window appears.
When the elevated command prompt window opens, run the following commands one by one. Ensure you press Enter on your keyboard after entering a command.
iPConfig /release
iPConfig /flushdns
iPConfig /renew
netsh int ip
netsh int ip set dns
netsh winsock reset
After running all the commands, close the CMD window.
Reboot your PC and then check if the error will reappear.
Temporarily Disable Your Antivirus
Sometimes your antivirus can be a bit overprotective, thus preventing some programs from running completely on your device. If you whitelisted Minecraft on your antivirus and are still facing issues, applying this method might help. To fix this problem, try temporarily disabling your antivirus when playing Minecraft.
Follow these steps to do so:
Press the Win + I key combo to open the Settings app.
Go to Update & Security.
Select Windows Security on the left menu pane.
Head to the "Protection areas" section and choose "Virus & threat protection".
Click on the "Manage settings" link under "Virus & threat protection".
Disable the toggle button for "Real-time protection".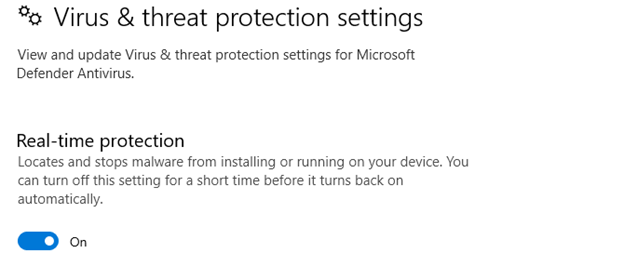 Now check if the "connection timed out" error has been fixed.
If you have a third-party antivirus app, ensure you disable it too for better results. Better yet, look for a professional antivirus program that does not interrupt other installed apps. A good example is Auslogics Anti-Malware. This tool automatically scans your PC for malicious entities and immediately eliminates them. This helps ensure consistent protection against sneaky viruses. Plus, this program does not affect the performance of other applications. Therefore, you don't have to turn off the protection when playing Minecraft, as that could leave your computer defenceless.
RECOMMENDED
Protect PC from Threats with Anti-Malware
Check your PC for malware your antivirus may miss and get threats safely removed with Auslogics Anti-Malware
DOWNLOAD NOW
Enable the Network Discovery Feature
The network discovery feature usually allows other computers to easily find your servers and connect to them. This can come in pretty handy when playing Minecraft online with friends since you must be on the same server. Therefore, enabling it would reduce the chances of experiencing connection problems.
This guide will explain how to enable the network discovery feature on your Windows PC:
Go to the bottom-right corner of the screen and right-click on the Wi-Fi or Ethernet icon.
Choose Open Network & Internet Settings.
Select Network and Sharing Center under the "Advanced network settings" section.
Click on the "Change advanced sharing settings" link on the left side of the window.
Expand the "Private" section by clicking on the dropdown arrow beside it. Then choose "Turn on network discovery".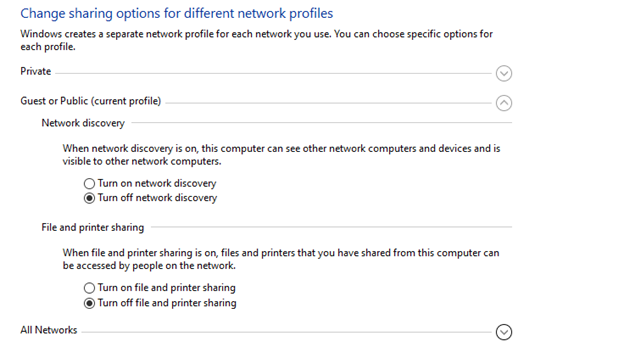 Do the same for "Guest or Public".
Then click on the "Save changes" button to finish the process.
Now check if the problem has been solved.
Update the Network Driver
Sometimes, when facing network issues, the network driver is usually the culprit. This is because this driver is responsible for ensuring all network-related functions run smoothly on your machine. Therefore, if this driver is missing, outdated, or damaged, you will likely see errors such as the "connection timed out" error.
Here is how to update it:
Press the Windows logo key + S combination to open the search box.
Type in "device" (without quotes) and then select the Device Manager search result.
On the new window, scroll to find the "Network adapters" section. Then double click on it to expand it.
Now right-click on your Network driver and choose "Update driver".
Select "Search automatically for drivers".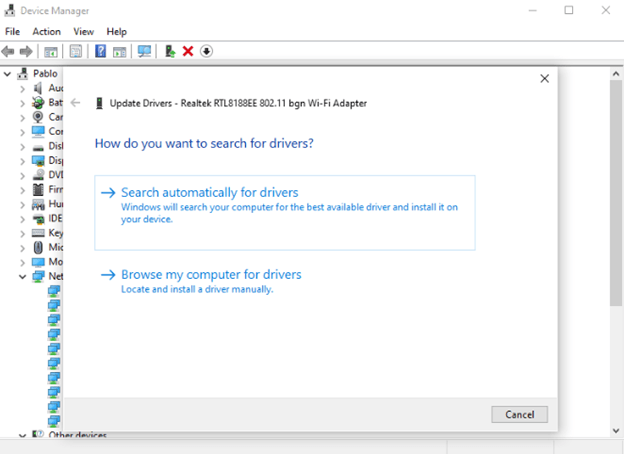 Then wait for the driver to be automatically installed on your PC.
Reboot the machine once the process completes.
The error should not appear now.
Conclusion
We hope you now understand how to fix Minecraft server connection timed out in Windows. If you used different methods to remove this error from your computer, please share them with us below. Also, check out our blog for more helpful Windows guides like this one.