'An error does not become a mistake
until you refuse to correct it'
John F. Kennedy
There are certain proven ways to keep your software up to date, but all of them will end up being unhelpful if you run into the network resource is unavailable error. Getting this message is quite a discouraging experience: it means you cannot install or update an app. The good news is, there is no need to worry: we will show you how to fix Windows 10 network resource unavailable errors in this very article. All you need to do is work your way down through our list of troubleshooting methods, giving each of them a try:
1. Make sure Windows Installer is on
Installing and updating apps on Windows 10 is impossible without this service running. So, if the network resource is unavailable error keeps showing up, you should check Windows Installer:
Press Windows key + R to open Run. Type services.msc and click OK.
Locate Windows Installer in the list of available services. Double-click on it.
Once in the Properties window, make sure that Startup Type is Manual or Automatic. 
Proceed to Service status. Check if the service is running. If not, click Start.
Press OK to save the changes.
Now check if the issue has been resolved.
2. Employ Microsoft Program Install and Uninstall Troubleshooter
The tool in question is designed to fix issues with installing, uninstalling, or updating apps on Windows. So, why not let it have a go on your computer? To make use of Microsoft Program Install and Uninstall Troubleshooter, go to the Microsoft Support website, download the tool, and run it on your computer.
3. Reinstall the problematic software
If some app on your PC triggers the network resource is unavailable error, we recommend you to uninstall this piece of software and install it again in order to resolve the issue.
Here is your course of action:
Open the Settings app by pressing the Windows logo key + I shortcut on your keyboard.
Click on System. Select Apps & features.
Locate the app you wish to uninstall in the list of installed applications.
Select the app and click Uninstall.
Now you can install the app again and check if it works fine. If the problem persists, move on to the following fix.
4. Use the original setup file
In some cases, you will need the original setup file to reinstall the faulty app. As such, locate the file in question and run it. Search it for remove or repair options – use them to troubleshoot the program.
5. Remove software leftovers
The chances are your Windows 10 is clogged with software debris. This can cause your PC to malfunction and generate error messages. Fortunately, there are several easy ways how to remove software leftovers from your computer. With that said, you can always use Auslogics BoostSpeed to declutter your machine and skyrocket its performance.
6. Repair the problematic app
Reportedly, this workaround helped a lot of users to iron out the network resource is unavailable error. Unfortunately, this method might not work with some apps, but it is still worth a try. These are the steps you should take:
Click on the Windows logo icon on your Windows 10 taskbar.
The Start menu will open. Locate the Control Panel tile and click on it.
Having accessed the Control Panel window, select the Programs and Features section.
In the list of installed programs, locate the app that is having issues.
Select it and click on the Repair button. You can also try the Change option – this trick might work as well.
Follow the on-screen prompts to get your app back on track.
When the troubleshooting process is complete, run the app and see if it works well.
7. Modify Windows Registry
The point is, your system registry might be corrupt or damaged. If it is, then this component is literally a disaster waiting to happen, the unavailable network resource issue being just the first alarm bell.
What you should keep in mind is that Windows Registry is extremely fragile and sensitive: there is no room for error whatsoever when it comes to editing this system component. Therefore, we recommend you to back up your personal files to avert their permanent loss. For this purpose, you can use a cloud solution or an external storage device. You might as well migrate your data to another laptop.
Besides, we strongly advise you to avoid the manual troubleshooting of your registry. The safest option to mend it is to use reliable software such as Auslogics Registry Cleaner – this free product will get your registry up and running in no time.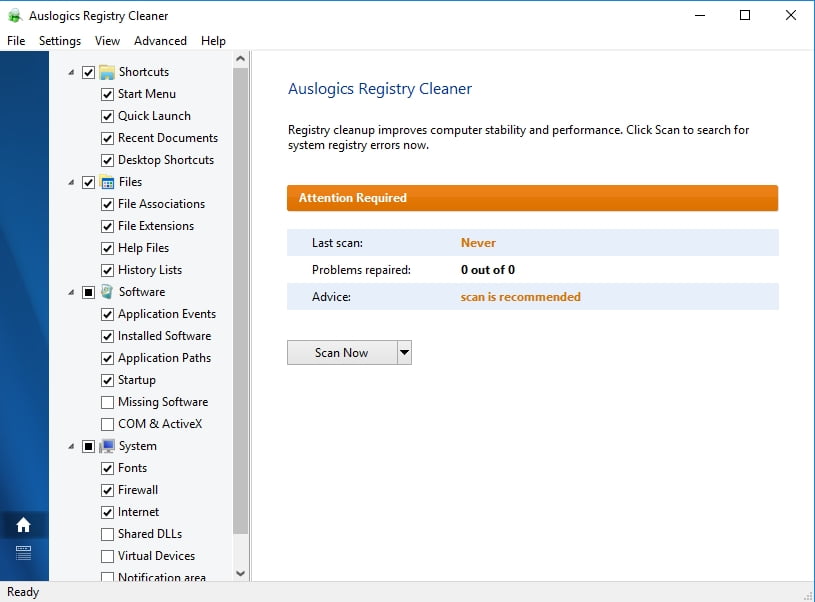 Nonetheless, if you still wish to edit your registry yourself, feel free to use the instructions below:
First, let's enter Registry Editor:
Press the Windows logo key + R shortcut to invoke Run.
Type regedit into the Run bar and press Enter.
Now let's back up your registry:
File -> Export -> Export Range -> All.
Select the location for a backup.
Give your backup file a name.
Click Save.
You will be able to restore it if things go astray: just open Registry Editor, click Import, and retrieve the backup file you created earlier.
It is time to make changes:
Once you are in Registry Editor, locate HKEY_LOCAL_MACHINE\SOFTWARE\Classes\Installer\Products in the left pane.
Now that you have located the Products key, expand it to see its subkeys.
Click on each subkey and check the ProductName value.
When you find the product name associated with the app that brings about your issue, right-click on it and choose Delete.
Exit the editor and restart your computer.
Hopefully, you can install or update your program without incident now.
8. Move the missing files to the required folders
Take a closer look at the error message your get: there must be a clue to what you should do in order to fix the issue. Some of the essential files might be missing. If that is you case, you will see what is needed and where it should be placed. Create the required file and move it to the folder mentioned in the error message.
Now you know how to fix Windows 10 network resource unavailable errors.
Do you have any ideas or questions regarding this issue?
We are looking forward to your comments!