Microsoft expects Windows 10 users to start making plans for Windows 11, as support ends on 24 October 2025. 
While many users have since installed the latest OS, others are taking their time. Windows 10 is more than just an operating system for a section of users still holding back. It can be difficult to move on from a comfortable environment after a decade. 
That said, sentimental attachment to the operating system is not the only reason for the reluctance to upgrade to Windows 11. Some users want to be sure they can continue using products, such as Microsoft Office when they upgrade.
This article will help you answer the question, "Does Windows 11 come with Office?" if you're one of those users. We'll also update you about the latest news from Microsoft regarding Office.
---
Helpful Read: How to Fix the "This PC Can't Run Windows 11" Error
---
Does Windows 11 Come With Microsoft Office?
The simple answer is No. But that's not the complete explanation.
If you're upgrading from Windows 10, your applications will remain untouched and continue to work on Windows 11. It's only a question of whether the program is compatible with the new operating system, and that will depend on the Office version you're running.
However, if you're running a clean installation, you'll be clearing out your installed applications. As it turns out, Windows 11 does not come with Office apps pre-installed, just like previous Windows versions.
The same is true for every edition of the new operating system. So, that should answer questions such as, "Does Windows 11 Pro come with Office?" and "Does Windows 11 Home include Word and Excel?"
If you're purchasing a new computer, you can check the vendor's product description to confirm whether Windows 11 ships with the laptop or PC. Some manufacturers offer Microsoft Office as an add-on, especially for students.
Microsoft 365
At this point, it's important to note that Microsoft has phased out the Office Suite brand and integrated most of the Office apps, such as Word, Excel, Outlook, and PowerPoint, into its Microsoft 365 subscription service.
There are now major UI and feature changes to erstwhile Office apps. So, while you don't get Office preinstalled with Windows 11, you'll see the Microsoft 365 app after installing the latest version of the OS.
---
Also Read: Steps to install Windows 11 with a local account
---
It is a web-based app that allows you to use basic office apps for free as long as you have a Microsoft account and are connected to the Internet. You must subscribe to enjoy some of the more premium offerings, such as additional cloud storage, desktop applications for offline use, and advanced security.
Windows 11 Microsoft Office Compatibility
Compatibility is another concern among users, especially those who have yet to buy the latest version of Office. Since Microsoft has moved on from Office, it's natural to ask whether Windows 11 is a big part of the move.
You don't have to panic if you use Microsoft Office 2016 and up. It is the older Office suites that may face compatibility problems.
Versions such as Office 2013, 2010, and 2007 will still work in theory. However, you may find it difficult to use apps like Outlook and Access.
With Access, the problem lies with its runtime engine, but that shouldn't be concerning for most users. With Outlook, however, changes to email login and security features over the past years can render the app unstable on Windows 11.
It's also worth mentioning that Microsoft no longer supports Office 2013, 2010, and 2007. So, you should start planning to move on to a supported product if you're still running any of these apps.
How to Get the New Microsoft Office on Windows 11
As mentioned earlier, Microsoft Office is now Microsoft 365. You can use Microsoft 365 for the web for free as long as you have a Microsoft account. However, you must subscribe to a Microsoft 365 plan to use the suite's premium Desktop applications and other offers.
You'll notice that the Microsoft 365 app is pinned to your Start menu if Windows 11 is up to date on your computer. We recommend updating Windows, not just to get the application but also to keep your computer secure and functioning optimally.
---
Also Read: Windows Update Troubleshooter: Easily Fixing Windows Update Issues
---
Microsoft still sells Office 2021 as a standalone product, and it is compatible with Windows 11. You make a one-time payment and get the current iteration of Microsoft 365 apps on your computer for life. 
That said, you won't have access to upgrades in the future. You must purchase another product or subscribe to Microsoft 365 to enjoy new updates.
Installing Office 2021 is easy and straightforward. First, go to the purchase page of the Office 2021 edition you want to acquire and click the Buy Now button. Next, click Checkout and proceed to make payment. Follow the setup instructions after that to complete the process.
If you want to use Microsoft 365 apps instead, go to the Microsoft 365 purchase site and subscribe to a package. You can choose between the Personal, Family, and Business plans, depending on your needs and budget. 
After subscribing, you can log into your account on Microsoft 365 for Windows or Web and click the Install Apps button.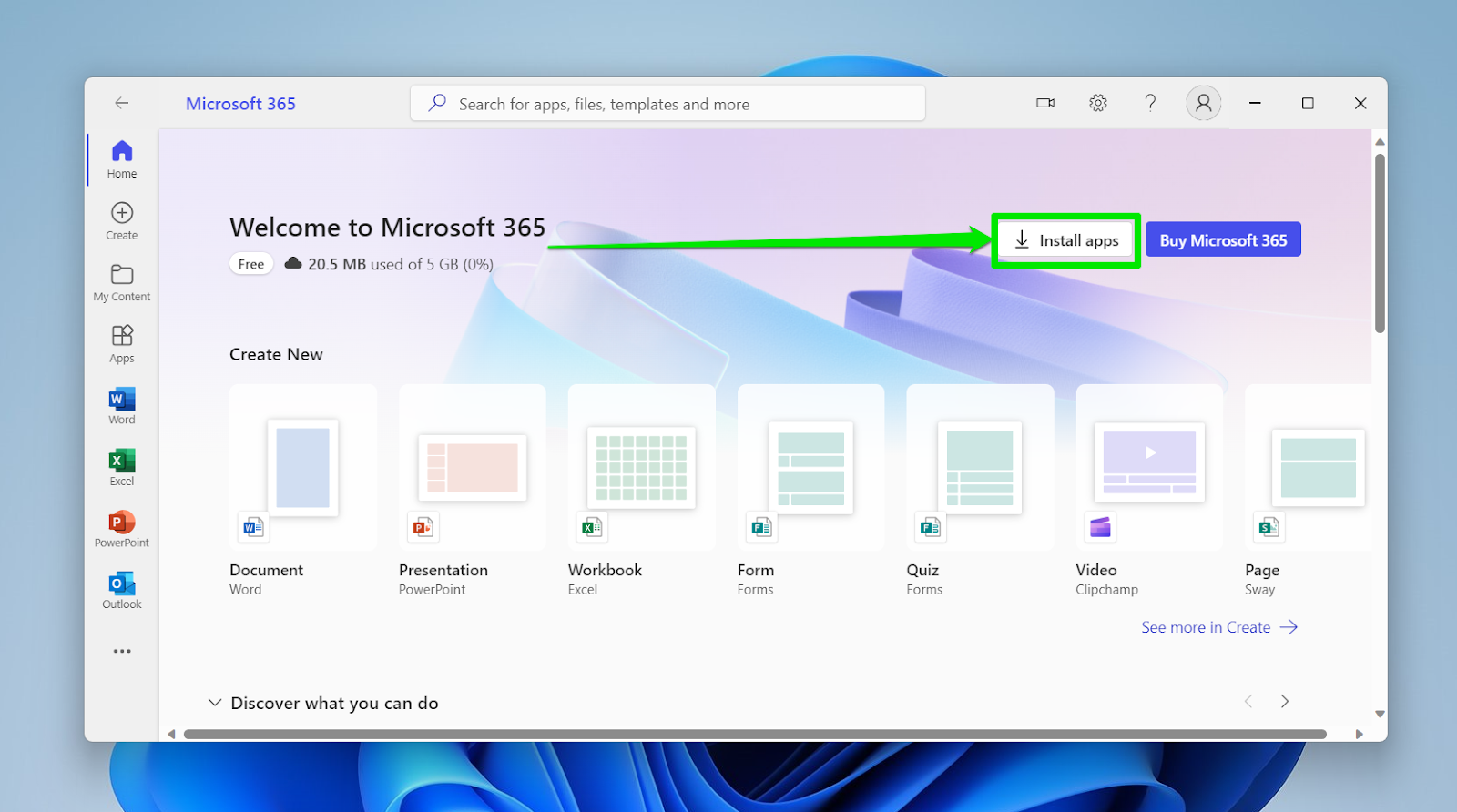 Installing Previous Office Versions
If you're performing a clean installation of Windows 11, you will lose your applications. So, if you want to continue using your previous Office version, whether it's 2016 or 2019, you can run your installation package and enter your product key.
---
Also Read: Product Activation Failed in Microsoft Office Word/Excel: Fix
---
How to Remove Microsoft 365 from Windows 11
You have to remove your current Microsoft 365 installation if it's a 32-bit version and you want to install a 64-bit version. You cannot install the 64-bit version over the 32-bit app.
You may also want to uninstall the app to free space on your computer, especially if you no longer need it. These steps will show you what to do:
Right-click the Start button or press Windows+X.

Select Installed Apps when the menu appears.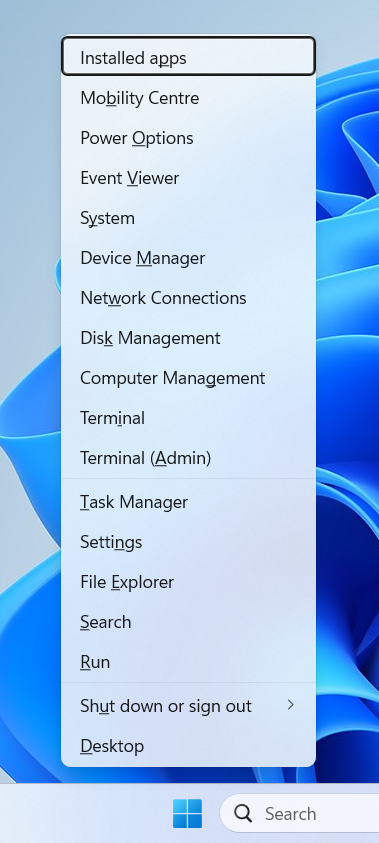 Once you see the Apps > Installed Apps page, scroll to the Microsoft 365 app or use the search bar to find it.

Now, click the three dots beside the app and select Uninstall.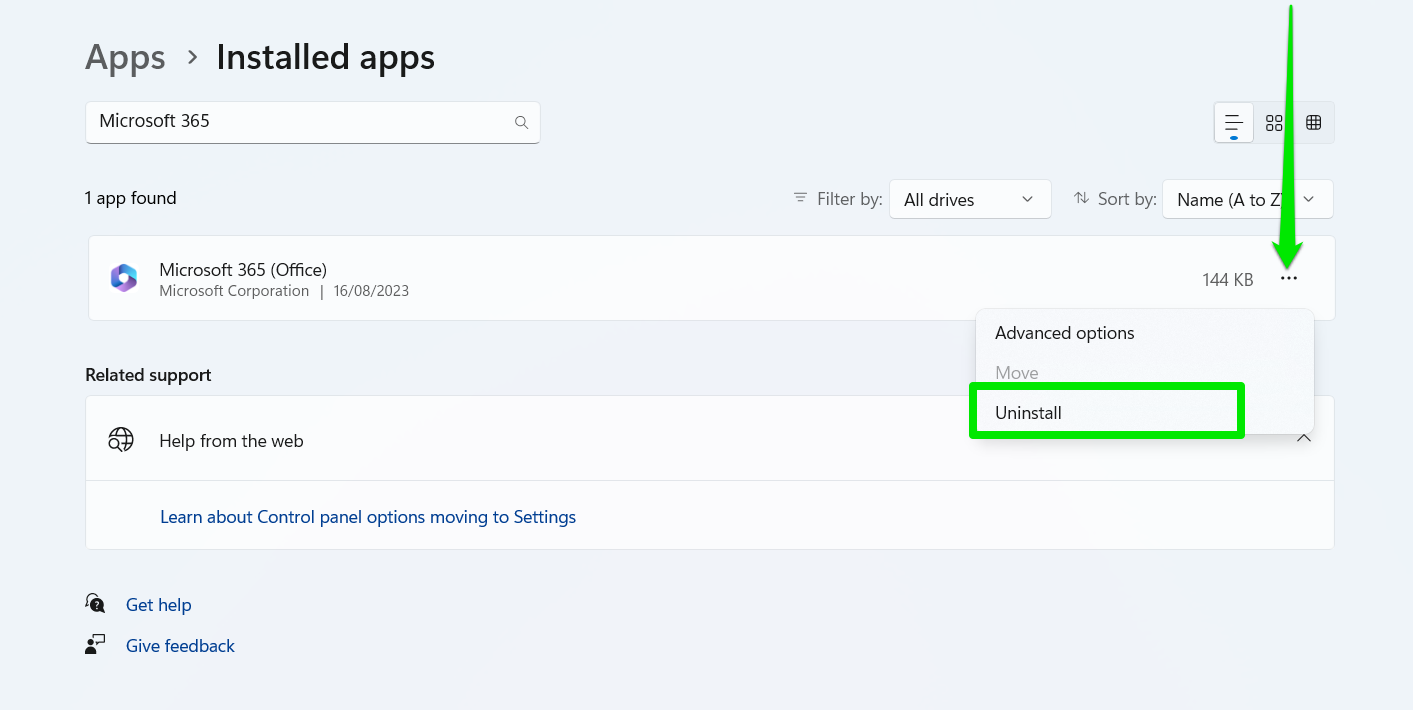 Click the Uninstall button in the confirmation prompt and follow the subsequent instructions to completely remove the application.
How Can I Customize Office and Microsoft 365 on Windows 11?
You can customize different aspects of Microsoft 365 on Windows 11 to fine-tune your personal experience. Go to the app's navigation bar in the top corner and select the Settings icon. Next, expand the Theme and Notification menus to apply the changes you want.
If you use the Desktop version of Office, you can go to your Word, Excel, PowerPoint, or Outlook app, click File, and select Options. You can then use the different tabs in the Options dialog to customize Office how you see fit.
Conclusion
That should answer the question, "Does Windows 11 include Microsoft Office?" You no longer have to hold yourself back from enjoying the shiny new features of Microsoft's latest operating system as long as your computer meets its system requirements. 
You can enjoy the OS with your existing Office suite if you're upgrading directly. You can also reinstall Office using your installing package if you performed a clean installation of Windows 11.
Remember that you can always use Microsoft 365 online for free, purchase a subscription plan, or purchase Office 2021 if you want the latest versions of apps like Excel, Word, Outlook, and PowerPoint.
FAQ
What Is Windows 365?
Windows 365 is Microsoft's cloud-based platform that allows individuals to use Cloud PCs. A Cloud PC is a virtual Windows machine that acts as a Windows device that each user can access from anywhere and any physical device.
Windows 365 shouldn't be confused with Microsoft 365, another Microsoft cloud subscription service that deploys productivity apps, such as Word, Excel, and Outlook.
Does 7-Zip Work on Windows 11?
Yes, 7-Zip is compatible with Windows 11.
Does Windows 11 Come With Microsoft Word?
Windows 11 does not come with Microsoft Word.
Does Windows 11 Come with Excel?
No, Windows 11 does not come with Excel.
Does Microsoft Office Come With Windows 11?
No, Microsoft Office 2021 is a standalone product available as a one-time purchase. It only comes with standard office desktop apps, such as Word, PowerPoint, Outlook, and Excel.