Updates usually bring new and more reliable features for Windows users. However, some upgrades come with issues, including the error code 0x8007042B. Because of this problem, users are prevented from installing the latest build. It is undeniable that some people find these updates an annoyance. However, it is almost impossible to avoid or disable them. So, the only choice is to learn how to fix Windows 10 error code 0x8007042b 0x2000d.
Common Error 0x8007042b Windows 10 Upgrade Scenarios
The error code 0x8007042b can interrupt the update process, leaving your computer vulnerable. If you encounter this problem, it is important for you to learn how to fix Windows 10 upgrade failed right away. Here are some of the scenarios associated with this error:
Windows 10 upgrade failed – In some cases, the Windows Update process fails because of the error code 0x8007042b. You can easily fix this by disabling your anti-virus.
0x8007042b Windows 10 upgrade – This can show up while you're trying to install a new build of Windows 10. If this error persists, it would be advisable to manually download and install the update.
Windows 10 error code 0x8007042b 0x2000d – There are other cases wherein the error message is accompanied by another error code. If this happens on your computer, you can try to repair your files and check if it fixes the issue.
Method 1: Disabling or removing your anti-virus
If you're getting the 8007042b Windows 10 Upgrade error, it would be advisable to disable certain features of your anti-virus. Check if doing this resolves the problem. On the other hand, if the issue persists, then you should try completely disabling your anti-virus.
If that doesn't work, you should just completely remove your security software. That said, it might be time to consider a different security tool. When you go online, you will find several anti-virus programs that can deliver great performance. However, for Windows 10, we highly recommend Auslogics Anti-Malware.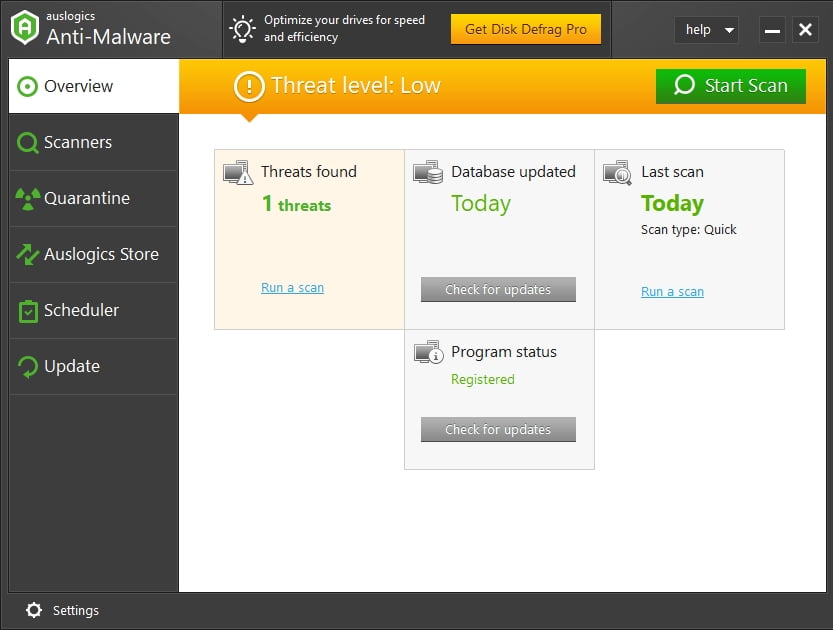 This can detect threats and attacks that your built-in anti-virus would miss. Aside from that, it is designed to be compatible with Windows 10. This means that it would not interfere with your main anti-virus.
Method 2: Manually downloading and installing the update
One of the simplest workarounds for the error 0x8007042B is manually installing the update. You just have to follow these steps:
Click the Search icon on your taskbar.
Type "updates" (no quotes), then select Check for Updates from the list.
If you see an update that you need to install, take note of the code.
Launch your web browser, then search for Microsoft Catalogue.
In the search bar, type the name of the KB.
Download and install the update file.
Restart your computer to complete the installation process.
You won't encounter the error message because you are manually downloading and installing the update. However, it is worth noting that the root cause of the problem still exists. So, the error will return when your system automatically downloads future updates. You can permanently fix this by using the next method.
Method 3: Launching an SFC scan and a DISM scan
Some users reported that the error 8007042B may be caused by file corruption. You can run an SFC scan to repair your files and resolve the problem. Just follow the instructions below:
On your keyboard, press Windows Key+X.
From the list, select Command Prompt (Admin) or Powershell (Admin).
Type "sfc /scannow" (no quotes), then hit Enter.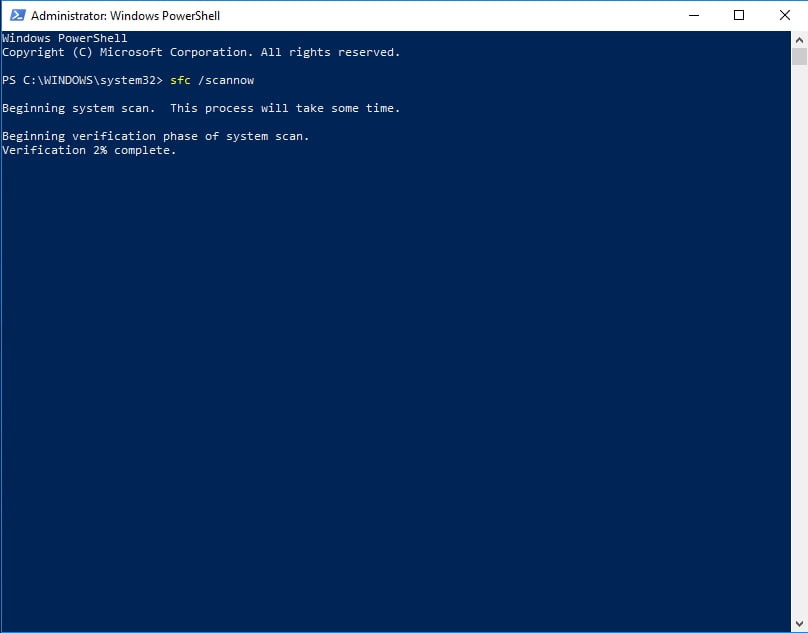 The SFC scan should take a couple of minutes. Just wait and avoid interrupting it. Once the process is complete, check if the issue has been resolved.
If an SFC scan does not get rid of the error, your next resort would be to run a DISM scan. To do that, simply repeat steps first two steps in performing an SFC scan. In the Command Prompt, type "DISM /Online /Cleanup-Image /RestoreHealth" (no quotes). Again, you have to wait until the DISM scan is complete. The process might take longer. So, be patient and avoid interfering with it.
Method 4: Resetting the components of Windows Update
Some users reported that they had been able to resolve the error 0x8007042B by resetting the Windows Update components. In order for your system to properly work, it has to rely on certain services. If these services are corrupted, it is possible for you to encounter the error 8007042B while installing updates.
On the other hand, you can fix this issue by running a couple of commands. That said, follow the steps below:
On your keyboard, press Windows Key+S.
Type "command prompt" (no quotes).
Right-click Command Prompt from the list, then select Run as Administrator.
Once Command Prompt is up, paste the following commands:
net stop wuauserv
net stop cryptSvc
net stop bits
net stop msiserver
ren C:\Windows\SoftwareDistribution SoftwareDistribution.old
ren C:\Windows\System32\catroot2 catroot2.old
net start wuauserv
net start cryptSvc
net start bits
net start msiserver
pause
After running the commands, check if you've gotten rid of the error.
Method 5: Performing System Restore
You can also try taking your system back to a previous state where it was properly functioning. In this way, the error 0x8007042B won't appear, allowing you to smoothly install the updates. Here are the steps:
Go to your taskbar, then click the Search icon.
Type "system restore" (no quotes).
Click Create a Restore Point from the list.
You will see the System Properties window.
Click the System Restore button.
Once the System Restore window is up, click Next.
Choose your preferred restore point, then click Next.
Follow the on-screen instructions to complete the process.
Once you've restored your system to a previous state, try installing the update, then check if the error has been fixed.
Method 6: Using Windows Media Creation Tool to install the update
If any of our aforementioned solutions did not work for you, you should try performing a clean install. If there are corrupted, missing, or damaged system files, the only foolproof manner of dealing with them would be to reinstall your system. Once you've done that, you can perform the updates and get rid of the error 0x8007042B. Here is the process:
Go to Microsoft's website and download the Media Creation Tool.
Save it to a USB flash drive, then install it to your computer.
Choose Upgrade this PC now, then click Next.
The tool will now start preparing the necessary files.
Select the 'Download and install updates (recommended)' option, then click Next.
Wait while setup is downloading the necessary files.
Follow the on-screen instructions until you reach the 'Ready to install' screen.
Select the 'Change what to keep' option.
Don't forget to select the 'Keep personal files and apps' option, then click Next.
Follow the on-screen instructions to complete the setup.
To ensure that your computer will run smoothly after installing the updates, we also recommend using Auslogics Driver Updater. This tool will recognize your system and find the latest, compatible drivers. It will deal with missing, outdated, and corrupted drivers, ensuring that your computer will deliver its optimum performance.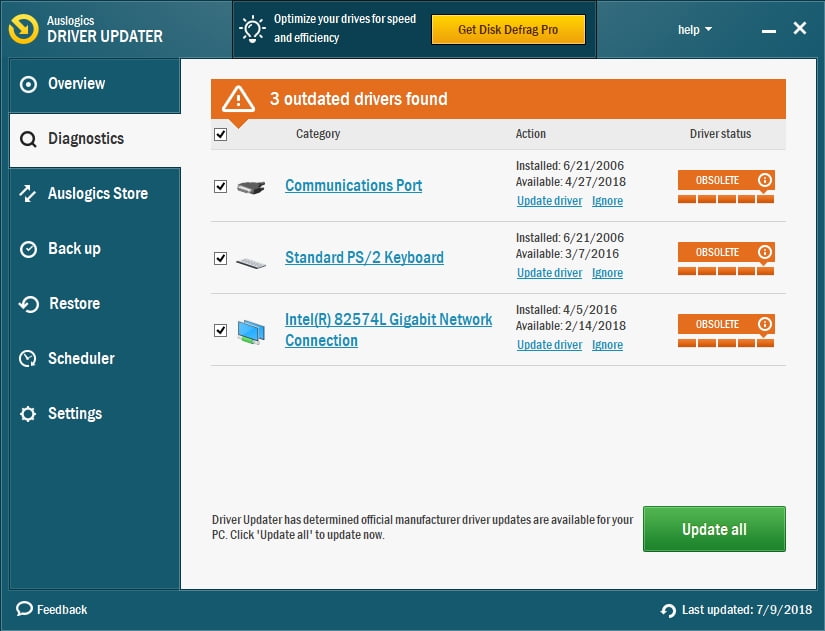 Can you recommend other workarounds for this error?
Share your ideas in the comments below!