DirectX is an essential component of various Windows-based graphics programs and games. When there are issues with this service, it can lead to a range of problems, including d3dx9_42.dll errors. In most cases, they are accompanied by any of the following messages:
The file d3dx9_42.dll is missing
D3dx9_42.dll Not Found
The program can't start because d3dx9_42.dll is missing from your computer. Try reinstalling the program to fix this problem.
These error messages typically show up when users are trying to launch or install a video game. If you have the same dilemma, don't worry because we will teach you how to fix d3dx9_42.dll not found on Windows. Since there is something wrong with the file, it would be ideal to update DirectX on your PC and the related GPU. In general, you can fix d3dx9_42.dll missing error by trying any of our solutions below.
Solution 1: Installing DirectX End-User Runtimes
One of the great things about installing the DirectX End-User Runtimes package is that it delivers updates to 9.0c and older versions of DirectX. As we've mentioned, DirectX is a core component of the Windows technology that drives high-speed games and multimedia on computers. So, installing this package can fix d3dx9_42.dll missing error. That said, simply follow the instructions below:
Search for the download page of Windows End-User Runtimes online.
Choose the appropriate language for your PC, then click Download.
Once you've downloaded the file, run it and follow the on-screen instructions on the installation wizard.
After installing the package, restart your computer.
Try opening the program that caused the error. Check if the problem has been resolved.
Solution 2: Updating DirectX on your computer
Some users who learned how to fix d3dx9_42.dll not found on Windows also tried updating their PC's DirectX to the latest version to get rid of the error. In general, Windows 10, Windows 8, and Windows 8.1 automatically install the most recent DirectX version with the updates they roll out. On the other hand, if you're using Windows XP, Windows Vista, or Windows 7, you would have to install an update package to get the latest DirectX version for your computer.
You can get more information on installing DirectX on different Windows systems by visiting Microsoft's website. Once you've updated the program, restart your PC and check if the error is gone.
Solution 3: Updating your graphics card driver
DirectX issues can also be caused by faulty, outdated, or missing graphics drivers. So, it would be best if you ensure that your graphics card driver is updated to its latest version. You can choose between manually updating your drivers and automating the process, using a one-click program like Auslogics Driver Updater.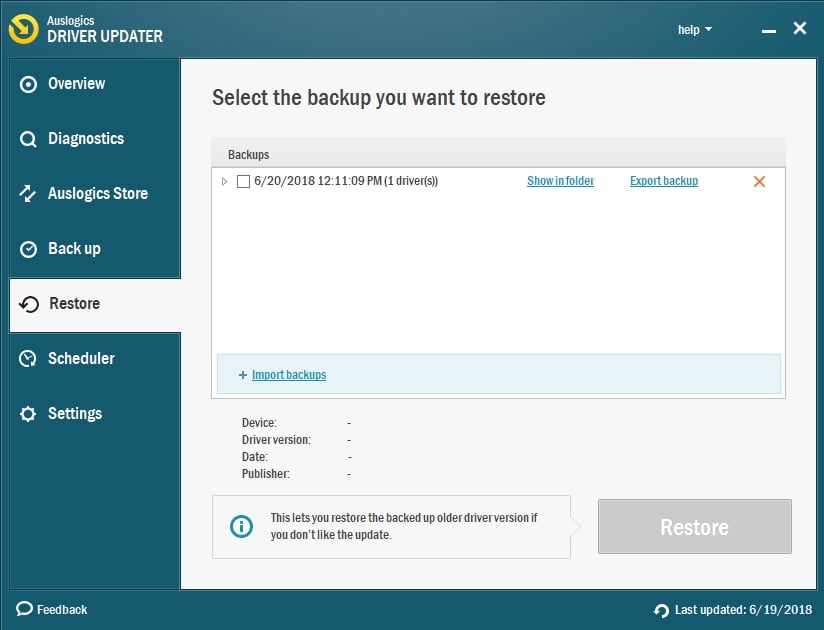 If you opt to do it manually, you should know that the process can be time-consuming and complicated. Just to give you an idea, here are the steps:
First, you have to open Device Manager. You can do this by pressing Windows Key+X on your keyboard.
From the menu, choose Device Manager.
Look for Display Adapters in the list of drivers.
Right-click your graphics driver, then select Properties.
Go to the Details tab, then choose HardwareID from the drop-down menu.
Copy the first value, then paste it into your web browser. This should allow you to know the device's exact name.
Look for the official driver support and download the latest and compatible driver.
Install the driver and restart your computer.
By manually downloading and installing your drivers, you can possibly use the wrong version, causing serious problems to your computer. As such, we suggest updating your drivers automatically with Auslogics Driver Updater. This tool will automatically recognize what Windows system your computer has, and it will find the correct drivers for it. The best part is, this prograam takes care of all problematic drivers—not just the ones related to the d3dx9_42.dll error. So, once the process is complete, you can notice a significant improvement in your computer's speed and performance.
Solution 4: Reinstalling the application
It is possible that while you were installing the application, something went wrong with the system file. So, you can try to reinstall it to get rid of the d3dx9_42.dll not found or missing error. Just follow the instructions below:
Open the Run dialog box by pressing Windows Key+R on your keyboard.
Type "appwiz.cpl" (no quotes), then hit Enter.
Look for the program that caused the error, then right-click it.
Choose Uninstall from the menu.
Select Yes to confirm that you want to remove the program.
Restart your PC.
Reinstall the program.
Solution 5: Running System File Checker
There may be corrupted system files in your computer, and you need to repair them using the System File Checker. You can do this by following the steps below:
Click the Search icon on the taskbar.
Type "command prompt" (no quotes).
Right-click Command Prompt on the results, then choose Run as Administrator.
Type sfc /scannow.
Issues will be automatically fixed as Windows verify the system files.
Once the verification process is done, exit Command Prompt.
Launch the program that gave you the error and check if the problem has been resolved.
Have you tried any of our solutions in this article?
Do not hesitate to share your thoughts in the comments below!