It can be frustrating when your laptop's touchpad is not working. You have to navigate through your desktop, files, browser, using your keyboard. Without a functioning mouse or touchpad, even the simplest task on your laptop can be time-consuming. So, in this article, we're going to teach you how to resolve touchpad issues in Windows 10. Read through this post to start using it again in no time.
First Step: Restarting your laptop
There's no need to panic when your laptop's touchpad is not working. In some cases, all it takes to fix it is to simply restart your device. After all, such a solution can solve the most common glitches and minor problems. Once you've restarted your laptop, check if your touchpad is now working. If not, then move on to the second step.
Second Step: Going to the settings and enabling your touchpad
On your keyboard, press Windows Key +S.
Type "touchpad" (no quotes).
Choose the 'Turn touchpad on or off' option from the list.
Turn on the touchpad in the Settings window.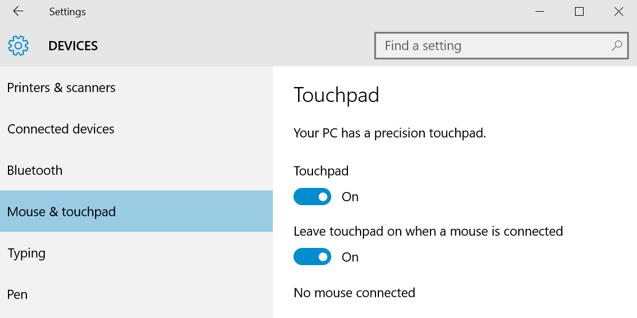 This should let you use your touchpad again. However, if it doesn't, move forward to our next solution.
Third Step: Updating your touchpad driver
It is possible that your touchpad is not working because of a missing, corrupted, incorrect, or outdated driver. When it comes to malfunctioning hardware, one of the most effective solutions is updating the drivers. This can work for your touchpad too. After all, it is one of the methods we recommend for users who are researching how to fix laptop mouse not working on Windows 10.
When it comes to updating drivers, you have two options—manually downloading and installing them or automating the process, using Auslogics Driver Updater.
RECOMMENDED
Resolve PC Issues with Driver Updater
Unstable PC performance is often caused by outdated or corrupt drivers. Auslogics Driver Updater diagnoses driver issues and lets you update old drivers all at once or one at a time to get your PC running smoother
DOWNLOAD NOW
We always advise users to opt for the latter because manually updating your drivers can be time-consuming and complicated. To give you an idea, let us show you the process:
You have to update your drivers through the Device Manager. To do this, press Windows Key +X on your keyboard, then select Device Manager from the list.
Expand the contents of Mice and Other Pointing Devices.
Double-click your touchpad device driver.
Go to the Driver tab, then click the Update Driver button.
Select the 'Search automatically for updated driver software' option.
You might see this notification:
'The best driver software for your device is already installed.'
If you see that notification, you would have to go to the manufacturer's website and search for the right drivers.
Keep in mind that if you install the incorrect driver, you would do more harm to your laptop. That is why we recommend using Auslogics Driver Updater. This is the easy way to update your drivers without the risk of making mistakes. The tool detects your system and searches for the latest compatible driver for your laptop.
What's more, Auslogics Driver Updater fixes all problematic drivers in your device—not just the one for your touchpad. It finds all missing, outdated, damaged, or incorrect drivers, then finds their latest manufacturer-recommended versions. So, once the process is done, you will notice a significant improvement in the speed and performance of your laptop.
So, have you tried any of our methods?
Share the results in the comments below!