Fix this issue quickly
Use a safe free tool developed by the Auslogics team of experts.
Easy to use. Just download and run, no installation needed.
Safe. Our software is featured on CNET and we are a Silver Microsoft Partner.
Free. We mean it, a totally free tool.
Download now
Many people across the globe prefer Google Chrome for browsing the web for its speed and user-friendly features. However, no matter how efficient this application is, it is still susceptible to various technical issues. In some cases, Gmail won't load in Chrome on Windows 10. If this happens to you, do not worry because it is quite a common issue. Since you are not alone in this predicament, many people have found several solutions that will fix the problem.
Before anything else…
You might ask, "Why does Gmail not load in Chrome?" Well, there are various reasons behind this, and we will discuss them along with the solutions. However, before we move forward to the workarounds, you must perform preliminary troubleshooting. In most cases, Gmail starts to load properly after conducting the following steps:
Restart your computer and check if that resolves the issue.
Use another browser to see if the problem is isolated in Chrome.
Rename or remove Google Chrome in cache, then check if it loads.
Disable all extensions, then restart your browser. This will help you determine if one of them is preventing Gmail from loading in Chrome.
Make sure that you have the latest version of Chrome. Click the gear icon, then select About Google Chrome. Doing this will open a new window which lists the version number of your browser. Check if an update is available.
Solution 1: Opening Gmail in a Private Window
It may seem strange, but some users claim that opening Gmail in an incognito Chrome window is an effective workaround for the problem. To do that, you simply need to follow these instructions:
Launch Google Chrome.
Go to the top-right area of the browser, then click the More icon, which looks like three vertically aligned dots.
Select New Incognito Window. A new window will show up.
Check if the Incognito icon can be seen in the top corner of the window.
You can also open an incognito window by pressing Ctrl+Shift+N on your keyboard.
Solution 2: Clearing the Cookies and Cache
It is possible that your browser is slowing down because it is overloaded with cookies and cache. Consequently, Gmail won't load in Chrome on Windows 10. To fix this, you can follow the steps below:
Open Chrome on your computer.
Click the More icon on the top-right corner of the browser.
Select More Tools, then click Clear Browsing Data.
Select a time range at the top. If you wish to delete everything, choose All Time.
Check the boxes beside 'Cookies and other site data' and 'Cached images and files'.
Select Clear Data.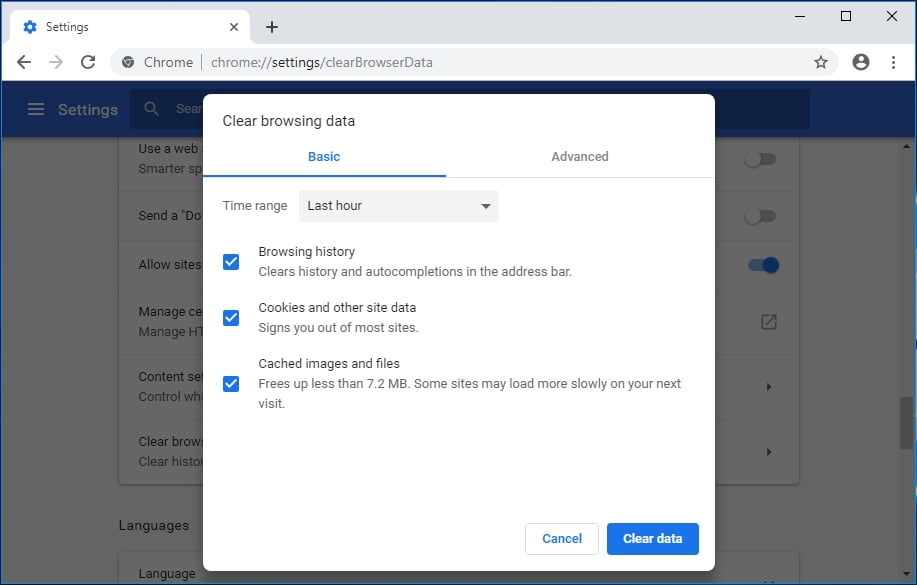 To experience your browser's maximum potential, we recommend using Auslogics BoostSpeed. This tool is designed to clean all types of junk files, including web browser cache, unnecessary system and user temporary files, unused error logs, temporary Sun Java files, and leftover Windows Update files, among others. It will identify and address all speed-reducing issues, allowing your browser and your entire system to perform faster and more efficiently.

RECOMMENDED
Resolve PC Issues with Auslogics BoostSpeed
Besides cleaning and optimizing your PC, BoostSpeed protects privacy, diagnoses hardware issues, offers tips for boosting speed and provides 20+ tools to cover most PC maintenance and service needs.
FREE DOWNLOAD
Solution 3: Checking your Browser Extensions or Applications
Sometimes, Gmail won't load in Chrome on Windows 10 properly because of the installed extensions or add-ons on the browser. Try temporarily disabling them one by one, then open Gmail again. Check if doing so solves the issue.
Solution 4: Checking Gmail Labs
One of the ways to fix this issue is to disable the labs one by one. Doing this will help you determine which is preventing Gmail from loading. Here are the steps:
Open Gmail through this link.
Go to the top-right section of the app, then click Settings.
Select Settings, then go to the Labs tab.
Disable the labs one by one.
Go to the bottom of the page, then click Save Changes.
Solution 5: Resetting Chrome
Some users reported that resetting their browser had fixed the issue. So, it will not hurt if you do the same. Here are the steps:
Launch Chrome.
Click the More icon at the top-right corner of the window.
Select Settings.
Click Advanced.
Go to the Reset and Clean Up section, then click Reset.
Click the Reset Settings button to confirm.
Note: Keep in mind that this process will reset your search engine back to Google. The new tab page, homepage, pinned tabs, content settings, site data, cookies, themes and extensions will go back to their default settings.
UPDATE:
Google has implemented new security policies that enable two-factor authentication (2FA), also known as two-step verification, by default. So if you're having access problem with Gmail, this is one of the possible reasons.
Because of this  new feature, Google automatically blocks access to less secure apps, including some third-party email clients, which means you won't be able  to access your Gmail account through them.
The easiest fix is
to enable Gmail 2FA using Gmail or another Google app
. Then navigate to
 Manage your Google Account > Security > Signing in to Google > 2-step Verification > Get started
. Follow the instructions then enter your recovery phone number. Click 
Send code > Next
 to complete the process.
Along with your username and password, you must enter a changing code that is sent to a device of your choice – typically, your phone. This can be accomplished through text, phone, or a dedicated application such as Google Authenticator.
Can you recommend other solutions apart from what we shared in this article?
Share them in the comments below!