If you can't attach files in Gmail or are seeing error messages as "Attachment failed. This may be due to a proxy or firewall" while trying to do so, we'll guide you step-by-step to get your Gmail attachments working smoothly again.
Here's what you can do if Gmail won't attach files. Let's get started!
Why Can't I Attach Files in Gmail?
Before you try to fix attachment failed issues in Gmail, it's important to understand why you may encounter this problem. While a firewall or proxy server can be the cause, there are other factors that might prevent you from attaching files to your emails or the Gmail attachment button not working.
Here are some possible reasons why you can't attach files in Gmail:
If you're trying to send an executable file, Gmail may be

blocking it as a security measure

for preventing the spread of viruses.

Gmail has specific file size limits for attachments. If your file exceeds the allowed size

(up to 25MB)

, you won't be able to attach it.

Gmail supports various file formats, but some uncommon or restricted formats may not be attachable.

In other cases, the problem has to do with the user's browser. It's possible that one of your browser extensions is limiting the functionality of Gmail.

Certain browser settings, such as pop-up blockers or security settings, might prevent you from attaching files in Gmail.

A firewall or proxy server may be blocking the attachment function in Gmail.

Unstable or slow internet connections can disrupt the attachment process and lead to failure.

If your Gmail storage is full, you won't be able to attach additional files until you free up space.

Accumulated cache and cookies in your browser may affect the functionality of Gmail's attachment feature.

Another reason why you can't attach files in Gmail is that your browser does not support the email service. If you want to access the best experience, opt for supported browsers like Edge, Chrome, Safari, and Firefox.
---
Also Read: What is the Best Internet Browser?
---
How to Fix the "Can't attach files in Gmail" Error?
Here are some fixes and steps for each to help resolve the "Can't attach files in Gmail" issues:
Fix #1: Check File Size Limitations
Ensure that the file you are trying to attach does not exceed

Gmail's attachment size limit.

For standard Gmail accounts,

the current limit is 25 MB.

If the file is too large, consider compressing it into a ZIP file or using cloud storage services like Google Drive.
Fix #2: Verify Supported File Formats
.ade, .adp, .apk, .appx, .appxbundle, .bat, .cab, .chm, .cmd, .com, .cpl, .diagcab, .diagcfg, .diagpack, .dll, .dmg, .ex, .ex_, .exe, .hta, .img, .ins, .iso, .isp, .jar, .jnlp, .js, .jse, .lib, .lnk, .mde, .msc, .msi, .msix, .msixbundle, .msp, .mst, .nsh, .pif, .ps1, .scr, .sct, .shb, .sys, .vb, .vbe, .vbs, .vhd, .vxd, .wsc, .wsf, .wsh, .xll
If necessary, convert the file to a supported format or try compressing it.
Fix #3: Check Your Gmail Storage
Log into Gmail.

Locate and click on the gear icon in the top-right corner.

Select

"Settings"

from the drop-down menu

Go to

"Storage"

: 

On the Storage tab, you will see the total amount of storage available for your Gmail account, as well as the amount of storage used.

Click

"Manage"

or

"Buy more storage"

to review available options for increasing your storage capacity or deleting unnecessary emails or attachments.
Fix #4: Turn Off Your Firewall
Press

"Windows Key+R"

on your keyboard to launch the Run dialog box.

Inside the Run dialog box, type

"firewall.cpl"

(no quotes), then hit Enter.

Go to the left-pane menu, then click Turn Windows Defender Firewall on or off.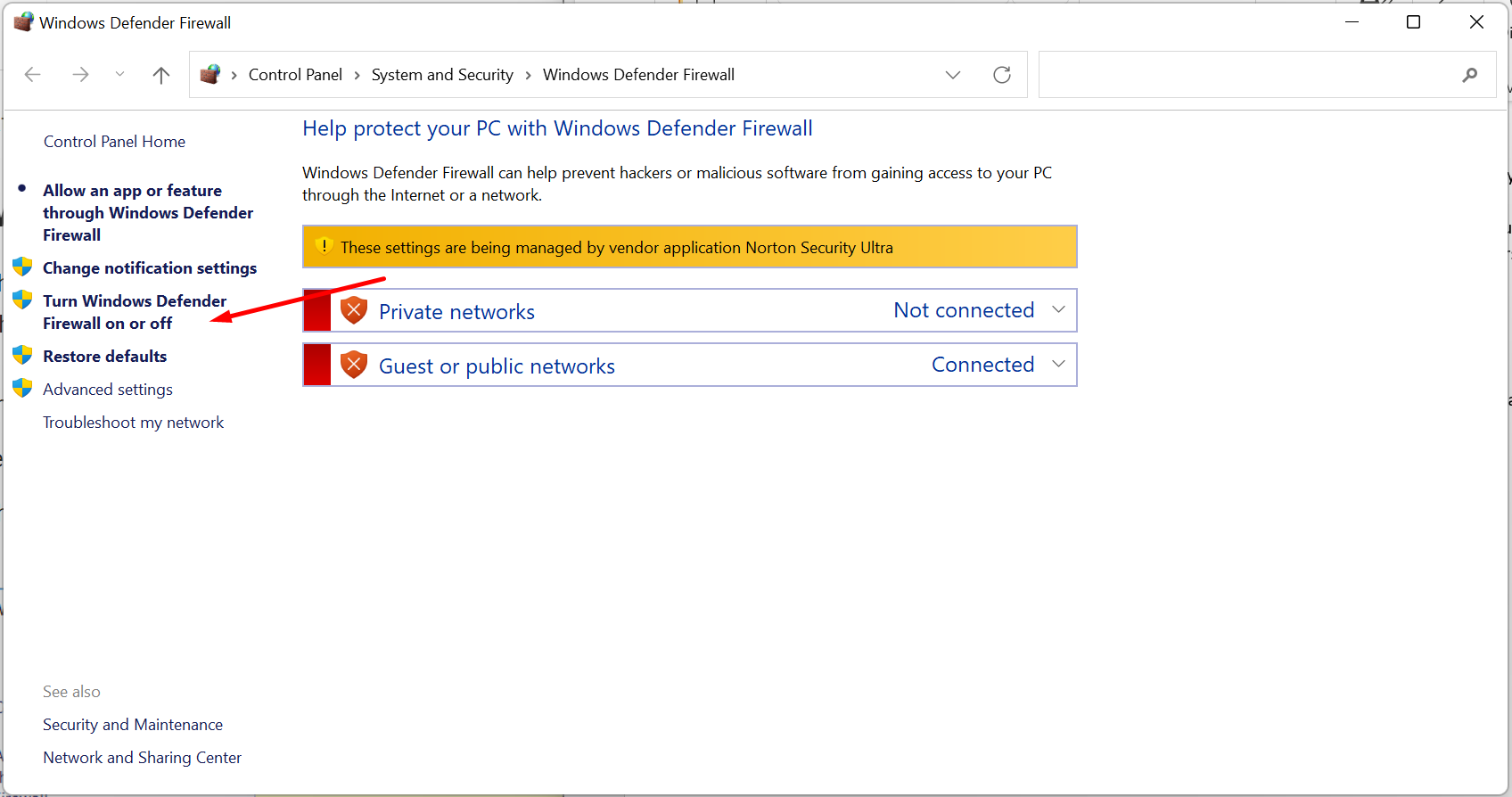 Select the "Turn off Windows Defender Firewall" option under the Domain, Private, and Public Network Settings.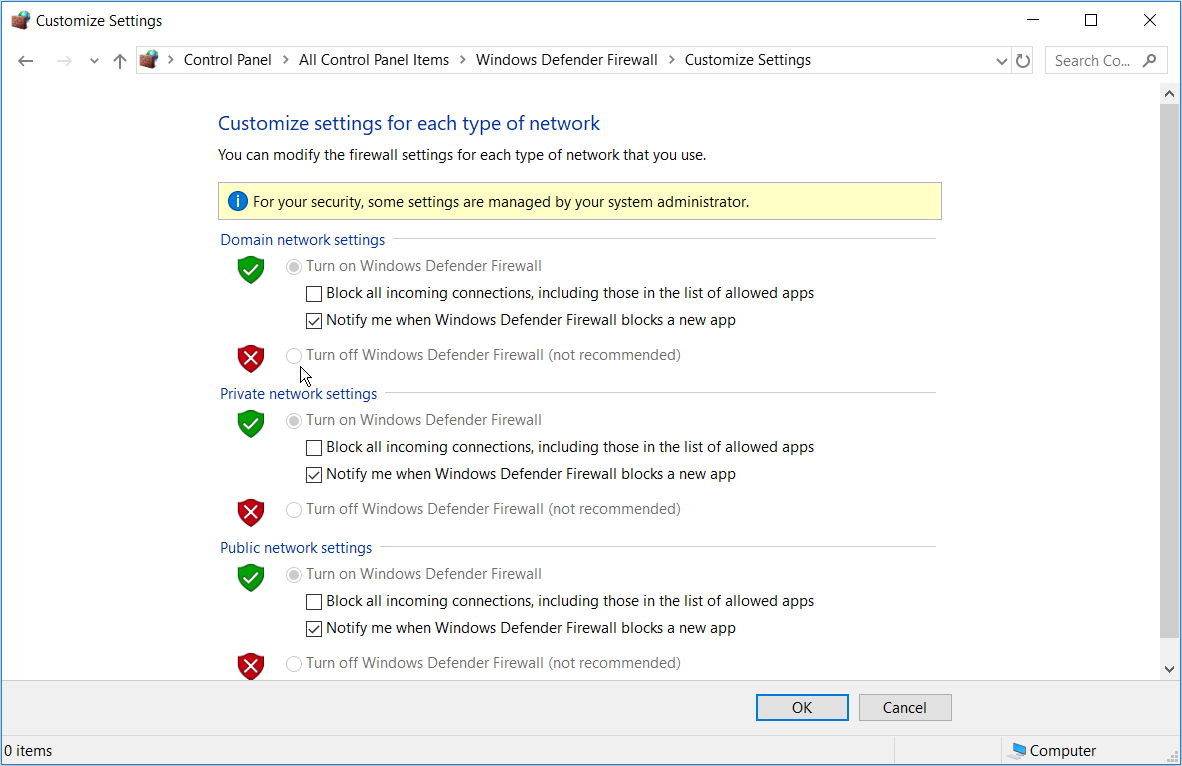 Once you've selected the right option, click OK and close the window.
Fix #5: Disable Your Proxy Server
Press "Windows Key+S" on your keyboard to bring up the search bar.
Type "internet options" (no quotes), then select Internet Options from the results.
Go to the Connections tab, then click "LAN Settings."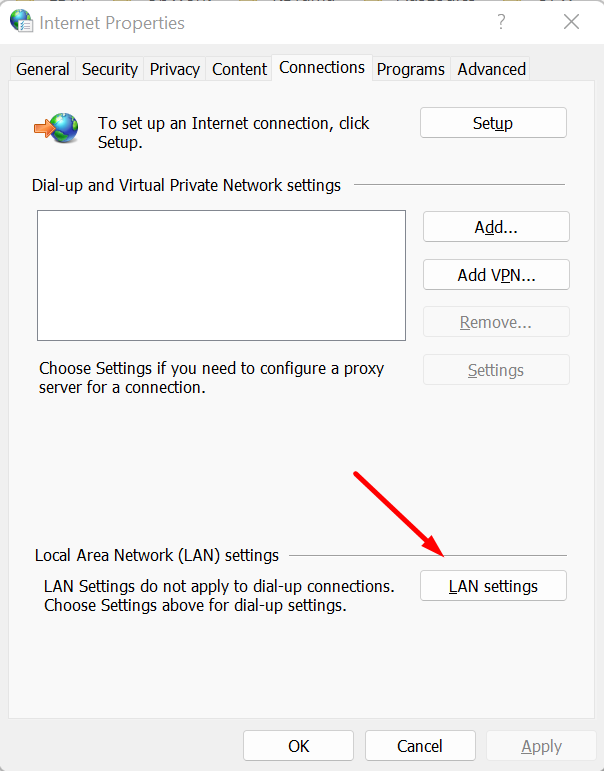 On the Local Area Network (LAN) Settings window, deselect the "Use proxy server for your LAN" option.
Click OK on the LAN Settings window, then click Apply and OK on the "Internet Properties" window.
Fix #6: Clear Your Browser Cache and Cookies
If the problem has to do with your browser, then clearing your cache and cookies may do the trick. Whenever you visit a website, cookies are automatically generated. They're supposed to improve your browsing experience by storing your browsing data.
Meanwhile, the browser cache serves to remember portions of web pages like the images. So, the next time you visit a website, the pages will load faster.
Over time, cache and cookies accumulate and overwhelm your browser. So, you need to clean them regularly. If you're using Google Chrome, here are the steps you need to take:
Launch Google Chrome, then click Ctrl+H on your keyboard. Doing so should open a new tab for your browsing history.

Go to the left-pane menu, then click Clear Browsing Data.

Select All Time under the drop-down list for Time Range.

Click the "Cookies and other site data" and "Cached images and files" options.
Click "Clear Data."
---
Also read: How to Delete Temporary Internet Files?
---
Fix #7: Troubleshoot Browser Issues
Update your web browser to the latest version.

Disable any browser extensions or add-ons that might interfere with Gmail's attachment functionality.

Clear your browser's cache and cookies to ensure a clean browsing experience.
Fix #8: Go Incognito
Now, if a browser extension is preventing you from attaching files to your emails, then here's a solution for you. You can go incognito and sign into your Gmail account.
If you have several extensions or add-ons, one or two of them could be affecting the functionality of Gmail. Once you've opened your Gmail account in an incognito window, try to send an email with an attachment again. If the problem persists, then try the next method.
Fix #9: Check Internet Connectivity
Make sure you have a stable and reliable internet connection.
Try switching to a different network or restarting your modem/router if necessary.
---
Also read: Boost Internet on Your PC: Tips on How to Speed Up Your Internet Connection
---
Fix #10: Check Your System for Malware
Check your system for malware:
---
Also read: How to Remove Virus and Other Malware from Windows
---
Fix #11: Update Your Drivers
Did you try attaching a file that is stored in an external drive? If so, then there may be something wrong with your storage device. If you have outdated drivers, you may be unable to attach files from your drive successfully. In this case, the best solution is to update your drivers to the latest versions recommended by the manufacturer.
You can do this manually, but the process can be tedious and even risky. For one, you have to go through the manufacturer's site and search for the driver version that is compatible with your operating system and processor type. If you download and install the wrong driver, you may cause bigger problems for your PC.
As such, we recommend skipping all the hassle by automating the process. If you want a quick and safe way to update your drivers, use Driver Updater instead. All you need to do is click a button and the tool will automatically scan your system and search for compatible drivers.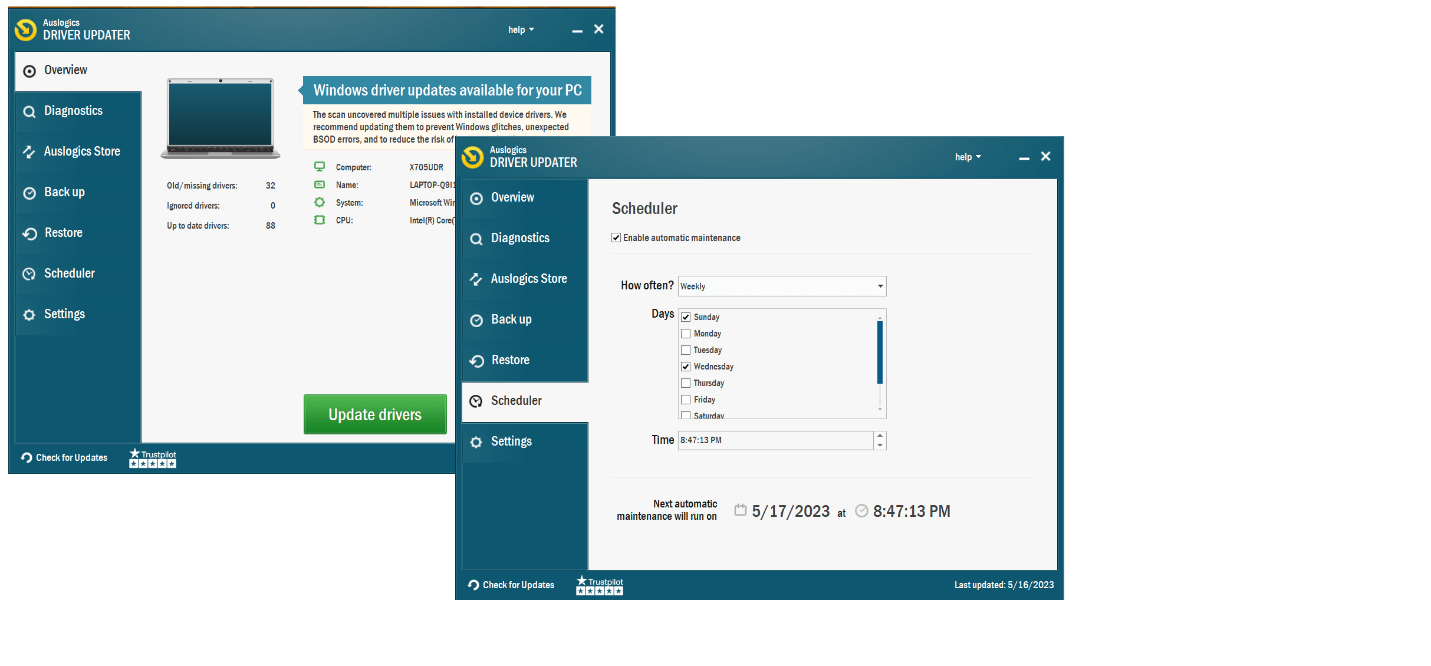 ---
Also read: [EASY GUIDE] How to Update Device Drivers on a Windows 10 PC?
---
Fix #12: Using the Gmail Mobile App
It wouldn't hurt if you tried attaching files to your email using the mobile version of Gmail. So, we recommend that you get your smartphone or mobile device and access Gmail there. Try composing a message, attaching the file, and sending the email.
FAQ:
How to Attach an Email in Gmail?
To attach an email in Gmail, follow these steps:
Click on the "Compose" button to start a new email.

Locate the email you wish to attach in your Gmail inbox or any other folder.

Click and hold the email you want to attach, then drag it into the new email composition window. You can drop it anywhere within the email or specifically in the designated attachment area.

Once you release the mouse button, Gmail will upload and attach the email to your new email composition. You'll see the email attached as a separate file or icon within the email.
How to attach a Google doc to an email:
Open Gmail and compose a new email.

Click the Google Drive icon in the email composition window.

Select the Google Doc you want to attach.

Click "Insert" or "Insert as attachment" to add the document to the email.
How to attach a folder to an email:
Compress the folder into a ZIP file: Right-click on the folder you want to attach, select "Send to," and choose "Compressed (zipped) folder" from the options. This will create a ZIP file containing the entire folder.

Open Gmail and compose a new email

Click the "Attach files" button (paperclip icon) in the email composition window.

Select the ZIP file you created in step 1 from the file explorer or drag and drop the ZIP file directly into the email composition window.
Why Can't I Attach Files in Gmail?
File size limit: Check if the file exceeds Gmail's 25 MB limit.

Unsupported format: Ensure the file is in a supported format.

Browser issues: Update your browser and disable incompatible extensions.

Internet connectivity: Check your internet connection for stability.

Storage space: Free up space in Gmail by deleting unnecessary emails or attachments.

Clear cache and cookies: Remove accumulated browser data that may affect attachment functionality.
How to Send Long Videos on Gmail?
Here's how to send a video through Gmail:
Reduce the file size of the video by compressing it: use video compression software or online tools. 

Upload the video to a cloud storage service like Google Drive, Dropbox, or OneDrive. Once uploaded, generate a shareable link.

Compose a new email in Gmail and insert the shareable link of the video into the body of the email. You can provide instructions for the recipient to access and download the video.
What Is a Gmail Attachment Size Limit?
The Gmail file size limit is the maximum file size that you can attach to an email when using Gmail. For standard Gmail accounts, the Gmail email size limit is currently set to 25 megabytes (MB). This means that any file you wish to attach to an email in Gmail should not exceed this size.