Blue Screen of Death (BSOD) errors are quite common on Windows computers. If you encounter one, it will freeze your PC and restart it, disrupting your work. In this article, we are going to teach you how to fix the 'FAULTY_HARDWARE_CORRUPTED_PAGE' BSOD error. This problem can affect laptops and desktops. However, what's important to know is that there are various solutions you can try to fix the issue. We will share them with you, so keep on reading until you find the one that works best for you.
Method 1: Keeping your System and Drivers Updated
When learning how to resolve the 'FAULTY_HARDWARE_CORRUPTED_PAGE' error on Windows 10, one of the best solutions you can try is updating your operating system and drivers. Regularly downloading and installing updates can prevent various types of BSOD errors from appearing.
It is fairly easy to download and install updates. You can do that via the Windows Update app, and the process will bring about security improvements, new features, and bug fixes, among others. So, if you want to solve the BSOD error and keep it from showing up again, we strongly suggest downloading the latest updates for Windows 10.
It is true that system updates are crucial in ensuring your PC's safety. However, drivers are just as important. They are essential in ensuring that your computer's hardware will communicate and operate smoothly with the appropriate software. So, make sure you keep your drivers updated. That said, you now have to choose whether you're going to update your drivers manually or automatically, using a trusted tool like Auslogics Driver Updater.
When you choose to manually update your drivers, you will have to go to the manufacturer's website and find the latest versions of the drivers, making sure that they are compatible with your system's version. If you make a mistake and install the wrong drivers, your computer will suffer from system instability issues. So, if you do not have the patience and tech skills to manually update your drivers, we recommend using Auslogics Driver Updater instead.
After activating this tool, it will automatically identify your system and find the right drivers for it. It will update your drivers to their latest manufacturer-recommended versions. What's more, Auslogics Driver Updater will take care of all problematic drivers in your PC. So, you can eliminate the BSOD error while improving the performance and efficiency of your computer.

RECOMMENDED
Resolve PC Issues with Driver Updater
Unstable PC performance is often caused by outdated or corrupt drivers. Auslogics Driver Updater diagnoses driver issues and lets you update old drivers all at once or one at a time to get your PC running smoother
DOWNLOAD NOW
Method 2: Reinstalling the Problematic Driver
If updating does not resolve the issue, we recommend reinstalling the problematic driver. Some users reported that the driver for the wireless adapter was likely the culprit behind the error. After reinstalling it, they were able to resolve the issue. So, it won't hurt if you try the same solution. Simply follow the steps below:
On your keyboard, press Windows Key+X. This will bring up the Power User Menu.
From the list, select Device Manager.
Look for the device whose driver you wish to remove.
Right-click the entry, then select Uninstall.

RECOMMENDED

Resolve PC Issues with Driver Updater

Unstable PC performance is often caused by outdated or corrupt drivers. Auslogics Driver Updater diagnoses driver issues and lets you update old drivers all at once or one at a time to get your PC running smoother

DOWNLOAD NOW

If the 'Delete the driver software for this device' option is available, make sure to select it.
Click OK.
After uninstalling the driver, restart your computer. Once your PC boots, your system will automatically replace the missing driver with the default version.
Method 3: Getting Rid of Problematic Applications
Often, third-party applications cause the 'FAULTY_HARDWARE_CORRUPTED_PAGE' error to appear. So, it is essential for you to identify the problematic program and get rid of it. If you remember recently updating any software, we suggest removing it to see if that eliminates the error.
Various applications can cause this problem, and it can be challenging to identify the specific culprit. However, it is common for BSOD errors like this to appear because of third-party antivirus programs. So, if you have one, it might help if you disable it. You can also try removing it entirely and check if that fixes the problem. If so, we recommend switching to a different antivirus.
There are many security products out there, but we suggest using Auslogics Anti-Malware. Since Auslogics is a certified Microsoft Silver Application Developer, the tech company made sure that their antivirus is compatible with Windows systems. So, you can trust that it won't cause BSOD errors while it effectively secures your PC.
Method 4: Downgrading your BIOS
Some users who were researching how to fix the 'FAULTY_HARDWARE_CORRUPTED_PAGE' BSOD error learned that downgrading their BIOS could get rid of the problem. They reported that certain BIOS versions can cause issues on ASUS motherboards. So, you might want to try downgrading your BIOS to resolve the problem. However, before you proceed, you should know that this solution can be risky. As such, we recommend studying your motherboard manual first. Make sure you follow the instructions to a tee and exercise extreme caution.
Method 5: Resetting Windows 10
If you cannot determine the culprit behind the BSOD error, we recommend performing a Windows 10 reset. Keep in mind that this solution will delete all your files. So, remember to create a backup before proceeding. Also, you need to have a bootable USB flash drive to accomplish the Windows 10 reset. You can create one by downloading the Media Creation Tool from Microsoft's website. Here are the steps for resetting Windows 10:
Restart your computer.
While your PC is booting, press the Power button to shut it down. Restart your device and repeat the process until you see the Automatic Repair prompt.
Follow this path:
Troubleshoot ->Reset this PC ->Remove Everything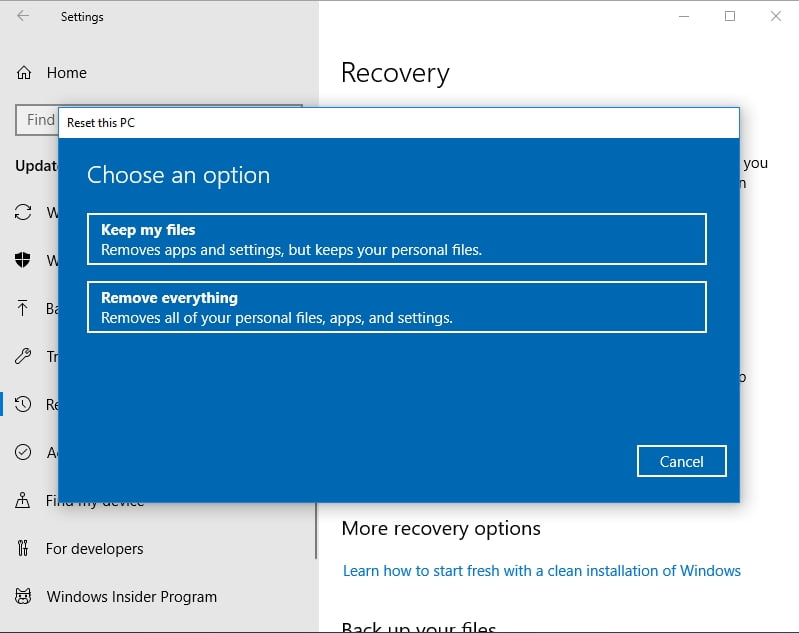 Make sure you have your Windows 10 installation media ready because you might be prompted to insert it to your computer.
Select the 'Only the drive where Windows is installed' option, then choose 'Just remove my files'.
Click the Reset button.
Complete the Windows 10 reset by following the rest of the on-screen instructions.
Method 6: Checking your Hardware
In some cases, 'FAULTY_HARDWARE_CORRUPTED_PAGE' BSOD error is caused by problems with the hardware. As such, we recommend removing any hardware you recently added to your computer. It is possible that it is not compatible with your PC. If you did not add any, you should check if your hardware is working properly. It is likely that your RAM is the culprit. However, you should also check other parts like the motherboard, network adapter, and hard drive, among others.
Which BSOD error would you like us to solve next?
Let us know by commenting below!