Spyware, trojan horses, browser hijackers. These may be fancy names, but you don't want them near your PC or mobile devices. That's because the effects of malware on a computer system can be devastating.
Also, did you know that Google finds 50 malicious websites weekly, and four companies are hit by ransomware every minute?
About 2,500 new websites are compromised weekly by directly linking to malware pages or having hackable codes on them.
That's why you need Auslogics Anti-Malware. It's a very easy-to-use application that detects and removes various types of malware.
This Auslogics Anti-Malware review will show why you need the Auslogics Anti-Malware product, its useful features, and more.
Let's begin.
What is Auslogics Anti-Malware?
With Auslogics Anti-Malware, you can rest easy knowing that your system is being guarded in multiple ways against all malware. The program does this by performing a full system scan to identify any security risks or other issues that could slow down your computer.
The Auslogics Anti-Malware checks your computer's cookies, which is used by websites that monitor your activities and collect personal data. It also scans and identifies any harmful apps running in the background.
The software also checks the registry for suspicious entries and checks launch programs for vulnerabilities. It further examines the entire system for potential security holes.
Intercepts Application's Attempt to Access Internet
Auslogics Anti-Malware also monitors all running programs and intercepts attempts to access the internet by applications. The program also scans the hard disk for files that have been changed or added by unknown programs.
You get a full report on these changes, which you can use to see what happened since your last scan with Auslogics Anti-Malware.
Here are some of Auslogics anti-malware features:
Real-time protection against malware, adware, and spyware
Remove viruses, trojans, and worms (even the most advanced ones)
Removes PUPs (potentially unwanted programs) without manual intervention
Blocks malicious websites (e.g., phishing sites) to protect you from identity theft or financial loss due to phishing sites.
Why Should You Download Auslogics Anti-Malware?
Auslogics Anti-Malware plays a massive role in individual and company PCs, and there's a good reason for that.
For example, did you know that 60% of companies in 2020 saw malware activity that spread from employee to employee? That number jumped to 74% in 2021 and finally hit 75% in 2022.
That was the highest infection rate recorded by the SOES study since 2016! Furthermore, nearly half (46%) of malicious hackers use email to spread viruses.
Google is Doing Their Best, But…
Google has been eliminating potentially malicious websites.
As of August 7, 2022, 3.849 million visitors got browser warnings when they attempted to visit websites classified as unsafe by Google's Safe Browsing.
In addition, 1.6 million people were warned that the website they were planning to visit contained malicious content right in the search results.
However, there are fewer warnings because Google is better at detecting and deleting them from search results. But malware attacks are on the rise again.
For the first time since 2015, the annual rate of new malware assaults fell in 2020. However, according to SonicWall's 2022 Cyber Threat Report, the annual rate of malware infections has returned to around 10.4 million, the same as in 2018.
How Auslogics Anti-Malware is Protecting You
Even though Google is helping reduce malware, there are other ways your PC can get affected by malicious files. That's where Auslogics Anti-Malware comes in. The program:
Instantly catches threats you had no idea existed
Automatically scans your PC based on your scheduled time
Gives you the comfort of mind that your computer is always protected.
Safeguards your computer by finding threats that your antivirus software might overlook.
Works well with your primary antivirus software.
Auslogics Anti-Malware can protect all company PCs from malware to protect the business's vital information from hackers.
You can also download Auslogics Essential Tools to ensure your PC's performance at the highest level while protecting your files and information.
In short: Auslogics gives you all-around PC protection.
Auslogics Anti-Malware Reviews: Product Features
The main features of Auslogics Anti-Malware include regular scanning, scheduled scans, automatic updates, and real-time protection.
Here's what each of these features does:
Quick Scan
You may have a busy schedule, but you want to make sure none of your most crucial files have any hidden malware. In this type of situation, you can use a Quick Scan.
It scans the PC for malicious files, viruses, worms, trojans, rootkits, adware, etc. The scan is quick and easy. And the scan report is displayed in a simple format making it easy to see what items were found with helpful explanations of each item.
Custom Scan
The Custom Scan option allows you to scan a subset of your files and folders. You can also configure which file types to scan, giving you full control of your PC.
Deep Scan
A complete system deep scan is the first step after installing the software. A regular schedule of Deep Scans should also be a part of your maintenance routine.
Scheduled Scans
The Scheduler is one of the Auslogics anti-malware features you can use. You can set up regularly scheduled scans so your computer checks for new malicious files or other threats on your chosen schedule.
For example, you could run a daily scan overnight while you sleep. That can help you find any issues before they cause damage or result in the loss of data or money spent repairing damaged files.
Scheduled Scans check to ensure the apps you've set to execute are safe. Then it scans for and removes any add-ons to your browser that could be the source of data leaks.
Automatic Updates
You can automatically download updates for the Auslogics Anti-Malware, so you can always access the latest version. These updates contain improvements and new features like anti-spyware protection and enhanced real-time protection from dangerous websites.
Ignore List
The Auslogics Anti-Malware will ignore any item in the Ignore List section during scans. You can add the items from the scan results by clicking on "Ignore" next to the objects. Another way is to click the "Add" item in the Ignore List section to specify items to ignore.
Auslogics Anti-Malware Upgrade
You can upgrade your version of Auslogics Anti-Malware by clicking the "Update" button on the application's main screen. You can also visit Auslogics official website and download the latest version.
However, you'll need a valid license key to activate and get the full features.
Is Auslogics Anti-Malware Safe?
Yes, it's safe to use Auslogics anti-malware because it has been tested and certified by many independent labs such as VirusBulletin. This software won't affect your PC; it only ensures the best PC performance.
Besides that, Auslogics products have 5-star awards from industry experts with over 50 million user downloads. They've also served customers for more than 14 years with quality products.
So you can trust Auslogics to keep your PC secure.
Advantages of Using Auslogics Anti-Malware
You can tailor the Auslogics Anti-Malware to your specific needs, which is one of the reasons why it stands out among anti-malware programs. For example, you can choose to automatically quarantine suspicious files, with the option to restore them at a later time.
You can also add objects to the "Ignore List" to keep them from being scanned or cleaned up. That's a helpful feature, especially if you have specific files or folders that you think are generally safe.
Because of this, scans are much quicker and more productive. Also, you can set up automated scans regularly, saving you the trouble of doing so manually.
Hassle-Free Protection
Easy security is also available from Auslogics Anti-Malware. The program won't cause problems with your current antivirus software if you already have one installed.
Auslogics Anti-Malware can even find threats you were unaware of or that your antivirus software overlooked. In addition, Auslogics Anti-Malware further strengthens your computer's defenses by complementing your existing antivirus software.
Easy Installation
It's simple to install and start using the program. All you have to do is configure the initial settings and leave it to operate without further intervention. It also includes an easy-to-navigate interface that displays each potential danger in a different category.
This makes it simple to identify which risks are worth addressing and which are harmless.
How to Install Auslogics Anti-Malware on Your PC
Installing Auslogics Anti-Malware is simple. Here's how:
The Auslogics anti-malware download is easy. First, visit Auslogics official website and download the program. The size is about 14MB which won't take much of your PC's space.
Install the program.
If your PC lacks the necessary software components, it'll prompt you. Then, you can download the Auslogics Driver Updater to install those necessary files.
If you don't install the driver updater, you'll still need to install the specific components to run the program IF you lack them. For example, the screenshot below shows the PC lacks Microsoft Visual C++ Redistributable. So click continue to download the necessary components and click "Finish."
Once installed, the program will check for necessary updates to its malware database. That will ensure that you're always protected against the most recent threats. Also, you don't need to restart your PC when the installation is complete.
Pro tip: the trial version runs a comprehensive PC scan and gives you all the details of the threats detected. However, you can't delete them unless you purchase the full version. So we recommend you buy the full version before installation.
Auslogics Anti-Malware Upgrade
When installing the Auslogics Anti-Malware, you'll only have access to a trial version that performs a full system scan.
It'll also detail all the problems and threats it has found on your computer. You'll need to upgrade to the full version to remove these threats and fix these issues.
You'll be redirected to a registration page when you click "Register Now" or "Activate full version now."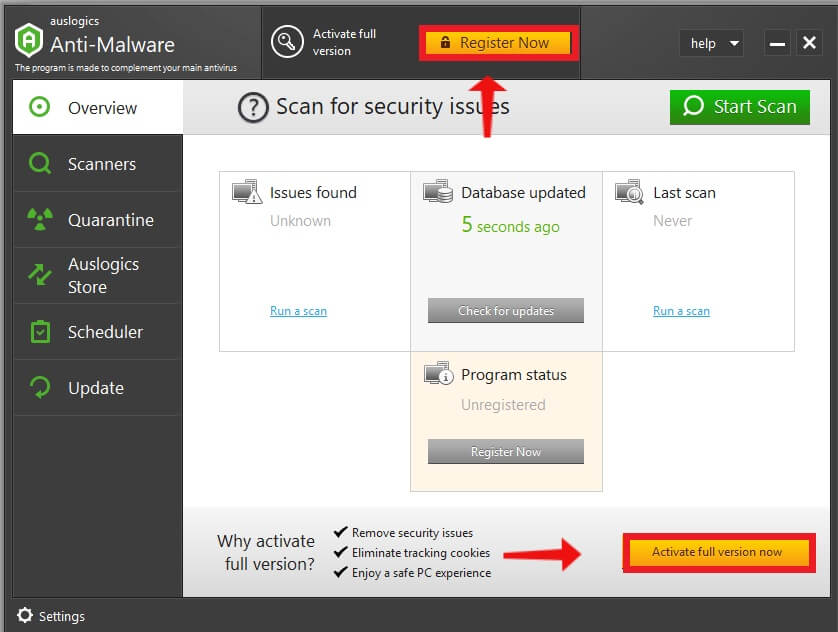 After entering the necessary details, you'll receive the license key in your email address. Copy and paste the license key into the field to get the full version.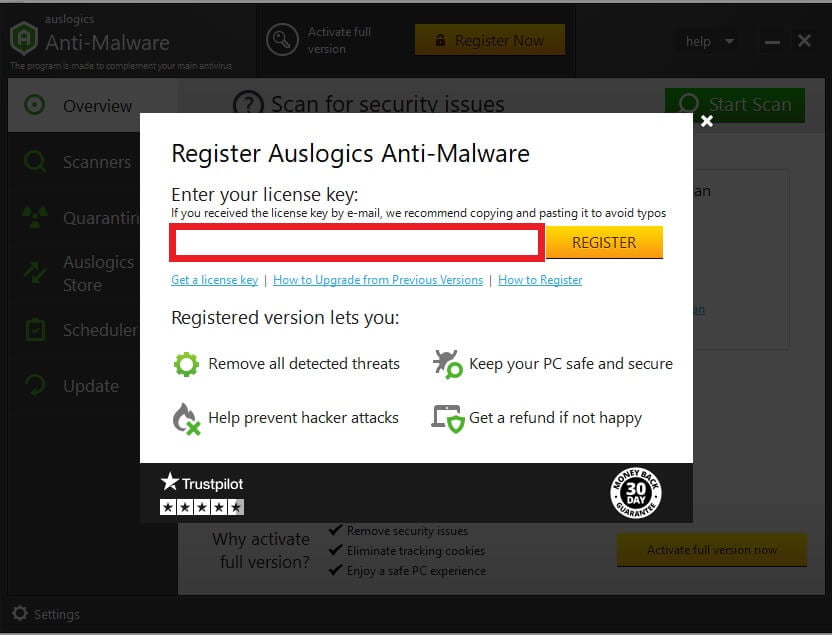 Final Thoughts
Protect your PC from malware and other malicious software with Auslogics Anti-Malware, a lightweight and easy-to-use protection software. This program shields you from malware, theft, leakage, and tracking of your personal information and online activity.
Depending on your needs, it can scan in several different modes. But you'll need to purchase the license to fix the problems discovered by the trial version.
Also, you won't lose any data when you install the Auslogics Anti-Malware. You can safely quarantine a suspicious file instead of deleting it if you're unsure of what it is. You can restore it if necessary.
So if you're looking for an anti-malware that offers all-around protection, consider Auslogics Anti-Malware.