Startup issues like blank screens on Monster Hunter: World show up due to a number of underlying problems. Resolving the issue involves identifying and getting rid of those root causes.
This article covers different troubleshooting steps and fixes that can help you deal with Monster Hunter: World's blank screen on startup.
Check if your PC meets the requirements for the game
You'll run into a slew of problems, including the blank screen, if your computer's specifications fall short of the game's minimum requirements.
Your system must have, at least, 30 GB of free storage, 8 GB of system memory, an AMD Radeon™ R7 260x or NVidia GTX 760, and an Intel i5-4460 OR AMD FX-6300 to run the game. You'll likely be using the required operating system unless you run Windows Vista or below.
So, upgrade your computer where you can to meet Monster Hunter: World's PC requirements to avoid further issues.
Tweak the Game's Graphics
Some graphics settings like the game's screen mode and default resolution may trigger the blank screen. Since you can't open the game, you can tweak its configuration file to resolve the issue. Here's how:
Launch the File Explorer (Win + E) and go to:
Program file (x86)/Steam/steamapps/common/Monster Hunter World
Open the "graphics_option" file in Notepad.
After that, head to "ScreenMode=Fullscreen" and change it to "ScreenMode=Borderless"
Save the file and restart the game.
You should also check the game's resolution and confirm that it matches what your computer can handle.
For example, your 1280×720 monitor will fail to load a 3840×2160 resolution image. So, check the file to confirm and make the necessary changes. If you're not sure about what your monitor can support, head to your display settings page and check for your recommended resolution.
Right-click your Desktop and click on Display Settings. Then check for your recommended display resolution.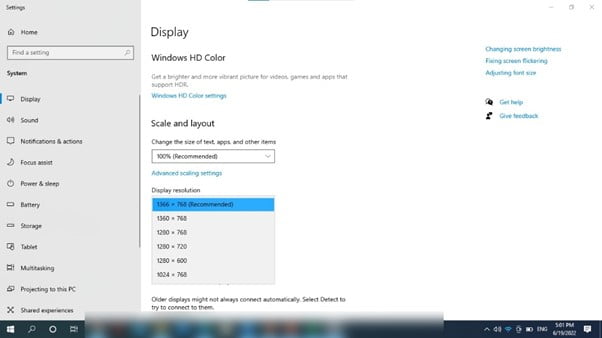 Add Monster Hunter: World to Your Security Program's Exclusions List
Your antivirus program could be the cause of the problem. It might be blocking the game's startup process, causing the screen to go blank. Resolving this problem is straightforward: head to your antivirus settings and add Monster Hunter's folder as an exclusion.
In some programs, you'll have to the add the game to the whitelist or as an exemption.
Here's the process for Windows Security:
Open the Start menu, search for Virus & Threat Protection and open it.
Click on Manage Settings when the page opens.
Scroll down to the Exclusions section and click on "Add or remove exclusions."
Next, click on the "Add an exclusion" button and select Folder from the menu.
Navigate to Monster Hunter: World's installation folder, click on it, then click on the Select Folder button.
If you use a third-party antivirus, head to its website to check how to add a folder as an exclusion.
Get Rid of Mods
While game mods allow you to add extra features and even improve game play, they often come at a cost. If the blank screen problem started showing up after you recently installed a mod, consider removing that mod.
Also, if you've been using some mods for a while, remove them and check for the problem. As it turns out, old mods may crash the game the game after a while, especially after major updates.
Remove Temporary Files
Windows services and third-party applications create files they use temporarily and store them in the temp folder. Monster Hunter: World also creates this type of files.
Temporary files can become corrupt and cause issues like the game's launch failure. The files can also build up to the point that they begin to cause storage space issues, which can affect the game.
Try emptying the Temp folder and check if the game launches without issues. Follow these steps:
On your taskbar, right-click Start and select Run. You can also tap the Windows + R keyboard combo to open the Run dialog box.
When the Run box pops up in the left side of the screen, enter "%TEMP%" into the text box and click on OK.
The Temp folder will now open.
Next, hit the Ctrl + A keyboard shortcut to select all the folder's contents.
Now, tap the Shift and Delete keyboard buttons together and Select Yes in the confirmation dialog to delete the files permanently.
Launch Monster Hunter: World to check for the startup problem.
You can also clear out temporary files by going through the Settings application. Open Settings (use Win + I). Once the Settings page opens, go to System > Storage and click on Temporary Files under the Storage page. Allow Windows to calculate your temporary files, then select those you want to delete before clicking on the Remove button.
While both methods work for clearing junk files, you'll have to perform the operations manually. However, you won't go through that stress or worry about temp files again if your use Auslogics BoostSpeed.
RECOMMENDED
Resolve PC Issues with Auslogics BoostSpeed
Besides cleaning and optimizing your PC, BoostSpeed protects privacy, diagnoses hardware issues, offers tips for boosting speed and provides 20+ tools to cover most PC maintenance and service needs.
FREE DOWNLOAD
The program carries out scans to find and remove junk files and problematic registry keys. This way, it ensures your hard drive is space isn't cluttered with useless files and system registry can perform optimally. The application also comes with multiple other tools that help you optimize your PC and secure your hard drive against spyware.
Update Your Graphics Card Driver
Your graphics card driver handles your PC's and the game's display. The blank screen issue could be the symptom of an outdated, corrupt, or stuck driver. Installing the latest version of the graphics card driver will resolve your problem in this case.
There are different ways to update a driver. You can manually download it from the card's manufacturer's website, use Windows Update, or use a third-party driver-updating tool.
If you want to go through the device's manufacturer's website, you must download the version for your card. So, enter the appropriate search parameters and ensure the driver you're installing is designed for your operating system.

To use Windows Update, search for Windows Update in the Start menu and launch the client. Click on Check for Updates and install all your pending updates. Next, click on View All Optional Updates, expand the Drivers section, and select your graphics card driver.
In some cases, Windows Update may not provide the latest update for your graphics card driver. You may also find it challenging going through Nvidia's or AMD's website in search of the driver. To make things a lot easier, use a driver-updating tool such as Auslogics Driver Updater.
RECOMMENDED
Resolve PC Issues with Driver Updater
Unstable PC performance is often caused by outdated or corrupt drivers. Auslogics Driver Updater diagnoses driver issues and lets you update old drivers all at once or one at a time to get your PC running smoother
DOWNLOAD NOW
The tool helps you search for problematic drivers and automatically updates them. Its full version can download and install multiple drivers updates at once, and it's compatible with Windows 7, 8, 10, and 11.
Run Monster Hunter: World as an Administrator
Monster Hunter: World may need access to restricted system resources to launch. You can grant it the permission to use these resources by running it as an administrator.
To run the game as an administrator, right-click on its shortcut and click on Properties. Then go to the Compatibility tab of the Properties dialog and check the "Run this program as an administrator" box. Click on OK.
If you can't find the game's shortcut, you can locate its main executable file by going through the Steam app. Open Steam, right-click on Monster Hunter: World, and click on Properties. Go to the Local Files tab and click on the Browse button. Now, locate the game's executable file, right-click it, and select Properties.
Repair Your Game Files
Corrupt and missing game files cause all sorts of problem, from game crashes to black screens. You can troubleshoot the blank screen issue by verifying your game files in Steam.
Follow these steps:
Launch Steam and locate Monster Hunter: World.
Right-click on the game and select Properties.
Go to the Local Files tab and click on the "Verify integrity of game files" button.
Steam will now scan the game's files and replace any that are missing or corrupt.
Note that the process may take a while, depending on your system's speed and the number of problematic files.
Reinstall the Game
Reinstalling the game might work if none of the solutions above resolves the blank screen issue. Some files might be too damaged for Steam to install. Also, the launcher does not verify files like config files.
So, remove the game and delete all its files, then reinstall it.
Wrapping Up
That's how to fix the Monster Hunter: World blank screen on startup problem. Remember to keep your computer optimized using Auslogics BoostSpeed, always keep your drivers up to date, and research the types of mods before you download them.