Most users usually experience the "no suitable graphics card found" error during the game's launch. The main causes of this problem are outdated graphics card drivers and missing game files. 
The "Terraria no suitable graphics card found" third-party overlays and wrong video memory size settings can also cause the error.
Given that every computer has a different set of hardware and configurations, the solutions to this challenge can differ significantly from system to system. There is no universal solution to this problem. 
However, you can resolve the issue by applying the no suitable graphics card found fix in this guide. 
Let's begin. 
What Is a Graphics Card?
A computer's graphics card, often known as a graphics processing unit (GPU), is a specialized piece of hardware that renders images and videos on a display. 
In other words, it improves graphics quality, especially when playing video games or watching movies. 
It's an essential component of modern computers, especially for gaming, video editing, 3D rendering, and other graphics-intensive software activities.
A graphics card's main job is to process and accelerate graphic data. This relieves the central processing unit (CPU) of some workload.
The models and specs of graphics cards vary, as do their performance levels. Gamers usually select graphics cards tailored to their requirements. 
They consider features like gaming performance, multi-display capability, etc.
---
Related: How to Install a New Graphics Card in a PC? 
---
What Is the "No Suitable Graphics Card Found" Error?
The "no suitable graphics card found" and "Unable to create the graphics device" error occurs when you run a program or game that needs a specific amount of graphics power. But your graphics card doesn't meet the requirement. 
It's like attempting to play a complex video game on a dated, underpowered computer. 
The error message informs you that the program or game can't be run because your graphics card isn't powerful enough or configured properly.
For example, you need the following requirements to play Terraria: 
CPU Speed

: Dual Core 3.0 GHz

RAM

: 4GB

Video Card

: 256 MB video Memory, capable of Shader Model 2.0+

Dedicated Video RAM

: 256 MB

Pixel Shader

: 2.0

Vertex Shader

: 2.0

Free Disk Space

: 200 MB
You may get the "Terraria no suitable graphics card found" error if your PC doesn't meet this requirement. 
---
Related: How Do I Check My Graphics Card on Windows 10?
---
Common Causes of the "No Suitable Graphics Card Found" Error?
There are several causes of the "no suitable graphics card found Terraria" error. Let's go through them: 
1. Outdated Graphics Card
If your graphics card is outdated or doesn't meet the game's requirement, it may not support essential features like Shader Models or video RAM. This can cause the error to occur. 
---
Also Read: Upgrade GPU on Laptop: All You Need to Know
---
2. Outdated Drivers
Outdated or incompatible graphics card drivers may cause compatibility problems. You can usually fix this issue by updating the most recent drivers. 
Consider using Auslogics Driver Updater to fix that problem. 
3. Incompatible Hardware
The "no suitable graphics card found" error may occasionally occur because of a hardware issue with your computer. For example, the motherboard or power supply may be incompatible with a particular graphics card.
4. Incorrect Settings
The error may be caused by incorrect resolution or graphics quality settings in the game or software that uses your graphics card. Adjusting the settings may help resolve the issue. 
---
Also Read: Windows PC Guide: How to Set GPU as Primary for Apps and Games?
---
5. Software Conflicts
Applications operating in the background can affect the performance of your graphics card, resulting in the error. This is particularly true for third-party overlays or graphics-enhancing tools.
Solutions to Fix the "No Suitable Graphics Card Found Terraria"
If you want the no suitable graphics card found fix, go through the following methods to resolve the problem. Go through them and find the one that best works for you.
Take a Note: 
It's important to run your computer through a power cycle before attempting the "no suitable graphics card found Terraria" fixes. To do this, turn off your computer entirely and unplug it for ten minutes before turning it back on. Sometimes, this can help you solve the problem without following the steps in this guide. 
Option 1: Delete Your Game's Config.dat File
The problem with your graphics card error may be the settings of your computer game. You'll need to delete the game's config.dat file.
The manufacturer created this file to store your chosen settings using the game's menu. Removing the file won't affect your game.
It'll only eliminate the default settings that keep the game from detecting the graphics card. When you start playing the game, it'll create a new config.dat file again.
To find the config.dat file, go to "Documents," select "My Games," and search for Terraria or the game's name.
Follow these steps to delete that file:
Locate the config.dat file of your game.

Right-click on the file and select "

Delete

." Then click "

Yes

."

Restart your PC.

Once you open your game, the problem should be sorted.
If not, the issue could be more than your game's settings. Try the following options.
---
Related: Step-by-Step Guide: How to Update AMD Drivers 
---
Option 2: Restart Your PC
This fix works if you already have the graphics card on your computer, but the system hasn't detected it.
Hence, restarting your computer will cause the system to check through all installed hardware and update itself on start-up.
Alternatively, you can shut down your PC. You can check whether the graphics card is inserted correctly when it's shut down.
Check if the computer game works without a hitch when your PC restarts. Try the next option if you still get the "Terraria no suitable graphics card found" error.
---
Related: Could Not Initialize Graphics System on Windows 10/11 Computer? Quick Fix Here.
---
Option 3: Update Your Computer's Graphics Card Driver
If your graphics card hardware is inserted and you still get the error message, the issue could be missing or outdated graphics card drivers.
It may be an outdated driver for another piece of hardware that's also affecting the operation of your graphics card. Wrong or outdated drivers can cause system conflicts that affect other components in your PC.
Therefore, you must update the graphics card driver and all the drivers on your PC.
Consider Auslogics Driver Updater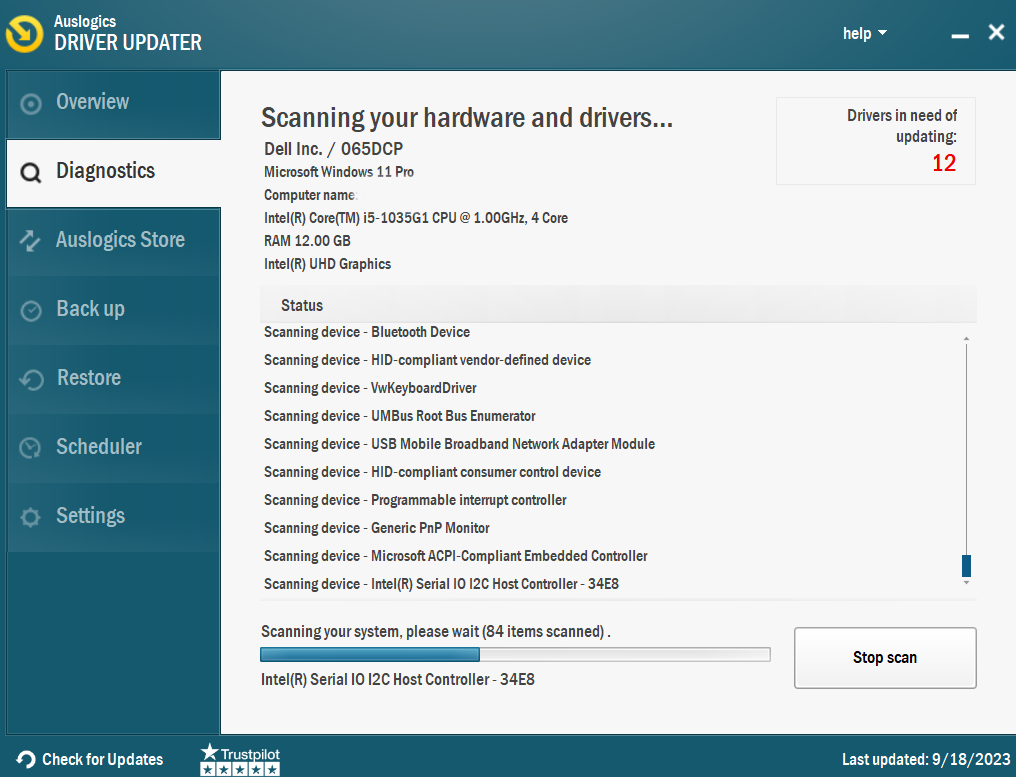 Updating drivers manually will take time and a lot of work, searching for the right, safe, and up-to-date drivers compatible with multiple components in your PC.
Hence, effective driver updater software, such as Auslogics Driver Updater, is the best option.
Auslogics Driver Updater scans for all missing or outdated drivers on your PC and updates them in one click.
Most importantly, the software only installs official driver versions compatible with your device model and creates a backup in case you wish to revert to the previous state.
---
Related: How to Update Device Drivers on a Windows 10 PC
---
Option 4: Change the Display Resolution And Use a Borderless Window
The resolution of your display affects how much work your graphics card does. A full resolution will load your graphics card more than medium or low resolutions. 
If your graphics card isn't powerful enough, it might not work well on a high resolution.
Therefore, it's better to opt for a medium or lower resolution.
The size of the window for your computer game also impacts the performance of your graphics card. If you've set up the game on a full screen, this exerts exclusive access to your graphics card. 
That gives the display adapter a massive load in managing issues such as resolution switching and resource management.
Hence, using a borderless window will be more efficient than going full-screen.
A borderless window is merely a regular window, with the window chrome disabled. That means it doesn't load as much on your display adapter as a full-screen mode.
Try the next option if the "no suitable graphics card found" doesn't work.
Option 5: Install Microsoft .NET Framework
Many PC games require the Microsoft .NET Framework to facilitate multiple functionalities. You may not have the right version of the .NET framework. 
Therefore, you should check on Microsoft's website, download, and install the right .NET framework.
While at it, you should check if the manufacturer has new updates for your game. There could be some fixes for bugs that have just recently been identified.
Conclusion
Throughout this guide, outdated graphics card drivers, missing game files, incompatible hardware, etc., are common causes of the "no suitable graphics card found" issue.
There isn't a single solution for all computer configurations. However, you can try solutions such as deleting game configuration files, updating graphics card drivers, and adjusting display settings.
Make sure that the correct version of the Microsoft.NET Framework is installed. If you're still facing challenges, contact professionals for assistance.
FAQ
Why Is GPU Not appearing in Task Manager?
There are several reasons why the task manager isn't showing your GPU. In some cases, loose connections can cause this problem. Also, outdated or incompatible graphics drivers can prevent the task manager from appearing.
Furthermore, if your laptop has integrated and dedicated graphics, your GPU may not be active for the process you inspect in the process manager.
What If the Graphics Card Is Not Being Detected in Device Manager?
Start by examining how the GPU is physically attached to the motherboard and the power cords. Make sure that everything is safe. If it's still undetected, there might be a driver issue.
Use Auslogics Driver Updater to install the most recent manufacturer-recommended drivers for your graphics card. If the problem continues, it may be that your motherboard's GPU or PCIe slot has a hardware fault. Seek professional assistance.
Why Does My PC Say No Suitable Graphics Card Found?
Usually, when your PC displays the "Terraria no suitable graphics card found" error, your graphics card doesn't fulfill the minimal requirements for the program or game you are attempting to run. You can try updating your graphics card drivers to the latest version to solve this problem.
How Do I Make My Graphics Card Compatible?
Check the system requirements and ensure your graphics card satisfies or exceeds them. Reduce the demands on your graphics hardware by adjusting in-game settings like resolution and detail levels. Consider upgrading to a graphics card compatible with the software or game if your current one doesn't meet the specifications.
=