Your drivers determine how well your hardware devices work. These software components help the operating system interact with the devices connected to your computer. So, when a hardware component, like a graphics card, for example, begins to malfunction, you might have a driver problem on your hands.
Even peripheral devices such as external keyboards and mice, printers, monitors, speakers, etc. require drivers to work with your PC.
Usually, when you connect a device, Windows automatically detects it and installs its driver through its driver library. However, if the device's driver isn't in the library, you'll have to install it manually. Otherwise, Windows will install a generic driver, which won't perform very well.
Apart from generic drivers, outdated drivers also cause problems. For example, if you upgrade Windows, chances are you'll need updated drivers to get your hardware devices to work correctly.
This article will show you how to update drivers on Windows 10 if you're experiencing hardware problems.
Verify Drivers Using Driver Verifier Manager
The driver verifier helps you to identify unsigned and incompatible device drivers easily.
Unsigned drivers are software components not officially recognized by Microsoft. Installing these drivers could potentially harm your computer as they haven't passed Windows' certifications.
Incompatible device drivers are built for Windows versions older than your current operating system.
Once you find these drivers, you can then install their official updates. These steps will show you how to use Driver Verifier Manager:
Tap Win + R to open Run.
Go to the text box, enter "verifier," and click OK.
Select the Create Standard Settings radio button and click on Next.
Under "Select what drivers to verify," choose "Automatically select drivers built for older versions of Windows." This option will display drivers developed for older Windows versions.
After that, click on the Back button and click on "Automatically select Unsigned driver," then click on Next.
Now that you know which drivers are out of date and which are unsigned, you can go ahead to update them.
Download and Install Drivers Automatically
The methods in this article will show you how to update your drivers, but none of them are as easy as doing it automatically. We are talking about using a program that detects outdated and malfunctioning drivers and installs their updates.
With this type of program, there's no need to use the driver verifier or go through the hassle of checking for and updating drivers one by one. Instead, Auslogics Driver Updater will scan your computer and start downloading and installing official driver updates with the click of a button.
You can also allow the tool to run checks whenever you restart your system to notify you whenever a driver update becomes available.
This guide will show you how to use this driver updater:
Go to the download page of Auslogics Driver Updater and download the tool's setup app.
Run the installer once your browser downloads it.
After the setup wizard opens, select your preferred language and choose the installation folder.
Next, use the checkboxes to decide whether you want to create a desktop shortcut, allow the tool to start whenever your system boots up, and permit the program to send reports to its developers.
After that, click on the "Click to install and check drivers" button.
The wizard will now complete the installation.
The tool should start automatically and scan your system for problematic drivers.
Allow it to download the drivers and install them.
Once the process is complete, restart your system.
RECOMMENDED
Resolve PC Issues with Driver Updater
Unstable PC performance is often caused by outdated or corrupt drivers. Auslogics Driver Updater diagnoses driver issues and lets you update old drivers all at once or one at a time to get your PC running smoother
DOWNLOAD NOW
Using Device Manager
Device Manager is the hub where you manage every device driver on your computer. You can update, uninstall, and roll back drivers. You can also disable specific devices through Device Manager.
Here's how to use the program to update drivers:
Launch Device Manager. To do that, search for "device manager" in the Windows search explorer. You can also press Win + X and click Device Manager in the menu.
Next, expand the device's category. For example, if you want to update your graphics card driver, expand Display Adapters, right-click on your graphics card, and select Update Driver.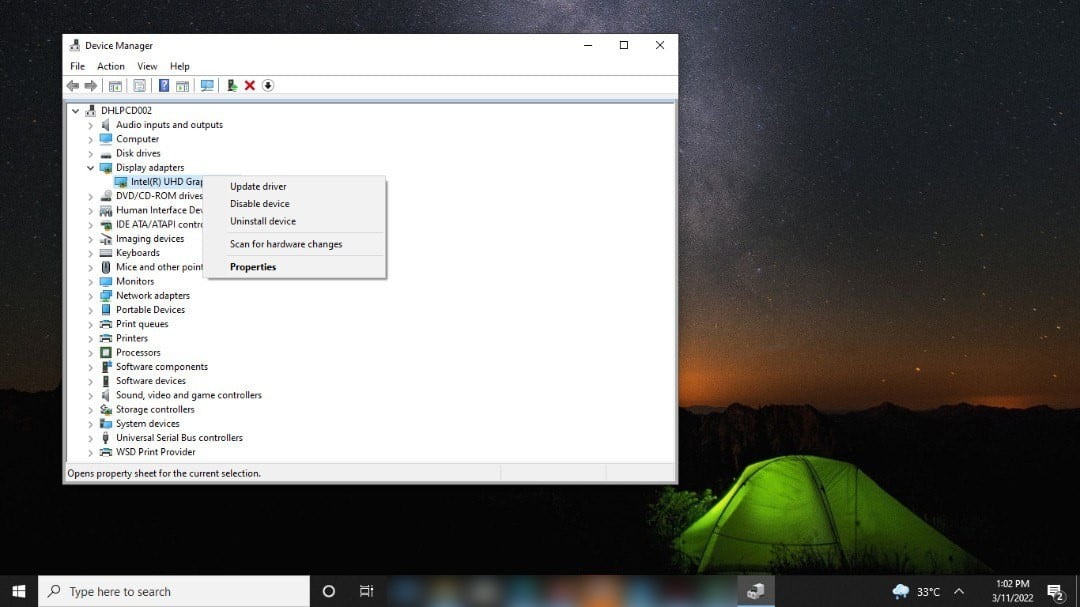 Clicking on "Search automatically for drivers" will prompt the tool to check your computer for the driver's updated version.
Clicking the "Browse my computer for drivers" option allows you to locate the driver yourself if you downloaded it from the internet or copied it from a different device.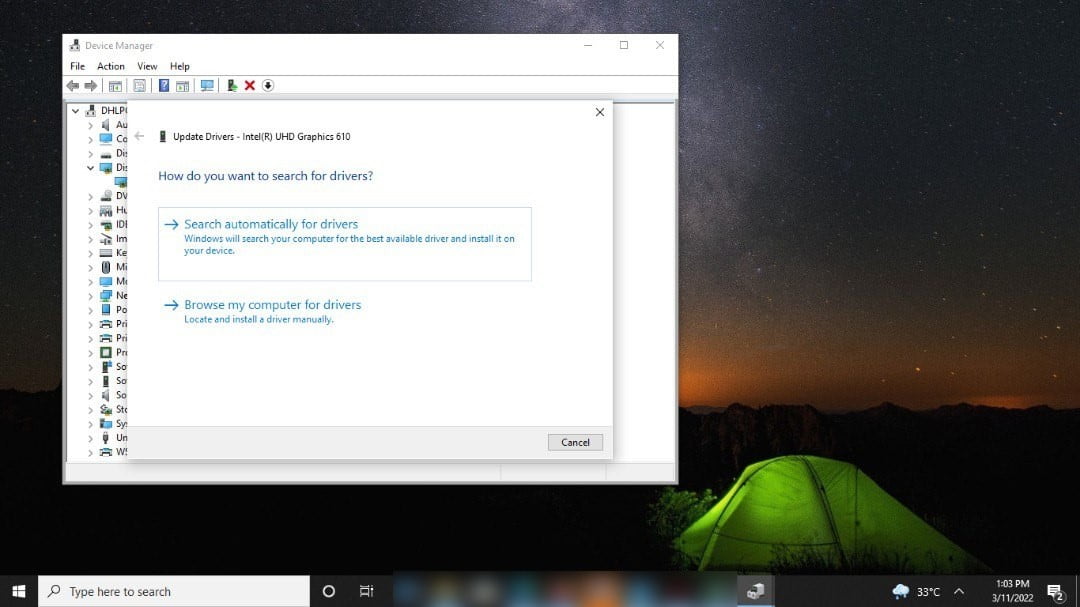 Use the Windows Update Client
Microsoft publishes driver updates from time to time via the Windows Update client. Device manufacturers send these updates to the company, who in turn verifies them. As a result, the drivers you download through this channel are almost always stable and don't have problems.
Follow these steps:
Head to the Windows Update client. You can search for "updates" and click on Check for Updates in the search console or go to Settings >> Update & Security.
Click on View Optional Updates.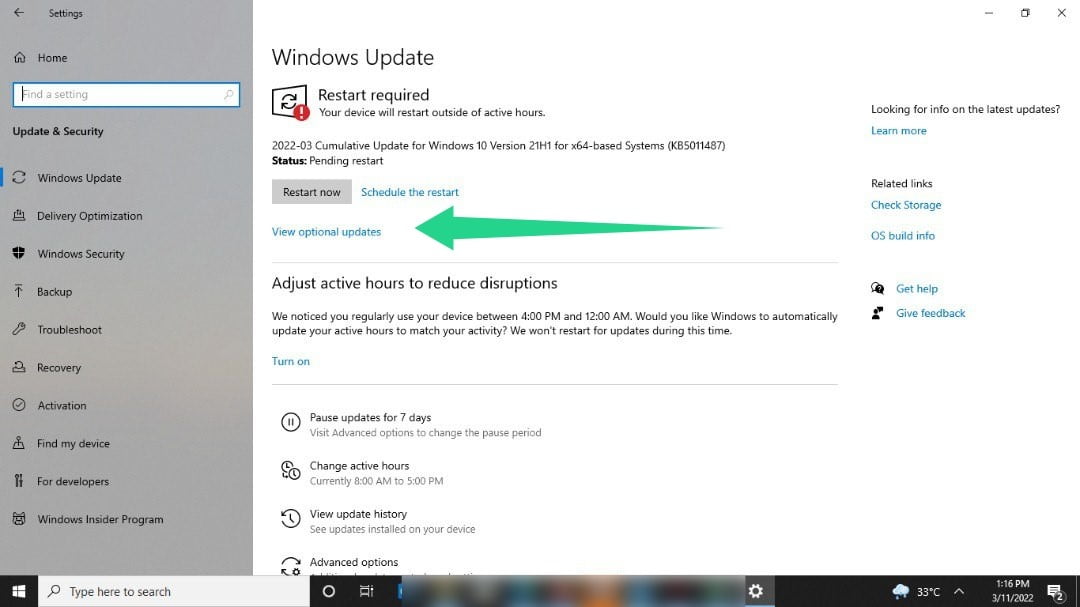 After the Optional Updates window appears, click on the arrow beside Driver Updates.
Check the box next to the driver you'd like to update and click on Download and Install.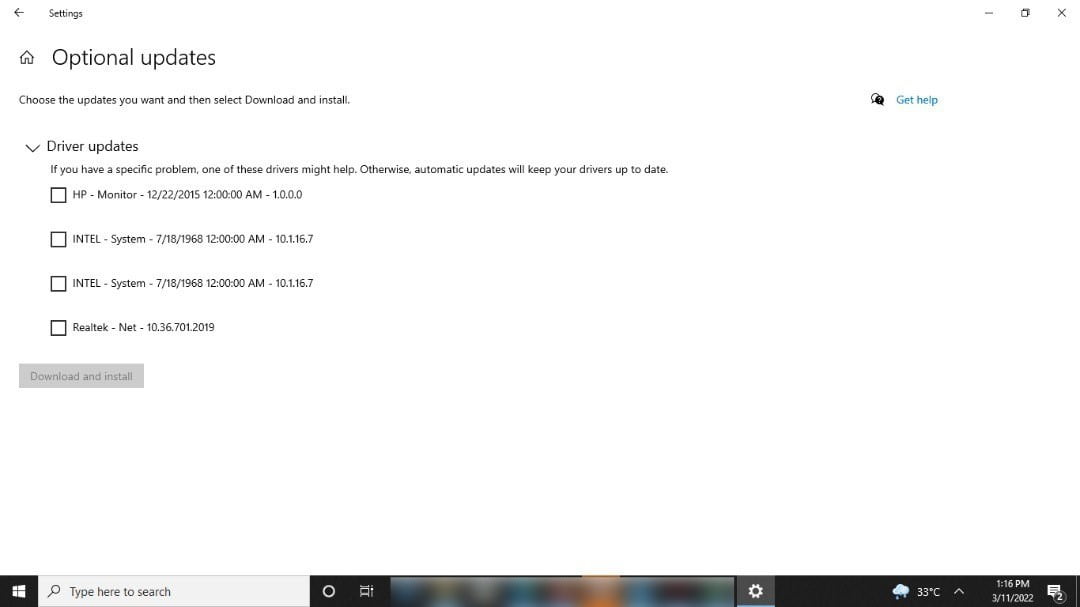 Download and Install the Driver
You can download and install the driver manually by going to the device's manufacturer's website. You can also go through your computer's OEM website.
The advantage of this method is that you'll get to download the latest driver for your device. Drivers on these web pages may not have made it to Windows Update yet.
You must be careful only to download the drivers from official channels if you're taking this route. For example, ensure you go to AMD's official website to download drivers for your AMD graphics card or chipset.
Another thing you must do properly is download the correct driver. To do that, make sure you enter your system's specifications correctly as you search for the driver. These specifications include your Windows version, operating system architecture, and make and model of the device whose driver you're downloading.
If you're going through your OEM website, most likely all you'll need is your computer's make and model.
Use Proprietary Programs
Some device manufacturers provide applications that help you manage their hardware and drivers. These programs can send notifications when new drivers become available for your computer. You don't have to do too much; just click on the Update button when the notifications pop up.
Examples of these programs are Intel Update Assistant, NVIDIA GeForce Experience, and AMD Radeon Settings.
Head to the device's manufacturer's website to check if they have such a program. Then, follow instructions for installation as they come with different methods. For example, to use the Intel Update Assistant, you must install a compatible web browser.
The downside of using proprietary software is that you'll be installing multiple different programs on your system, which could affect speed and performance.
Conclusion
That's how to update drivers on Windows 10. Every method above works. However, it would be best to go for the one that saves time and installs the correct driver update.