Unlike their predecessors, integrated graphics can efficiently support the activities of most modern computers. However, many gamers report that their PCs struggle to keep up with graphics-demanding games. As a result, they often resort to a costly and not always necessary alternative – a dedicated graphics card.
So, the right question is, "Are integrated graphics good enough for my PC?" You'll find all your answers in this guide.
The Difference Between Integrated and Dedicated Graphics
Integrated or onboard graphics processors are in-built on the motherboard of the CPU. In contrast to dedicated graphics, they are generally small, consume less energy, and are relatively less expensive.
Conversely, dedicated graphics processors are external devices used to complement the performance of integrated graphics cards or single-handedly boost the CPU's performance. Unlike integrated graphics that rely on the CPU's hardware components, they have their RAM, cooling fan, and GPU.
Are Onboard Graphics Good Enough to Use on a Windows Computer?
It all depends on what activities you are likely to engage in with your computer. Integrated graphics are primarily designed for standard computer usage with simple graphic demands. They are usually not fit for graphics-intensive tasks such as complex video editing, 3D art, advanced Photoshop actions, or gaming.
That doesn't mean you need a dedicated graphics processor for your PC. You can still improve your CPU's performance. By adjusting the graphical settings of programs and the overall system resolution, you can boost the frame rates close to a standard discrete graphics card's level.
To know how good your integrated graphics card is, compare the minimum graphics requirements of popular games (for which dedicated graphics are explicitly recommended) to what is achievable with your PC's in-built GPU. Suppose your PC carries a "Tiger Lake" core i7-1185G7 processor with Intel Xe graphics. A quick way to do the job here is to, for instance, search on Google or Youtube with the keywords "Intel Xe graphics Skyrim." The search results will feature links to recorded videos of actual gameplay by another player.
As you play the videos, pay attention to the graphics resolution, the graphics settings used, and the achieved performance in frames per second (fps). Most times, you will find the latter two parameters in the video descriptions. The frame rate will be available in the videos.
That way, you get a firm idea of what performance you are likely to experience if you play such a game on your PC. It also helps you decide whether you need a dedicated graphics card or if the onboard graphics will efficiently support your usage.
Lastly, it is worth considering if the CPU used to achieve the gameplay experience in those videos is stronger or weaker than yours.
How Can I Boost My Integrated Graphics Performance?
When optimizing the performance of your rig, the key considerations to note are
the kind of program you want to run,
the allowable modifications of your PC's graphic settings, and
the age of your CPU.
Most games will detect your system's GPU, display resolution, and CPU specifications and then adjust automatically. Although these automatic settings are not guaranteed to give you the best experience, they give you a good starting point in tweaking your graphics settings.
With that said, below are three things you can do to boost your in-built processor:
Adjust the resolution
It's ideal for the screen resolution to start with 1080p as the default value, but you can also test with 720p. Pixel values higher than these will require more graphics power than an onboard graphics card can provide.
You can find the screen resolution settings at Start>Settings>System>Display resolution.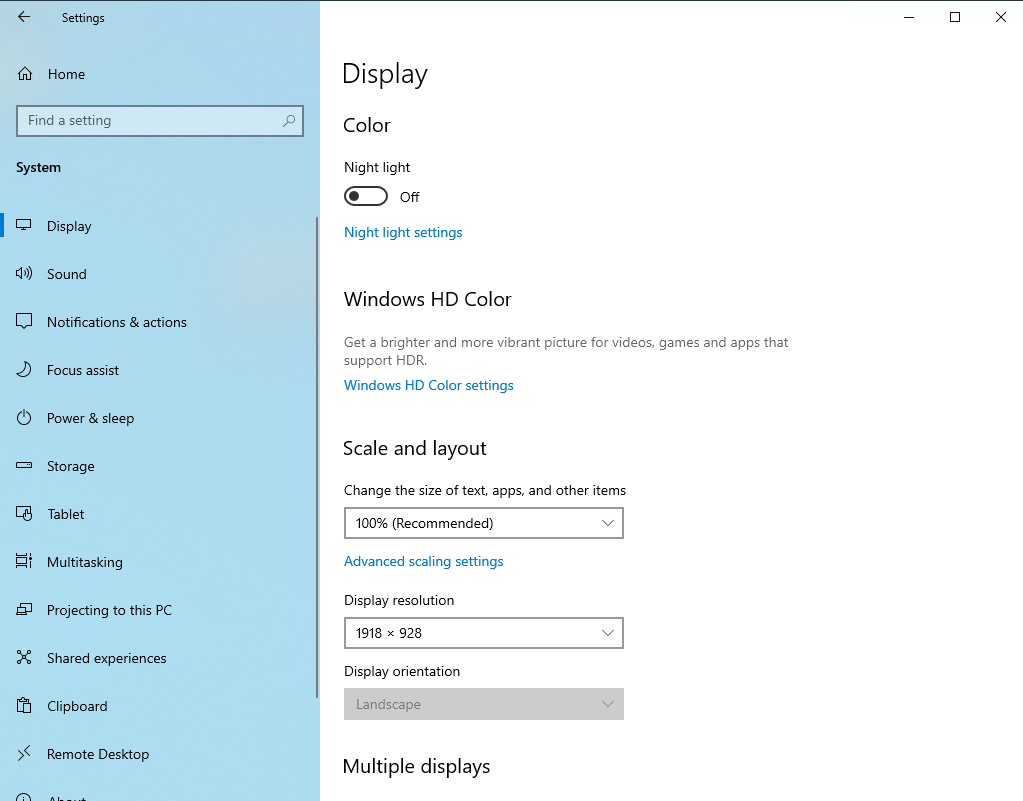 Switch your graphics mode
Next are the graphics settings. They have four classifications: Medium, High, Ultra, and Low. It's hard to tell which of these would accurately suit the game or program you want to run.
Usually, it's recommended to set the graphics settings to Ultra for older games, while for newer games, the Medium setting is good enough.
Of course, you can try some tricks. Your PC may perform better if you try a combination of the 1080p resolution and low graphics settings or 720p and medium graphics.
Optimize your frame rates
Usually, games are best suited to run at a frame rate of 60 frames per second. With integrated graphics, such a value is unachievable (though that might change soon).
Nevertheless, some games can run with 30 fps, and most integrated graphics can attain that value. But below 30 fps, you should expect a crash or some unstable behavior.
Increasing your device's fps requires a lot of tweaking. You might have to update your display drivers, adjust your system's performance, switch the device to game mode, or overclock the RAM.
As an alternative, we strongly recommend Auslogics BoostSpeed. Over 15 million users use it to optimize the performance of their systems.
RECOMMENDED
Resolve PC Issues with Auslogics BoostSpeed
Besides cleaning and optimizing your PC, BoostSpeed protects privacy, diagnoses hardware issues, offers tips for boosting speed and provides 20+ tools to cover most PC maintenance and service needs.
FREE DOWNLOAD
With BoostSpeed, you don't have to go through the hassle of tweaking multiple components of your PC as the tool automatically improves your PC's performance by optimizing its settings and getting rid of junk such as software leftovers, invalid entries, broken registry keys, etc.
Consequently, it makes more system resources available to the integrated graphics card, thus effectively increasing the frame rate. With BoostSpeed running on your computer, you are sure to enjoy a smoother gaming experience.
What's more, the tool is effortless to use. You can get started right away with the Free version, but the Pro version grants you access to advanced features, such as the option to perform a full registry clean-up, disk defragmentation, etc.
How to Know If a PC Has Integrated Graphics
All PCs have integrated graphics. Even when you install a dedicated graphics processor, your computer will, by default, always have the option of deciding which gets selected for a particular task.
For this reason, sometimes, it's hard to tell whether your PC is using your integrated graphics GPU or the dedicated graphics GPU.
However, some games reveal which graphics processor is used. If a graphics-hungry game seems to run smoothly without any hitch, you can be sure the dedicated GPU is in use.
Another way to know is through the unique behavior of most dedicated graphics processors. When your rig generates an excessively high amount of heat, you should know your PC is running on the discrete graphics processor.
With an AMD processor, the frame rate increases immediately after connecting your PC to a power source. Intel and Nvidia processors don't replicate this behavior.
For Nvidia processors, there is a menu that allows you to view and manage the activities running on them. The menu also has the option to select which graphics processor is used to run a game or program.
Generally, as a rule of thumb, in the case where you have dedicated graphics connected to a computer but the device's performance remains unchanged, your settings have the integrated graphics processor selected over the dedicated graphics processor.
Conclusion
Dedicated graphics often make the difference between perfect CPU performance and something much less desirable, yet they are costly. Except when it becomes necessary to buy a dedicated graphics processor, it's better to stick with your in-built GPU, and you can even optimize its performance to meet your needs.
We hope you find this information useful. If yes, consider leaving a comment below. Also, be sure to check out our blog regularly for more content like this.