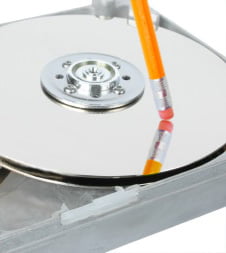 If you've ever accidentally emptied your Recycle Bin instead of hitting "restore", you may have discovered that when you delete a file, you don't actually delete it. You might also know that organizations where security is top priority overwrite deleted files 26 times with random data to ensure that no technology can read them.
There's a reason behind all this paranoia – even if you have deleted and overwritten a file, or deleted files and then formatted your hard disk, information could still be recovered. If you need to ensure that confidential client or personal information isn't accessible on a hard disk, here is how you can securely wipe your hard drive to prevent deleted data restoration.
Before you wipe your disk…
There is NO possibility of recovering data when you wipe the free space on your hard disk with one of the methods we talk about in this article. But it's also important to avoid destroying your files. So, go through this checklist to prevent getting the most horrible sinking feeling after wiping your hard drive:
Make a backup of all the information on the disk if you need to (for example, if you are upgrading your computer and selling or donating the old one)
Make sure you have the driver files for all your computer hardware
Make sure you have all the serial numbers, passwords etc needed to re-register your software.
Third party programs for wiping your hard drive
The easiest way to completely wipe the free space on your hard disk completely is to use a third party program like Auslogics BoostSpeed's inbuilt Disk Wiper. It offers a simple, straightforward interface and a help file if necessary. The Auslogics BoostSpeed process for wiping free space left by previously deleted files takes just a few clicks.
Secure Erase
If your hard drive is an ATA drive built after 2001, it most likely has an inbuilt utility for completely wiping your hard disk – Secure Erase. It overwrites every single cluster on the hard drive, erasing directories, bad clusters, clusters that have been previously partially overwritten… everything. However, you will have to know how to do things like "make sure the jumpers on the hard drives are correctly configured", "set the correct boot priority setting in the system BIOS", and "avoid setting the jumpers to CS (cable select)" – this is part of the readme file that instructs you how to use the utility.
Third party software for wiping your hard drive is by far the most user-friendly, failsafe option – and in many cases, like with Auslogics BoostSpeed, you have plenty of additional functionality also.