'It takes time to save time'
Joseph Hooton Taylor
The notorious login screen in Windows 10 has been repeatedly called a terrible nuisance by numerous Microsoft customers. No doubt, typing your password each time you fire up your computer might seem a deeply redundant procedure. Indeed, why not skip it? That appears a perfectly reasonable solution. However, this matter is not as straightforward as it might seem, so let's try to work things out together.
First and foremost, you might wish to set auto login in Windows 10 or Windows 11, since you are requested to waste your time on the manipulation you can easily avoid. You might think that nothing particularly sensitive is stored on your PC and password-protecting your account is therefore a little paranoid. And last but not least, dealing with the login screen at every boot might slow down your computer for some time. Those sound like pretty good reasons, don't they?
Well, they are, in fact, not that nice. The point is, you will compromise your security if you let auto logon automatically occur on your PC. To start with, your computer can easily get into the wrong hands: it might be stolen, penetrated and used to your disadvantage. The truth is, your machine is actually full of critical data, such as your bank card details, login credentials, insurance details, personal correspondence, etc., which can mess up your life if nicked.
Besides, if your PC seems sluggish after startup, the login screen might not be the culprit.
You may want to disable autostart programs on your Windows machine or uninstall programs you no longer need or use.
Alternatively, just run a complete checkup of your machine to detect and eliminate speed-reducing issues. If you are short of time and not so sure about your technical expertise, you can get this job done for you by Auslogics BoostSpeed – this widely acknowledged optimizer will carefully clean up your computer and skyrocket its performance.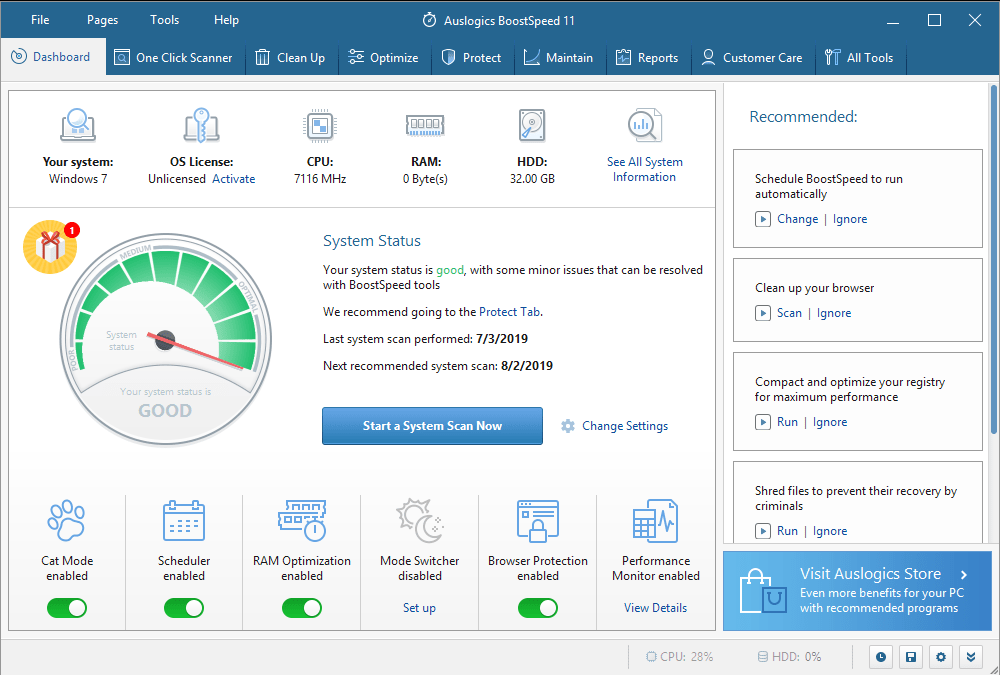 All in all, privacy and security must come first. But the choice is yours, and you might nevertheless want to enable auto login in Windows 11/10, especially, if you have a long password that you don't want to enter every time you start your system. In such a case, you are welcome to try the solutions below.
Here are 3 proven ways to bypass the Win 11/10 login screen:
Change your sign-in options, using the Settings menu.
Configure your login settings via the User Accounts panel.
Modify your Windows Registry to enable automatic login.
All of them are examined in detail below:
Method 1. Change your sign-in options, using the Settings menu.
The easiest way to let your OS boot right to the desktop is by changing your sign-in options in Settings.
To do that, take the following steps:
On Windows 10:
Start menu -> Settings -> Accounts
Sign-in options -> Require sign-in -> Set it to Never
Go the PIN section below -> Click on the Remove button
If this method has been to no avail and the annoying login screen persists, just work your way down – you have two more tricks up your sleeve.
On Windows 11:
Use the Win + Ikeyboard shortcuts to open Settings.
Go to Accountsin the left panel and click on Sign-in options in the right sidebar.
Under Additional settings, click the dropdown list next to "If you've been away, when should Windows require you to sign in again?" and set it to Never.
Method 2. Configure your login settings via the User Accounts panel.
If you are tired of typing a password every time your PC boots, you can tweak your account settings to switch on the automatic logon feature in Windows 10.
Here is how to perform the trick:
Windows logo key + R -> Type 'netplwiz' (without quotes) into the Run box -> Press Enter
Enter the User Accounts dialog box -> Select your user account
Find the 'Users must enter a user name and password to use this computer' option -> Uncheck it -> Apply
You will see the Automatically sign in dialog box -> Type your password into the appropriate line -> Then confirm your password -> Click OK
After saving the changes, restart your PC to see if you can skip the login screen.
On Windows 11:
Launch the Settings app using the Win + I keys and open Accounts -> Sign-in options.
Check if the "For improved security, only allow Windows Hello sign-in for Microsoft Accounts on this device (Recommended)" option under Additional settings is activated. If it is, toggle the button to turn it off. If the option is grayed out, log out of your account and log back in.
You will be prompted for a password. Enter it and hit Yes.
Now, hit the Win + R hotkeys to launch the Run dialog box. Type or paste the command netplwiz and press the Enter key.
On the User Accounts window, uncheck the option that says "Users must enter a username and password to use this computer."
Click Apply and then OK.
You'll be prompted to enter your password to validate the change.
The next time you start your Windows 11 computer, it should automatically log in.
Sometimes, auto login in Windows 11 may not work if any of the Windows Hello sign-in options (Facial recognition, Fingerprint recognition, or PIN) are enabled. You may, therefore, need to disable Windows Hello and then try to enable auto-login.
To do that:
Select your current sign-in method, and click the "Remove" button.
Select the "Remove" button again to confirm your action.
Next, enter your password to confirm your identity and click OK.
Once you're done, repeat the steps above to enable automatic login on your Windows 11 PC.
If you want to undo the changes and password-protect your computer, you should disable auto logon. Just go the 'Users must enter a user name and password to use this computer' option and check it.
Method 3. Enable Windows 11/10 auto login via Computer Management.
This procedure works in both Windows 11 and Windows 10:
Caution: This method might cause data loss from the User Account you select. Therefore, proceed with caution. In case of data loss, use Auslogics File Recovery to restore the files.
Press the Win + R hotkeys, type or paste compmgmt.msc in the Run dialog box, and hit Enter. Alternatively, right-click the Windows key and select Computer Management.
Select Local Users and Groups -> Users in the left pane.
Find the user for which you want to enable password-less login on the right sidebar, right-click it and select Set Password.
You'll get a warning that "Resetting the password might cause irreversible loss of information for this user account." Click Proceed to enable auto login.
In the popup window, leave the New password and Confirm password options empty.
Click OK.
Pressing OK removes any password you had set earlier. This means the next time you restart your PC, you shouldn't be prompted for a password.
Method 4. Modify your Windows Registry to enable automatic login.
This tweak requires much caution. The thing is, editing your registry is quite risky – it may cause your system to fall apart, so there is no excuse for sloppiness in this kind of work.
To begin with, back up your important files to prevent permanent data loss. You can migrate your data to another PC with a transfer cable or by using the HomeGroup feature. Besides, you can utilize a cloud solution, such as Google Drive, OneDrive, etc., or a portable storage device (an external drive will come in very handy for this purpose). You can find more information on these methods in this article of ours, but keep in mind they all imply quite a substantial amount of manual work. To save yourself time and effort, you can use special backup software, such as Auslogics BitReplica.
In addition, we strongly advise you to back up your registry. Here is how to do that:
Open Registry Editor by pressing Windows logo key and R at once and typing 'regedit.exe' (without quotes) into the Run box.
In your Registry Editor, select the keys you wish to back up -> File > Export
Choose where you want to place your backup file -> Choose the name for it -> Save
Here is how to restore the registry in Windows 10:
Open Registry Editor -> Choose File -> Import
Import Registry File -> Locate your backup file -> Open
Now you can edit your registry to set automatic logon:
Go to your Registry Editor
Locate the key HKEY_LOCAL_MACHINE\SOFTWARE\Microsoft\Windows NT\CurrentVersion\Winlogon
Navigate to the entry named DefaultUserName -> Double-click on it
Edit String -> Make sure you can find your account name in the Data value box.
Now search for the DefaultPassword entry -> If you cannot find it, you should create such an entry
Right-click on the empty space -> New -> String Value -> Name it DefaultPassword -> Go to the Value data box and enter your password -> Click OK to save the changes
Find the entry named AutoAdminLogon -> Change its value from 0 to 1 -> Click OK for the changes to take effect.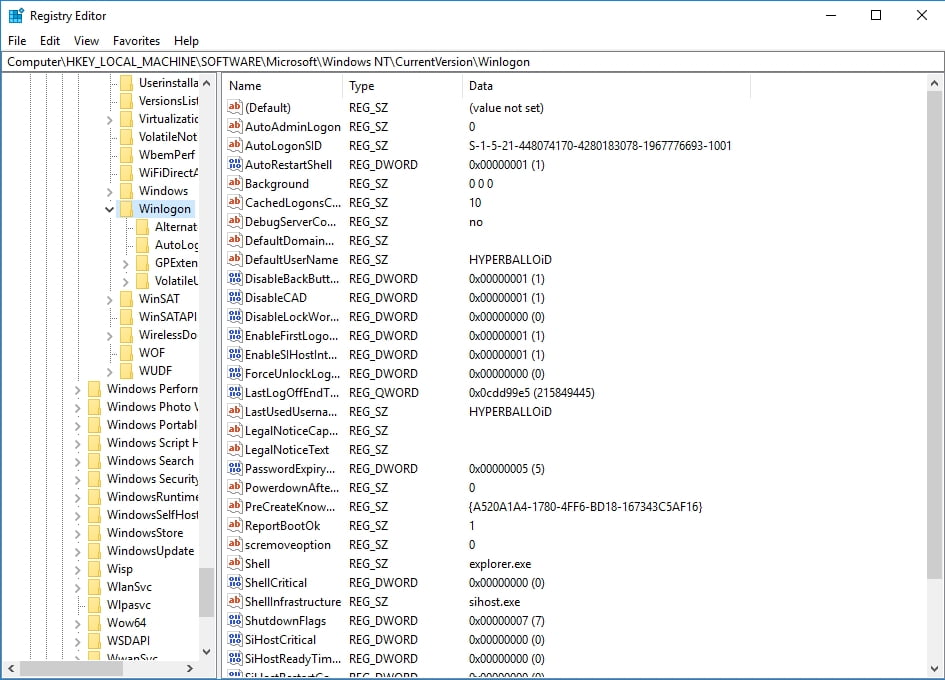 Restart your PC to see if automatic logon has been successfully enabled. To turn it off, you should revert the registry changes you have made.
We hope our tips have proved useful to you.
Do you have any ideas or questions regarding this issue?
We are looking forward to your comments!