Windows is arguably the most flexible among the most popular operating systems. You can make as many adjustments to the OS as your PC can handle. For instance, the Registry Editor only requires perfunctory authorization and no serious coding or programming. Indeed, your Windows PC is your own for all intents and purposes.
However, despite it being under your control, your OS can start running inefficiently. When this happens, getting flustered, throwing tantrums, or even getting a new PC are not sustainable solutions. Many times, you can solve the problem with a timely restart procedure. A more lasting way out is to fix issues is by cleaning or defragmenting the Windows registry.
Now, the registry is not very easy to manage. Although you can access this database of keys and program entries, you have to be super careful. A single mishap can cost you your files and the PC itself. This is why it is awesome that there are third-party apps like the Auslogics Registry Defrag software designed to help you clean and defragment your registry.
In this article, we provide answers to questions you might be having about how to defragment the Windows registry files on Windows 10. We propose that you use dedicated and industry-acclaimed software packages like Auslogics Registry Defrag. We'll list out some of the components of the software and show you how to install and use it effectively.
Components of Auslogics Registry Defrag Software
The Auslogics Registry Defrag tool has a bunch of selling points that endear it to many of its users. Some of these selling points are highlighted in the following subsections.
1. Coverage
Auslogics Registry Defrag is a tool that is dedicated to helping you fix the errors in your registry. The app is particularly designed for this aspect of Windows care. So, it covers every part of your operating system that has to do with your registry system.
The Windows OS is a complete ecosystem with many, many components running simultaneously. So, it's rare to find tools that perform a wide sweep of the system. Even some of the factory software packages, like the Windows Security app, can only do so much.
This is one reason Auslogics Registry Defrag is awesome. It has built-in functions for registry defragmentation and optimization, drives cleanup and optimization, file recovery, drivers update, and general improvement options for PC performance.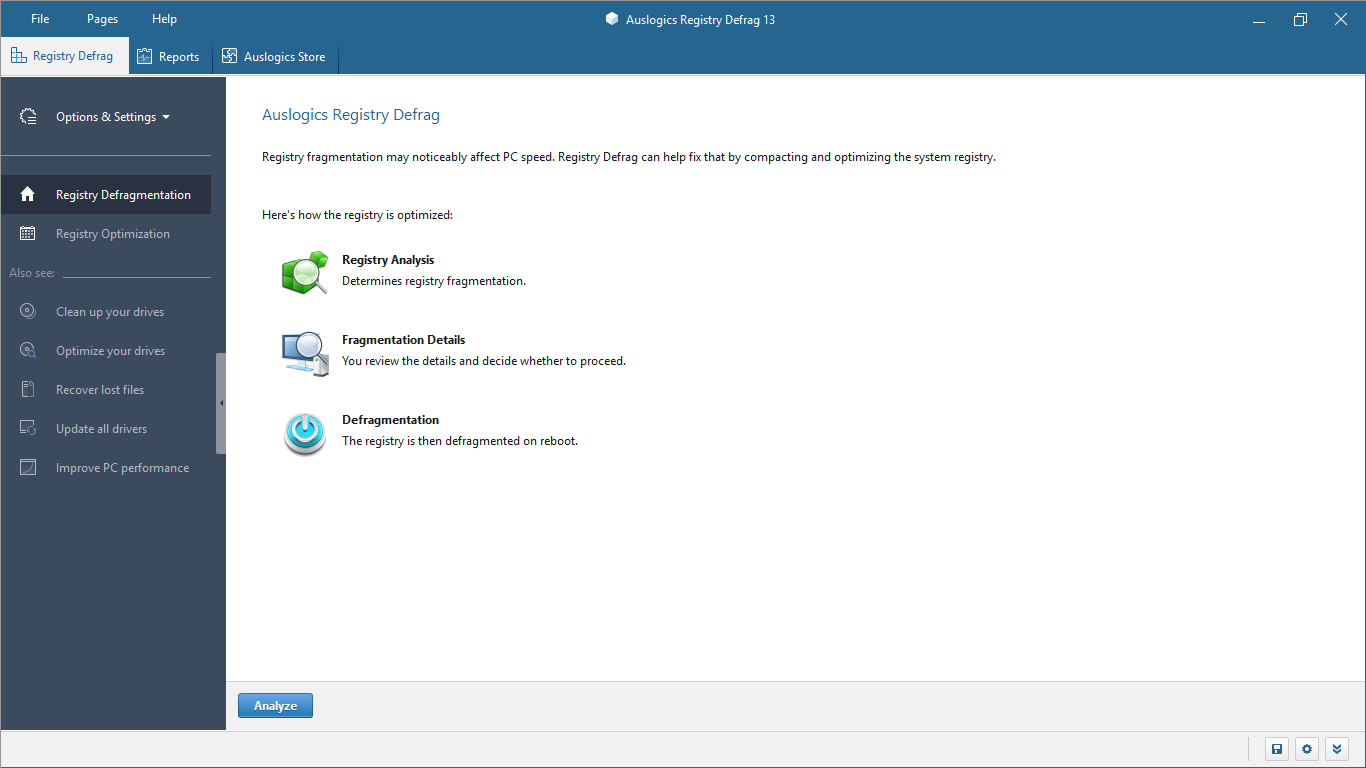 2. Impact on the speed of the operating system
All the Auslogics software packages share the same objective, and that is to improve OS performance. Auslogics Registry Defrag is not left out and has been integrated with Auslogics' BoostSpeed program. It's there to optimize your system setup and background processes.
When you use the Auslogics Registry Defrag tool, you can significantly boost the speed of your PC. This is because the program is specially designed (along with tag-along programs like BoostSpeed) to take care of whatever might be dragging down your OS.
Such obstacles might be outdated drivers, clunky registry keys and entries, or any number of others. At the click of a button, Auslogics unique offering for defragmentation will show you where the problem is, and put it (the problem) to sleep.
3. Ease of use
Auslogics Registry Defrag is easy to use. The software's user interface (UI) is designed in such a way that non-tech-savvy individuals can navigate it within minutes. Moreover, the tabs on the Auslogics 'home screen' are essentially shortcuts to every other function on the app.
On the UI of the Auslogics Registry Defrag app, for example, there is a Reports tab. This shows the various aspects of the PC's operation, including the CPU, connected disks (drivers), network, and memory. Moreover, there is an option called Optimize Drivers on this tab that lets you get your drivers back to their peak forms.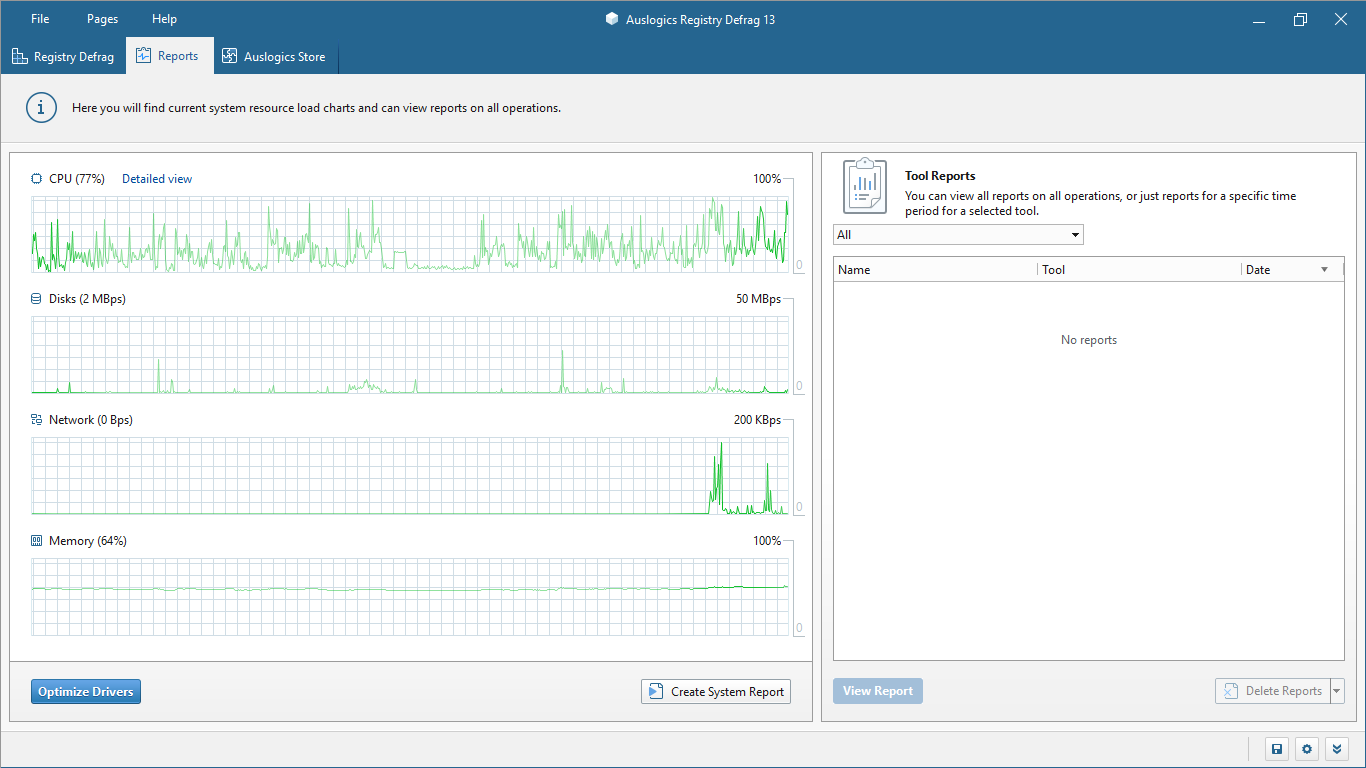 4. Safety/Security
Auslogics Registry Defrag is safe. It is not one of those software packages that introduce malware into your computer or steal your information. Otherwise, it wouldn't have more than 20 million user downloads or rack up acclaim over its decade-long campaign for the optimization of Windows PCs.
Also, for any operation you run using Auslogics Registry Defrag, you can always roll back changes. This is because the software helps you create restore points whenever you use its functions. So, you needn't worry about permanent changes to your PC if you only want temporary fixes.
5. Reasonable pricing
Auslogics Registry Defrag is free. So, you can use the Analyze option to defragment your Windows registry and optimize it. You don't need to spend a dime. The matter of pricing only comes into the picture when you wish to use the tag-along Auslogics software packages.
These Auslogics apps include the aforementioned BoostSpeed, Registry Cleaner, Anti-Malware, BitReplica, Windows Slimmer, or any of the others. Even so, the cost of using these is reasonable. For example, Auslogics charges you only $8.48 a year to use the Pro version of its Registry Cleaner. This license can be used on three different computers.
Installing and Using Auslogics Registry Defrag
Installation
Auslogics Registry Defrag is easy to install on Windows 10. This is what you need to do.
Click on this Download link from the Auslogics Registry Defrag home page.
Follow the instructions to install the defrag software package on your PC.
Launch the app (there is an option for automatic launch after installation).
Follow these steps and you will have Auslogics Registry Defrag running on your Windows PC.
Defragmenting Your Windows 10 Registry with Auslogics Registry Defrag Software
We mentioned earlier that the UI for Auslogics Registry Defrag is intuitive. This is true for whatever Windows version you have because the Auslogics software package is compatible with Windows 7, 8.1, and 10.
Launch Auslogics Registry Defrag by using the Windows key + the S key for search. Then, type in "Auslogics Registry Defrag" (no quotes).
From the window that pops up, you should see a sidebar in the Registry Defrag tab with seven options: Registry Defragmentation, Registry Optimization, Clean up your drives, Optimize your drives, Restore lost files, Update all drivers, and Improve PC performance.
Click on the Registry Defragmentation option on the sidebar and then the Analyze button at the bottom of this page.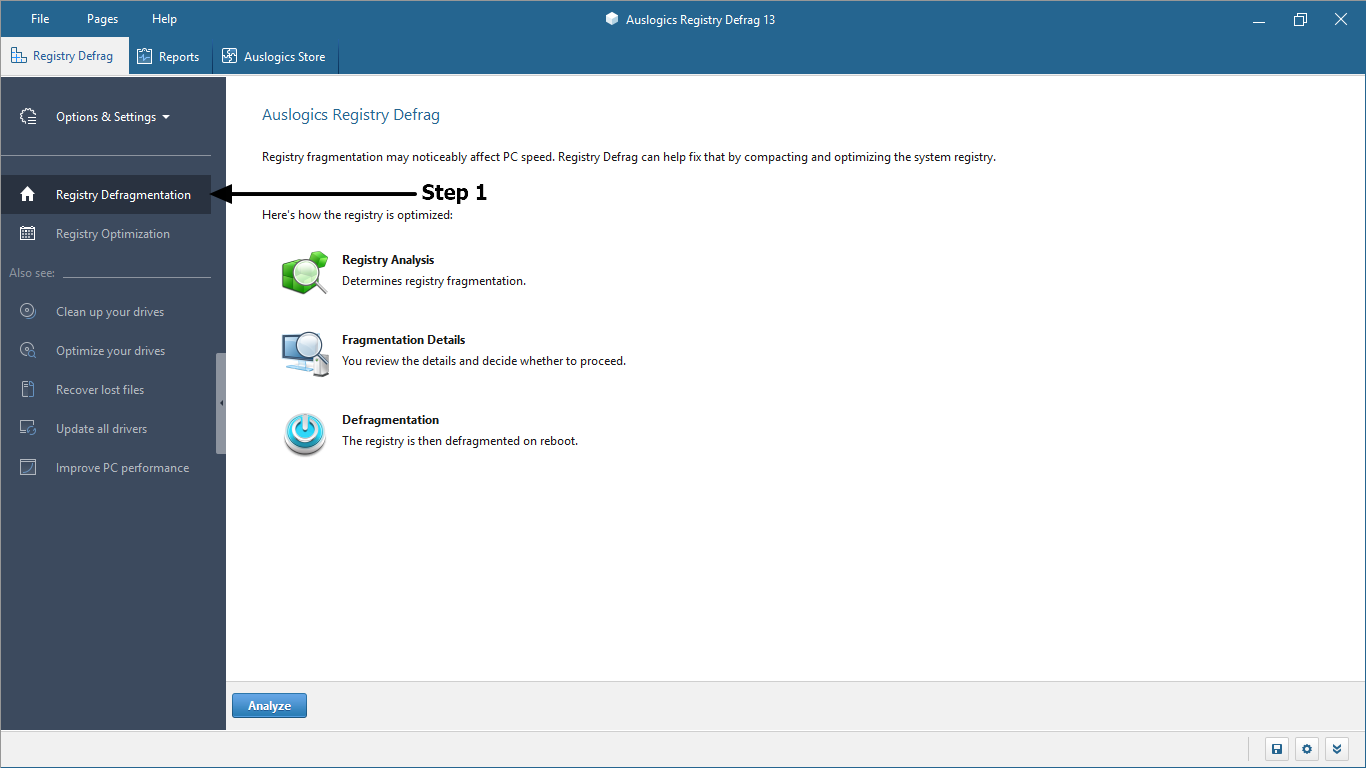 Let it run (it runs for two minutes on average, but the specific time it takes depends on the contents of your registry).
Once the process is complete, mark the box for the 'Create a restore point before defragmentation' option.
Click the Defrag Now option or use the down-arrow button to select the 'Defrag on Next Computer Bootup' option if you are doing something else with your PC.
That is all you have to do. Once you have restarted your PC and the defragmentation process is complete, you will notice your device running more smoothly.
Please note that you can always roll back the process. That was why the software package offered you an option to create a restore point before it initiated the defragmentation procedure. However, this might be unnecessary, especially once you see the results of defragmenting your registry.
In conclusion, the Windows 10 registry is like a minefield. You will face no real problems if you know it like the back of your hand. However, if you are like the majority of Windows users who have no developer-level expertise in the handling of their PCs, you should use dedicated software solutions like Auslogics Registry Defrag. This option lets you manage your registry and improve PC efficiency with ease.