Nowadays, it's common to find free public Wi-Fi almost everywhere you go, from libraries, cafés, and bars to airports and the subway. With the work-from-home model, boundaries between work and home life are quickly becoming blurred. As a result, many people find themselves thoughtlessly sending documents, passwords, and other sensitive company data using public, unprotected Wi-Fi.
Hackers are known to prowl such areas, looking for vulnerable devices to hack in order to steal sensitive information like usernames, bank details, and passwords.
Fortunately, with a VPN, you can rest easy knowing that you can join a public Wi-Fi network and no one will snoop on your online activities. If you're new to the world of VPNs, you've come to the right place. We'll show you how to choose the best VPN services for 2021. We have also reviewed some of the top VPNs of 2021 to make things easier for you when shopping for one.
Here is what we cover in this article:
What Is a VPN?
A VPN, short for Virtual Private Network, is a service that masks your internet traffic through an encrypted tunnel to conceal your data and location. It secures your connection, preventing internet service providers (ISPs) from seeing what you're up to.
More and more people are now realizing that a VPN does more than just prevent spying from trackers, ISPs, advertisers, or even the government. A VPN can virtually relocate you to another area, letting you access censored apps or streamline shows otherwise not accessible in your country.
How to Choose a VPN in 2021
If you're searching for a VPN, you've probably noticed there are hundreds of them. Here are a few tips to help you make the right choice:
Avoid free VPNs. They don't offer the security level and advanced features of paid VPNs.
Consider the quality of customer service. When it comes to security matters, you want to get help whenever you need it. Does the VPN provider offer 24/7 live chat support? Does it have an online ticket system or an email interface?
The security features of your VPN service should be strong without affecting performance. Some VPNs with strong encryption tend to throttle your internet connection speeds.
Choose a VPN that covers your needs. Do you want a VPN for the entire household or for streaming movies? If you're always on the go, you want a VPN that offers excellent security and has servers located all over the world.
Check the VPN's compatibility. Does the VPN allow unlimited devices? Does it support all platforms?
What Is the Best VPN Service for 2021?
Below, we review the top VPN services of 2021:
1. Best on a Budget: Atlas VPN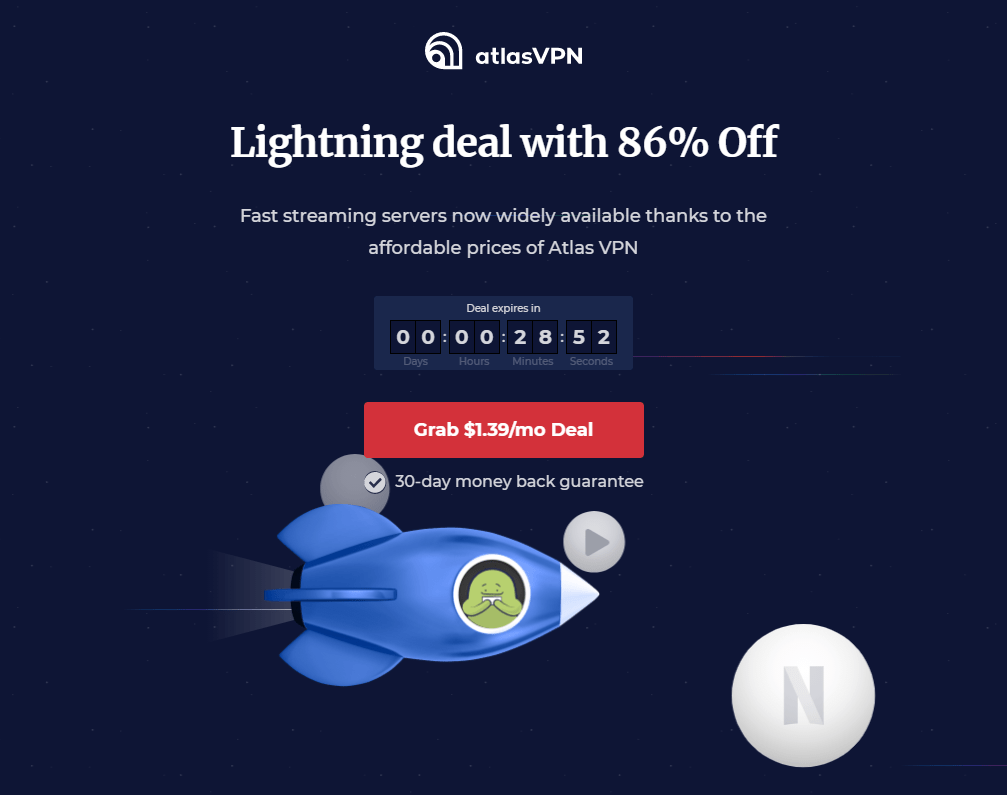 Atlas VPN, while relatively new to the industry, continues to upgrade its services while still maintaining a competitive price. Not only is it affordable, but it also protects unlimited devices with one subscription.
It also promises anonymous web browsing without all the technicalities that would intimidate those less conversant with how VPNs work.
Reasons to Choose
Unlimited data and devices
P2P-compatible
Safe browsing, ad blocker, and email protection
30-day money-back guarantee
Reasons to Avoid
Uses IKEv2 as only protocol tunnel
Small server infrastructure
Lacks live chat but offers great support nonetheless
Atlas VPN Features
Privacy and Security
Atlas VPN is owned by Peakstar Technologies, a company based in the US and a member of the Five Eyes alliance. The company has clearly outlined the types of data it collects in its privacy policy, stating that only basic analytics are collected.
However, since it's based in Delaware, United States, you may be concerned about government agencies, like NSA, accessing your data. But, the company says it doesn't store any logs.
It uses the IPSec/IKEv2 tunneling protocol across all platforms to keep your data protected. Although this can't be compared to the verified security of OpenVPN, it still makes for a good choice.
The tunneling protocol and the company's location are not some of the VPN's strong selling points, but it's reassuring that it comes with AE-256 encryption and a kill switch feature.
The AES-256 cipher is the current standard used for data protection. It is even used by governmental and financial institutions. The security feature scrambles your data into 256-bit size chunks, making it extremely difficult to crack even with powerful computers.
Performance and Speed
IKEv2 is not the fastest tunneling protocol, and you can expect your internet connection to slow down a bit when using Atlas VPN. However, you still get a decent speed, although it could do with more tunneling protocol options.
The VPN has more than 700 servers in 28 countries, which is adequate. Performance is satisfactory in the US and the UK but may vary greatly in parts of the world with less coverage.
Data Breach Monitoring
Mobile users get the Data Breach Monitoring feature, which lets you enter your email address and check if it has been breached.
Torrenting
Atlas VPN allows torrenting and has P2P-optimized servers. Download speeds on torrent sites like BitTorrent are fast, but they are always dependent on seeders. Just be sure you download non-copyright media to avoid finding yourself on the wrong side of the law.
Supported Platforms
Atlas VPN has desktop apps for Windows and macOS and mobile apps for iOS and Android.
Pricing
Atlas VPN has a free version with no data caps. However, free users have access to limited features.
1-Month Plan – $9.99/month, billed every month
1-Year Plan – $2.49/month, billed $29.88 every year
3-Year Plan – $1.39/month, billed $50.04 every three years
All plans have a 30-day money-back guarantee.
Download Atlas VPN now
2. Best for Travel: PureVPN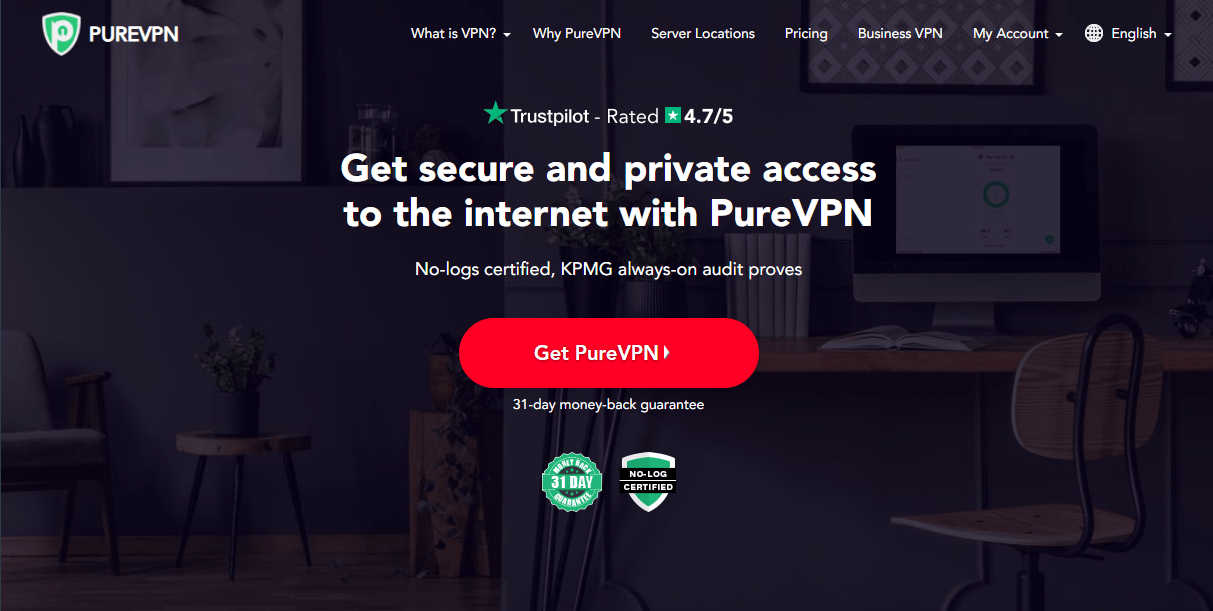 If you travel a lot and want to stay protected wherever you go, consider opting for PureVPN, which has over 6,500 servers in 140+ countries. This means you get more coverage as you wander around the world, whether for pleasure or business.
Reasons to Choose
Doesn't log IP addresses or websites visited
Has lots of features, including split tunneling, kill switch, and torrenting
Fast enough on macOS and satisfactory on Windows
Can unblock streaming sites, like Netflix
Reasons to Avoid
No unlimited simultaneous connections
Kill switch isn't always reliable
No free version
Customer support could be better
PureVPN Features
Privacy and Security
The company is based in Hong Kong, a Five Eyes non-member. It means the company can't be forced to divulge any of its users' information to the government.
PureVPN has a long list of all the data it doesn't log, such as connection logs, records of the IPs assigned to you, your original IP address and browsing history, and so on.
However, its privacy policy indicates that it actually collects details like the day you connected to a specific location, the connection length, the number of connections, your ISP, and the overall total bandwidth used. This is quite misleading and might be an issue of concern.
On a positive note, PureVPN passed a no-logging audit by KPMG. The company has an 'always-on' audit policy, meaning KPMG can pop in without prior notice to initiate a privacy audit.
In terms of security, PureVPN offers several protocols based on the platform you use. It employs the OpenVPN/IKEv2 protocol on Windows, OpenVPN on macOS and Android, and IPSec/IKEv2 on iOS. It also lets you choose the PPTP protocol if you prefer speed over security. All these protocols are highly secure, except for PPTP (Point-to-Point Tunneling Protocol), which should be avoided in almost all situations.
PureVPN uses AES-256 for data encryption, which, when combined with strong protocols, adds to your overall online safety. The VPN lets you pick a tunneling protocol that suits your needs.
Performance and Speed
Like Atlas VPN, PureVPN slows your connection down, although it displayed impressive test results. The speed may vary wildly depending on the device you're using, your internet service provider, your location, the time of day, and the VPN server distance.
PureVPN has servers in over 6,500 locations in 140+ countries around the globe. It's this kind of worldwide presence that makes it the best VPN for travel. You can be guaranteed to have at least one server close to you when using public Wi-Fi in a foreign country.
PureVPN showed zero DNS and WebRTC leaks on tests. It also offers the 'kill switch' and split tunneling features to further protect your online anonymity.
Streaming and Torrenting
PureVPN claims it can unblock popular streaming sites like Netflix, BBC iPlayer, Hulu, and HBO in HD. True to its word, the service was able to bypass Netflix's VPN detection system. The VPN also successfully unblocked BBC iPlayer and Disney+, but the connections were incredibly slow.
PureVPN also allows you to use torrenting sites like BitTorrent to download content. Just be sure to connect to one of the servers that support torrent file transfers.
Supported Platforms
PureVPN supports different types of devices, including Windows PCs, Macs, Android smartphones, iPhones, iPads, and Linux machines. It's also available for Chrome, Firefox, Xbox, Routers, Android TV, Amazon Firestick, Roku, and Kodi.
Pricing
1-Month Plan – $10.95/month, billed monthly
1-Year Plan – $3.74/month
2-Year Plan – $2.91/month
3. Best for Speed and Overall Performance: Outbyte VPN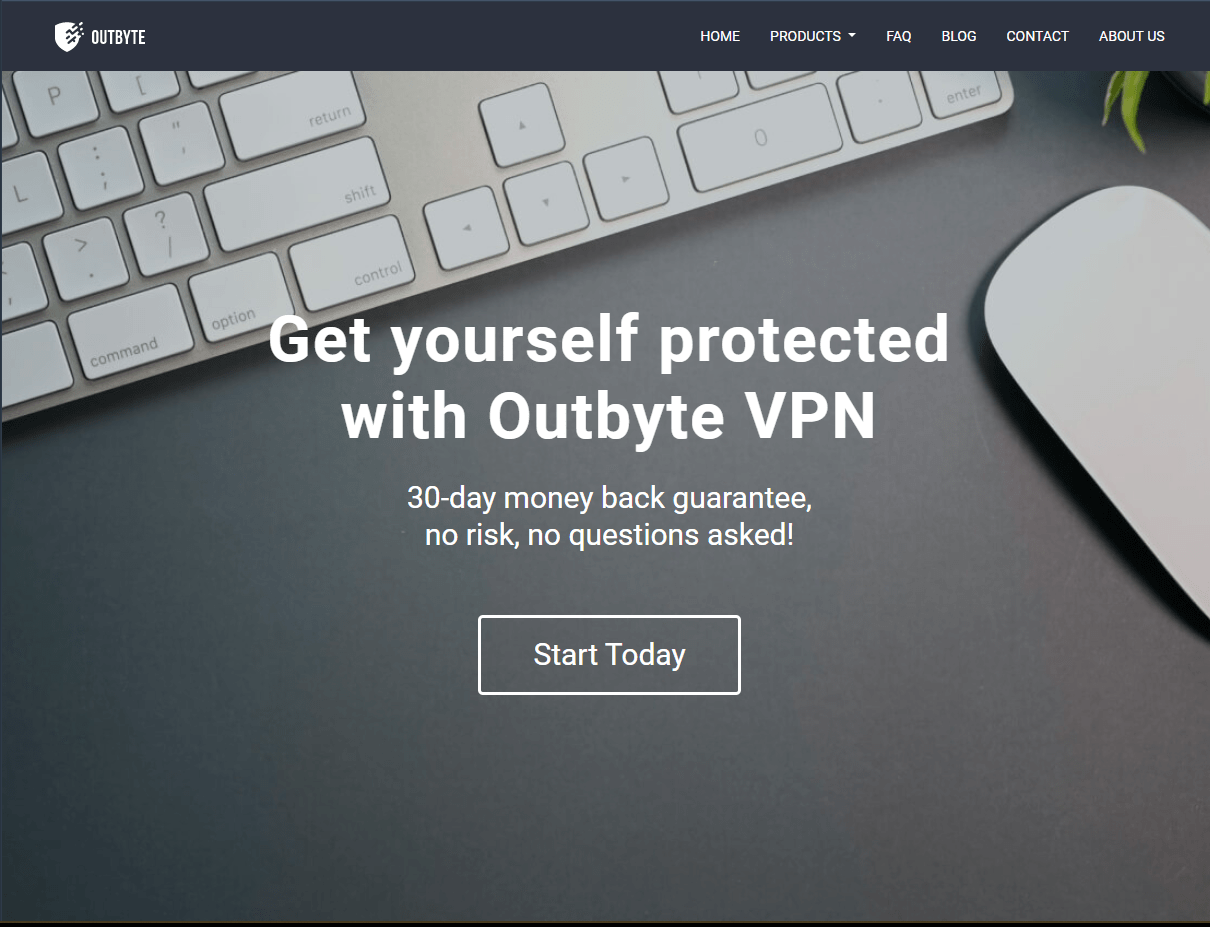 Outbyte VPN is one of the best VPN services of 2021. Its operations are headquartered in Australia, and it offers fast and reliable connections and has a strict 'no logs' policy. This means you can rest assured that your data is in good hands.
Outbyte VPN has a wide coverage, with over 80 server locations in 48 countries. On top of its user-friendly interface and ease of use, the tool offers strong encryption algorithms and a kill switch to prevent data leaks. It also gives users access to numerous features, including unblocking restricted content and safe P2P torrenting services.
Reasons to Choose
Supports a wide range of devices and systems
Unblocks streaming services like Netflix
Allows up to six simultaneous connections
Covers China
Employs a strict 'No Logs' policy
Utilizes top-notch encryption
Offers data leak protection
Offers 30-day money-back guarantee
Reasons to Avoid
No free trial
No live support
Outbyte VPN Features
Privacy and Security
As noted earlier, Outbyte VPN operates out of Australia, one of the countries that form the Five Eyes alliance. While this may mean it is subject to mass data surveillance, you can trust Outbyte VPN to protect your data since it doesn't keep logs.
In other words, there are no privacy risks to user data like IP addresses, websites visited, records of browser activity, and browser history.
Military-Grade Encryption
Outbyte VPN uses OpenVPN, which online security experts agree is the most secure VPN protocol. Considering that the OpenVPN protocol doesn't have any vulnerabilities, it's easy to understand why.
Outbyte VPN implements AES-256 encryption, the go-to encryption cipher used by the US government and military and financial institutions to protect sensitive information. The service offers AES-128 and DES-CBC encryption as well. Advanced Encryption Standard (AES) is a complex algorithm that encrypts data with 128-, 192-, or 256-bit keys.
Outbyte VPN's strong encryption features combined with the most secure VPN protocol guarantee the overall safety and security of your data.
Performance and Speed
Super-Fast Speeds
VPNs are known to slow your connection down, but that is not the case with Outbyte VPN. With servers spread across 80 locations in 48 countries, users can enjoy fast connections from all its servers.
It's important to note that your internet speed is affected by many factors, including the distance from the server, your location, and your ISP. Generally, Outbyte VPN continues to deliver consistently above-average speeds in tests.
No Free Version
Outbyte VPN doesn't offer a free service. But then again, free VPNs are not the most reliable ones, and what they offer cannot be compared to the robust security features you get from paid VPNs. Some disappointing features of free VPNs include constant ads, limited server options, weaker encryptions, bad or non-existent support, and limited bandwidth, among many others.
Kill Switch
A reliable kill switch is a must-have for any good VPN service. Once activated, the function prevents your private IP address from getting exposed to your ISP if you get disconnected from your VPN by accident.
The feature can be useful when using public Wi-Fi, which is susceptible to hacker attacks, or when downloading content that could be copyrighted. The kill switch on Outbyte VPN is enabled by default and works as expected. It also proved to effectively prevent data leaks on all IP, DNS, and WebRTC leak tests.
Discounts
While Outbyte VPN does not offer a free version, its paid versions are heavily discounted. For instance, if you commit to a 6-month plan, you get 20 percent off. The one-year plan saves you a whopping 38 percent.
All plans provide a 'no logs' policy, military-grade AES-256 encryption, and a 30-day money-back guarantee.
Streaming and Torrenting
The fast downloading and uploading speeds mean users can stream and download torrent files without any downtimes. The service can successfully unblock any geo-restricted websites, allowing you to access popular streaming platforms like Netflix, HBO, Disney+, and Hulu.
Outbyte VPN ensures you can use P2P/torrenting sites with peace of mind with its 'zero logs' policy, kill switch feature, and strong encryption. Torrenting services like BitTorrent seemed to work pretty well with Outbyte VPN activated. The platform doesn't impose any bandwidth restrictions on your torrenting activities.
However, it's always advisable to be careful when accessing such sites to avoid breaking copyright laws.
Split Tunneling
Outbyte VPN offers the split tunneling feature, which lets you encrypt the traffic of some of your sites while allowing the rest of the traffic to go through an open network. It means you can choose to access some apps without using the encrypted tunnel that the VPN service provides.
Supported Platforms
Outbyte VPN is available for Windows, macOS, and Linux. Users can also download its mobile apps for iOS and Android.
Pricing
Monthly Plan – $7.99/month, billed monthly
6-Month Plan – $6.33/month, billed $37.99 every six months
1-Year Plan – $5.00/month, billed $59.99 every 12 months
Try Outbyte VPN on your device
4. Best for Video Streaming: NordVPN
NordVPN is a popular VPN service that operates out of Panama, a Five Eyes, 14 Eyes, and 9 Eyes non-member. It has a strict logging policy and wide coverage, with 5,000+ servers in more than 60 countries around the globe.
Reasons to Choose
Strict logging policy
Large number of servers, meaning more coverage
Excellent security
Unblocks Netflix
30-day money-back guarantee
Reasons to Avoid
No free trial
Kill switch on iOS app not quite effective
NordVPN Features
Privacy and Security
NordVPN is based in Panama and, therefore, is not legally obliged to collect any information on users. It has a 'no logs' policy and is regularly audited by PricewaterhouseCoopers AG in Switzerland, confirming its commitment to transparent logging.
The service employs AES-256 encryption and gives you the option to activate the Double-VPN system, which encrypts your data not once but twice. NordVPN offers other advanced features, like DNS leak protection, and several protocols to choose from for extra safety and speed.
Performance and Speed
NordVPN is one of the fastest VPN services of 2021. The high speed is courtesy of its in-house tunneling protocol, NordLynx. Usually, when you enable a VPN on your computer, it affects your web browsing performance, and NordVPN is no exception.
Users may experience varying speeds depending on their location, their proximity to the servers, and the specifications of their machines, among other factors. On top of being fast, NordVPN covers up to six devices with one account and offers over 5,000 servers situated in 60 countries worldwide.
Like many other VPNs, NordVPN is equipped with a kill switch to disconnect you from the internet when your VPN connection drops.
Streaming and Torrenting
Due to the high download and upload speeds, users can enjoy streaming on geo-blocked sites like Netflix, Amazon Prime, Hulu, Disney+, HBO, and BBC iPlayer in the UK. The platform also gives users access to browser plugins for convenient streaming.
Supported Platforms
You can get a NordVPN application for macOS, Windows, iOS, Android, and Linux. Additionally, it offers extensions for Chrome and Firefox.
Pricing
1-Month Plan – $11.95/month, billed every month
1-Year Plan – $4.29/month, billed $59.00 for the first year
2-Year Plan – $3.30/month, billed 89.00 for the first 24 months + three months free
5. Best for Price Flexibility: RapidVPN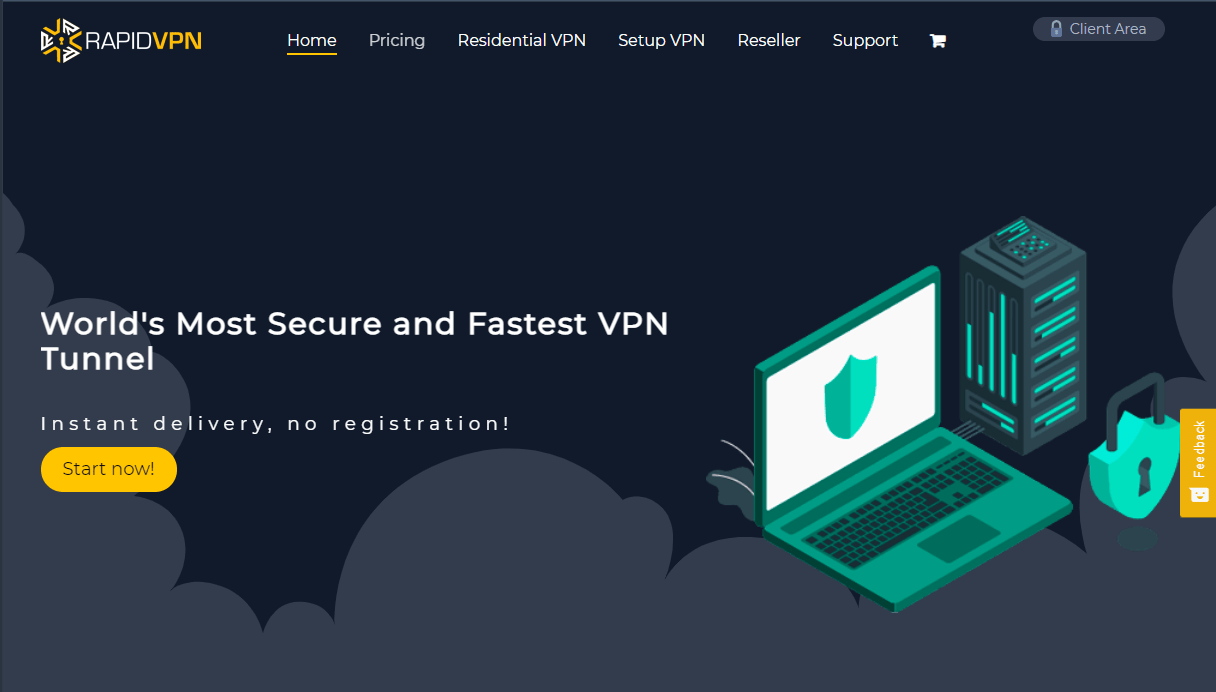 RapidVPN provides its services in several countries and uses the most popular VPN protocols. It's a great option for those looking for anonymity and safety online.
Reasons to Choose
You can connect up to four different devices simultaneously with one account
30-day money-back guarantee
Unblocks streaming sites like Netflix and Hulu
Three layers of protection
Trial version
Reasons to Avoid
Pricing plans based on target audience
Torrenting services only offered in two locations
No Mac or iOS apps
Little network coverage
RapidVPN Features
Privacy and Security
RapidVPN is a UK-based service provider that is known for reliability and high speeds despite its small number of servers. It relies on 128-bit encryption, which, while offering good security, cannot be compared to AES-256 encryption.
The service supports OpenVPN with 16 different ports for UDP and TCP, as well as other protocols like L2TP, SSTP, PPTP, and Softether. SSTP and Softether are excellent, especially if you want to bypass restricted content in regions like China and Turkey.
The service is a bit vague about the type of data it collects, only stating that they "do not keep any logs of your activity."
Performance and Speed
RapidVPN has only 18 server locations, with 12 in the US, five in Europe (in Germany, the UK, Sweden, Netherlands, and Switzerland), and one in Canada. The service supports up to four simultaneous connections by default, and you can upgrade to a maximum of 99 connections for a fee.
Other well-known VPNs allow unlimited connections at no extra cost, and this can be a hard sell for RapidVPN. The speeds vary depending on your location, but the VPN seems to perform exceptionally well with the UK server. Generally, the service offers satisfactory speeds in most regions.
RapidVPN lets you select your preferred protocol from a list and comes with built-in DNS and IPv6 leak protection. While it has a kill switch function, it's not the firewall type but rather an application-only switch. It means you'll have to tell the app the process you wish to close if your VPN connection drops by accident. An automatic kill switch is preferable and more effective in keeping your activities anonymous.
Streaming and Torrenting
RapidVPN provides fast and secure connections, allowing users to enjoy seamless streaming on certain sites. It connected to US Netflix with no issues but failed to unblock BBC iPlayer, Amazon Prime, and Disney+. However, subscribing to one of its dedicated IP plans allows you to unblock more sites.
Supported Platforms
RapidVPN is available only for Windows and Android devices.
Pricing
RapidVPN offers complex pricing options based on location and feature availability. All accounts are inclusive of multiple connections, unlimited traffic, and port forwarding.
Install RapidVPN now
6. Best for Novices: ZenMate VPN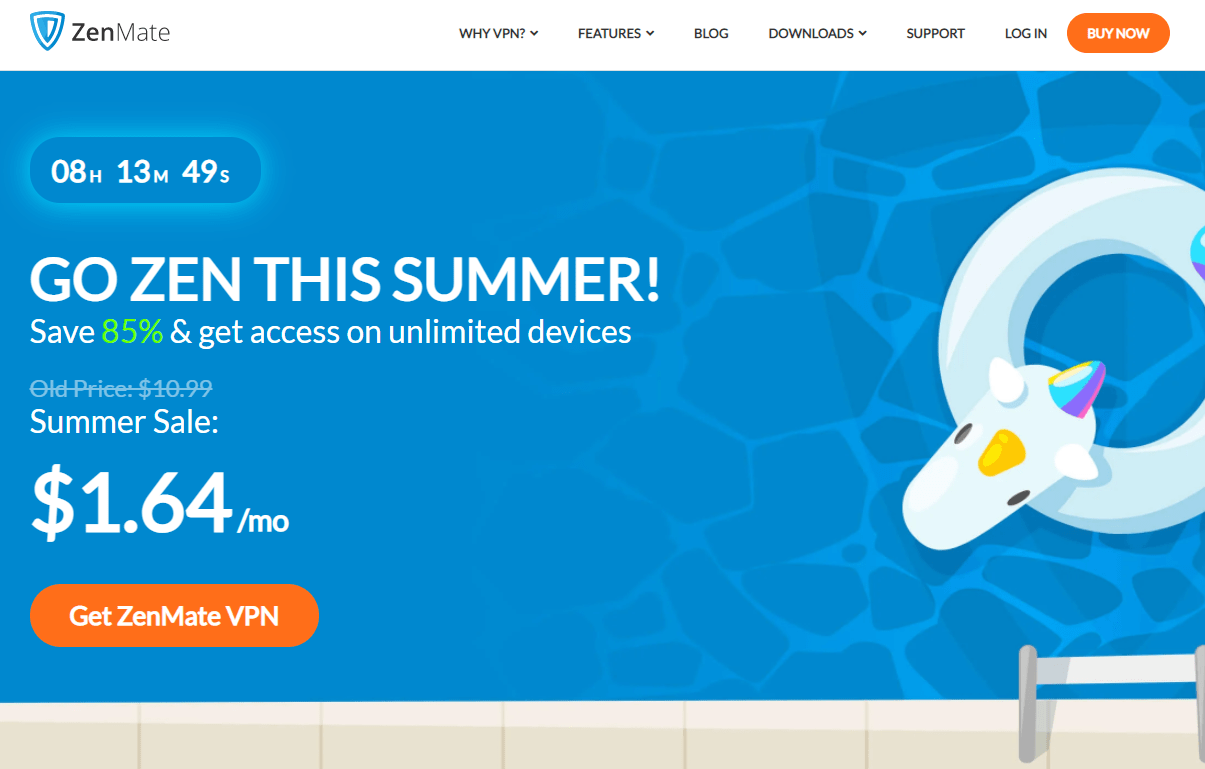 ZenMate VPN may not be the best VPN service around, but it offers some basic protection for the average user. While affordable, it operates from a 14 Eyes member country. Additionally, the speeds can be disappointing, and the tunneling protocols are limited.
Reasons to Choose
Good connection speeds in US
Unlimited simultaneous connections
Cheap long-term plan
Reasons to Avoid
Fewer features
Customer support issues
ZenMate VPN Features
Privacy and Security
ZenMate VPN's target audience is the novice user, so no wonder it's short on features. The service sells itself as a 'no logs' VPN but has a vague privacy policy.
The good thing is that its headquarters is in Germany, a country with strict privacy laws. This means you can trust it to protect your data.
The company uses two high-standard encryption types: 128- and 256-bit, both of which offer good security when using public Wi-Fi. Overall, ZenMate VPN doesn't offer much variety when it comes to tunneling protocol selection.
ZenMate VPN's Windows and Android apps use the more secure OpenVPN protocol, while its macOS and iOS apps are limited to the less secure IKEv2 protocol.
Performance and Speed
As of this writing, ZenMate VPN has 2,700 servers distributed across 78 countries and 86 cities. This is an impressive network range, and the company claims to own all of its network, which is a good thing since your data isn't handled by third parties.
However, you cannot select city-level servers. The app automatically selects a city-level server based on your location. ZenMate VPN's speeds were disappointing, with test results registering a 52 percent speed drop compared to not using a VPN. Some long-distance servers were severely impacted, measuring losses of up to 90 percent when connected to the US.
ZenMate VPN comes with an automatic kill switch, which is triggered the instant your connection to the VPN service drops.
Streaming and Torrenting
As a VPN, ZenMate VPN does its job of masking your IP address and online activities from snoopers. However, due to the speed issues, you can expect a lot of buffering from streaming websites and slow downloads from torrent sites.
Streaming options with ZenMate VPN are somewhat limited, with only Netflix and YouTube being accessible. It was unable to unblock sites like Amazon Prime Video and BBC iPlayer.
Supported Platforms
ZenMate VPN provides apps for Windows, macOS, and Linux and routers. There are mobile apps for iOS and Android and extensions for Chrome, Edge, and Firefox.
Pricing
1-Month Plan – $10.99/month, billed every month
1-Year Plan – $4.49/month, billed $53.88 every 12 months
3-Year Plan – $1.64/month, billed $59 every three years
7. Best for Streaming: Surfshark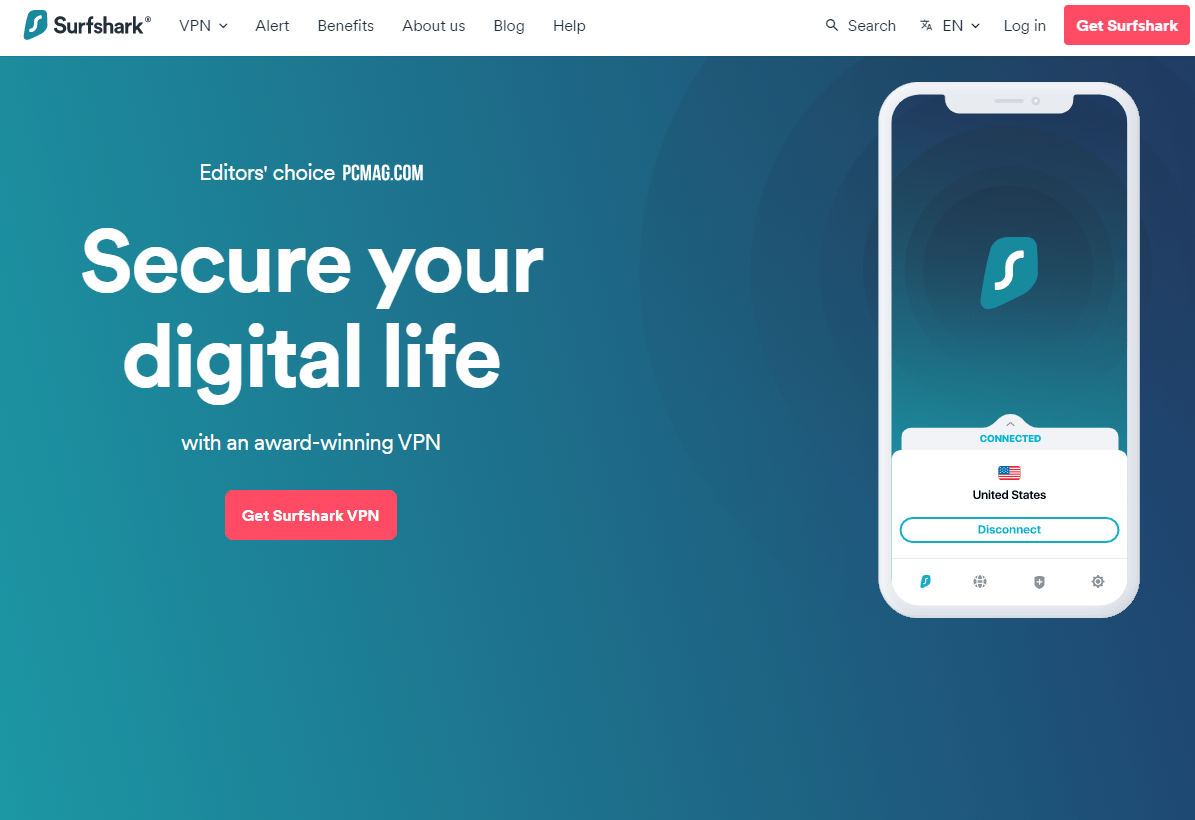 Surfshark is a powerful VPN service operating out of the British Virgin Islands. It has a long list of features, all offered at a competitive price. The VPN has a strict 'no logs' policy and offers consistently good speeds.
It has unlimited connections, allowing you to use it on multiple devices with one account.
Reasons to Choose
Great for streaming
Fast and reliable connections
Best value on long-term plans
Unlimited devices
Reasons to Avoid
Some functionalities are missing
Surfshark Features
Privacy and Security
Since the VPN's headquarters is in a privacy-friendly region, your data is less vulnerable to court and law enforcement orders. On top of that, Surfshark offers a wide range of privacy features, like multi-hop VPN connections that conceal your real location by routing you through different endpoint countries.
It also implements on-by-default VPN obfuscation, which circumvents nation-state firewalls. User data is encrypted with military-grade AES-256 cipher, and it provides additional security features, like leak protection and ad blocking. The VPN's servers run on RAM only, meaning every time the system is rebooted, all the stored data gets wiped.
Surfshark recently added WireGuard to its OpenVPN UDP/TCP and IKEv2 protocols. It also offers a kill switch and private DNS for added protection. Users can activate the Camouflage Mode, a feature that hides the fact that you're using a VPN.
Performance and Speed
Surfshark delivers some of the fastest speeds among VPNs and offers a wide coverage, with over 3,200 servers in 65 countries. Speed tests have consistently registered positive results, and the closer you are to the server, the better the connection.
The service supports unlimited connections, with one account serving multiple devices.
Streaming and Torrenting
If you love streaming, Surfshark might be a good fit for you as it unblocks most sites without struggling. The VPN automatically finds the right server for the streaming service you want to use so that you don't hop from one server to another.
It proved to work perfectly for sites like Hulu, Netflix, HBO Go, YouTube, Spotify, and Disney+. Torrenting fans can also enjoy super-fast speeds when downloading files with peace of mind, knowing that their privacy is protected.
Supported Platforms
Surfshark supports a wide variety of systems, including Windows, macOS, Linux, iOS, Android, and Fire TV. It also has extensions for Chrome and Firefox.
Pricing
1-Month Plan – $12.95/month, billed monthly
6-Month Plan – $6.49/month, billed $38.94 every six months
2-Year Plan – $2.49/month, billed 59.76 now and annually after the first 24 months
8. Best for Unblocking Content: Hola VPN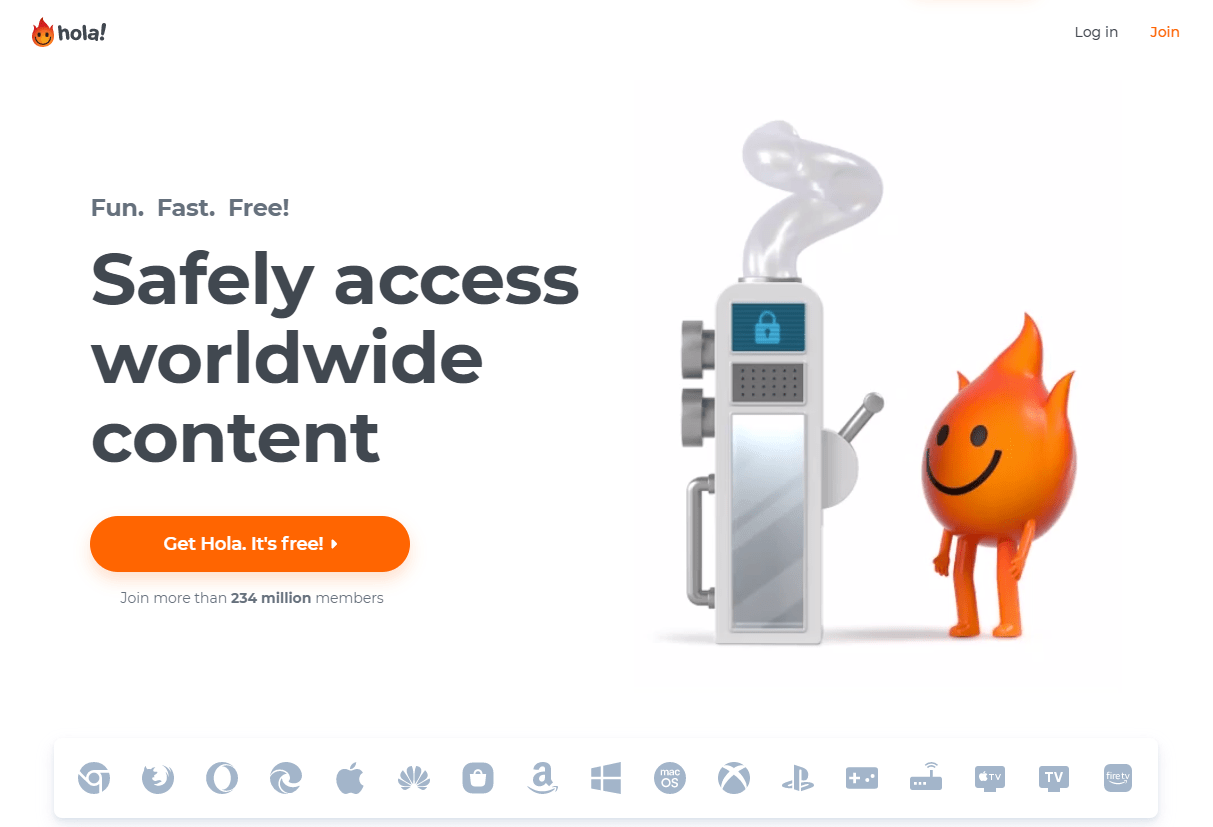 Hola VPN supports a wide range of platforms, including PlayStation, Xbox, Samsung, Huawei, and routers, to name but a few. The service claims it offers millions of IPs and thousands of servers to give you endless entertainment in over 190 countries.
Hola VPN has a free version that's not laden with ads or interruptions. Free account users can enjoy fast connections and unlimited time 24/7. For additional features, users can upgrade to Hola Premium, with prices starting from $2.99.
However, since Hola VPN is a community-powered VPN, users should be aware of serious security risks and logging concerns.
Reasons to Choose
Free VPN services
Supports wide range of systems and devices
Fast enough to stream 4K content
Can unblock numerous streaming sites
Reasons to Avoid
Free version has limited features
Users have reported logging issues
Lacks security and privacy features
Hola VPN Features
Privacy and Security
Hola VPN is not the best VPN for privacy or security. It is a peer-to-peer VPN, meaning browser traffic is routed through its users.
It has no fixed network of managed servers, and one of the advantages of this system is that it makes it difficult for websites to detect you're using a VPN. The downside is that it only protects browser traffic and doesn't offer strong encryption like other VPNs.
Performance and Speed
Hola VPN works almost everywhere and offers browser extensions for Chrome, Edge, Firefox, and Opera. But, installing the Hola app poses a privacy risk since you'll be allowing Hola to use some of your network and system resources. Due to this, hackers can easily use your connection as an exit server to perform their dubious actions.
Upgrading to Hola Premium helps to avoid these problems since it doesn't share your bandwidth with other users and lets you use a network of Hola's own servers. The service delivers outstanding speeds, and you can stream 4K videos from YouTube and other websites without any buffering.
Streaming and Torrenting
Hola VPN excels when it comes to unblocking geo-restricted content. It had no issue connecting to popular streaming sites like US Netflix, Amazon Prime Video, Disney+, HBO Max, and HBO Now during tests.
Hola VPN works very well when unblocking streaming sites, but it shouldn't be your go-to VPN for all your browsing. If online safety and security are your main priorities, we recommend choosing a more robust VPN like Outbyte VPN.
Supported Platforms
Hola works on most devices and operating systems and offers browser extensions for Chrome, Firefox, Edge, and Opera. It provides mobile apps for iOS, Samsung, Amazon, and Huawei. It's available for Windows and macOS and TV apps like Apple TV, Fire TV, and Smart TV.
Pricing
Pro – Free with unlimited time, fast connections, and no ads
Premium – $7.49/month
Ultra – $29.99/month
Conclusion
There you have it! These are some of the best VPN services you can choose to secure your privacy online. As you can see, these VPNs offer unique functions and features. It's up to you to figure out what works for your needs.
An important factor to consider, apart from security, connection speeds, and server locations, is the money-back guarantee. If you happen to pick a VPN but later discover it doesn't live up to its reputation, the process of canceling the contract shouldn't be complicated.