When it comes to searching for the best free VPN for Windows 10, you can easily find one. In fact, the numerous options available to you can be overwhelming. However, you should proceed cautiously because many free VPNs threaten security and privacy. 
That's why this guide is for you. We'll help you find a good VPN for PC that prioritizes reliable performance and privacy protection. We'll also show you how to choose a VPN so that you make the right choice. 
Let's begin. 
What Is a VPN?
VPN, or "virtual private network", offers a secure way to connect to the internet, especially when using a public network. 
It helps make it more difficult for others to monitor your online activity or steal your data by masking your online identity and encrypting it. The encryption process happens in real-time. 
So how does a VPN actually work? By passing your connection through its server, a VPN can hide your true location from the websites you visit. In this case, the VPN server provides the information as you surf the web. 
This prevents your ISP and others from monitoring your internet activity by seeing the websites you visit and the data you send and receive. You can think of a VPN as a filter that scrambles all your data into unintelligible gibberish. 
The encryption will make Your data useless to anyone who intercepts it.
---
Related: "Do I need a VPN?" – main benefits of using a VPN 
---
How to Choose the Best Free VPN for Windows 10 PC
If you want the best free VPN for PC, you can find one. However, with so many options available, choosing a VPN can be pretty challenging. So if you want to choose the right VPN for your computer, consider the following factors: 
1. Check the Number of Servers
If you want the best VPN for PC, check how many servers you'll have access to. It immediately affects the time required to make the first connection and the speed at which the connection remains active.
The server location is also essential, especially if you must bypass geographical locations to access certain video content or get cheaper flights. Unfortunately, free VPNs limit users to just a few server locations to accommodate their paid customers.
For example, ProtonVPN provides access to servers in over 65 countries. But the free tier only provides access to servers in three.
2. Check the Privacy Policy
Since protecting user anonymity is one of the main objectives of VPNs, any reputable provider would make their policy on user privacy readily available. Whether or not the VPN stores any user data and for how long should be stated in this policy.
Free or not, this is public information, and you can easily find it on the websites of any reputable VPN service. However, not all VPN services are open about privacy policies, so you must be careful and do your homework.
---
Also Read: Digital Privacy: Tips on How to Protect Yourself on the Internet
---
3. Verify the VPN's Protocols
The protocols supported by a VPN service are vital to ensuring the safety of your data transmissions. However, regarding safety, not all VPN services online are created equal.
Even though modern encryption methods have made PPTP and other older protocols obsolete, some service providers still use them.
Choose an OpenVPN-compatible VPN provider if you need to connect a desktop computer. OpenVPN provides high-end security and a wide range of configuration options when configured to use AES encryption.
So, before deciding on a free VPN for Windows 10, it's essential to verify the protocols it supports to guarantee higher safety.
---
Also Read: How to Prevent Wi-Fi Not Working With a VPN?
---
Are Free VPNs Safe?
In most cases, a free VPN isn't reliable enough for complete online safety.
If you encounter a VPN that costs nothing, you should ask yourself why. A major privacy worry is the history of scandals with free VPNs that were revealed to capture and sell user data.
Free VPNs frequently include restrictions or limitations. Data limitations, slower speeds, or fewer servers could all fall into this category. Free VPNs are fine occasionally, but you shouldn't rely on them permanently because of security concerns. 
The Problems with Free VPNs
Security Concerns

: Free VPNs for Windows 10 can compromise security and privacy due to their need for monetization, often resorting to selling user data.

Connection Limitations

: Be cautious with free VPNs; they may slow down your connection, restrict online viewing, and limit bandwidth usage.

ISP Involvement

: Free VPNs use your ISP's network first, which can further affect connection speed.

Geo-Restrictions

: Unlocking region-locked content (like certain Netflix shows) is typically not possible with free VPNs due to their limited server capabilities.

Browsing Locations

: Choosing a specific browsing location can be challenging due to the same server limitations.

Geo-Unlocking

: It's hard to find a free VPN that effectively unblocks geo-restricted content.

Ad Bombardment

: Free VPNs often rely on advertising for revenue, leading to an intrusive and disruptive user experience with frequent ad pop-ups.

Limited Customer Support

: Free VPN services typically offer limited customer support, making it difficult to troubleshoot issues or understand features.

Unreliable Connection

: Due to limited resources, free VPNs often have unstable connections, leading to frequent disconnections and inconsistencies in browsing or streaming quality.
Top 5 Best Free VPNs for Windows 10 PC
If you want the best free VPN for PC, check the VPN service providers below: 
Outbyte VPN
Outbyte VPN stands out for being a safe and dependable service compared to its competitors.
First, it has a strict no-log policy that prevents the tracking or collecting of any personally identifiable information. 
It uses strong encryption, including the AES-256-CBC standard, to conceal your online identity and protect your data. In addition to protecting your data, the VPN has a kill button that disconnects you from the web if the connection drops. 
Further protecting user anonymity, Outbyte VPN provides DNS and IPv6 anti-leak security.  Regarding connection speeds, Outbyte VPN has you covered with servers in 79 different countries. 
You can continue surfing and video streaming without interruptions because of the server's impressive 99.99% uptime. The VPN also unblocks geo-restricted content on popular streaming services like YouTube, Netflix, and Kodi. 
---
---
Pros:
Strong encryption and a no-logging policy ensure your privacy is protected.
Data leakage is prevented by the kill switch in the event the VPN connection breaks.
Better safety measures for DNS and IPv6 addresses.
Configurable encryption options with on/off toggles.
Simple navigation and round-the-clock assistance.
Cons:
No live support.
No free trial.
---
---
---
Also Read: How to get rid of VPN Error 609 on Windows 10?
---
Atlas VPN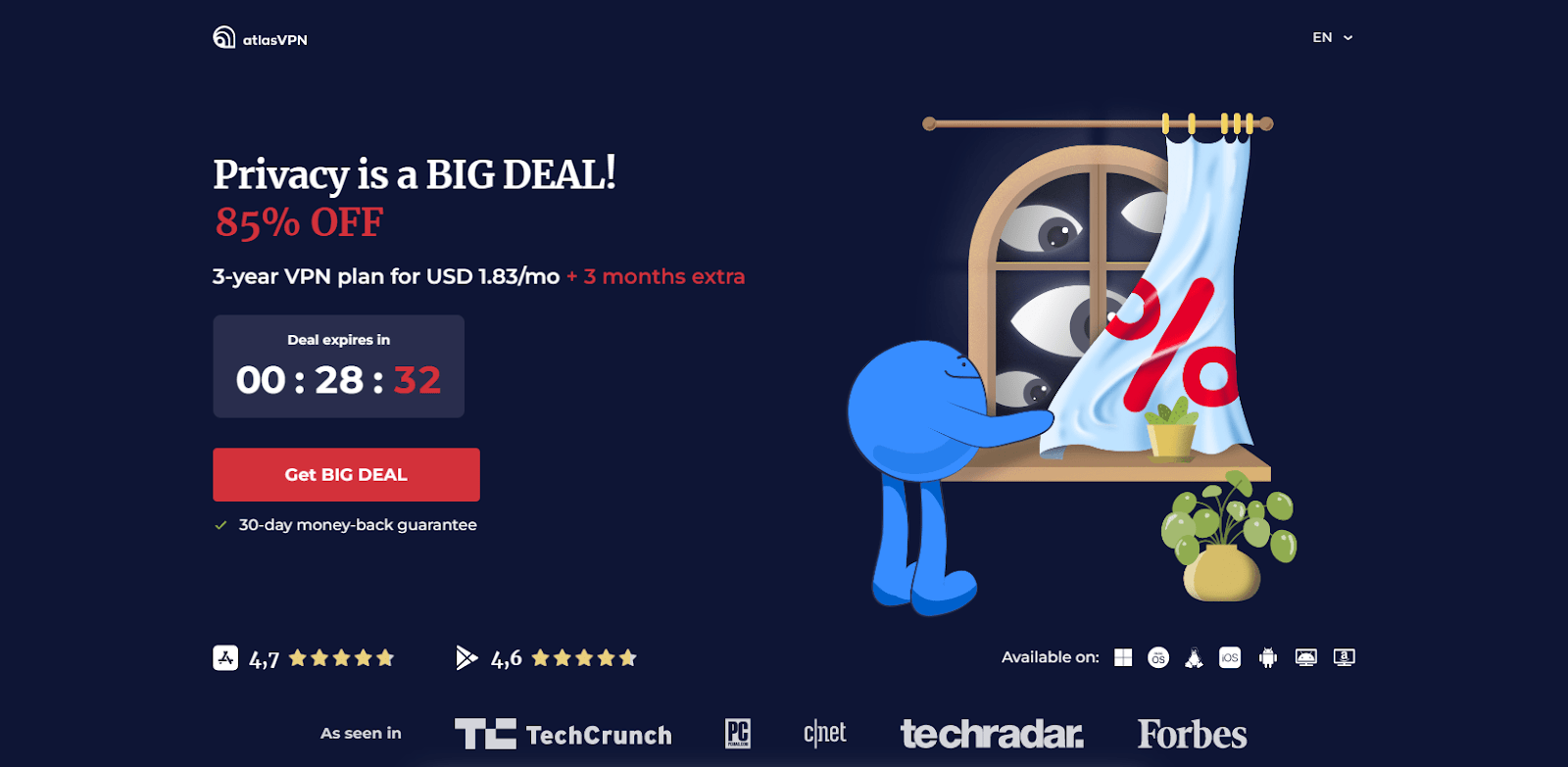 If you want the best free VPN for PC, Atlas VPN is an excellent alternative because of its variety of useful features. In addition, it's designed with user data privacy in mind and offers more than just a VPN to better your digital well-being. 
You can browse the web with greater peace of mind thanks to the Tracker Blocker feature, which automatically eliminates trackers placed by websites. In addition, you can enter your email address into the breach monitor to see if it has been compromised. 
---
Also read: What is the Best Internet Browser? 
---
These benefits help make Atlas VPN one of the top free VPNs available today. It's also unique among free VPNs, enabling you to stream content from services like Netflix and Amazon Prime Video. 
But keep in mind that there's a monthly cap of 10 GB, which can mean less time for streaming. As a result, the data cap may prevent you from engaging in marathon viewing sessions. However, you can still watch selected shows with lower-quality streams.
---
---
Pros:
Tools to block tracking and detect security breaches to protect user privacy.

Use of services like Netflix and Amazon Prime Video.

The free tier allows using it on an unlimited number of devices.

No records are kept to protect users' anonymity.
Cons:
There is a cap of 10 GB per month.

In addition, only one user can be logged in at a time.

Only three server locations.

No live chat support.
---
---
NordVPN
When it comes to free VPN for Windows 10, NordVPN is among the most trusted and reliable options available. The encrypted software and zero-logging policies of NordVPN leave no digital footprints for outsiders to follow.
You can select between system-wide and per-app security with NordVPN's Windows client's excellent kill switch feature. This way, your information stays safe even if the VPN connection drops.
NordVPN ensures you can watch videos and download torrents without interruption or slowdown. Guaranteed no-buffering HD and 4K streaming and quick access to popular streaming sites like US Netflix, BBC iPlayer, and Hulu. 
Torrenting is risk-free thanks to NordVPN's P2P-optimized servers, no-logs policy, and kill switch. Independent auditors have verified the no-logs policy of NordVPN. In addition, it can avoid surveillance alliances like the Five Eyes and the NSA since it's based in Panama. 
NordVPN has strengthened its security measures with AES 256-bit encryption, diskless RAM servers, and first-party DNS servers. In addition, for extra safety, the Microsoft Edge add-on encrypts all browser traffic.
---
---
Pros:
The Windows app has exclusive features available. 

Fast connection speeds.

Verified no-logs policy and a strong dedication to protecting user privacy.

Effective in bypassing region locks on streaming giants like US Netflix and UK's BBC iPlayer.

Cheaper than other competitors. 

Safer, encrypted browsing with Microsoft Edge.
Cons:
The software uses a lot of memory, which could slow down operations that require a lot of storage space.

You can't resize the app's interface, which may be inconvenient for some people. 

NordVPN doesn't accept PayPal as a payment method.

Subscription renewal costs are significantly more than the initial costs
---
---
Surfshark VPN
There are a few things that make Surfshark VPN different from its competitors. A major advantage, if you're worried about your personal information, is that it's not a part of the Five Eyes collaboration. 
It's a great alternative if you're looking for unrestricted streaming because it supports both torrenting and Netflix. Split tunneling is also included, which is a great addition. And that's because it allows you to send certain types of data through the VPN and still gain access to their local networks.
Surfshark VPN uses AES-256 encryption, widely recognized as among the most secure methods currently in use. This safeguards user information against theft or other forms of abuse.
While Surfshark VPN provides a free trial, it only lasts 30 days, far less time than competing services. However, there are no restrictions regarding servers, data, or performance during the trial time. 
This makes it an excellent choice for individuals who only need a VPN for a limited time at no cost. 
---
---
Pros:
Torrenting and Netflix are both accessible.

Split tunneling allows for more adaptable traffic routing.

Uses the robust encryption standard AES-256 for safety.
Cons:
The no-risk trial period ends after 30 days.

Static IP addresses.

No phone support.

Some latency issues on Windows.
---
---
ProtonVPN
If you want the best free VPN for Windows 10. The freedom to use the service without worrying about exceeding data caps is one of the main benefits of ProtonVPN's free plan. 
However, free accounts are restricted to servers in just three countries (the Netherlands, Japan, and the United States) and a single connection simultaneously. ProtonVPN serves a niche market. 
It's a great daily driver for free VPN users because there are no data caps. However, because of the limited number of servers available, it's best suited to people physically situated in or close to the countries hosting the services. 
Remember that the free plan only protects one device at a time. 
---
---
Pros:
Several membership plans to choose from, including an excellent free option.

Provides state-of-the-art privacy protection.

Strong commitment to customer privacy. 

An easily navigable and accommodating user interface.
Cons:
The ChromeOS platform's implementation isn't the best.
---
---
So there you go – the Top 5 VPNs that will protect (almost) your online activities. But we have one more BONUS VPN to talk about!
PrivadoVPN
PrivadoVPN provides a VPN service that's unlimited for free users. Although there is a monthly cap of 10 GB, you're not immediately disconnected once you hit that threshold. In its place, data transfer rates are capped until the counter resets.
However, there are several other limitations to think about. For example, only 12 servers are available on PrivadoVPN, and you're only allowed one active connection at a time. 
Furthermore, some customers may have concerns because the company hasn't made public the results of an independent audit. PrivadoVPN is designed for a niche market. 
The fact that consumers' speeds are reduced gradually rather than suddenly after they approach their data cap is an advantage. However, until the data counter is reset, slower speeds are possible. 
---
---
Pros:
Prices are quite low.

A free plan that includes 10GB of data transfer. 

Allows up to 10 simultaneous connections.
Cons:
There are a few additional security measures.

There was no independent verification.

The results of a speed test may not be encouraging.
---
---
Comparison of the TOP Free VPN for Windows 10
Here's a tabular comparison of the free VPNs for your Windows PC:

---
Also Read: Why Do You Need a VPN for Gaming? 
---
Tips for Maximizing the Benefits of a Free VPN
If you want to maximize the benefits of free VPNs, use the tips below:
1. Understand the Limitations
Data caps, server limitations, and the number of simultaneous connections are typical limitations of free VPN services. You need to know these restrictions to make the most of the service and keep your expectations realistic.
2. Choose a Reputable VPN Provider
Choose a free VPN service with a solid reputation and a focus on user privacy. To ensure your data is safe, you should only work with companies that have been audited by a third party or have clear privacy policies.
3. Use Data Wisely
Use caution while connecting large amounts of data because free VPNs may have limits. Only use a VPN when necessary, including when banking online or viewing sensitive documents. Regular internet connections should be used for casual web surfing and other non-critical duties.
4. Focus on Security
Security elements like encryption and protocols should still be your top priority, even when using a cheap VPN. So choose a VPN service with OpenVPN support and a robust encryption technique, such as AES-256.
This safeguards the confidentiality of your information while you're using the VPN.
5. Avoid Bandwidth-Intensive Activities
Due to the large number of users, free VPNs may experience throttling or decreased performance. Therefore, you should avoid bandwidth-intensive activities like streaming in HD or downloading huge files to avoid slower speeds and quickly exceeding data restrictions.
Conclusion
Finding the best free VPN for Windows 10 is essential if you care about keeping your online activities private. Each VPN discussed here is unique in its ability to meet specific requirements.
Knowing your needs and personal preferences is crucial before choosing a VPN. Consider the VPN provider's refund policy in addition to other criteria such as security, speed, and availability of servers.
Investigating and selecting the best free VPN for PC is an excellent way to increase your online safety and privacy. Using the advice in this article, you can select a VPN that perfectly suits your requirements and surf the internet with complete peace of mind.
FAQs
Which Free VPNs Work With Netflix?
All free VPNs don't support Netflix. However, several VPNs, like Atlas VPN and Surfshark, allow access to Netflix and other streaming services. Unfortunately, not all streaming services allow VPN connections, so your streaming may vary if you try a free service.
What Is the Best Free VPN for Streaming?
Atlas VPN and PrivadoVPN are two of the best free VPNs for streaming that you can find. They both provide access to streaming services and have large data caps. However, remember that free VPNs often have restrictions like data limitations or slower speeds that can interfere with your streaming experience.
Will a VPN Affect My Internet Speeds?
It's possible that using a VPN will slow down your connection. Due to the extra work involved in encrypting and rerouting data through VPN servers, there may be a small performance hit. However, Premium VPN services like Outbyte VPN and ProtonVPN are built to restrict data transfer speeds as little as possible and maintain constant connections.
If you're concerned about a VPN slowing down your connection, look for one with optimized servers and infrastructure.
Is There a Completely Free VPN?
Although there are free VPN options, security must always be prioritized. Data caps, fewer server locations, slower speeds, and more intrusive adverts are commonplace in free VPNs.
Furthermore, your privacy may be at risk using a free VPN because some keep logs or engage in other questionable practices. Therefore, it's essential to find a VPN provider you can trust, so you can browse the web freely while maintaining your privacy.
When Might a Free VPN Not Be a Good Choice?
You should probably avoid using a free VPN  for Windows 10 if it has data limits that are too low for your needs. Also, since free VPNs may not provide adequate encryption or may even gather and sell user data, you should place a premium on privacy and security.
Many free VPNs restrict users to a single connection at a time, making it impossible to use numerous devices at once.