What an industry-acknowledged disk defragmenter, like Auslogics Disk Defrag Ultimate, can do for your PC is life-changing. So don't ignore its importance. A disk defragmenter could be the difference between a slow PC and an always-up-to-speed computer.
Due to the increased capacity of modern hard drives, you must sort through more information to access specific files each time. But when the data is defragmented, it makes it easy for your computer to quickly find information, making it a smooth experience for you.
That said, fragmentation occurs naturally while you use your PC. That's why you need Auslogics Disk Defrag Ultimate. But there's more reason for using this software.
This Auslogics Disk Defrag Ultimate review will explain everything you need to know.
Let's begin.
What is Auslogics Disk Defrag Ultimate?
Auslogics Disk Defrag Ultimate is a disk defragmenter that helps you speed up your computer. It also improves the performance of your hard drives and increases the lifespan.
Auslogics Disk Defrag Ultimate has a simple interface with a few buttons, which will help you perform tasks quickly. The software also has multiple defragmentation algorithms available. It can optimize access based on numerous factors, including
how often a file is accessed,
when it was last modified,
the drive's prefetch arrangement, and even
which files you specify to be written to the quickest area of the drive.
Additionally, you can minimize future fragmentation by leaving some space after certain files.
What Makes Auslogics Disk Defrag Ultimate Unique?
Disk defragmentation works on rotating hard drives. So if you use a solid-state drive (SSD), you usually won't have a disk defragmenter. But that doesn't mean you can't defrag an SSD.
Using a disk defrag made for hard drives on your SSD can shorten the drive's lifespan in the long run. And you won't even see any P.C. improvement, so it's a lose-lose game.
But you can use the Auslogics Disk Defrag Ultimate because it uses different algorithms to defrag your SSD computer. That means you have to switch on the SSD optimization, and the software will take care of the rest.
Here's how it works.
Auslogics Disk Defrag Ultimate helps reduce the number of times your computer must process a write operation. The major problem with S.S.D. devices is the limited number of write cycles that flash memory cells can handle.
So if you have an SSD, you can "Enable S.S.D. Optimization" to have the program defrag your P.C. with SSD-specific tools.
Related: Disk Defragmentation Explained
Auslogics Disk Defrag Ultimate Features
With convenient additions like Disk Zone and Free Zone improvements, Auslogics Disk Defrag Ultimate is the perfect replacement for the standard Windows defragmenter.
It's one of the fastest utilities that offers a comprehensive interface with all the choices you need, including scheduling, statistics, and reports.
Below are the Auslogics Disk Defrag Ultimate features:
S.M.A.R.T. Defrag Algorithms
The software's four smart file placement algorithms can accommodate various optimization requirements. For example, if you want quicker access to commonly used files, use the "Optimize by Access Time" option.
The "Optimize by Prefetch Layout" strategy quickens the time it takes for your operating system to boot up and for applications to begin running.
Select "Optimize by Change Time" if you only want to stop the fragmentation of your files at the current point in time.
The "Optimize by Disk Zone" option lets you choose which file types, or even individual files, should be written to the quickest part of the disk.
Boot-Time Defrag
You can use boot-time or offline defragmentation to defrag the system files that Windows ordinarily locks. By launching at system startup before the operating system launches, offline defrag lets you optimize the
Paging files,
MFT files,
Hibernation files, and
Windows Registry data.
When you defragment system files, your P.C. will respond faster and speed up system loading and overall performance.
Disk Cleanup & Checkup
Defragmentation will proceed more quickly and without risk, if you have the program clear temporary files and scan the disk for errors first. By doing so, you can rest assured that your data is safe.
Also, the program won't waste time processing unnecessary files, even if the underlying disk has errors.
Related: Fixing the "Disk Defragmenter Could Not Start" Error
Algorithm for SSDs
The unique SSD optimization method drastically reduces the number of write operations during defragmentation. That helps prevent unnecessary wear and tear on the disk and maximize its longevity.
You can hide the SSD from the drive selection menu if you don't want it to be defragmented or optimized.
List of Fragmented Files
After scanning the drive, Auslogics Disk Defrag Ultimate displays a list of all files that have been fragmented. When you click on a file in the list, its scattered pieces highlight on the map.
The list can be sorted to reveal the locations of the files that have been fragmented the most. You can use the list to select files for defragmentation and choose files you want to ignore.
You can choose the preferred option if you right-click on a file in the list.
Defragmentation Wizard
There are many disk optimization algorithms and defragmentation options available. So it can be difficult to choose the perfect one for your computer. But thanks to the Defragmentation Wizard, it can help you choose the right one.
All you have to do is specify the following:
what you use your PC for, whether office use, home use, or as a server,
the frequency with which you work with different document types, and
the times of day your computer is on but not in use.
This information will inform the program's suggestions for optimization strategies that will help maximize your disk and system performance.
Advanced Scheduling Options
You can schedule the application to run at a specific time. Or you can switch to Auto Defragmentation mode. That will allow the program to defragment and optimize your drives in real time, eradicating file fragmentation as it occurs.
The scheduled tasks won't interfere with your work because you can limit how many system resources they can use.
Single File or Folder Defragmentation
Instead of defragmenting the entire drive, focusing on the most frequently accessed files may be more efficient. By selectively defragmenting just the files you specify, Auslogics Disk Defrag Ultimate helps you get more done in less time.
You can defrag a single file, many files, or a whole folder. This option is a great time saver. And that's because it helps you defrag only a subset of files on the hard drive that needs to be defragmented. As a result, it speeds up specific applications.
Resource Management
Managing the defragmentation process's impact on system resources is easy when you use Auslogics Disk Defrag Ultimate. You can use this feature to limit the program's access to system resources while you're away from your computer.
Also, you can use it to remove those limits to defrag disks more quickly. You can select from one of four preset profiles based on how you often use resources. Another option is to make your profile with the restrictions you need.
You can limit the defragmentation process to starting when certain programs are active or while you're using battery power.
Fragmentation Prevention
You can leave enough space for expanding files by specifying how much space to leave after individual files. In addition, allowing data to be written to existing files in the same original location prevents fragmentation.
Free Space Consolidation
Use the "Free Space Consolidation" algorithm to reduce file fragmentation significantly. This optimization method joins chunks of unused space on your disk to form a massive block.
It eliminates the need for file fragmentation when creating new files. Remember that the application defragments files while it consolidates free space.
But you can turn off defragmentation if you need the consolidation process to proceed more quickly.
VSS-Compatible Algorithm
The Auslogics Disk Defrag Ultimate algorithms were developed with VSS-compatible hard disks in mind. As a result, the process helps to lessen the possibility of overwriting prior VSS snapshots.
It also slows the VSS storage area's rate of expansion due to file movement during defragmentation.
So you won't have to worry about the available space decreasing as the defragmentation process progresses. This is a problem that might arise with other defragmenters.
Performance Charts
Using the program's comprehensive reports and graphics, you can quickly monitor your system's health and performance as it evolves. You can
examine the total number of files handled by each operation,
the largest size contiguous free space block on your drive, and
the degree to which files and free space are fragmented.
You can access, examine, print, and save any report in your preferred format.
Is Auslogics Disk Defrag Ultimate Safe?
Auslogics Disk Defrag Ultimate is safe. It has a good reputation, and it's well-reviewed. The program has many features, is affordable, and is easy to use. It is compatible with Windows 7, 8.1, 10, and 11.
Well-known experts recommend Auslogics Disk Defrag Ultimate as one of the fastest and most efficient defrag tools. So you can use it without worrying about your P.C.'s safety.
Can I Try a Free Version Before I Buy It?
If you're not sure whether Auslogics Disk Defrag Ultimate is right for you, you can download the free version and try it out. You can use the Auslogics Free Disk Defrag to analyze your hard drive, schedule computer scans, customize warnings, etc.
Check out this guide for more in-depth details: Auslogics Disk Defrag: Best Defragmenter for Windows!
Does Auslogics Disk Defrag Ultimate Offer Free Customer Support?
Yes, Auslogics does offer a free customer support service. There are several ways to get in touch with Auslogics. The first is to contact them for technical support. Another way is through their forum.
You can ask questions about Disk Defrag Ultimate and find answers from other users who have had similar issues. Another option is their support center, where they've compiled all of the solutions to common problems into one place.
That way, you won't need to search through endless pages of Google results.
Auslogics Disk Defrag Ultimate Download
The Auslogics Disk Defrag Ultimate download is simple. Follow the below steps to download and install the program:
Visit Aulsogic's official site and download the Disk Defrag Ultimate. The size is about 12 MB, so it should take up little space.
Install the program (which only takes a few seconds.). If it's your first time installing the software, you'll see a pop-up window when running it.
Then, go through the four tabs to tailor the Auslogics Disk Defrag Ultimate to your PC needs.
If you don't understand anything in the "Scheduling" menu, hover your mouse over the option, and you'll get a detailed explanation:
Click on "Get the Most Performance Effect" to purchase a registered/full version. That will give your PC more advanced options to stay at its peak performance.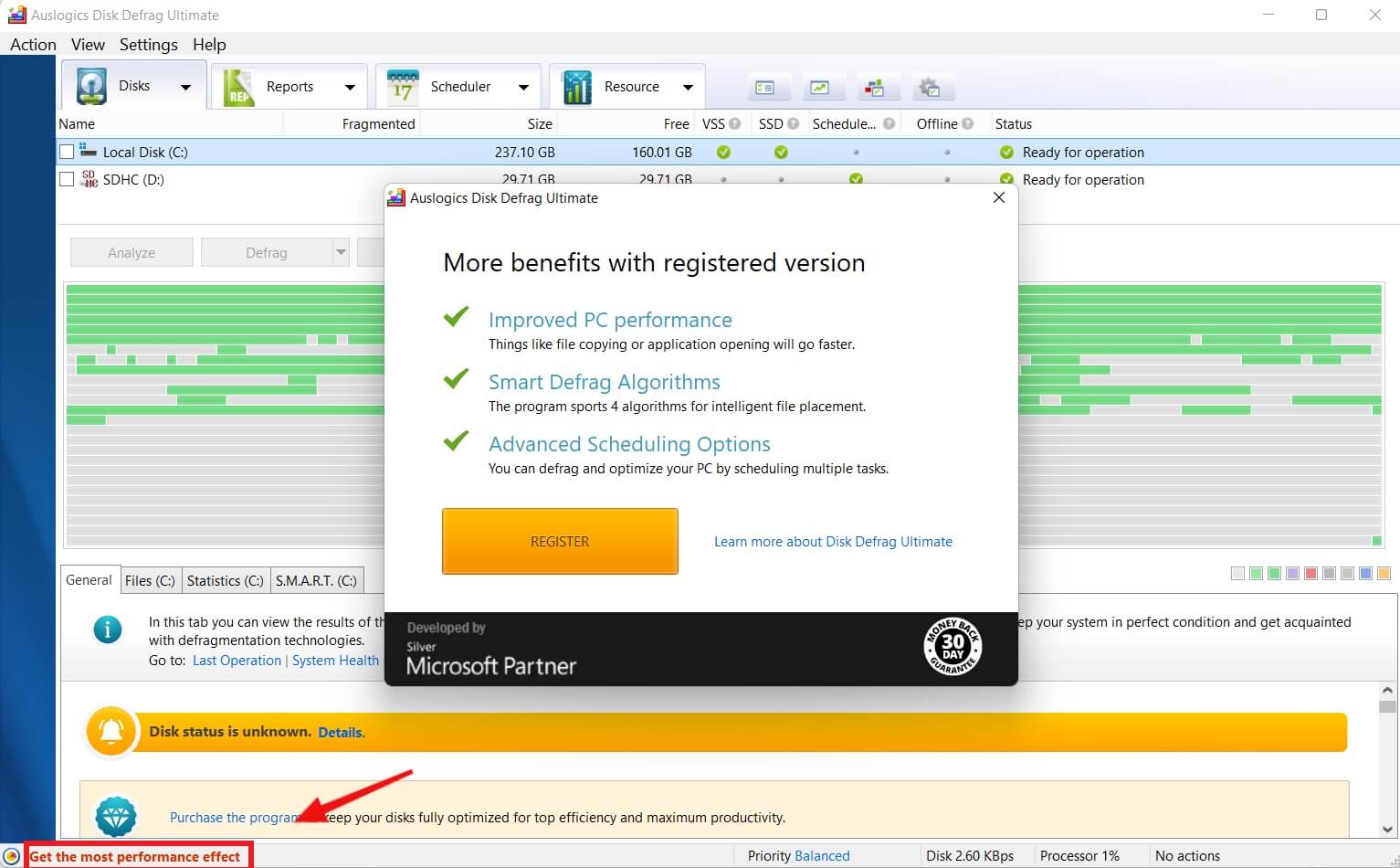 Final Thoughts
Auslogics Disk Defrag Ultimate is an excellent software to defrag your drive. If you're looking for something that's easy to use and does a good job of keeping your hard drive organized, this is the software for you!
If you install Auslogics Disk Defrag Ultimate on your PC, you can defragment currently inaccessible files without interrupting system operations.
Moreover, it rearranges your computer's files to improve performance and access times. Finally, with its flexible scheduling features, you can easily keep your HDD speed constant.