Fix this issue quickly
Use a safe free tool developed by the Auslogics team of experts.
Easy to use. Just download and run, no installation needed.
Safe. Our software is featured on CNET and we are a Silver Microsoft Partner.
Free. We mean it, a totally free tool.
Download now
'Silences can be as different as sounds'
Elizabeth Bowen
When working on Windows 10, it is common to encounter system volume issues. They might seem pretty grave, but rest assured there is no need to worry – you do not have to be an expert to fix them. Shown next are the problems to which we have found easy-to-implement and effective solutions:
How to increase system volume on Windows 10?
How to fix volume control not working on Windows?
How to get the speaker icon back in the taskbar?
Although our methods work best for Windows 10, feel free to try them on Windows 8, 8.1, and 7 since they may help you achieve the result you desire. So, it's time to make your system volume drama a thing of the past.
How to increase system volume on Windows 10?
Check all your volume controls
This method might seem too plain, but there is more to it – users often forget to check the most obvious solutions to their issues and start digging too deep. To prevent unnecessary troubleshooting, check every volume control in your system. Run your media player apps and configure their volume sliders. You should also check your Volume Mixer in Windows 10:
Move down to the taskbar.
Right-click the speaker icon.
Select Open Volume Mixer.
Here you can raise the sliders for your devices and apps.
Enable Loudness Equalization
If your volume level is inconsistent, it is best to turn on the Loudness Equalization feature: this option will stabilize your audio playback. Here are the instructions for you to follow:
Press the Windows logo key + S shortcut.
Type 'audio' (without quotes) into the Search area. Hit Enter.
Select 'Manage audio devices' from the list of options.
Select Speakers and click on the Properties button.
Navigate to the Enhancements tab.
Check the Loudness Equalizer option.
Select Apply and OK.
Hopefully, your issue has been resolved.
Check your default playback device
Things often get mixed up when it comes to configuring one's devices. What we are driving at is that you might have the wrong piece of hardware set as your default playback device, which means you might be tweaking the wrong settings. To check your default playback device, do the following:
Go to the system tray.
Right-click the speaker icon.
Click Sound.
Select Playback devices.
Locate the device you wish to set as your default playback device.
From the drop-down menu, select Set as Default Device.
We hope your low system volume issue is no more.
Update your audio drivers
If your sound is too low on Windows 10, you will do well to update your audio drivers. The point is, if they are obsolete or corrupt, it can afflict the output volume and cause you to have a hard time hearing what your speakers or headphones produce.
In a case like this, you can use any of the following methods to make your audio drivers up to date:
Use a dedicated tool
That is actually the easiest and the most efficient way to resolve your driver problems – a special program will save you a lot of time and effort by scanning your system and updating the drivers that are out of date or faulty. There are plenty of solutions available on the market these days, so make sure to choose the one that is safe, reliable, and effective. For instance, we recommend Auslogics Driver Updater because this piece of software enables you to fix all your driver issues in just one click.
Utilize Device Manager
Another option implies employing the built-in Device Manager to get the job done. Here is how you can use it to get your audio drivers in tip-top shape:
Press the Windows logo key + the letter X key shortcut on your keyboard.
From the menu that appears, select Device Manager.
In the Device Manager menu, locate your audio device and right-click it.
Select Update driver.
Select the option that implies searching for the necessary software online.
Update your drivers manually
There is absolutely no necessity for you to do that yourself, but if you have your heart set on choosing this method, you are free to do so. Just make sure you know what you are looking for and start your browsing manoeuvres. Search for the software needed online and install it on your PC.
Whichever method seems best to you, it is essential that you restart your computer after you have installed the latest driver versions – otherwise, they may fail to become effective. Once your system has booted up and settled down, see if things have looked up. If they haven't, do not hesitate to proceed to the following solution.
Run the Windows Audio Troubleshooter
If your Win 10 audio needs fixing, the Windows Audio Troubleshooter is most likely the most efficient means of getting the job done. Feel free to call it upon to resolve your low system volume issue:
Open the Search app (the Windows logo + S keyboard shortcut).
Type 'troubleshooter' (no quotes needed) into Search. Press Enter.
Select Troubleshoot to proceed.
Click the Playing Audio troubleshooter.
Select Run the troubleshooter.
The tool will start scanning your system for audio issues. If there are any, they will be fixed.
We all know too well that dust is the arch-enemy of one's computer. When our hardware and devices get clogged with dust, they start playing up. Unfortunately, your speakers are no exception. So, if they produce suspiciously low sound, it is high time you gave them a thorough cleaning.

Your audio level might have been reduced due to your system lacking essential updates. In a case like this, you should download and install them straight away:
Press the Windows key + I keyboard shortcut to launch the Settings app.
Once you are in the Settings window, select Update & Security.
Click Check for updates.
Your system will initiate the search for the updates it needs to work at its best and install them on your PC.
Restart your sound controller
If at this point you are still struggling with low system volume, you should restart your sound controller:
Launch the Win + X menu in Windows 10 and select Device Manager.
Navigate to the Sound, video and game controllers section and expand it.
Locate your sound controller and right-click it.
Select Disable device from the menu.
Wait for a while and right-click your sound controller again.
Select Enable to turn the device on.
Finally, restart your PC and check if your issue persists.
How to fix volume control not working on Windows?
Update your sound card driver
Since your volume control headache might have everything to do with your sound card driver being over the hill or corrupt, we believe that the most reasonable step to start your troubleshooting mission with implies updating the driver software in question. The least time-consuming way to do it is undoubtedly by recruiting a special tool. For instance, Auslogics Driver Updater will come in very handy for this purpose. Alternatively, you can invoke Device Manager from the Win + X menu and update your sound card driver from there (locate your sound card in the list of your devices, right-click it and select Update Driver). Nonetheless, if you wish to rely on yourself to set things in order, updating the driver manually might turn out to be the best option for you.
Reinstall your sound card driver
In case your sound card driver is up to date, restarting it might prove helpful in resolving your volume control nuisance. Here is how you can do that:
Open Device Manager (press the Windows logo and the letter X keys simultaneously and select the appropriate option).
Search for your sound card. Right-click it.
Select Uninstall device. Then click Uninstall.
Then restart your PC to get your sound card driver reinstalled automatically.
Running the System File Checker tool will fix corrupted system items and restore missing files if need be. Here are the steps you should take to launch an SFC scan:
Type cmd into Windows Search and press Enter.
Right-click Command Prompt in the list of search results.
Select Run as administrator to open an elevated command prompt window.
Type sfc /scannow and hit Enter to execute the command.
Wait until the scan reaches its completion. Then exit your Command Prompt and restart the PC.
If your volume control refuses to work, resetting your audio service might prove perfect for resolving your problem:
Open your Windows search box and type 'services' (without quotes).
From the list of results, select Services.
Locate and right-click Windows Audio. Select Properties.
Move down to Startup type and set it to Automatic.
Click on the Stop button.
Then click Start.
Finally, click OK and restart your computer. Your volume issue should be no more.

No success so far? If so, the chances are malicious software is at play. With this in mind, we recommend you to conduct a thorough anti-malware scan. To initiate it, you can use the built-in Windows Defender solution:
Open your Start menu and click the Settings gear.
Proceed to Update & Security. Opt for Windows Defender.
Click Open Windows Defender.
Go to the left pane and click on the shield icon.
Choose Advanced scan. Check Full scan.
Start a Windows Defender scan and wait until it is over. Follow any instructions if they come up – you should do as you are told to get rid of the threats detected in your system.
That said, consider using a third-party solution. Although Windows Defender is a powerful protector, it might not be enough to create a malware-free environment. We advise you to back up Windows Defender with Auslogics Anti-Malware. This is surely a winning strategy since no threat is likely to get past such a powerful tandem.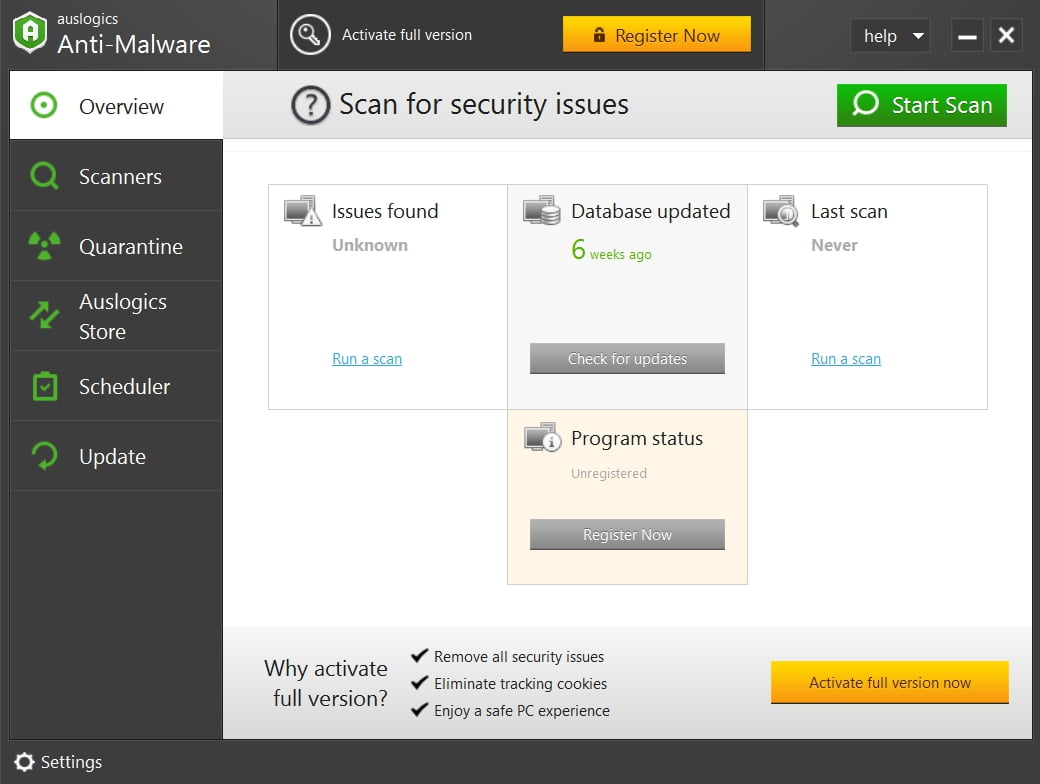 Fix your volume control via Task Manager
This trick has reportedly helped a lot of users to get over the volume control not working issue, so we consider it a justifiable manoeuvre. What you should do is open your Task Manager and take the steps provided below:
Press the Ctrl + Alt + Delete shortcut to invoke Task Manager.
Proceed to the File tab and click it.
Select Run new task. The Create new task window will show up.
Type Powershell. Make sure to check the box next to Create this task with administrative privileges.
Click OK to proceed. The Powershell window will open.
Type $manifest = (Get-AppxPackage Microsoft.WindowsStore).InstallLocation + '\AppxManifest.xml'; Add-AppxPackage -DisableDevelopmentMode -Register $manifest.
Press Enter to run the command.
Exit the Powershell window and restart your machine.

How to get the speaker icon back in the taskbar?
If the speaker icon is missing from the taskbar, you can get it back via the Settings app:
Right-click your taskbar.
Select Taskbar settings.
Move to Notification area.
Click Turn system icons on or off.
Toggle Volume to On.
Go back to Notification area.
Click Select which icons appear on the taskbar.
Set Volume to On.
You speaker icon should be in the taskbar now.
Strange though it may seem, changing the text size in Windows 10 can force the speaker icon to reappear in the taskbar. Let's see if this method works for you:
Right-click on your desktop.
Select Display settings from the menu.
Go to the Change the size of text, apps, and other items option.
Select 125% and click on Apply.
Then choose 100 % and apply this setting.
Now you should see the speaker icon in the taskbar again.
To get the volume icon back, you might need to restart your Windows Explorer. You can do that via Task Manager:
Right-click on the taskbar.
Select Task Manager from the list of available options.
Navigate to Windows Explorer.
Right-click on it.
Choose the Restart option.
See if your speaker icon is back on the taskbar.
You may also use the Windows Slimmer option to make Windows 10 work faster on your computer.
We hope our tips have proved helpful. Do not hesitate to ask questions if you need extra assistance in repairing system volume issues in Windows.