If you want to keep your system secure and running smoothly, it is essential that you install the updates that Microsoft regularly rolls out. After all, viruses and malware have permeated the Internet, and Windows updates are one of the ways you can protect your computer from such threats.
Unfortunately, no matter how indispensable they are, updates can bring annoying errors with them. In this article, we are going to focus on resolving Windows update error 0x80244019 on Windows 10, 8.1, and 7. Before we give you the workarounds, it would be best if we discuss some scenarios that users reported. Check the issues below and see if you're experiencing the same problem:
Windows 7 update error 0x80244019 – The error 0x80244019 can also happen to older Windows versions. While our solutions work best for Windows 10, they can also apply to Windows 8.1 and Windows 7.
0x80244019 Windows Server 2016 – The update error 0x80244019 can affect Windows Server 2016. You can get rid of this issue by trying any of our methods below.
Method 1: Reviewing the features of your anti-virus
If you're using a third-party anti-virus program, it can possibly interfere with your system and cause the error 0x80244019 to show up. You can eliminate this problem by disabling certain features in your anti-virus.
If you've tried that solution yet the error persists, you should try completely removing your anti-virus. This just might permanently get rid of the problem. If this is the case, then we recommend switching to a different anti-virus program.
You might find several security tools on the market. However, we highly suggest using a reliable program like Auslogics Anti-Malware. It is designed not to interfere with your main anti-virus while detecting threats and attacks you'd never suspect existed. So, you can remove the error and still get the protection you need for your computer.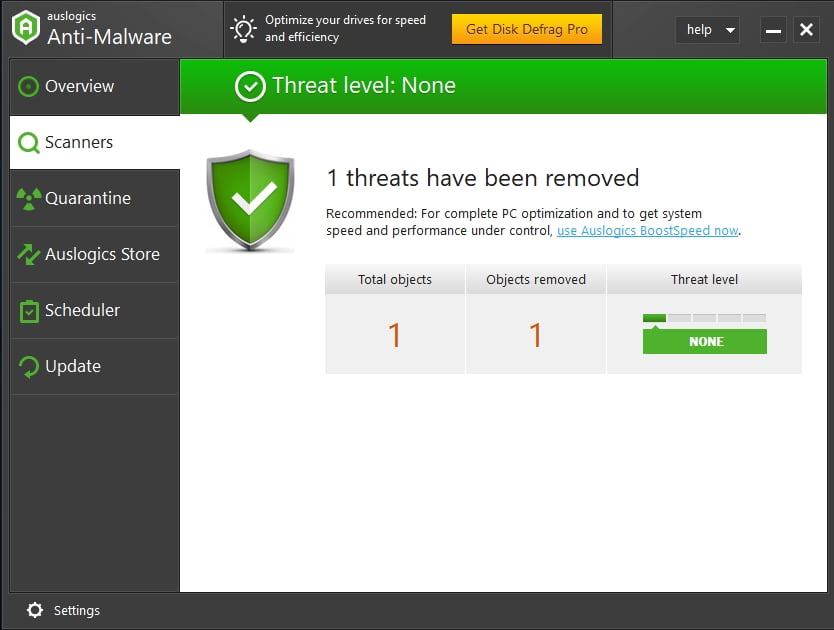 Method 2: Using the troubleshooter for Windows updates
Windows 10 has different troubleshooters dedicated to repairing specific programs and processes. Users who tried to find methods on how to fix Windows 10 error code 0x8024401 discovered that using the troubleshooter for updates had helped them resolve the problem. You can also use that tool to get rid of the error. Simply follow these instructions:
On your keyboard, press Windows Key+I. This should open the Settings app.
Select Updates & Security, then go to the left pane and click Troubleshoot.
Go to the right pane and click Windows Update.
Click Run the Troubleshooter.
Once the troubleshooter has completed the scanning and repair process, check if the problem persists.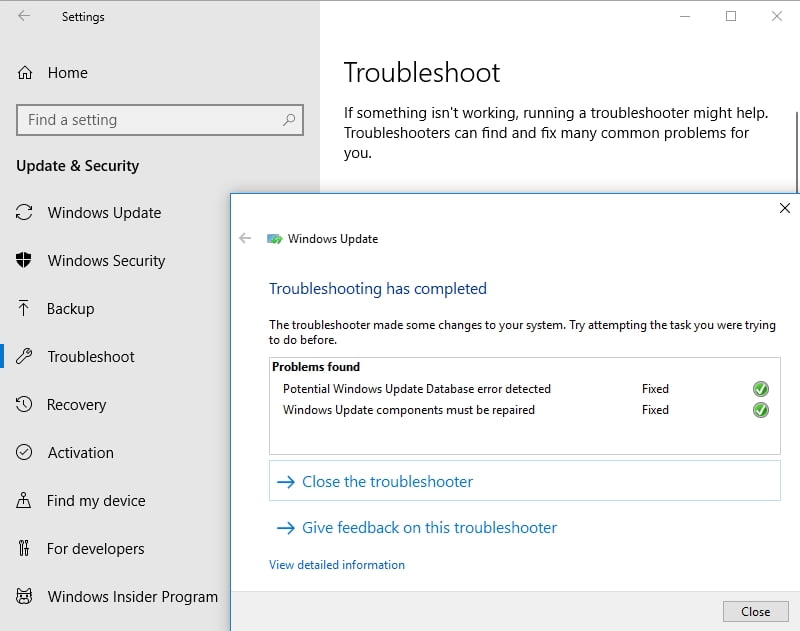 Method 3: Modifying the settings for your Windows updates
It is possible that certain settings on your Windows updates are causing the error 0x8024401 to show up. You can tweak the options a bit and see if doing this fixes the issue. Simply follow the steps below:
Click the Search icon on your taskbar.
Type "settings" (no quotes), then hit Enter.
Go to Update & Security.
Scroll down until you reach the Update Settings section.
Click Advanced Options.
Switch off the 'Give me updates for other Microsoft products when I update Windows' option.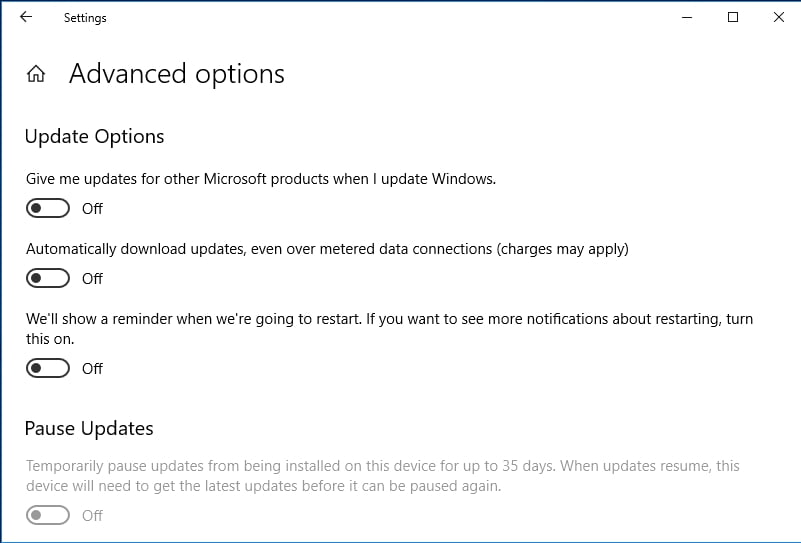 Method 4: Resetting the components for Windows updates
You have to ensure that all the important components of Windows updates are running properly. If they aren't, you can't successfully download and install the updates. You might even see the error 0x80244019. Thankfully, this can be resolved by resetting certain components. To do that, you just need to follow these instructions:
Right-click the Windows logo on your taskbar.
From the menu, select Command Prompt (Admin) or Powershell (Admin).
Run the following commands:
net stop wuauserv
net stop cryptSvc
net stop bits
net stop msiserver
ren C:\Windows\SoftwareDistribution SoftwareDistribution.old
ren C:\Windows\System32\catroot2 Catroot2.old
net start wuauserv
net start cryptSvc
net start bits
net start msiserver
These commands should reset the necessary components for Windows updates. Try downloading and installing the updates again and see if the error persists.
Method 5: Performing a clean boot
The error 80244019 can show up due to certain third-party applications interfering with your system. You can fix this by performing a clean boot. By doing this, your computer will start without any third-party services or applications. That said, here are the steps you need to follow:
On your keyboard, press Windows Key+R. This should open the Run dialog box.
Type "msconfig" (no quotes), then hit Enter.
Go to the Services tab and select the 'Hide all Microsoft services' box.
Click Disable All.
Go to the Startup tab, then click Open Task Manager.
Right-click every startup item, then select Disable.
Exit Task Manager, then click OK to restart your PC.
After performing a clean boot, try installing the update and check if the error is gone.
Method 6: Manually installing the updates
In some cases, resolving Windows update error 0x80244019 on Windows 10 requires manual installation. The process is not too complicated. The first thing you have to do is get the KB number of the update. Simply visit the Windows Update section and search for that number.
Once you've taken note of the KB number, follow the steps below:
Visit the Windows Update Catalog website.
Click the search field and submit the KB number.
You will see a list of matching updates. Choose the update that is suitable for your system architecture.
Download and install the update, then check if the error persists.
It is worth noting that this method is just a workaround for the error. It only lets you avoid the error, but it does not fix the core problem. So, if you find the time to do so, try performing an in-place upgrade as laid out in Method 8.
Method 7: Installing optional updates
Some users who had become tired of problematic updates opted to use a special tool that blocked the installation process. Of course, this method can help you avoid certain update issues. However, when you hide optional updates, it can cause the error 0x80244019 to appear. So, it would be best to unblock and install them. Doing this should help you install the rest of the updates without any hassle.
Method 8: Performing an in-place upgrade
You can also get rid of the error 0x80244019 by performing an in-place upgrade. This allows you to install the latest Windows version, along with all the current updates. Don't worry because this method still allows you to keep all your files and applications. You just have to follow the instructions below:
Go to Microsoft's website and download the Media Creation Tool.
Run the program, then select Upgrade this PC Now. The setup will now download all the necessary files.
Select the 'Download and install updates (recommended)' option.
Wait while setup is downloading the updates.
Follow the on-screen instructions until you reach the 'Ready to Install' screen.
Click the 'Change what to keep' option.
Don't forget to select the 'Keep personal files and apps' option. Click Next to proceed.
After the process is complete, your PC should have the latest Windows version. This should also help you resolve the error 0x80244019.
If you're planning to run the Media Creation Tool from a USB flash drive, we recommend updating your drivers first. This ensures that you will be able to perform the in-place upgrade with no problems. You can manually do that, but an easier option would be to use Auslogics Driver Updater. This tool fixes and updates all your problematic drivers, ensuring that you will be able to use your USB flash drive and other peripherals without any hassle.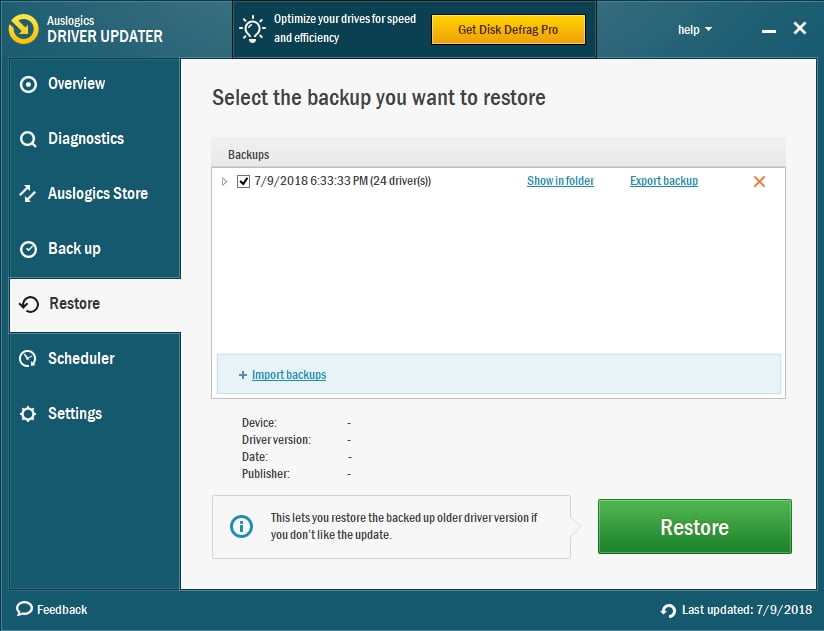 Did you find other workarounds for the error 0x80244019?
Share your ideas in the comments below!