Video being consumers' favorite online format by far, watching a clip or two in a spare moment has become one of the essential joys of life. With music and viral content recording the highest audience reach, numerous users are wondering how to download popular clips for offline viewing.
And it is by no means a walk in the park since in many cases, there is no "Save" button next or below the video you would like to get on your device to save the day. That said, things do not have to be so complicated.
Luckily, there are tools designed to help you get the job done and enjoy various videos offline. We have drawn up a list of the best video downloaders you could make use of, and whatever you want to download in terms of video content, you will certainly find the right tool for your needs.
Another important point is that you should always be careful when downloading content from the Internet. Otherwise, you risk infecting your PC with malware. An essential part of your security strategy is to have a reliable protection app on your computer. A tool such as Auslogics Anti-Malware will suit this purpose perfectly as it has all that it takes to safeguard your Windows device against all types of malicious software.
Without further ado, here are our top five picks for the best video downloaders.
Top 5 Best Video Downloaders at a Glance
Our selection is based on the following criteria for your convenience:
Robust performance
Ease of use
Compatibility with various download sources
Format conversions
Batch downloading
Task scheduling
We consider them the most important for a quality video download experience and recommend you to pay attention to them when deciding on the best video downloader for you no matter what kind of content you are going to save.
Before we dive into a deeper overview, here is a concise comparison table for a quick review of the available options: here are the best video downloaders side by side.
The 5 Best Video Downloaders: Compared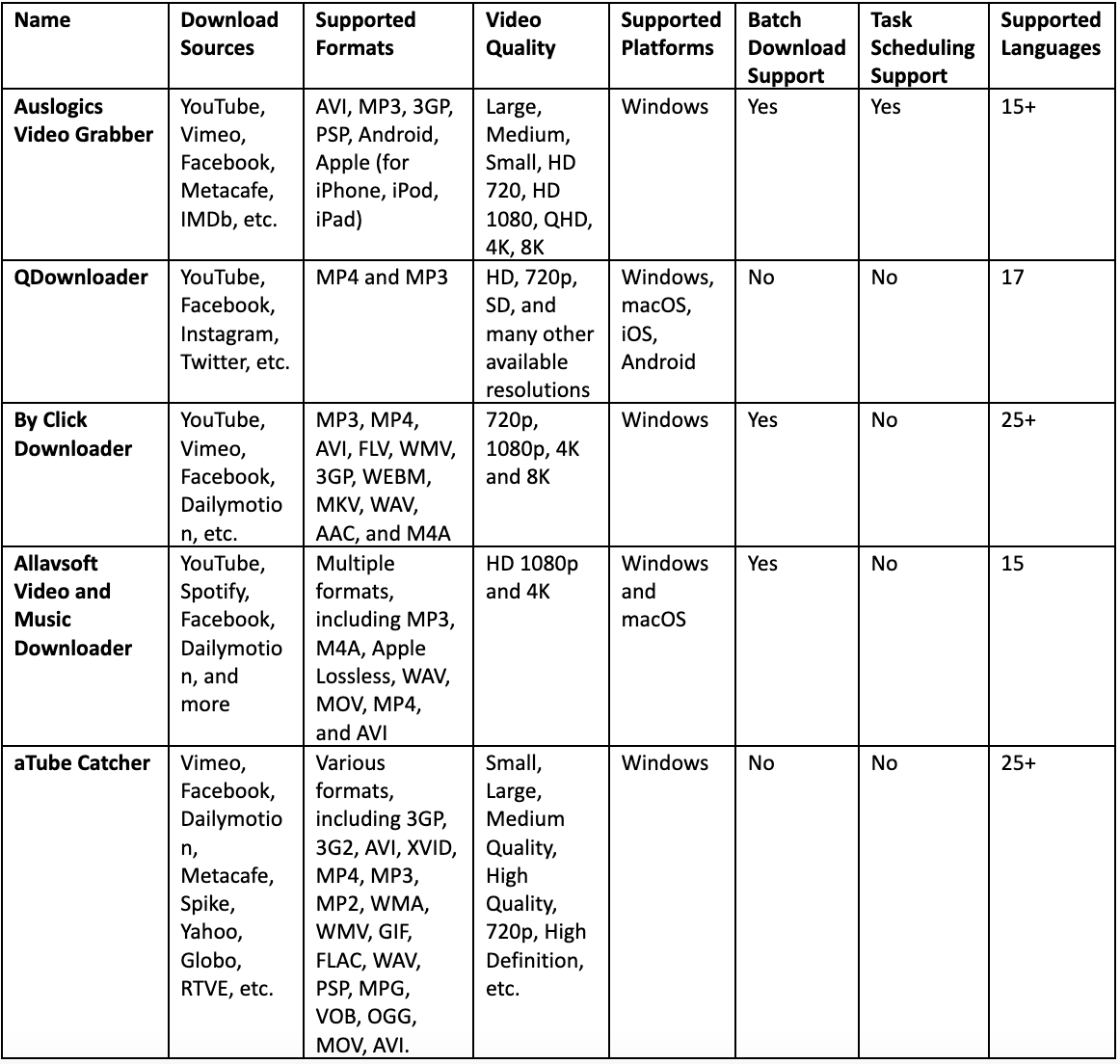 The 5 Best Video Downloaders
Video Grabber is a video downloader from Auslogics, an Australian developer producing computer maintenance and optimization software for Windows and a Microsoft Silver Application Development Partner.
Video Grabber is a powerful all-in-one tool for downloading all kinds of video content from multiple sources for offline use on various devices, and it boasts several usability features that help it stand out from the sea of competition.
Download Videos From Anywhere
To begin with, Video Grabber allows you to download video content from literally anywhere, including YouTube, Vimeo, Facebook, Bing, and many other platforms.
The tool supports video conversion to different formats, from the most popular MP3 and AVI to Apple video formats for your iPhone, iPad, or iPod, meaning you can watch the content you download on almost any device.
Not only that, you have an impressive range of options to choose from when deciding on the quality of the video you want to save, including 8K, 4K, QHD, HD 1080, HD 720, Small, Medium, and Large.
When it comes to ease of use and convenience, Auslogics Video Grabber has a lot to offer. For example, the tool's Auto-Paste feature will automatically paste the link you have copied beforehand into the URL bar once you hover the mouse cursor over it.
In addition, you can program the tool to start and end downloads at certain points of time, meaning you can get the job done even when you are not at your computer. What is more, the tool enables you to perform simultaneous downloads, helping you save valuable time.
Last but not least, Auslogics Video Grabber is available in 15+ languages. Choose the one you are most proficient in and enjoy the tool's user-friendly interface.
To download a video with Auslogics Video Grabber, you need to take a few steps:
Launch Auslogics Video Grabber.
Navigate to a streaming platform.
Copy the link to the video you wish to download on your PC.
Go to Video Grabber's "Add Video URL" tab. The link will be pasted automatically into the URL box.
Configure the download settings to your liking and start the download process by clicking the blue "Download" button.
You will be taken to the Download List tab, where you will see the progress of your download.
Once the download is over, enjoy your video offline.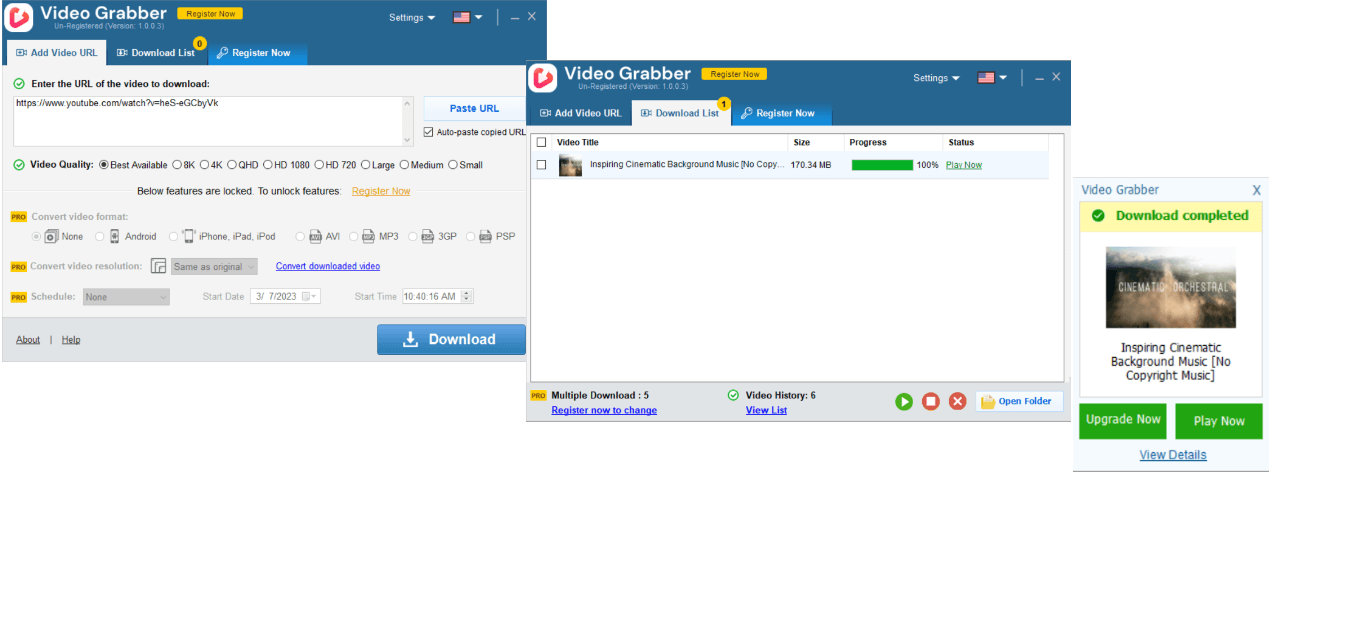 All in all, Auslogics Video Grabber is a solid option for Windows users who download plenty of video content from various sources and convert it to different formats. If you want to know more about Auslogics Video Grabber, check this guide: Auslogics Video Grabber – Video Downloader Review
Pros         
Cons

User-friendly

Supports tons of streaming sources& formats 

Automatically pastes copied links

Allows batch downloading 

Supports task scheduling

Available in 15+ languages

No app version for macOS or Ubuntu
QDownloader
If you are looking for the best free video downloader or the best online video downloader, QDownloader may tick all the boxes for you. It is an easy-to-use online tool for downloading videos from YouTube, Facebook, Instagram, Twitter, and other popular platforms.
QDownloader is capable of converting video content to MP4 and MP3 and can work on Macs, iPhones, Windows PCs, and Android devices. It supports multiple resolutions, including 720p HD, 1080p HD, and 2160p UHD, 4K, and allows unlimited downloads – no strings attached.
QDownloader can be considered the best video downloader for Chrome and Safari video downloader users would strongly appreciate as it offers convenient browser extensions that allow you to download your favorite video content with a few clicks without having to open the online version of the app.
To save a video using QDownloader, take the steps listed below:
Copy the link to the video you are willing to download.
Paste the link into the download box at the top of the tool's page.
Navigate to and click on the "Download" button to proceed.
Choose the video resolution and format you want.
Click the red "Download video" button to start downloading the video to your device.

To sum up, QDownloader is a straightforward online tool that offers basic download features for free. You will find it quite helpful if you need to quickly download a video or two on your device.
By Click Downloader
By Click Downloader is a helpful video grabber that allows you to download videos from 40+ sites, including the most popular platforms like YouTube, Vimeo, Facebook, and Dailymotion, and is by all accounts one of the best video downloaders on the market.
The tool is capable of downloading video content in 720p, 1080p, 4K, and 8K and converting it into MP3, MP4, AVI, FLV, WMV, 3GP, WEBM, MKV, WAV, AAC, and M4A.
By Click Downloader is a highly convenient app as it enables you to download entire YouTube playlists and channels and Instagram pages with just one click. It also provides user support and is available in 25+ languages.
When using By Click Downloader's desktop app, you can track your downloads and get personal recommendations. The tool also offers a handy feature called Auto Detect. It will send you a pop-up offering to download the video currently open in your browser. This feature works when using Chrome, Firefox, IE, and Edge. By Click Downloader also detects the video links you copy and automatically pastes them into the URL box.
To download a video using By Click Downloader, follow the instructions below:
Open the By Click Downloader app.
Navigate to a video streaming service and select a video to download.
Copy the link to the video.
A pop-up will appear and suggest downloading the video.
Click the "Download video" button to proceed.
You can track the download progress in the app's interface.
Enjoy your video once it is downloaded.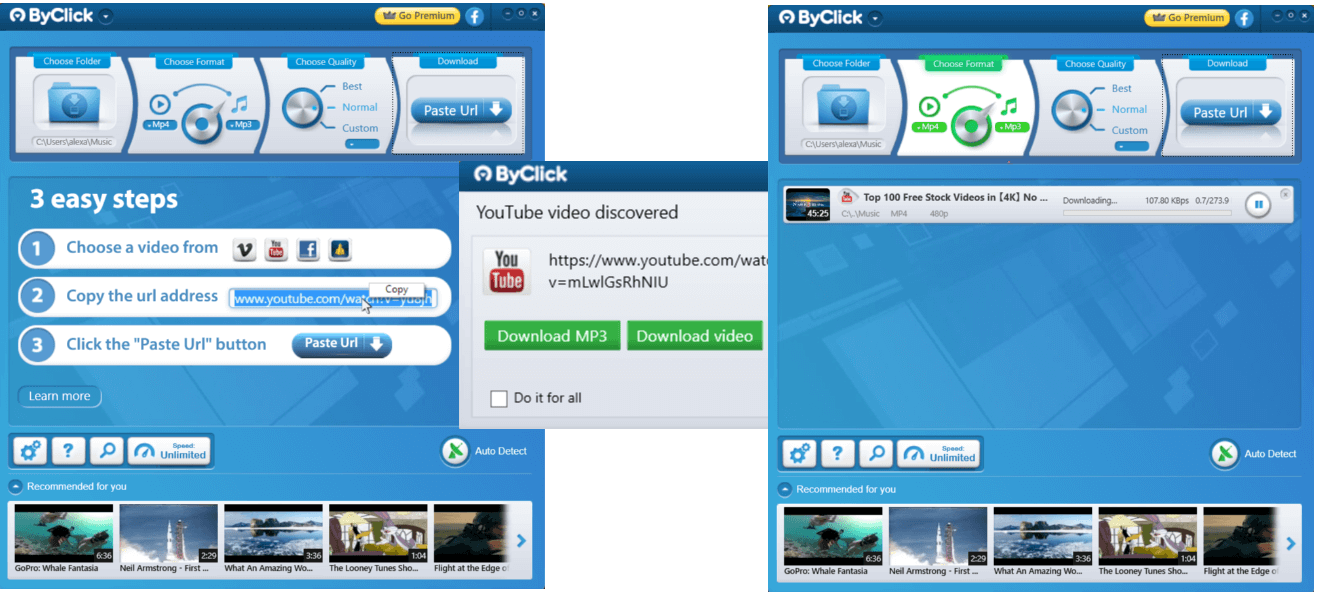 All things considered, By Click Downloader is a handy download tool for Windows users, especially for PC novices.
Pros         
Cons

Beginner-friendly

Supports batch downloading

Automatically detects copied links

Provides user support

Available in 25+ languages

Allows downloading private videos from YouTube and Facebook

Supports Windows only

2MB download speed maximum on the free version
Allavsoft Video and Music Downloader
Allavsoft is a freemium video grabber designed to download video and audio files from the Internet. The tool is pretty straightforward and enables you to download video content from 1,000+ sites, including YouTube, Facebook, Spotify, Dailymotion, etc.
With Allavsoft, you can convert video content to multiple formats, including MP3, M4A, Apple Lossless, WAV, MOV, MP4, and AVI. Besides, the tool supports HD 1080p and 4K and allows batch downloading.
One of the app's top features is its built-in screen recorder. With it, you can create and convert videos of your own. There is also a built-in player you can use to play and preview downloaded videos. Another bonus is that Allavsoft's team provides email support to the app's users. Nevertheless, Allavsoft can hardly be considered the best free video downloader since you need to upgrade to the app's full version to enjoy unlimited downloads and conversions.
To perform a video download with Allavsoft, take the steps below:
Open the Allavsoft app.
Go to a streaming website, locate the video you would like to download and copy its URL address.
Navigate to the URL box in Allavsoft. The link to your video will be pasted into it automatically.
Adjust the download settings to your liking.
Click the big blue circle with the downward arrow inside – that is the tool's "Download" button.
Wait until your video is downloaded.
Now you can enjoy your video offline.
In short, Allavsoft Video and Music Downloader is a basic yet quite efficient video downloader that allows users to download content from a huge variety of sources.
Pros         
Cons

Downloads content from 100+ platforms

Supports multiple platforms

Allows simultaneous downloads

Auto-pastes copied links

Provides email support for users

Outdated design

The free version is very limited

No editing tools

No 8K support
aTube Catcher
aTube Catcher is a convenient video downloader for Windows users, and one of the best things about this tool is that this all-in-one tool offering video downloading, audio capturing, video converting, and screen recording features is absolutely free. You can even create DVDs with this app.
aTube Catcher allows you to download content from a huge number of websites, including Vimeo, Facebook, Dailymotion, Metacafe, and Spike, and supports numerous formats, such as AVI, 3GP, MOV, 3G2, OGG, XVID, MP2, MP3, MP4, WMA, WMV, GIF, FLAC, WAV, PSP, MPG, and VOB, meaning you can play downloaded videos on your iPhone, iPad, Android phone, PSP device, etc.
Unfortunately, conversions with aTube Catcher can be somewhat slow. Another problem is that the tool tries to install additional software on your computer, like mp3 players and antivirus tools. While some users may find it quite tolerable, we do not appreciate this practice.
In summary, aTube Catcher is a helpful option for a Windows user willing to download content from multiple sources with a free tool.
Pros         
Cons

Downloads content from 1000+ sites

Multiple options in one tool

Free

Supports Windows only

Slow conversions

Installs additional software
FAQ
How to Download Videos From the Internet?
Our best video downloaders listed above are immensely helpful when it comes to saving videos from the Internet for offline viewing. If you want to know more about downloading online content, we recommend that you check out our "How to download videos from the Internet?" article.
How to Download Videos From YouTube?
YouTube is an extremely popular source of video content, so you can hardly find a user who wouldn't want to download a video or two from this platform for offline use. There are several ways to do so, and you can find more on this topic in our "How to download a YouTube video to your PC?" article or go direcly to the post "TOP-5 Best YouTube downloaders".
How to Download Videos From Facebook?
Facebook is the most popular social network worldwide as of January 2023, so there is little wonder you would like to know how to download video content from it on your device. Our "How to download Facebook videos to your computer?" article is sure to help you with this task.
How to Download Videos From Twitter?
Launch a new tab on Twitter and search for the tweet containing the video you want to save. To copy the video's link, right-click it and select "copy video address." Then, after you copied the URL, open a video downloader like Video Grabber, paste it there, and hit the Download button.
However, you can find more options in our article "How to download videos from Twitter?"
How to Download Videos From Vimeo?
Copy the video's URL and then paste it into Auslogics Video Grabber. Then, click "download" after pasting it. You can download several video files simultaneously. But we also suggest checking our post "How to download Vimeo videos?" and enjoying your favorite content offline.