Compared to its predecessors, Windows 10 has better functionality, efficient task management, and stronger security. However, for all its nice upgrades, it still experiences problems and bugs from time to time.
As a Windows 10 user, you may have encountered an error or two while using your computer to perform important tasks. While this operating system comes with one of the best troubleshooting tools out there, it can be quite frustrating when these unexpected malfunctions occur. For starters, no one wants to be interrupted with a strange error code. This problem can happen while you're trying to launch a program, share essential files, or copy data from a memory stick.
However, these things happen, and they do so for a reason. When an error code appears on your screen, Windows is trying to tell you where to look. This makes it easier to find a solution. Without a code description, it will be pretty difficult to pinpoint the cause of a system malfunction.
While many error codes can pop up on your screen, Windows 10 users have reported a specific one that appears when trying to access their image files. This can occur while attempting to open photos through the Windows Live Photo Gallery. It also happens when transferring picture files from an SD card to the hard drive using any other program. Unfortunately, it can affect your video files as well.
This particular problem is associated with the 0x8000000a error code. The good news is that you can get it fixed, and we will show you how to do just that. By following and applying the solutions in this guide, you will get rid of this issue in no time.
However, before we move to the various methods on how to fix the Error Code 0x8000000a, let us look at what it is all about.
What Is the Error Code 0x800000a?
What does the Error Code 0x8000000a mean on Windows 10? When you encounter this message prompt while using your computer, it could mean a lot of things. One of the most common reasons it can occur is a faulty program that creates broken registry entries. It can also happen after an incomplete software removal that leaves behind invalid entries in the registry. In addition, it has been discovered that the Error Code 0x8000000a can appear when there are incorrect configurations on the system settings.
All these problems have one thing in common—they lead to damaged or altered system files. These files contain essential data needed for the proper functioning of the operating system. Consequently, this issue can result in shutdowns, intermittent and unauthorized restarts, and other technical issues.
In addition, mistakenly downloading malware onto your computer can trigger this issue by corrupting essential data, thereby preventing the system from accessing it. So, it is advisable to perform a full system scan using an anti-malware program to confirm that this is not the case for you.
While it is possible to fix this error, it is not easy to pinpoint the exact solution to use. This is because the method you will need depends on the cause of the issue on your computer. To resolve the problem, you need to try each of the fixes one after the other until you find the one that works for you.
In the next section, we will explain each of the recommended solutions in detail.
How to Fix the Error 0x8000000a on Windows 10
To get rid of this error on your Windows 10 computer, you do not need to be a computer guru. By following the steps outlined in this guide, you will resolve this problem in no time. As previously mentioned, you should perform an anti-malware scan before proceeding to the other solutions. This way, you can rule out the possibility of a malicious program hiding in your system and causing harm.
Update your operating system
Stop the Windows Update service
Update drivers
Change your system decimal separator configuration
Run the System File Checker
We will now outline and discuss the steps for each of these methods.
Solution 1: Update Your Operating System
For Windows to function properly, the operating system needs to be recent. Microsoft releases regular updates to improve security and functionality. If your Windows 10 OS is not updated, it can lead to several errors, some of which include the 0x8000000a error code.
In addition, if you are running a corrupt operating system, you can also experience this issue on your computer. So, the first step is to ensure your OS is up-to-date. To do this, follow the steps outlined below:
The first step is to open the Settings panel.
From here, locate and open Update & Security.
Once the new window opens, select Check for updates.
Wait patiently while Windows searches the Internet for available updates.
Note: If you cannot find this option on the page, go to the search box and type "Check for updates" (no quotes). You can then click on it from the search result.
If there is an update available, download and install it by following the on-screen instructions.
Once the process is done, you can check to see if the issue has been removed from your computer. If it persists, then move to the next solution on the list.
Solution 2: Stop the Windows Update Service
If the Windows Update service is running automatically in the background, it can lead to this error. To confirm that this is not the case, you should stop the service from running. Some users have reported that applying this method helped them eliminate the problem from their Windows 10 device.
To do this on your computer:
Go to your keyboard and press the Windows key + R shortcut to bring up the Run box.
Once the dialog box appears, type "services.msc" (no quotes) and click on the OK button.
On the new page, you will see a list of all the Windows services currently running on your system.
From here, search for Windows Update, right-click on it, and select the Stop option.
Check to see if the 0x8000000a error code has been resolved.
Now, return to Windows Services, and find the Windows Update option.
From here, right-click on it and select the Start option.
If this solution was not helpful, proceed to the next fix below.
Solution 3: Update Your Drivers
Drivers play an essential role in the functionality of your computer. It allows your operating system to communicate with hardware as well as other necessary software. When these essential tools are faulty, broken, corrupt, or outdated, they can create a lot of technical problems. This can range from your system bringing up Blue Screen of Death issues, including the 0x8000000a error code.
So, one of the most common fixes is updating and repairing all faulty drivers installed on your computer. While it is possible to execute this solution manually, it is risky. You may mistakenly download malware or install the wrong/incompatible driver version. Any of these can make the problem worse and might even crash your PC.
So, it is recommended that you use a driver updater to implement this solution automatically. This will protect your computer from malware, ensure you install the appropriate version, and prevent any damages to your system.
Auslogics Driver Updater is software designed to update your PC drivers, prevent system conflicts, and ensure your hardware works without any glitches. All this is achievable with just the click of a button, making it a popular tool amongst Windows 10 users.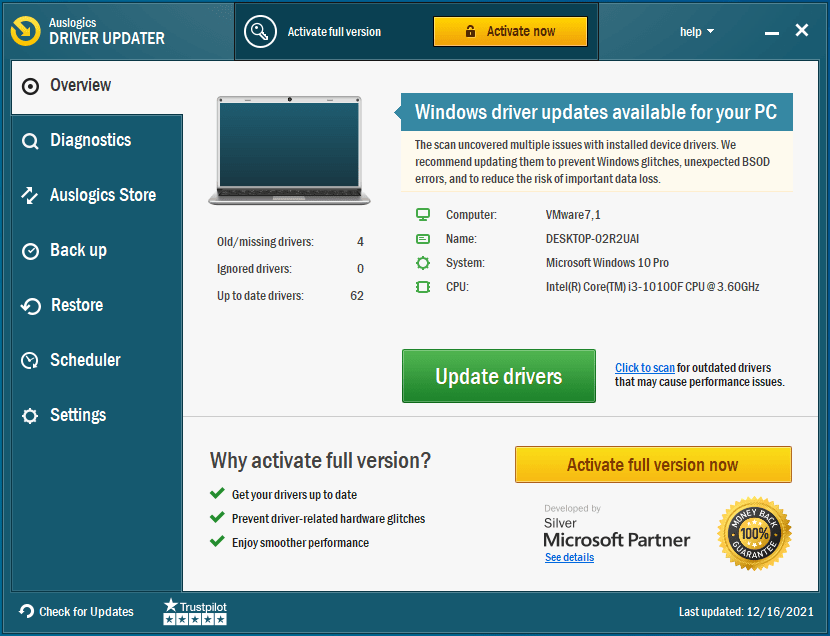 Once you download and launch the app on your computer, it will perform a thorough scan to detect damaged or outdated drivers. When the scan is complete, the tool will provide you with a report detailing the missing or corrupt drivers that need to be repaired. You can then instruct it to update all flagged drivers to their recent manufacturer-recommended versions automatically.
Auslogics Driver Updater saves you the time and stress of manually searching the internet to locate the correct update that will help you fix faulty drivers on your system. In addition, it ensures that every driver that is installed is the official version. This way, every installation is compatible with your operating system version and processor type.
RECOMMENDED
Resolve PC Issues with Driver Updater
Unstable PC performance is often caused by outdated or corrupt drivers. Auslogics Driver Updater diagnoses driver issues and lets you update old drivers all at once or one at a time to get your PC running smoother
DOWNLOAD NOW
Before commencing the repairing process, the app creates a backup of drivers currently installed on your device. This ensures that you can easily revert to the previous driver version if you do not like the updated ones. Auslogics Driver Updater is an easy-to-use tool that you can launch even with zero technical knowledge. It has been put through several rigorous tests by PC manufacturers and IT experts. Indeed, it is certified safe and efficient.
Once you are done repairing and updating your drivers, restart your computer and check to see if the malfunction has been resolved.
Solution 4: Change Your System Decimal Separator Configuration
As simple as it sounds, your system's decimal separator format could be the reason for this error. Users have reported that resetting or changing the configuration helped remove the 0x8000000a error code from their computers.
To implement this solution:
Press the Windows key on your keyboard and type "Control Panel" (no quotes).
From the results, open Control Panel and click on Change date, time or number formats.
Go to the Formats tab and select the Additional Settings option.
Now, you can change the Decimal Symbol value manually to use a period. Alternatively, select Reset to restore the system configuration to its default settings automatically.
Click the OK button to confirm your selection.
Save the changes, restart your PC and check if the error has been fixed once the system is done booting.
Solution 5: Run the System File Checker
If the problem persists until now, then you need to use Windows's very own troubleshooting tool to track and fix the issue. Fortunately, Microsoft provides its users with a convenient program that simplifies the process.
The System File Checker is a built-in utility on Windows 10 that allows users to locate and troubleshoot common errors on their PCs. You can use it to detect and repair damaged or corrupt system files using an elevated Command Prompt. By employing full administrator privileges, you can implement the program to resolve the 0x8000000a error code on your computer.
Follow these steps to use this fix:
The first step is to press the Windows key on your keyboard and then type "cmd" (no quotes).
From the search results, go to Command Prompt and right-click on it to bring up its options.
Select the option to Run as administrator.
Once the next window opens, copy and paste this command line, and then press the ENTER key on your keyboard: sfc /scannow.
Wait patiently for Windows to perform a scan. Once the process is complete, follow the on-screen prompts to resolve any detected errors.
Restart your computer and then check if the problem has been fixed.
Hopefully, this last solution should remove the 0x8000000a error code from your PC.
Conclusion
There you have it! Every solution explained in this guide is a recommended fix that helped other users resolve the Error Code 0x8000000a on Windows 10. We hope you found it useful as well.
If you have other methods that you used to fix this issue on your PC, feel free to share them in the comment section below. You can also recommend this article to your friends and colleagues to help them resolve the same error.