Connecting your iPhone to your Windows PC and seeing only the charging indicator can be frustrating. Since the intention is to back up your phone, upgrade its software, or share files, it's fairly obvious that your computer is not recognizing your iPhone.
You don't have to deal with the frustration for too long as this article will help you fix the issue. You'll learn how to connect your iPhone to your computer and resolve the "Windows 10 won't recognize iPhone" problem. 
1. Start With the Basic Steps
Before we delve deep into advanced troubleshooting processes, let's start with the basics. Your computer may not be connecting with your iPhone due to common glitches, from stuck drivers to a bad cable connection.
Restart Your iPhone and Computer
Restarting your iPhone and Computer should be your first move if you haven't tried already. It resets each device's interface and clears its memory. That way, memory glitches, software conflicts, and GUI issues will be resolved when the device boots from scratch.
---
Also Read: Computer Keeps Restarting: How to Fix?
---
Check Your USB cable and USB Port
Your next step is checking your physical connections. There's a chance that you're not connecting the device correctly. So check your connection to confirm.
There's another chance that your cable or USB port is malfunctioning. So, try connecting with a different cable and use another USB port. If another cable or USB works, then you've found the cause of the problem.
---
Also Read: [FIXED] How to Fix the Dell Laptop USB Port Not Working Issue?
---
Always Trust Your Computer
Your iPhone will typically show an alert asking if you trust the computer you're about to connect to. Make sure you select Trust or Continue.
Image: Apple
2. Ensure Your Software is Up to Date
Outdated software affects your devices in various ways, and the "iPhone not connecting to PC" issue is one of them. New sets of features and connection mechanisms are ingrained into software updates to improve transfer speeds and stability.
So, make sure your iOS and Windows versions are up to date.
To update your iPhone, go to the Settings app, select General, and choose Software Update. 
You should also switch on Automatic Updates to install the latest software for your iPhone when they become available. While automatic updates are turned on, you will be notified before your phone downloads and installs them.
To update Windows 10, search for "updates" in the Start menu, click "Check for updates," and then allow the Windows Update client to download and install your operating system's latest software.
Install the Latest iTunes Version
You may also be experiencing the "iPhone not showing up on PC" problem because your iTunes version is outdated. You can update iTunes through the Microsoft Store or by downloading the latest package from Apple's Support webpage, depending on how you installed the program.
To update through the Microsoft Store, launch the store, click Library, and select the Get Updates button. If an update is available for iTunes, you should see the Update button beside the app.
Fix Driver Errors
You may be experiencing an iPhone driver error because the drivers responsible for connecting your PC to your iPhone are malfunctioning. 
Update Your Apple iPhone Driver
The Apple iPhone Driver appears in the Device Manager under Portable Devices whenever you connect your iPhone via USB. you can update it and check if the problem goes away.
Follow these steps:
Right-click the Start menu and choose Device Manager.

Expand Portable Devices, right-click the Apple iPhone entry, and click Update Driver.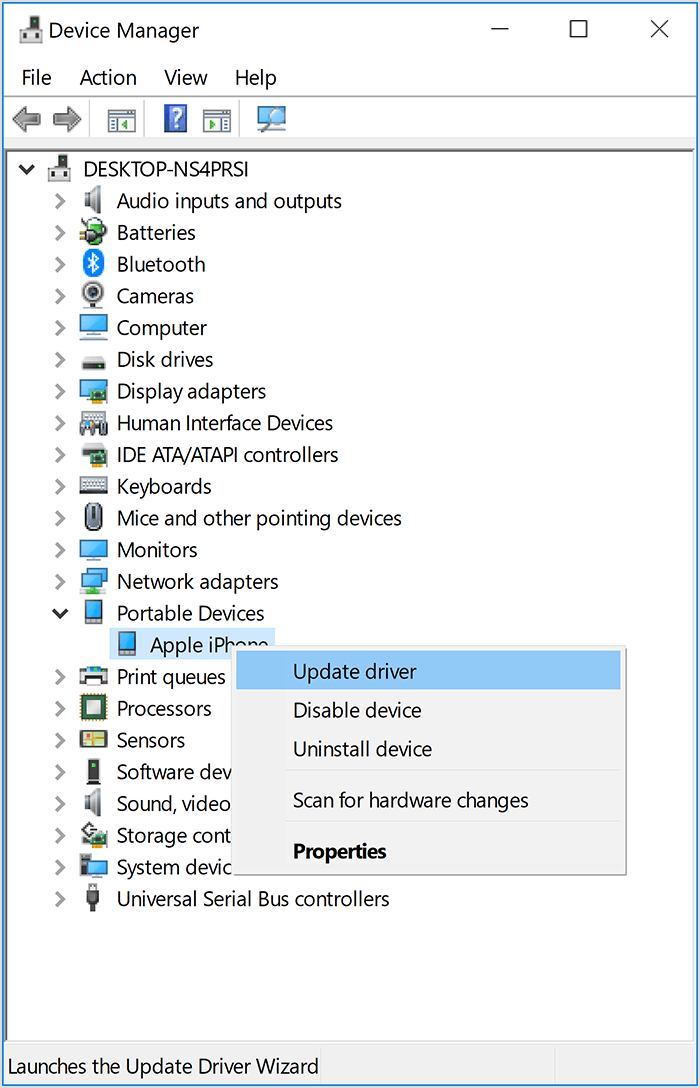 Image: Apple
3. Allow Windows to Automatically Find a Driver And Install It
---
Also Read: [EASY GUIDE] How to Update Device Drivers on a Windows 10 PC?
---
Restart the Apple Mobile Device USB driver
The Apple Mobile Device USB Driver appears under the Universal Serial Bus Controller drivers category in the Device Manager. It is installed alongside iTunes and helps the application recognize your iPhone when you connect it to your USB port.
The driver may be problematic and show a yellow exclamation, plus, or download icon. Any of these icons indicate issues with the driver itself, iTunes background processes, or iTunes installation files.
First, you can restart the device by connecting your phone, right-clicking the driver, and selecting Disable Device. After that, right-click the driver again and select Enable Device.
If the restart process doesn't fix the Apple iPhone driver error, move on to the steps that follow to restart the Apple Mobile Device Service and reinstall iTunes.
4: Check iTunes Background Processes
The Apple iTunes software package includes a number of background application processes. These processes are responsible for a range of different services, such as recognizing Apple devices, creating and restoring backups, synchronizing touch data, and synching the device with Windows Mail.
You should make sure the Apple Mobile Device Service and iTunes Mobile Device Helper are running as they should. Let's show you what to do.
Restart Apple Mobile Device Service (AMDS)
Apple Mobile Device Service (AMDS) is one of those background processes that automatically starts running on your computer. It is responsible for Windows' communication with iPhones and iPads. 
Its malfunction and status can make Windows not recognize your iPhone. You can resolve that problem by restarting the service and setting it to start automatically. Follow these steps:
Use the Win + R keyboard combo to launch the Run dialog window.

Type "services.msc" and hit the Enter keyboard button.

After the Services application opens, go to the Apple Mobile Device Service entry and double-click it.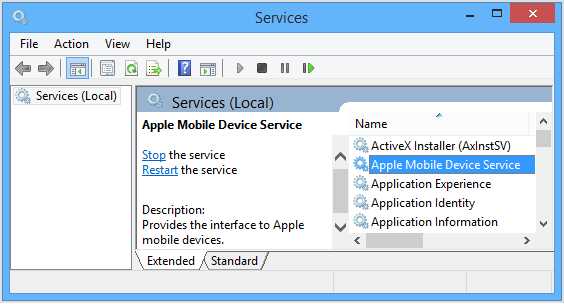 Image: Apple
Click the Stop button under Service Status, select Automatic in the Startup Type drop-down, and click the OK button.

Double-click the service again and select Start.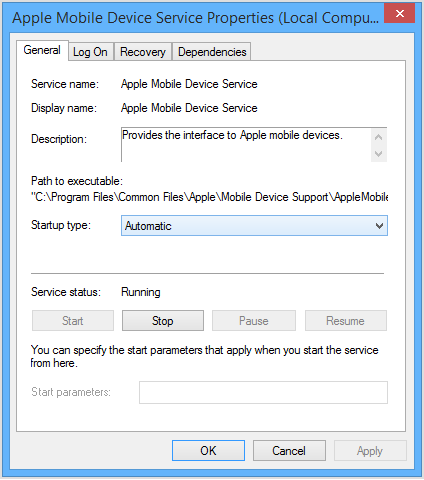 Image: Apple
Now, restart your computer and try connecting your phone to check.
Enable the iTunes Mobile Device Helper as a Startup Item
The iTunes Mobile Device Helper is another critical iTunes background program, especially if you installed iTunes through the Microsoft Store. It is a startup program and must launch once your computer boots to the Desktop environment.
The tool may be unavailable because it is restricted from launching at startup. There are two ways to enable it: through the Settings application or Task Manager.
Follow these steps to enable the app through the Settings app:
Launch Settings using the Win + I hotkey and click Apps.

Go to the left side of the interface and select Startup.

Next, scroll through the Startup items and toggle on the switch for the iTunes service.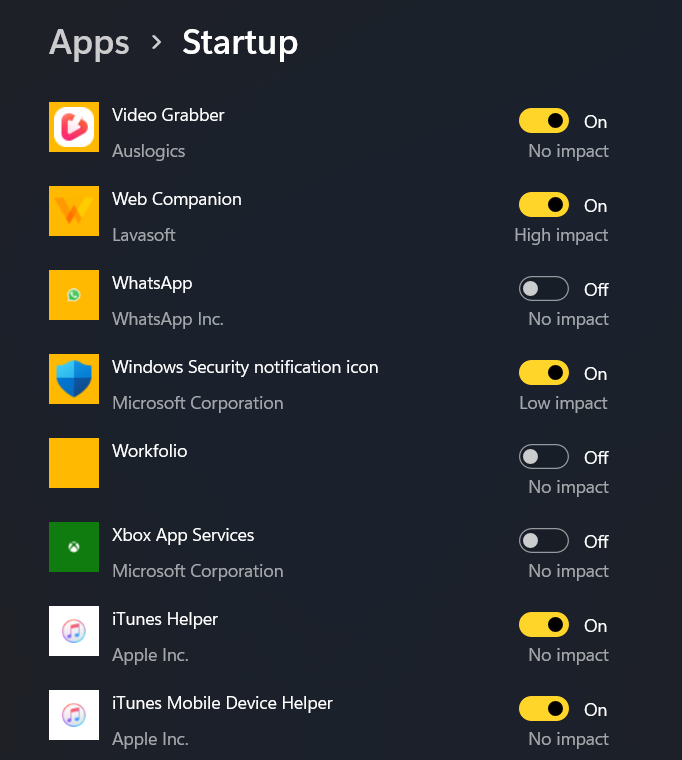 Follow these steps to go through the Task Manager:
Right-click your taskbar or Start icon and select Task Manager from the menu.

After the Task Manager opens, go to the Startup tab, select the app, and click the Enable button. You can also right-click the app and select Enable.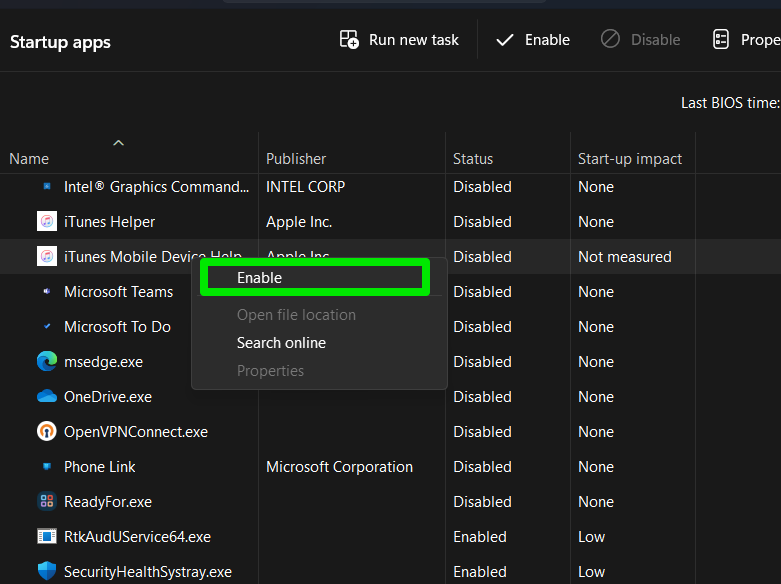 5. Reinstall iTunes
If your PC won't recognize your iPhone after following all the steps above, you can try reinstalling iTunes, as the program's installation files may be faulty. Since you can install iTunes from the Microsoft Store and Apple's website, we recommend switching your installation method when reinstalling the program.
So, if your current iTunes package was installed through the Microsoft Store, uninstall it and download the setup from Apple's website and vice versa.
Follow these steps to uninstall iTunes:
Launch the Settings application and select Apps.

Use the search bar to find iTunes, click the program, and select Uninstall.

Select the Uninstall button in the warning prompt and continue.

Follow the instructions to remove the program, then restart your computer.
---
Also Read: How to Uninstall Programs on Windows 10/11?
---
6. Check Your Third-Party Security Software
Your antivirus program may be conflicting with some iTunes background process, preventing your PC from recognizing your iPhone. You can confirm by turning off the security program and checking your phone's connection again.
If the phone connects without issues after turning off the application, consider adding iTunes as an exclusion or exemption. This process stops the antivirus program from scanning and restricting iTunes and its background applications.
Go to the program's website to find a guide if you don't know how to add an exclusion.
You can switch your antivirus program if adding iTunes as an exclusion doesn't work. Consider using Auslogics Anti-malware instead. The program is formidable against malware and can work alongside third-party security software. 
If your antivirus license has not expired, you can turn the program off whenever you want to connect your phone, and Auslogics Anti-Malware will keep you adequately protected.
---
Also Read: How to Prevent Malware: Lock Down Your Online Safety
---
7. Reset Your iPhone's Location and Privacy Settings
If Windows 10 won't recognize your iPhone after you select the Trust or Continue option in the alert message, consider resetting your Location and Privacy Settings. This process will prompt the iPhone to forget every setting for trusted devices and start all over.
Follow these steps:
Go to the Settings app.

Choose General.

Select Transfer or Reset.

Tap Reset

Now, select Reset Location and Privacy.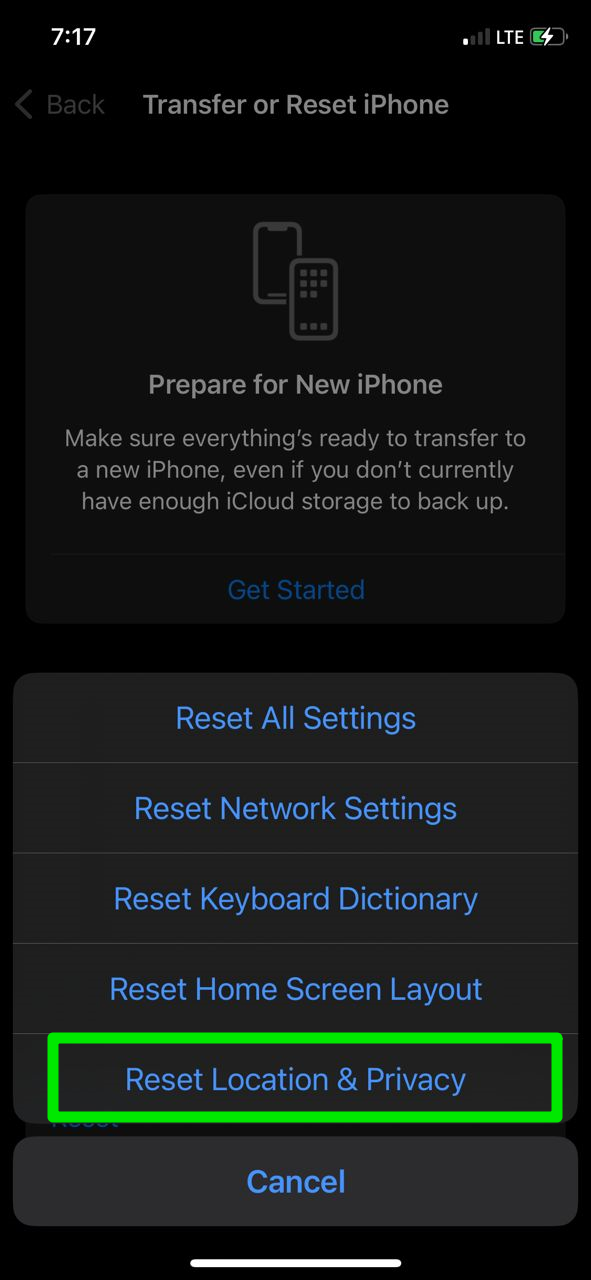 Enter your passcode and tap Reset Settings.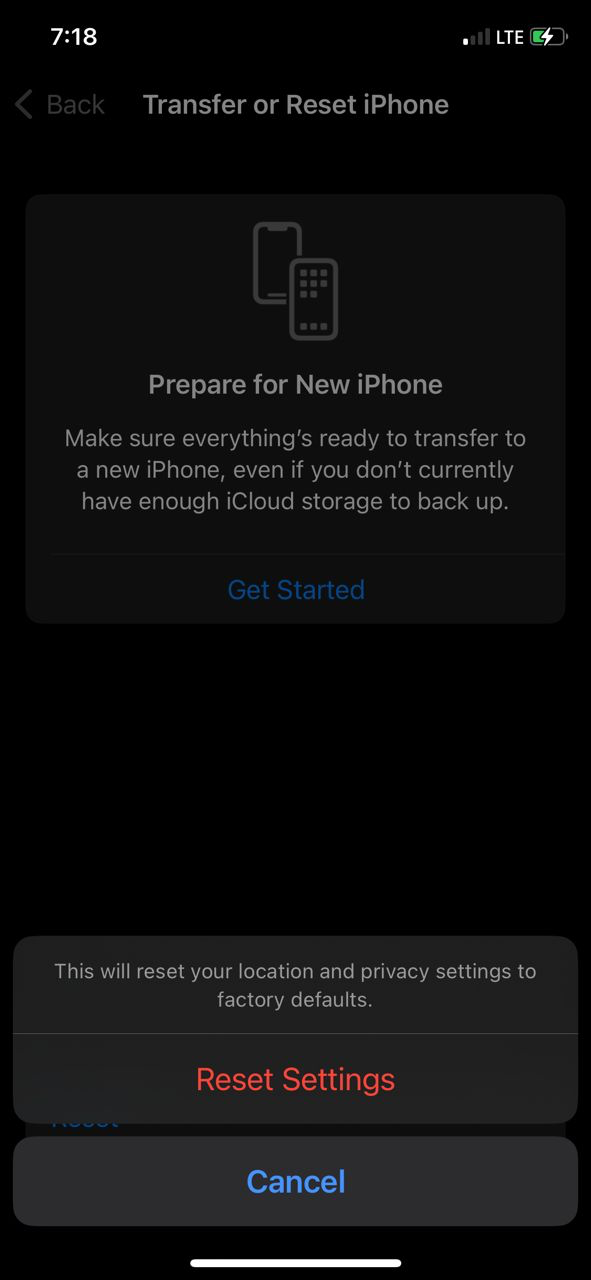 You can now check for the "iPhone not connecting to PC" issue. If it still doesn't work, return to the Reset setting and select Reset Network Settings. This option resets WiFi networks and passwords and mobile data, APN, and VPN settings, alongside your computer connection settings. 
Conclusion
Connecting your iPhone to Windows shouldn't be a problem if everything works fine. If none of the steps above resolve the "Cannot connect iPhone to PC" problem, consider connecting your iPhone to another computer and checking for the issue. If the same problem persists, contact Apple Support.
FAQ
Why Won't My Windows 10 Computer Recognize My iPhone?
The issue occurs for various reasons, from bad cables and malfunctioning drivers to problematic background apps and third-party software conflicts.
Do I Need to Install Additional Drivers for My iPhone to Work With Windows 10?
No. Every dependent software application comes with iTunes.
How Do I Update My Windows 10 Operating System?
You can update Windows by searching for "updates" in the Start menu and selecting Check for Updates.
Is There a Way to Connect My iPhone to Windows 10 Without Using iTunes?
You can directly connect your iPhone to your Windows 10 computer even if you don't have iTunes installed. That said, the phone will only show up as a media device and you can only copy photos and videos.