Do you want to know how to fix Bluetooth lag? You've come to the right place! So, you're watching a movie on your laptop, but the audio from your Bluetooth speakers just won't sync with the dialog. 
This can be frustrating, especially when you're watching a horror film. The ghost jumps out of the shadows, and the screams come a second later. 
You shouldn't endure this suffering anymore because we will teach you how to fix the Bluetooth audio lag on Windows 10. The steps are easy to follow, and we'll show them in detail. 
Let's begin.
Troubleshooting Steps to Take Before Fixing Bluetooth Speaker Delay
Before you learn how to fix Bluetooth headphones audio delay, ensure your Bluetooth audio device can support the Bluetooth version on your computer. 
For instance, if your speakers can only handle Bluetooth 2.0, the small bandwidth may not be able to deliver the high bit rate of the audio stream. In this case, you must find a device that supports Bluetooth 4.0.
You should also check if you have enough battery on your Bluetooth audio device. Make sure that your Bluetooth audio device is close to your computer. Doing so will ensure a stable connection.
Also, reduce the interference by switching off nearby Bluetooth devices. Check the solutions in the next section if these initial troubleshooting steps do not fix Bluetooth audio delay. 
---
Related: [FIXED] Bluetooth Connected But No Sound in Windows 10/11
---
How to Fix Bluetooth Audio Delay on Windows 10?
Below, you'll find how to fix Bluetooth audio delay. Go through them and find the one that works best for you: 
Solution 1: Reconnect the Bluetooth Audio Device to your Computer
One of the easiest and quickest ways to fix Bluetooth latency is to reconnect it. All you need to do is unplug it from your computer, switch it back on, then reconnect it to your PC. 
You can move on to the next solution below if the audio is still lagging.
---
Related: Bluetooth's not Working in Windows 10/11: How to Fix?
---
Solution 2: Use the Windows Audio Playback Troubleshooter
There are many great features in Windows 10, and the built-in troubleshooters are among them. So, if you are experiencing a Bluetooth audio delay, you can run the Windows audio playback troubleshooter. Here are the steps you need to follow:
Go to the lower-right corner of your taskbar, then right-click the Sound icon.

Choose "

Troubleshoot Sound Problems"

from the list.

If prompted to provide permission to the app, click "

Yes

." Doing this should let you run the Windows audio playback troubleshooter.

A window will pop out. Click "

Next

."

Choose your Bluetooth audio device, then click "

Next

."

Troubleshoot the sound lag issue by following the on-screen instructions.
Check to see if the Bluetooth audio delay has been resolved.
Solution 3: Update Your Bluetooth Driver
You may be experiencing Bluetooth speaker delay because you have an outdated, missing, or corrupted Bluetooth driver. So, one of the best ways to resolve the problem is by updating your drivers. There are various ways to do this. 
You can do it through the Device Manager:
Type

"Device Manager

" in the search and click on it. 
A new window will open. You will see a list of devices. Expand the contents of the Bluetooth category.

Now, look for your Bluetooth audio device. Right-click it, then select Properties.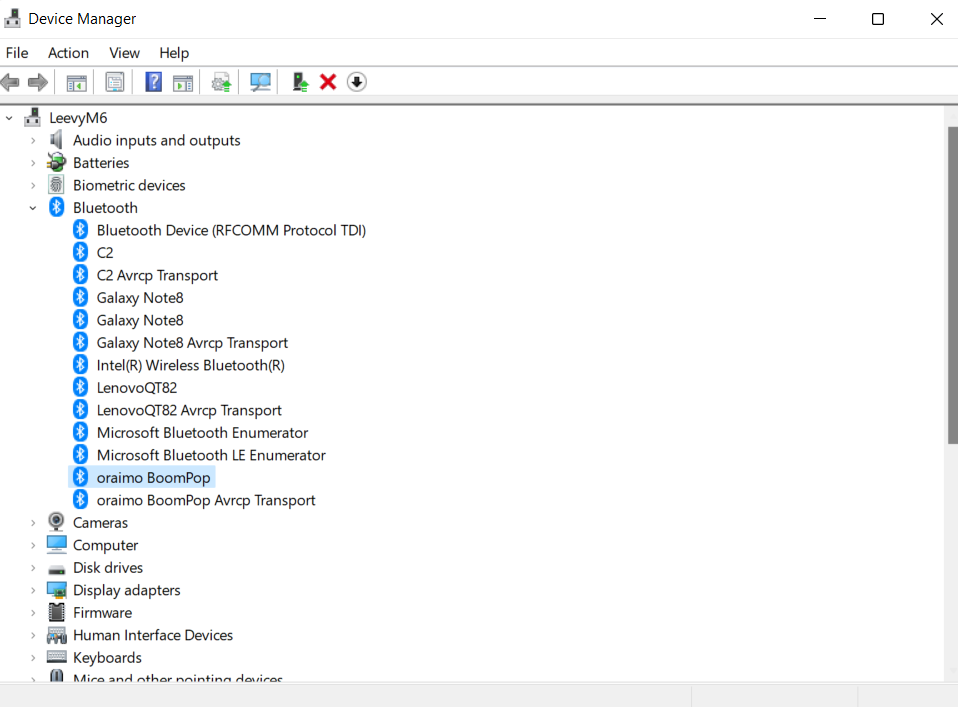 Go to the Driver tab, then click Update Driver.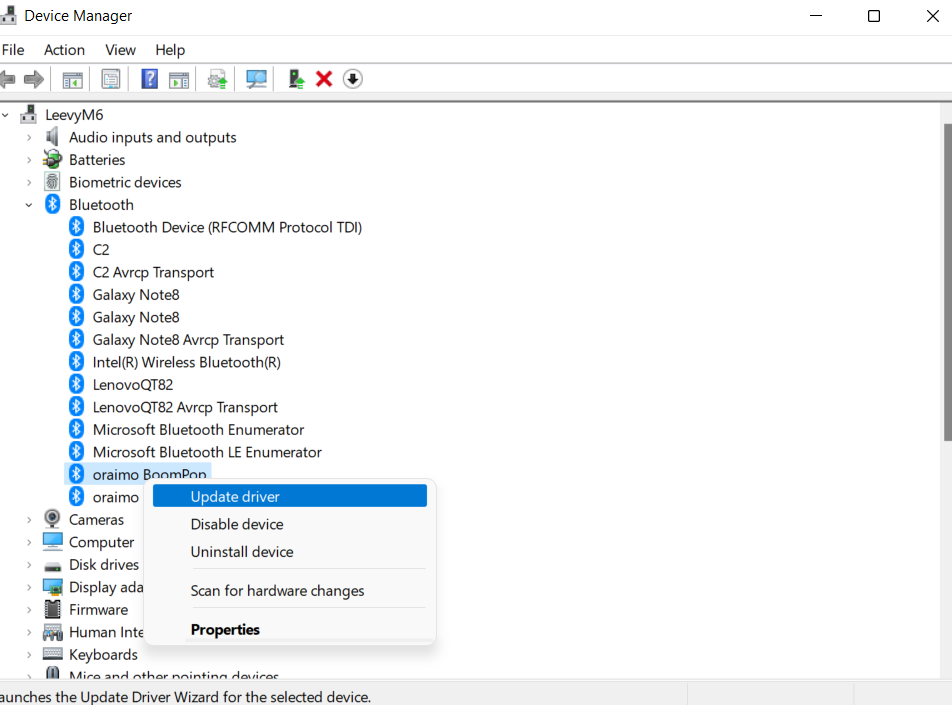 Your system should automatically find the latest driver version for your Bluetooth audio device. However, Windows can miss the right update for your PC. So, if you're still experiencing Bluetooth headphones audio delay, go to the manufacturer's website. 
You need to find the latest version that is compatible with your system. Make sure you download the right one because if you install the wrong version, you might experience system instability issues.
---
Also Read: How to replace drivers for a Bluetooth adapter in Windows 10?
---
Consider Auslogics Driver Updater
Manually updating your Bluetooth audio driver can take time and effort. So, consider Auslogics Driver Updater if you want a more convenient and reliable way to do this.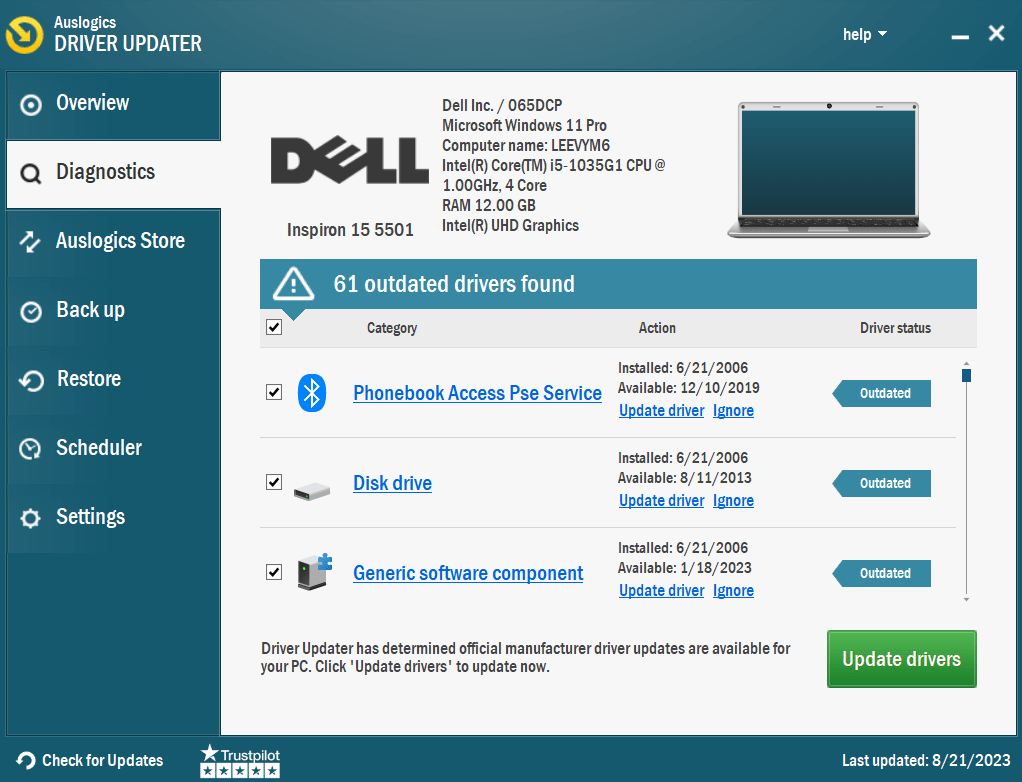 Once you activate this software program, you just need to click a button, and it will automatically recognize what system your computer is running. Moreover, it will look for the latest manufacturer-recommended drivers for your PC. 
The best part is it will update and repair all your drivers. So, you can expect an overall improvement in your computer's performance once the process is complete.
---
Related: Auslogics Driver Updater: New Drivers in One Click!
---
Solution 4: Restart the Windows Audio Service
One of the reasons you're experiencing a Bluetooth audio lag is a problem with the Windows audio service. You can try restarting it to resolve the issue. Here's how to fix audio delay using the Windows audio service: 
Press "Windows Key + R" on your keyboard. This should open the Run dialog box.

Now, type "

services.msc

" (no quotes). Click "

OK

." If prompted to give permission to the app, click Yes.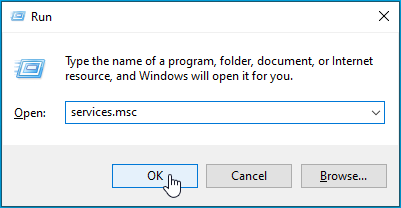 Scroll down until you find Windows Audio. Right-click it, then choose "

Properties

" from the options.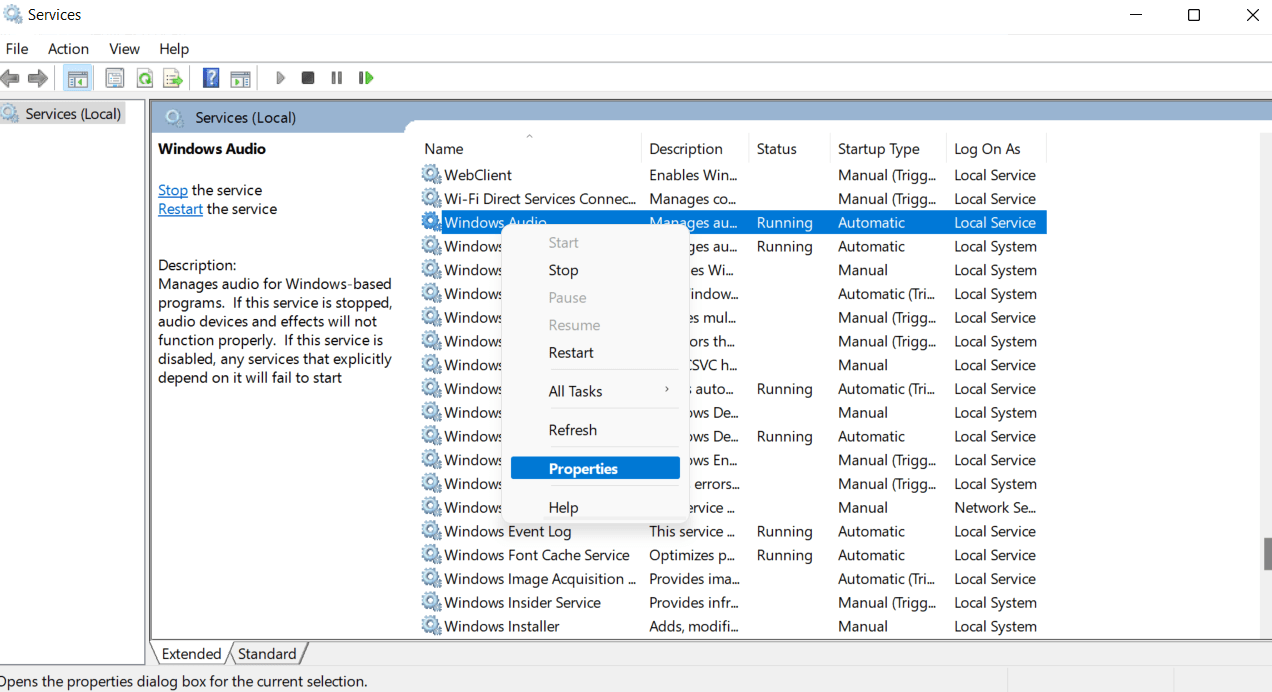 Go to the "

General

" tab.

If the service is not running, click the "

Start

" button to enable it.

After that, click the drop-down list beside the Startup type, then select "

Automatic

" from the list.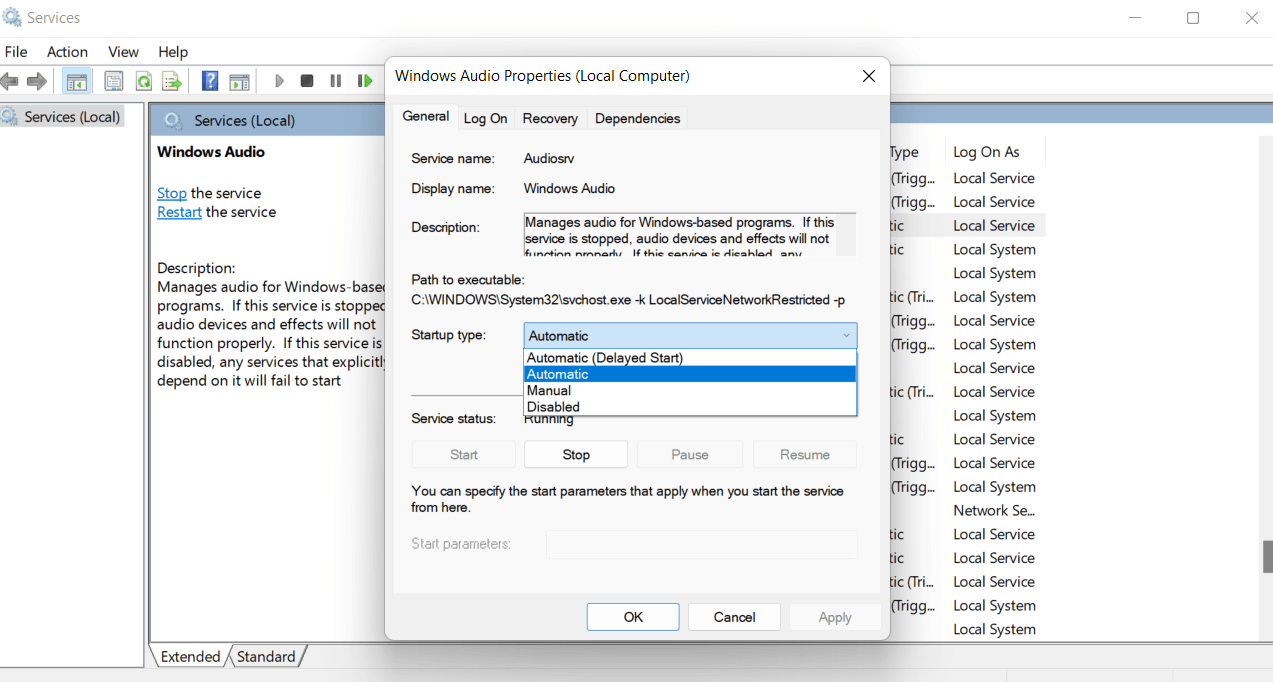 Click the "

Recovery

" tab.

Choose "

Restart the Service"

from the drop-down list beside "

First Failure."

Click "

OK

" to save the changes.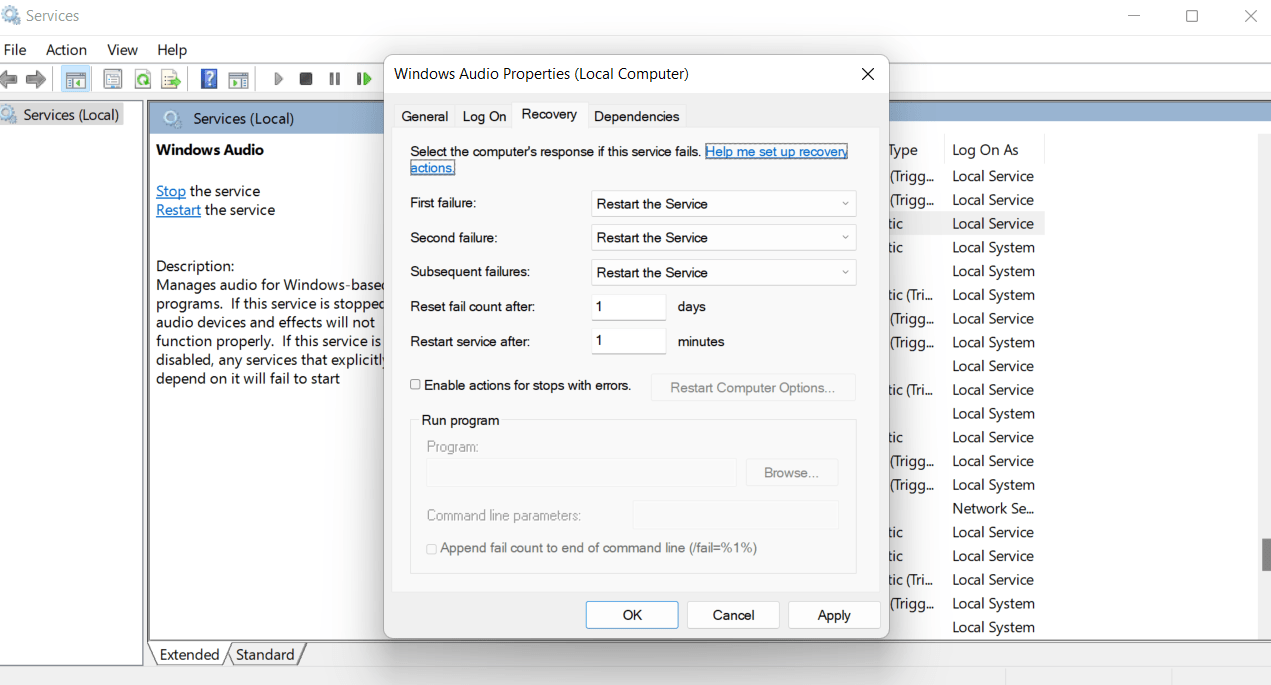 Look for Windows Audio Endpoint Builder in the Services window. Repeat the same steps to this entry.
Restart your computer. Reconnect your Bluetooth audio device to your PC, then check if the Bluetooth latency has been resolved. 
Solution 5: Remove Other Device Interference
Another way to fix Bluetooth audio delay is to verify that none of the gadgets connected to your computer produce interference. To locate any sources of interference, disconnect each Bluetooth device one at a time. 
You can identify the issue if it is resolved after a particular unplugged device. It may be a hardware issue if this doesn't fix the Bluetooth latency. 
---
Related: "Bluetooth Peripheral Device Driver Not Found" [Fixed]
---
Solution 6: Look at Hardware Issues
Once you've ruled out temporary glitches, check for hardware issues. Disconnect your audio output device from your computer and connect to a different computer or mobile device. Your hardware is most likely to blame if you suffer Bluetooth audio delay on the other device.
Consider stepping closer to the receiver and checking if the audio responds similarly to rule out range-related issues. You may need to fix or replace the hardware if it is the issue's root.
If your speaker or headphones usually function when connected to another device, your operating system might be to blame.
---
Also Read: Hardware Problems Detected by Windows Memory Diagnostic Tool
---
Solution 7: Ensure the Media Player is Not the Issue.
After ruling out hardware issues, confirm that the audio delay does not come from the media player you are using to playback audio or video rather than the operating system or hardware. 
Even though they are less frequent, media players occasionally cause problems like the one we're discussing.
Try playing the same file in another media player to eliminate the possibility. Find out whether the audio delay consistently affects particular files or formats if it appears with different media players.
---
Related: Windows Media Player No Sound [Fixed] 
---
Solution 8: Check the File and Format Compatibility
Make sure the issue isn't limited to a specific audio or video file or set of formats. Play a different music or video file to solve the issue, preferably in a different media player than the one causing it.
If the Bluetooth speaker delay goes away when a different file or format is used, there is probably a compatibility problem. 
You can use another media player or convert these files to a supported format. It's essential to look into system-level fixes if the issue persists.
Conclusion
If you want to know how to fix Bluetooth audio delay, check this guide. Usually addressing Bluetooth audio latency is frequently a step-by-step process. Before ruling out hardware issues, look for interference from other devices.
Ensure your media player isn't the reason for the delay and isn't exclusive to some files or types. Following these simple instructions, you may experience smooth audio on your Windows PC.
FAQ
How to Reduce Bluetooth Latency?
Keep your devices close to one another to improve Bluetooth connections and decrease latency. The connection improves with proximity. Additionally, make sure your Bluetooth hardware and drivers are updated. Also, using Bluetooth 5.0 or higher is sometimes helpful because it's faster.
How to Boost Bluetooth Signal on PC?
Try positioning your computer and Bluetooth device in an open area without too many barriers, like walls in between. This improves signal transmission. You can improve your signal by switching to a more powerful Bluetooth adapter. Also, keep other wireless devices away from your Bluetooth connection to prevent interference.
How to Fix Sound Delay on Bluetooth Headphones on Windows 10?
Update the firmware on your Bluetooth headphones to fix the sound delay issues with Windows 10. Then, navigate to the Bluetooth settings on your PC, unpair your headphones, and reconnect them. Taking this little step can help shorten wait times. Check for Bluetooth adapter and headphone driver upgrades if the problem continues.
How to Fix Sound Delay on Bluetooth Headphones on Windows 11?
Ensure your Bluetooth headphones and Windows are updated to the most recent versions of Windows 11. If the delay still occurs, think about switching to the "A2DP" audio profile from "HSP" or "HFP" in your sound options. This can remove delays and provide a more seamless listening experience.