If you're a Windows user, chances are you don't need all the components that come with the operating system. However, there are numerous programs out there that can help you get rid of them. But what if you want even more precision over what gets deleted, like only unused language packs or obsolete Windows Update files? This is where Auslogics Windows Slimmer comes in.
The software makes it super easy to clean up your system, uninstall programs you don't need, and restore valuable hard drive space. It also includes handy features like:
the ability to stop unnecessary services from running in the background and
deleting temp files that have built up over time.
This Windows Slimmer review will show you what you need to know about the program, including its features, how safe it is, and more.
Let's begin.
What is Auslogics Windows Slimmer?
Auslogics Windows Slimmer is a free program that helps you clean up your computer and get more disk space. It can remove unneeded files, uninstall unused programs and apps, and clean up your system.
This is the best way to boost your computer performance and speed up your slow-running computer. The streamlined interface makes it easy to scan for unnecessary files and then remove them with just one click of a button!
The program's main feature is its ability to remove temporary files left behind after uninstalling applications. Or removing programs from the operating system itself. This frees up valuable disk space on your hard drive.
That way, you have room for new files or programs without running out of space. But there are other ways that this tool can be more helpful to your PC; so keep on reading!
Auslogics Windows Slimmer Features
1. Clean Up Unneeded Files to Save Up Storage Space
Auslogics Windows Slimmer has two distinct maintenance modes: "One-Time Maintenance" and "Regular maintenance." The One-Time Maintenance mode makes it possible to delete individual unwanted data and files.
It targets the following:
Windows.old folder, which stores outdated OS data generated when you update Windows,
system restore points, and
Windows update files.
Of course, these components must be deleted just once in a few months because of their nature.
However, Regular Maintenance removes temporary files, application logs, the cache folder made before burning CDs or DVDs, and memory dump files. This is not a one-and-done process but an activity that needs to be done regularly.
2. Integrated Uninstaller With Google Search
Auslogics Windows Slimmer includes a handy program uninstaller called "App List Cleanup," which is one of its many appealing features. The program shows all the applications, their ratings, and how often they are used.
The latter is more important because it reveals whether or not an application can be trusted if rated at all. If an application typically fails to be removed, you can use the app list cleanup tool to delete it from your computer's hard drive forcibly.
The software also has the option to fix or modify the presently installed application. If you don't know what an application does or the program deems it untrustworthy, you can use Google to search for it.
That will help you find out more about the app and decide whether or not to delete it.
3. Perform System Optimization and Maintenance
Windows collects a lot of junk that you don't want or need. Auslogics software boosts your PC's speed and stability by allowing you to do maintenance and change settings.
4. Compact Disk Files to Decrease Disk Space
Auslogics Windows Slimmer can reduce the size of Windows to free up more space on the hard drive. With just a click, you can stop the process if you want to return your OS to its original uncompacted state.
Using the Compact OS feature, you can free up to four gigabytes of space on your system drive. However, remember that this feature is exclusive to Windows 10 and 11. And it's ideal to use it if you're low on space. If not, don't enable the function.
5. Detailed Report on All Operations
Auslogics Windows Slimmer gives you a full report of all the operations you carry out in the program. You can get a day's report, a week's report, a year's report, and an all-time report. These reports are easy to understand, so you won't need assistance or help from an expert.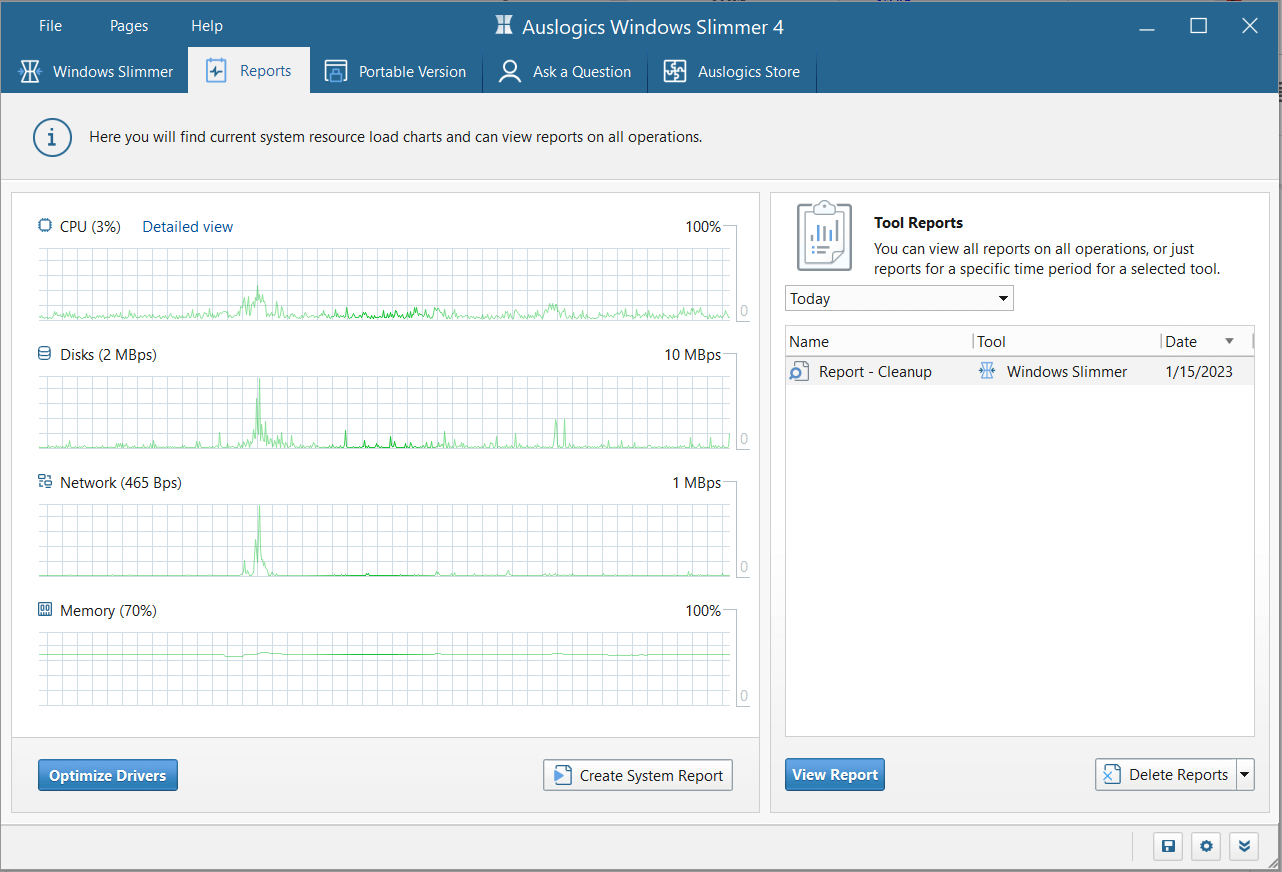 6. Auslogics Windows Slimmer Portable Version
The Auslogics Windows Slimmer portable version eliminates all the unnecessary files on your computer and frees up space without installing the program. However, if you plan to use it for commercial purposes, you may have to purchase a different license.
7. Excellent Customer Support
Auslogics Windows Slimmer has a unique "Ask a Question" feature, which allows you to contact their computer experts directly. You can ask questions regarding your Windows, installed software, or device, and the customer support team will give you a detailed answer.
However, you're limited to three questions if you use a premium version and one for the free version. But, of course, that doesn't mean you can't contact the Auslogics support team if you use up the questions.
You can contact Auslogics as often as possible, and they'll always assist you. You can also use their Support Center to get answers to questions most users ask.
Auslogics Windows Slimmer Upgrade
The Auslogics Windows Slimmer free version is limited to one-time maintenance, basic Windows Slimmer functionality, and a fast scanning engine.
If you want to take advantage of all the program's advanced features, you'll need the Auslogics Windows Slimmer upgrade.
The Auslogics Windows Slimmer Pro gives you more functionalities like regular maintenance, a compact OS feature to increase space, extended priority support, and more. This ensures that your computer performs at its ultimate best.
Is Auslogics Windows Slimmer Safe?
Yes. all Auslogics software is safe for use. Since 2008, Auslogics has released high-quality solutions that have received praise from prominent IT companies like Intel and Microsoft and users worldwide.
Over 10 million users worldwide are reaping the benefits of using Auslogics software. And Auslogics Windows Slimmer is no different.
It has been tested, reviewed, and approved by accredited bodies and has a respectable track record of keeping your Windows system more compact and efficient.
Auslogics Windows Slimmer Download
The Auslogics Windows Slimmer Download is simple and only takes a few minutes to install. Here's how the process works:
Visit the Auslogics official website and download the Auslogics Windows Slimmer
Install and run the program
Since it's a free version, you'll have limited use. For example, you won't be able to use the Compact OS, Regular Maintenance, and other features unless you upgrade.
If you want to upgrade, click on "Activate Pro Version."
A window will appear while you get redirected to the Auslogics page to purchase the pro version. Then, you'll receive the activation code in your email. Just copy and paste into the field, and you're done!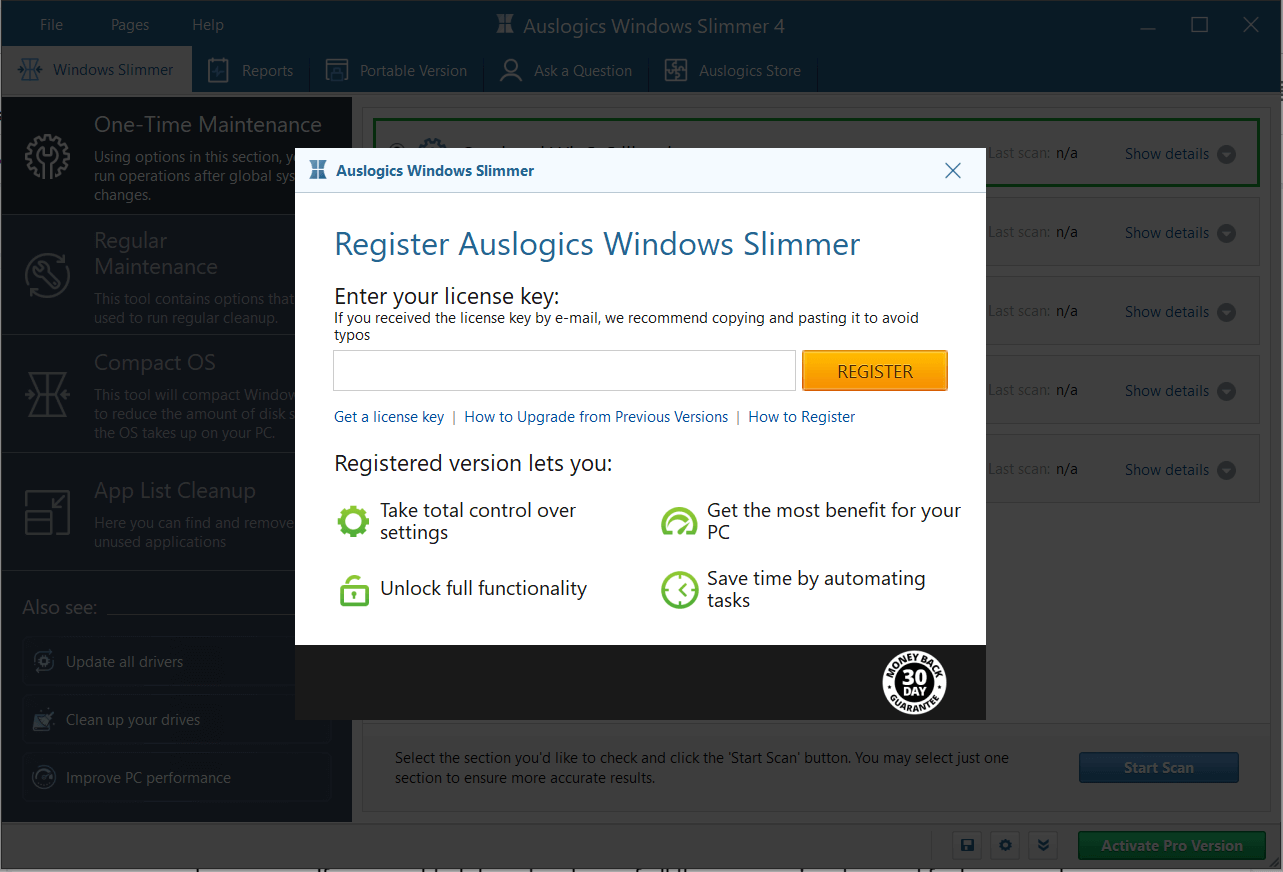 Final Thoughts
Auslogics Windows Slimmer can help uninstall unwanted applications, clean up your system, save money and time, free up memory, and speed up your computer. In addition, it gives you a significant boost in performance by fixing registry errors and repairing corrupted file systems.
The program has been designed so that even people with minimal computer knowledge can use it without expert assistance.
If you are still unsure whether this software will suit your needs, please contact us directly via email or live chat, and we will be happy to assist.