'Progress cannot be generated
when we are satisfied with existing situations'
Taiichi Ohno
Keeping your Microsoft operating system, whether Windows 10, 8, 8.1, or 7, up to date enables you to make best use of system resources and get the most out of your computer. Indeed, by embracing the latest developments and improvements by Microsoft, you can keep numerous problems, such as bugs, crashes, glitches, security issues, and malware attacks, at bay.
Due to the reasons mentioned above, it is vital that you make sure your OS keeps up with advances in software technology. In theory, that is quite easy – Microsoft has paved the way towards the effective implementation of this rule with the Windows Update feature. Thanks to that, your OS can be on the cutting edge.
With that said, in practice, things rarely go smoothly. For instance, what are you supposed to do if you encounter 'Windows Update ran into a problem 8024402f'? Obviously, this issue might seem quite a disaster since it prevents you from getting the much-needed updates aimed at refining your system. However, there is no need to despair: you are not the first to face this nuisance, and we have already collected an exhaustive list of proven tips on how to fix Windows 10 update error 8024402f and the same error on Windows 7, 8, or 8.1. So, here are our methods:
1. Set your time zone
Probably the easiest way to iron out the issue in question would be to properly configure your time zone settings. To do that, use the instructions below:
Open your Start menu and click on Control Panel.
Locate Time and Date (or something like that). Click on it.
Navigate to the Time Zone settings.
Select the Change time zone option.
Select your time zone from the list of available options.
Make sure to confirm your choice for the changes to take effect.
Restart your PC. When your system comes on, check if the manoeuvre above has resolved your update issue.
2. Uninstall and then reinstall problematic updates
Although updates are designed to enhance your user experience, sometimes they do not fit, and that causes your OS to malfunction. Besides, updates may fail to land on your PC properly: as a result, those that have been installed incorrectly can trigger multiple problems.
Anyway, now it is time to check your system for problematic updates and undo them in
Windows 7
Press F8 during the bootup process to enter Safe Mode.
Launch your start menu. Locate Control Panel and enter it.
Go to Programs and Features. Click on the View Installed Updates link.
Locate the problematic update. Right-click to uninstall it.
Windows 8 /8.1
Hold the Shift key while restarting your computer or press Shift + F8 or just F8 at startup to be taken to the advanced startup screen.
Once in it, press Troubleshoot and select Advanced options.
Press Startup settings. Then click Restart.
Your PC will restart. Then you will be presented with the list of startup settings. Select Safe Mode.
Your PC will restart again. In the Advanced Boot Options window, select Safe Mode. Hit Enter.
Once in Safe Mode, open your start menu and proceed to Control Panel.
Select Programs and Features and click on View Installed Updates.
Locate the updates you wish to undo. Right-click and uninstall an undesirable update.
Windows 10
Press the Windows logo + I keyboard shortcut to invoke the Settings app.
Click Update & security. Select Windows Update.
Click View installed update history.
Select Uninstall updates.
Double-click on an update to uninstall it.
Restart your PC and see if the issue persists.
3. Configure your Windows Update settings (for Windows 8.1 only)
If the 8024402f issue keeps showing up in Windows 8.1, you can make use of the following workaround:
Open your Start menu. Proceed to Control Panel.
Navigate to Windows Updates.
Left-click on Never check for updates.
Make sure to uncheck "Give me recommended updates the same way I receive important updates" and "Give me updates for other Microsoft products when I update Windows".
After performing these troubleshooting steps, check for the necessary updates manually and install them on your computer.
4. Employ Windows Update Troubleshooter
Luckily, Microsoft engineers have developed quite a handy tool to tackle Windows Update issues. To use it, google Windows Update Troubleshooter and click on the link that leads to the Microsoft Support website. Download the troubleshooter for your version of Windows and run it on your computer. The program's wizard will walk you through the troubleshooting process. All you need to do is follow the on-screen instructions.
5. Temporarily disable your anti-virus software
According to many reports, some anti-virus tools can interfere with Windows Update, causing it to throw up red flags and struggle to work the way it is supposed to. In a situation like this, turn off your anti-virus tool and check if that has fixed the problem. If it has, report the issue to the support team of the tool's vendor. You might even need to switch to another solution. The good news, there is a wide range of PC protection tools available on the market these days. For example, you can opt for Auslogics Anti-Malware: this program will run smoothly on your device, maintaining a superb level of protection against those nefarious entities the modern-day Internet swarms with.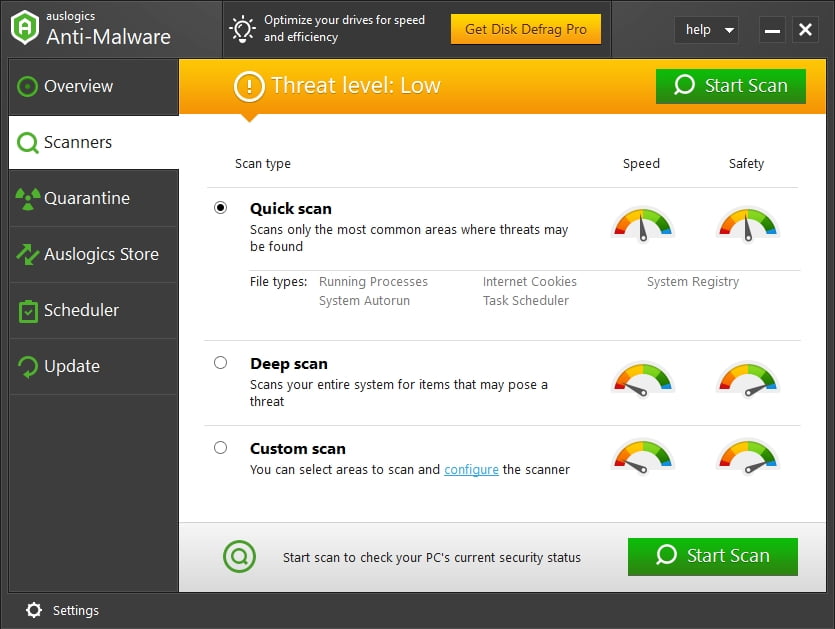 6. Turn off your firewall
The chances are Windows Firewall is behind the persisting error 8024402f on your computer. With that in mind, let's disable the solution in question so that you can check if it is the culprit:
Locate the Search area and type Control Panel.
Select Control Panel from the list of results.
Click System and Security, then proceed to Windows Defender Firewall.
Click Turn Windows Defender Firewall On or Off.
Select Turn off Windows Firewall (not recommended).
Click OK to save your changes.
Now check your Windows Update. If it is up and running, update your system, using Windows Update, then turn your firewall on, and move to the following fix. The point is, you need to whitelist certain Microsoft servers so that you will not have to disable your Windows Firewall every time you wish to update your system.
7. Add Microsoft servers to the Trusted sites list
To keep the Windows Update error 8024402f at bay, you should add the following URLs to the trusted zone:
Download.windowsupdate.com
Windowsupdate.microsoft.com
Update.microsoft.com
Here is how to do that:
Press the Windows logo key and the S key simultaneously.
In the Search area, input 'internet options' (no quotes).
Select Internet Options from the list of search results.
Proceed to the Security tab. Select Trusted sites.
Click on the Sites button.
Proceed to Add this website to the zone area. Enter the address you wish to whitelist.
Click Add and Close.
Finally, reboot your PC. The issue 8024402f should bother you no more.
8. Disable your VPN and proxy
No luck so far? Then you should disable your VPN or proxy if you use any. Although, VPNs and proxies allow you to roam freely in the Internet, they might be tampering with your Windows Update. As such, turn them off and try to update your system.
To disable your proxy connection, do the following:
Open your Start menu and navigate to the Search area.
Type Internet Options. Select it from the list of search results.
Now proceed to the Connections tab and click on LAN settings.
Uncheck Use a proxy server for your LAN.
Click on OK to save the changes.
If you use a VPN connection, take the steps below:
Go to your Start menu and search for Control Panel.
Once in Control Panel, click Network and Sharing Center.
In the left pane, select Change adapter settings.
Locate your VPN connection. Right-click on it to remove it.
If the issue is still present, proceed to the following fix.
9. Troubleshoot your network
If you see the 'Windows Update ran into a problem' 8024402f error, you might be having network issues. In such a case, use the instructions below to fix your network connection
in Windows 7:
Open the Start menu. Then go to Control Panel.
Navigate to Network and Internet.
Open Network and Sharing Center.
Click Fix a Network Problem and follow the on-screen instructions to troubleshoot your network problems.
in Windows 8/8.1:
Enter the Start menu and click Control Panel.
Go to Network and Internet and proceed to View network status and tasks.
Select Troubleshoot problems to open the built-in Network and Internet Troubleshooter. It will repair your network problems.
in Windows 10:
Press the Windows logo key + S shortcut on our keyboard to launch Search.
Type Network troubleshooter.
Select Identify and repair network problems.
The troubleshooter will start. Use it to fix your problems.
Hopefully, your connection issues have been resolved.
10. Switch to a different network connection
If troubleshooting your current network connection has been to no avail, you can migrate to another network connection. Do that and check if this trick has worked.
11. Update your network adapter driver
Network issues that lead to Windows Update failures often stem from out-of-date or faulty network adapter drivers. The good news is, this problem can be easily solved.
There are no fewer than 3 methods you can employ to get your drivers back on track:
Use a special tool
That is by all accounts the easiest and the most convenient one. These days you can delegate burdensome tasks and use software to get the job done. For instance, Auslogics Driver Updater will update all your drivers – not only those related to you network adapter driver – and bring your system in noticeably better shape.

Please bear in mind that you should keep all your drivers updated to prevent problems with your Windows OS.
Make use of Device Manager
Although updating your drivers in bulk is much easier, you might as well wish to use the built-in Windows Device Manager feature.
Here are the instructions for
Windows 7
Click on the Windows logo icon to invoke the Start menu.
Right-click on Computer and select Manage from the menu.
Now you are in the Computer Management screen. Click Device Manager.
Locate your network adapter. Right-click on it. Select to update its driver.
Windows 8
Invoke the Quick Access menu by clicking on the Start icon.
Select Device Manager from the list of options.
Navigate to your network adapter.
Right-click on your network adapter and select Update driver software.
Windows 10
Press the Windows logo key and the letter X key simultaneously.
Opt for Device Manager and move to your network adapter.
Right-click on it and select the option necessary for updating the driver software of the device.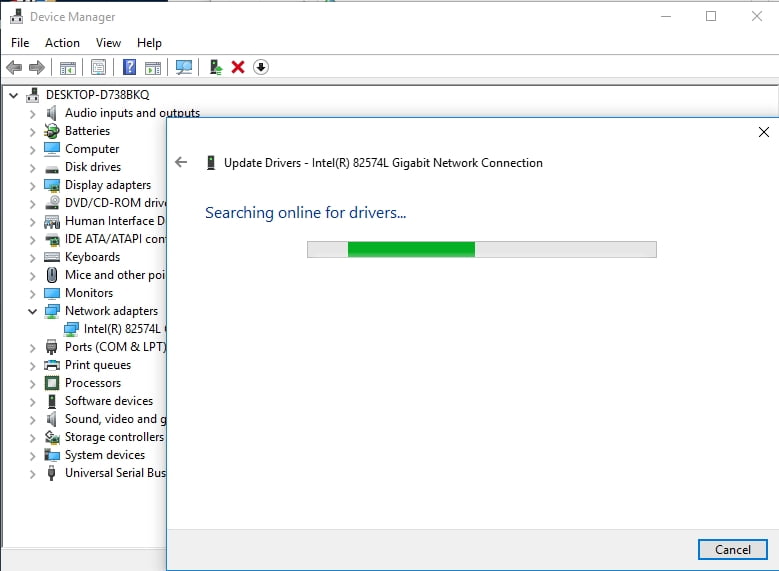 Still no success? Then keep working your way down – you might need to fix your system issues.
Update your driver manually
That is another popular solution, and yet it is extremely time-consuming and even risky. Do make sure you know exactly what driver is needed, since installing something inappropriate may bring about even more problems. Search the Internet for the latest driver version for your network adapter and install it only after you have found out that it is safe and comes from a reputable source.
12. Run an SFC scan
If Windows Update fails with the error 8024402F, some of your system files might be missing or corrupt. Although this may sound rather dispiriting, you have no need to worry – you can repair them quite easily. For this purpose, run System File Checker and let it scan your Windows for problematic system files and replace them at boot. Here are the necessary guidelines:
Go to the Search field and type cmd.
Select Command Prompt (Admin) or right-click Command Prompt and select Run as admin (or something like that).
Type 'sfc /scannow' (without quotes) and hit Enter.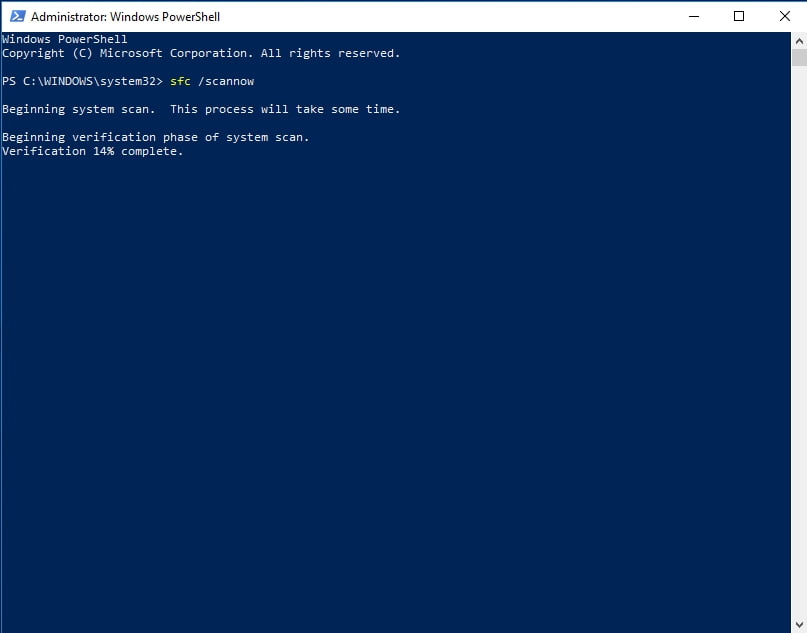 Wait for the scan to finish and restart your computer. Your Windows Update should work smoothly now.
13. Reset your Windows Update components
If you have made this far, your Windows Update itself might be having issues. In this case, we advise resetting Windows Update components the following way:
Run Command Prompt as an administrator (see the instructions in the previous fix).
Type the commands stated below (make sure to press Enter after each of them):
net stop bits
net stop wuauserv
net stop appidsvc
net stop cryptsvc
Del "%ALLUSERSPROFILE%\Application Data\Microsoft\Network\Downloader\qmgr*.dat"
cd /d %windir%\system32
regsvr32.exe atl.dll
regsvr32.exe urlmon.dll
regsvr32.exe mshtml.dll
regsvr32.exe shdocvw.dll
regsvr32.exe browseui.dll
regsvr32.exe jscript.dll
regsvr32.exe vbscript.dll
regsvr32.exe scrrun.dll
regsvr32.exe msxml.dll
regsvr32.exe msxml3.dll
regsvr32.exe msxml6.dll
regsvr32.exe actxprxy.dll
regsvr32.exe softpub.dll
regsvr32.exe wintrust.dll
regsvr32.exe dssenh.dll
regsvr32.exe rsaenh.dll
regsvr32.exe gpkcsp.dll
regsvr32.exe sccbase.dll
regsvr32.exe slbcsp.dll
regsvr32.exe cryptdlg.dll
regsvr32.exe oleaut32.dll
regsvr32.exe ole32.dll
regsvr32.exe shell32.dll
regsvr32.exe initpki.dll
regsvr32.exe wuapi.dll
regsvr32.exe wuaueng.dll
regsvr32.exe wuaueng1.dll
regsvr32.exe wucltui.dll
regsvr32.exe wups.dll
regsvr32.exe wups2.dll
regsvr32.exe wuweb.dll
regsvr32.exe qmgr.dll
regsvr32.exe qmgrprxy.dll
regsvr32.exe wucltux.dll
regsvr32.exe muweb.dll
regsvr32.exe wuwebv.dll
netsh winsock reset
netsh winhttp reset proxy
net start bits
net start wuauserv
net start appidsvc
net start cryptsvc
Finally, visit Microsoft's support website and download the latest version of Windows Update agent. Install it on your PC. Then reboot your machine and enjoy an error-free computer.
14. Check your system registry
Your update issues can relate to your registry. That said, we advise against rushing to edit this sensitive component of your Windows operating system. The truth is, you can easily damage the registry beyond repair by making a tiny mistake. So, there is no room for error at all.
Thankfully, there are some tools that can operate on your registry with surgical precision. Auslogics Registry Cleaner is a case in point: this freeware can tune your registry to its best without exposing your system to any risk.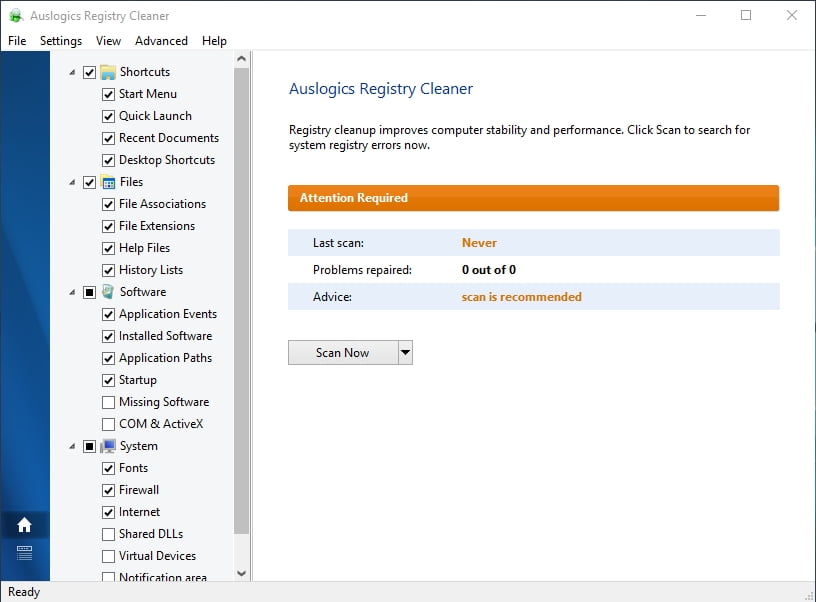 15. Configure your system to an earlier state
We have to admit that some issues are actually beyond one's grasp. If none of the solutions above has helped you, your problem might lie too deep. Fortunately, the Windows operating system has quite a nice feature designed to deal with such mysteries. It is called System Restore. You are free to use it to literally travel back in time: you can get your PC to the good old days when the persistent Windows Update error 8024402f was not here.
What you should keep in mind is that you can use System Restore only if restore points have been generated on your PC. You can create them yourself, but your system often does that automatically when something important is about to occur on your PC.
Here is how you can restore your PC to an earlier date in
Windows 7:
Open your Start menu and find the Search box.
Type System Restore.
Select System Restore and then click on Restore system files and settings.
Click Next to proceed.
Select the restore point you wish to restore your Windows to and confirm it.
Windows 8 (8.1):
Locate the Search area in your Start menu and type 'Recovery' (without quotes).
Click Settings. Then select Recovery and click Open System Restore.
You will be shown the most recent working restore point. Nonetheless, you can click Choose a different restore point and opt for the one that suits you most.
Confirm your choice.
Windows 10:
Open your Start menu. Navigate to Control Panel.
Open System and Security. Then click File History.
Proceed to Recovery. Click Open System Restore and Next.
Choose the desirable restore point.
Click Next and Finish and provide your confirmation.
Hopefully, our tips have proved useful.
Do you know other solutions to the Windows Update error 8024402f?
You are welcome to share your knowledge in the comment section.